This is the 7th time I have run this great race. My first was the very first time it was held in 2010 and it went from Helmsley to Guisborough and the weather was pretty similar!!
This year a number of things were very different mostly due to the ongoing pandemic including
The race being held in October rather than March
A time-trial style start
No mass briefing at the start listening to Jon go through to list of things that Shirley had told him to say!
All the checkpoints outside
No lovely hot food to welcome us at the finish
The other big thing for me personally was that I was going to run the South Downs Way 100 just two weeks later. As a rule I really don't like to have two ultra-races so close together but as part of my new role as co-host of 'Run to the Hills' I really wanted to do one of the Centurion races and the opportunity came up to take part in the South Downs Way 100 so I put wisdom to one side and decided to go for it.
Only time will tell whether this was as reckless as it feels right now a couple of days after the Hardmoors 55!!
Katrina and I travelled down from Scotland on Friday afternoon and stayed in the home of friends in Guisborough who were away for the weekend. It meant that I could get up at 6.30am, have a leisurely breakfast and head to the start in time for my 8.46am start.
The system put in the place by Shirley & Jon Steele was excellent and everything ran like clockwork. I arrived 20 mins before my start time which gave time to drop off my drop bags, collect my tracker and number and walk to the start.
My good friends Andy & Sarah Norman were also in the same start time. That wasn't by chance! We had asked Shirley whether we could start together as we hadn't seen each other for ages and had a lot of catching up to do!
They had kindly sent me a bespoke face covering which I wore with pride …
Guisborough to Clay Bank (20.35 miles)
Our group of 6 set off and the 3 guys were away and we didn't see them again! Andy, Sarah & I had agreed to run together for as long as it worked for us all but we also recognised that if either of us was feeling good or struggling we wouldn't be waiting for each other. In the end we mostly ran together for the first 35 miles which was a highlight of the race for me anyway!
I had a very clear plan. In our 'Run to the Hills' podcast we have a regular feature called Top Tips and Eddie, my co-host, and I take turns to lead. In a recent episode when it was my turn I shared some tips on finishing well and the first key point was you have to start sensibly.
So with this in mind and the fact that I needed to be able to recover quickly after the race to have any chance to run the SDW 100 in two weeks' time I was determined to keep my heart rate down and my breathing very easy. I had a rough idea of 13hrs as my goal, but it was very much secondary to the main goal of running well within myself which was just as well as I was nowhere near 13hrs!!
The miles ticked by fairly easily as I chatted to Andy & Sarah as we caught up with our various bits of news. Andy & Sarah supported me when I ran the Hardmoors 160 a few years ago and it is no exaggeration to say that I wouldn't have finished that race without their support and encouragement.
On that day in 2016 I was ready to call it a day at Kildale with 42 miles to go but wouldn't let me even consider dropping out on their watch and somehow by gentle encouragement and downright lies (it will be light soon – it was 2am!!) they got me going again and I will always be very grateful to them for helping me to realise that I had more in me physically than I thought possible.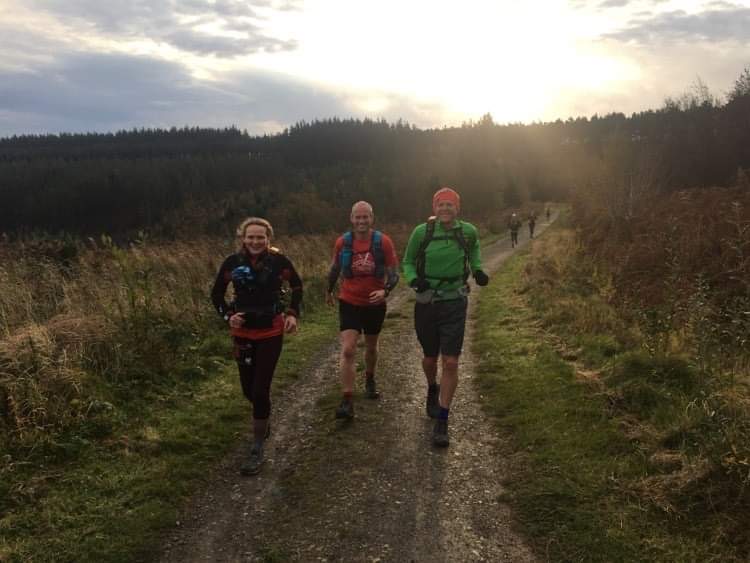 As we made our way to Roseberry Topping a steady stream of runners went past us who had started after us. As I wasn't too worried about time and position I actually enjoyed having a quick chat with each one. A number of runners said they were enjoying the new Podcast which was nice.
As we got a little higher and into the open the full force of the wind hit us and it was hard going with it right in our faces. We also knew that it wasn't going to get any easier for a long time which proved so so true!
We passed through the gate and as we made our way down and then up to the top of Roseberry Topping lots of runners were coming back towards us having been to the top. It is a lovely feature of the route that you get a chance to say hi to lots of runners throughout the field.
I ate my peanut butter and jam sandwich on the way up so if I didn't say hello to anyone coming down it was because my mouth was full!!
It was very windy on the top but we had time for a quick photo! I was doing regular video clips for my race diary and Andy videoed me going round the cairn at the top.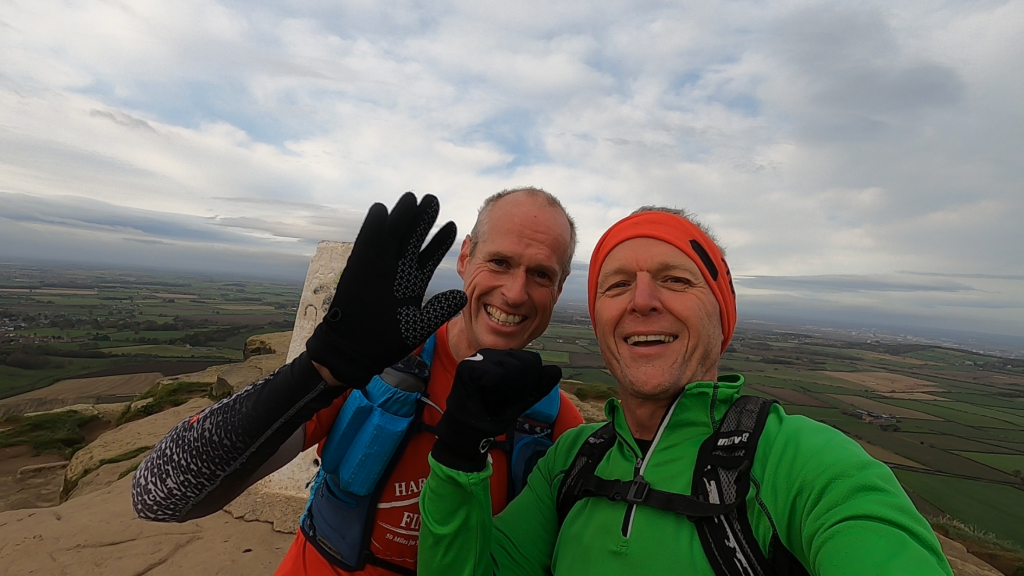 We made our way down as other were heading up and ran along the newly laid path to the first drop bag checkpoint at Gribdale. Normally this is a nice relaxed downhill run but with the wind right in our faces it felt a lot harder than it should or maybe it was just me who found it hard going!!
The marshals at Gribdale were superb, as were all the marshals throughout the course. My drop bag was ready, water bottle filled up and I was away with an encouragement without wasting too much time.
I walked up the hill with Adam who went on to have one of his best days out in an ultra. I enjoyed hearing the story of his running and how much he was determined to finish this race.
Andy took some video of me running away from Cook's monument which I will include in my video diary. I was feeling nice and relaxed and happy with the first couple of hours.
The three of us made our way down and headed towards Kildale where sportsunday photographer was waiting to take our photo. I said to Andy, 'let's run in line'. He agreed and then ran ahead to take the glory. It made a great photo though
As we passed the village hall at Kildale Andy & I chatted about what normally happens here and how a nice cup of tea would have been very welcome!
But instead we pushed on and made the long climb up the hill. I always think if you haven't done this route before then this hill seems to go on and on for ages. But even if you have done it before it still goes on and on but at least you are prepared for it!
The three of us were moving well and chatting certainly passed the time. It was fun to chat with Andy for a while and then Sarah. I'm sure they also chatted to each other as well!
Once we got off the road and onto the track Sarah's strong walking style was interesting to observe. I couldn't keep up with her by walking but my run was faster than her walk! So I would drift behind then run past, walk a bit and sure enough she would catch me again!
Soon enough we reached Bloworth Crossing which is always a good marker as the next checkpoint at Clay Bank is 3 miles away.
I was deliberately looking around a lot more on this run and trying to pick out the route behind and going forward. I realise that often I have a 'head down and get on with it' type of style but now trying to be a little more relaxed I was taking time to look up and enjoy it.
Besides picking out the route over the three sisters that was coming next we realised that there was a dark cloud ahead so we were expecting some rain!
A mile or so before Clay Bank Stephen Braithwaite went past looking very strong. I had interviewed Stephen after his successful Coast 2 Coast race recently for 'Run to the Hills' so it was good to see him running so well.
We reached the checkpoint and once again the marshals were very efficient and helpful in refilling bottles and having drop bags ready. I stopped to drink my chocolate milkshake and sort out my bag before heading up the first of the three sisters.
Clay Bank to Sneck Yate (18.95 miles) Overall 39.30 miles
I headed up the first of the three sisters in pursuit of Andy & Sarah who hadn't stopped. I felt strong on the climb and then ran/ walked along the slab stones until I reached the large boulders and where you have to scramble your way down. I could see Andy & Sarah not too far ahead.
I climbed up the second of the hills again feeling strong and relaxed. I ran down and then met Phil Owen who was out cheering on the runners. He took this photo of me as I passed. It was great to see him.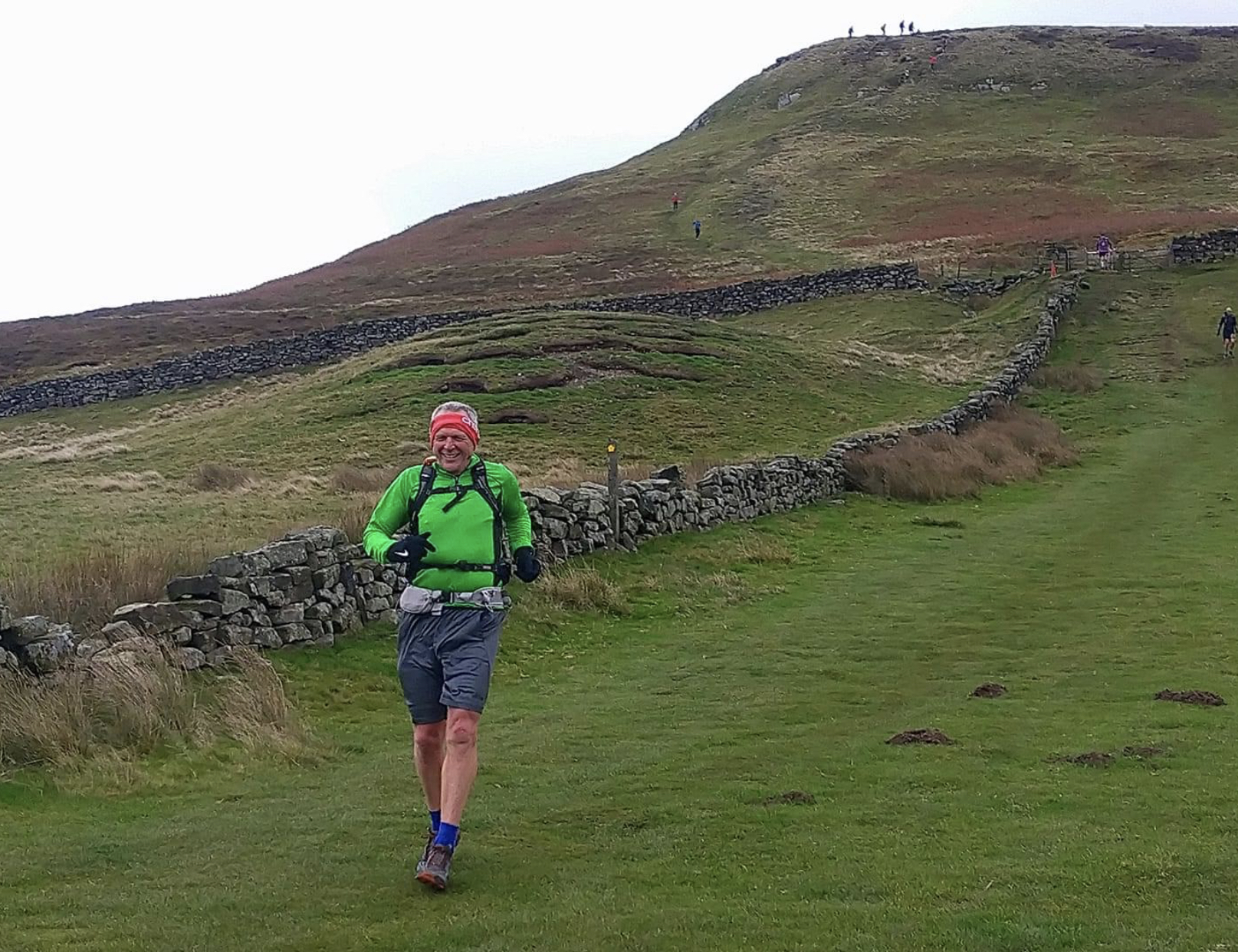 On the third climb I caught up with Andy & Sarah and within a few minutes we stopped to put on our waterproof jackets as we could see a very dark cloud coming our way. We put them on just in time as pretty soon we were getting absolutely soaked.
We ran down to Lordstone's Cafe, past a few supporters who were out braving the rain and then started climbing up the next hill. It was pretty wild for about 40 mins so we experienced some typical Hardmoors weather!
Once we climbed up and past the large cairn I went past Sarah feeling good. I didn't look back but wondered whether I would see them again. It is always a longer section than I think but eventually the route does head down through the woods. Three guys went past me looking strong.
The rain had mainly stopped by now but from here to the end there were bouts of rain and drizzle. I ran past the phone box and on to the road. At the junction where the route takes a right over the stream there was a runner ahead about to go straight on. I called him back and we ran together for the next few miles.
His name was Alex and this was to be his furthest race so far. His wife and two children were supporting him and he was looking forward to seeing them at Osmotherley Square Corner. I decided to give Alex the benefit of my 'wisdom' as I shared some of my Top Tips from our 'Run to the Hills podcast including one which will be shared in the next episode!
It was good to have some company as Andy & Sarah were still behind. When we reached the checkpoint at the road I stopped to refill my water bottle while Alex pushed on. It was raining again fairly heavily so it was a case of hood up and get on with it. I passed a family with two small children. I was impressed that they were out in these conditions, but the boys had good waterproofs and looked as though they were enjoying themselves. The Dad asked me how far I'd done and when he heard 29 miles he seemed impressed!
I ran through the woods, past the TV tower which is always a good marker and headed towards Osmotherley. There is one junction which is not marked and once I went left rather than right so I was watching out for it. When I got there Alex was waiting as he was unsure which way to go. He said I thought you would know!
So we ran to Osmotherley together and chatted some more. Alex is from Edinburgh originally but lives now in Durham where he teaches History. He has only recently got into off-road ultras but has caught the bug! It's always nice to meet new people as I don't need to worry about repeating myself as he won't have heard any of my stories!!
Once we reached the road and headed to the village I said to Alex I was going stop in the sheltered alleyway as I had a few things I needed to do - change my gloves as they were sopping wet, change the battery on my GoPro, get my recharger out for my Suunto watch and get my head torch ready for when it got dark. I was there for maybe 6mins and during that time Andy & Sarah went past so they hadn't been too far behind.
I was on my own for the climb up to Square Corner so I had time to think about how I was feeling. Generally, I felt okay but I can't say I was too comfortable. I was still able to run when it was flat or down, but I certainly wasn't going to be able to go much faster even if I wanted to!
I did my last video clip before it got dark just before the start of the last long climb up. Listening back to it I sound positive and in good spirits. I was on my own for the climb but that was fine. When I reached the car park I was slightly envious of all the support cars and especially campervans! It would have been great to be able to sit down in a warm van for a few minutes!
I kept on going and headed up the hill. It wasn't too long but Alex caught me again. He had stopped and almost felt a little guilty when he told me he'd had a nice cup of coffee!! He was moving really well and after a few minutes he was away and I saw a post on Facebook saying he had finished really well.
One or two other runners went past me. They probably had stopped at Square Corner as well and were now moving well. I saw Andy & Sarah at the side of the path getting an extra layer or two on. That's a good idea I thought as it was now starting to get dark and the temperature was dropping.
I made a big mistake here! I really should have stopped and put on an extra layer but having just caught up with Andy & Sarah I decided to keep going and stay with them. It was really good to have their company again but over the next 30-40mins I got really cold.
So much so that I knew it wasn't sensible. When you are cold your body has to work harder to keep your core warm and so there isn't as much energy for the running. But still I carried on not wanting to fall behind Andy & Sarah.
I knew the woods weren't too far away so I decided to stop there, put on my spare layer and put on my head torch. The other issue I had was I hadn't eaten for a while and that certainly didn't help. Andy held the gate open for me and I said I was stopping to put on an extra layer. I was hoping to see them again but I didn't!!
It took a few minutes to take off my bag, gloves and jacket …. find my spare layer, put it on and put my jacket and gloves back on and get going. It took a while to feel warm again but eventually I did. I also ate a packet of peanuts I'd picked up at the last checkpoint which went down well.
I knew the next checkpoint with my drop bag was a couple of miles away so I concentrated on getting there. I did a fair bit of counting to keep myself going and tried not to think about the mistakes I'd just made! It just goes to show that even with 51 ultras behind me I'm still capable of messing things up!!
It was good to get to the checkpoint and I stopped for a few minutes to eat my yogurt and drink my chocolate milk shake. The marshals once again were doing a great job of keeping everyone going.
Jon Steele was just leaving and called out, 'Anyone want a lift to Osmotherley Square Corner?' He didn't have any takers!!

Sneck Yate to Helmsley (14.14 miles) Overall 53.44 miles
My main aim was to try and finish well and just keep going as best as I could. In the back of my mind I knew that I have a 100 mile race coming up in two weeks and I really needed to finish sensibly without completely hurting myself.
So I tried to break it down in my head into lots of mini-sections. I know the route pretty well so I was able to think about what was coming next, tick it off and head for the next one.
I was mainly on my own but every now and then a runner or two would go past. They all seemed to be moving better than I was at this stage.
There were plenty of campervans at Sutton Bank waiting for their runners. I crossed the road and headed to the last checkpoint at White Horse. One of the nice things about this section is you get to see runners who are heading back as it is a loop. As everyone is wearing head torches it's quite tricky to recognise anyone but that doesn't matter too much!
The steps down through the woods were quite slippy so I held on to the wooden rail all the way down. It was very dark and also very muddy through the woods. A couple more runners went past before I arrived at the checkpoint.
One of the issues I've had in long ultras especially those going into a second night is with my eyesight. I've had it tested and I have a lazy eye which means when I'm tired I see double and it can be difficult to judge what is a stone or rock and what is my double vision. I often have to close one eye to work it out. It wasn't as bad as it has been but I was definitely struggling with my vision with the head torch on.
There were a couple of enthusiastic marshals who were giving lots of encouragement to the runners as we passed through. I didn't stop long as I had enough water to see me through to the end. I did take a couple of fudge bars which I ate on the steps up out of the checkpoint. There were a couple of girls behind me and it was obvious they weren't big fans of the steps!
I knew it was 9 miles from here to the end and I split it down to 3 x 3 mile sections to Cold Kirby, to the bridge on the road and the end. So I concentrated on each section at a time. Three parkruns isn't too hard!
Once again a few runners went past me. I reckon they had stopped at the checkpoint and were now off again moving well. I caught one runner who had gone past me earlier. We had a quick chat for a bit before I pushed on.
Cold Kirkby came and went. There were a few cars waiting for their runners. Just 6 miles to go. I looked at my watch for the first time for ages and realised I was going to be well over 14hrs. I'm not after pity here but I did think about the previous 6 Hardmoors 55 races I've done and the fact that my best is 9hrs 35mins. Even last year in worse weather I was 12hrs 49mins.
I know I'm getting slower as I get older but it's hard to accept sometimes! Maybe I should just new races so I don't have anything to compare it with but there are some races I really enjoy and this is one of them so I will be back!!
I knew the final tricky descent was coming soon. Just as I arrived there I caught up with a runner and his support. The runner was covered in mud and said he'd had a fall and hurt his wrist. He was taking it very carefully down the slippy technical bit. His support runner was great giving lots of help and encouragement.
Once on the better path I saw two runners ahead and wondered whether they might be Andy & Sarah but once I caught them I realised it wasn't!! The Norman's were well ahead finishing in 13hrs 49mins.
The final 3 mile section passed fairly easily. I chatted to a few more runners on the way in. Again I ticked off the final landmarks and thought about how I felt finishing the Hardmoors 160 a few years ago.
There were a group of people waiting at the bottom of the hill for their runners which was nice to see. I ran in with Andy who is a friend of Martin Webb who ran the Northern Traverse the same year I did it a couple of years ago.
It was good to arrive at the checkpoint in a time of 14hrs 22mins 35secs. Katrina was at the finish to meet me and drive us backto Guisborough and a well deserved shower. Katrina had done her own ultra helping out at the finish from 3-10pm!
It was by far my worse time on the course but another finish and 55 more miles to add to my Hardmoors miles! I reckon I'm now up to 917 miles which leaves me 83 miles still to do!!
Thanks again to Jon & Shirley and all their amazing marshals and volunteers. They did an incredible job in difficult circumstances.
Congratulations to Ann Brown who won my 'Guess My Time' competition. Her guess of 13:39:00 was the closest!

My overall stats show I slowed from an average pace of just under 14mins per mile at half way to just over 16mins by the end.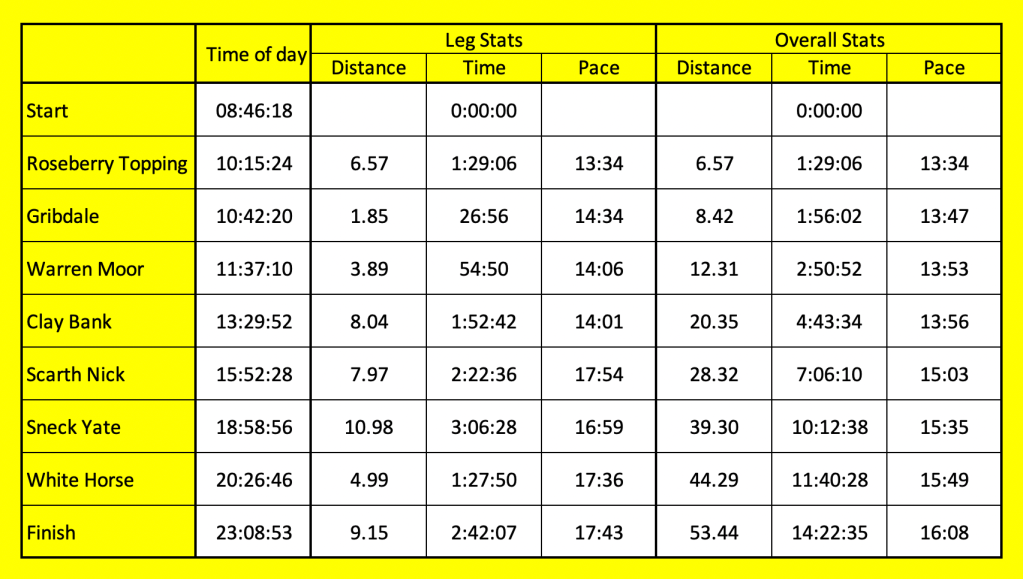 I have two weeks to recover and get ready for the South Downs Way 100 on Saturday 7th November. It is going to be interesting!!
Watch out for my Video Diary of the race which is coming soon!