My plan for this taper week is an easy run today and then Wednesday. I needed to pay a cheque into the bank so decided to run to Paisley town centre after work, pay in the cheque and run home.
It was a lovely sunny evening and I was feeling good but quite surprised to see that I'd averaged 7.25 pace for the run.
I like to prepare as well as I can for the ultras I take part in. Even though I've done this race once before in 2010 I was keen to do a recce run on the route which I did a few weeks ago covering the last 30 miles.
My kit is all sorted now that I've decided to go with the Sketcher Go Ultra 2 model.  I'll decide on the day which jacket I take.  If it looks like any sort of rain I'll take my OMM Kamleika Jacket. If not I'll take my lighter Montane one.
For food I'll be using the drop bags and this is what I'll put in them ….

I have my plan for a sub 10hrs finish but I'll be working to heart rate so I won't be looking at my mini-splits too closely.  I found in the recent Hardmoors race I enjoyed checking them after I went through the checkpoint to give me an idea of how I was getting on.
I didn't do any mini-splits last time I did the race so I only have the main checkpoints until Den of Alyth.  Times down the left hand column are from 2010 which will give me an idea of I'm doing in comparison to that race.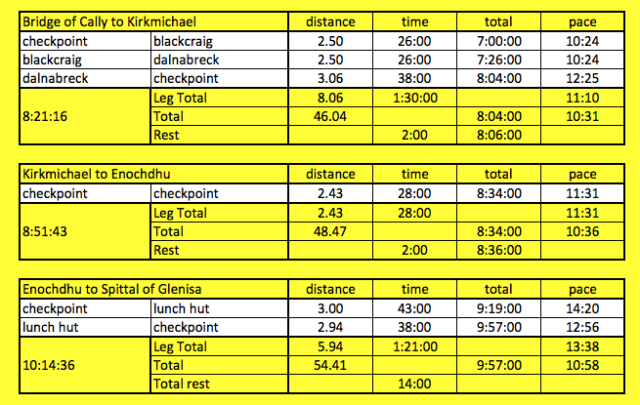 One of the other things I like to do is have a look at those who have entered the race and see how many have run before.
So I took the stats from the race web site and compiled my own spread sheet all of all the finishers. Then merged it with those who have entered.  If you like this sort of thing feel free to download and have a look.
Cateran all pb's from 2009-2014
Start list for 2015 with previous times
According to this sheet 32 of the 102 entries have run before which means there are 70 who are attempting to finish for the first time.