A couple of weeks ago Ian Beattie tagged me in a post on Facebook about this race at Castle Semple. I've not done a 10k for over 3 years and I had planned a tempo run this week so thought it would be fun to run the race.
Unfortunately  Ian's back was a bit sore so he was only spectating but Sandra ran. Katrina came with me to watch as well.
The race was organised by Hessilhead Wildlife Fund as a fundraiser so I hope they made some money. The race was well organised and hopefully they will continue to run it.
I wasn't sure what time to aim for. I was hoping I could run under 40mins but sent out a tweet saying my target was sub 41mins which I thought was more realistic.
The course was pretty flat on the cycle track. There was a small loop of 3k and then an out and back.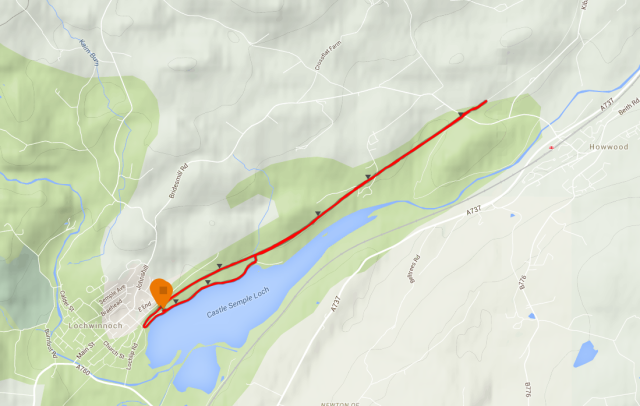 I think there were about 35 running so I decided to start near the front as the path is quite narrow.  On the gun the top 5 runners were away and I settled into 6th place which is basically where I stayed for the race.
I could feel runners behind me but by the time I turned right to go down to the loop I think there was only one runner with me who turned out to be Mary from Giffnock North (a friend of Neal & Caroline's).
Kenny Phillips was out with his camera. Thanks for the photos Kenny!
As you can see from the photo Mary and I were ahead of the next runners. As we went back through the start line at the end of the loop Mary drew level with me and we ran together for the next mile or so.
I knew to break 40mins I would need to be averaging around 6:30 pace so I would count 4 lots of 40 breathes and have a glance at my average pace. After the first mile of 6:10 (so much for my planned easy start!) the average was around 6:25 so I knew I was doing okay.
The turn around point is at 6k so when we saw the 5 runners ahead of us coming back we knew the turn round point was coming soon. Mary was just starting to pull away a little bit and I did wonder whether I'd be on my own for the final 4k.
Mary turned a few stride ahead but as we started the run back home and to the finish I felt strong and drew along Mary again. I encouraged her to dig in and work together. At one point I felt the gap betting bigger but Mary did dig in and was soon back alongside me.
My average pace was staying under 6:30 so I worked as hard as I could knowing that sub 40mins was possible. The cycle track is slightly downhill on the way back so it felt easier to keep the pace up.
We reached the marshal who directed us back down to the Loch side and we knew we had about 1k to go. Mary took the lead on the section alongside the fence and I would have been happy to follow her in but I felt I had one more gear to go so pushed on to the finish.
I was delighted when the time keepers called out 39:06. I was very happy with that. I congratulated Mary and runners who finished ahead and waited to cheer Sandra home.
Thanks to the organisers. It was a great race and it was good to take part. Here are my splits.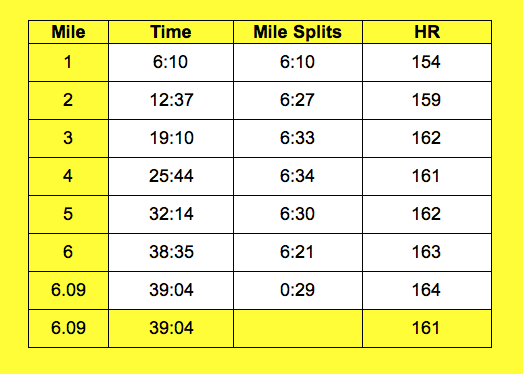 I was encouraged with my HR graph.  I was able to keep the intensity high right to the end of the race. All this endurance training does pay off!
Tonight I'm heading to Ben Lomond after work aiming to take a few minutes off my time from last week!!
Katrina took a video of me at the end of the small loop which is on my Facebook page.