I've had a couple of easy recovery runs this week and feel my legs and feet have recovered well. I was very sore on Monday but from Tuesday onwards felt better and better.
On Friday I had the privilege of officiating at the Wedding of Ian and Sandra. It was great day with lots of our running friends.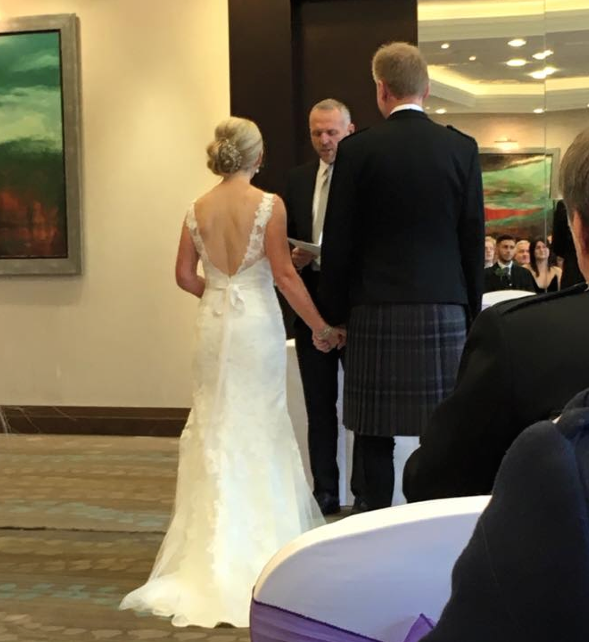 There were a number of runners involved in the wedding including Graeme Hewitson who took the photos. He organised this one to replicate the end of an ultra!
I like to do a post on the lessons I've learnt from each ultra I run so here are some thoughts on what I learnt from my latest race.
# Preparation/Training
I felt I had prepared well for an off road ultra! Unfortunately the White Rose ultra was at least 60% on road! I must admit I hadn't realised this until a few days before the event. So one lesson would be to research a little more thoroughly before entering.
I was keen to do a new ultra in a new area but I may have had second thoughts if I'd known the terrain it was on.
The majority of my runs over 10 miles are off road where the ground is more forgiving. Maybe I would have been better doing my 27 mile training run two weeks before the race on road rather than on the whw route?
#Pacing/HR
I wanted to try and run even laps. I knew this would be very difficult but because it was two identical laps it would give me the chance to really see whether I could do it. My HR aim for a 12 hr race would be 137 so I decided to run at 130 for the first 30 mile loop and hopefully that would mean I could maintain that effort and pace over the second loop.
I was pretty happy with my first loop. I completed it in 5:47 with a HR of 132 but and it's a big BUT my legs felt they had run nearer 50 miles! They were sore and stiff and I knew deep down it was going to be very difficult if not impossible to run at the same pace.
I do wonder how I would have got on if the course was more off road on softer ground? I would like to think I would have managed better. There were others who did better than me but lots of runners who were worse!
In fact of the 35 runners who had times for the two laps I was 20th which is fair enough. My friend Steve Foster was only 30 mins slower and had the least difference. Steve was the only runner to go past me on the second loop and he did look very strong and positive. Debs was also impressive. Even more so given the fact that she got knocked down by a car after 37 miles. Read her race report for the full details!!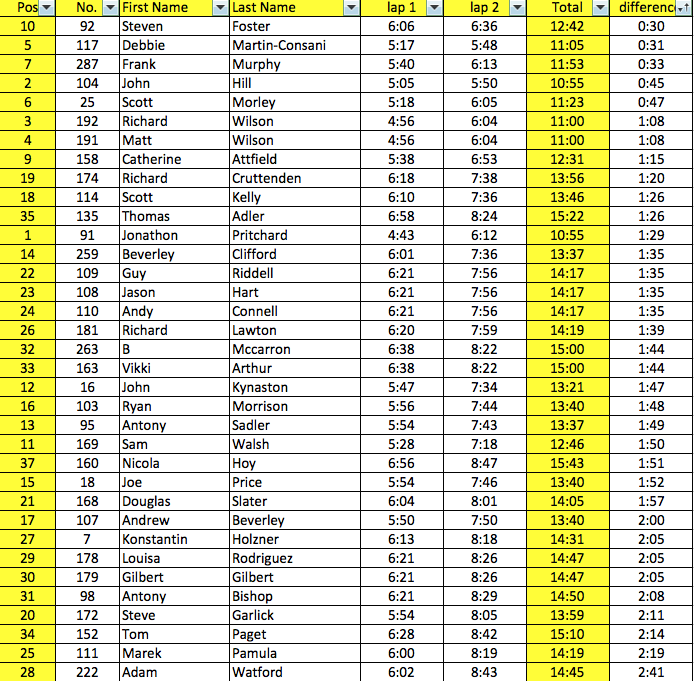 My HR graph is interesting in that it shows a steady decline as the race went on. In previous races I've been to maintain my HR at the given target right through the race whereas in this race after 6 hrs I couldn't raise it much above 120!
Compare this with my Hardmoors 55 in March ….

There is quite a difference there. I do feel the main difference was the impact of the road but I'm sure there were other factors as well!
# Food/Nutrition
I had been given a new energy drink to try out called CR7 from Herbalife. I really enjoyed it as it was very easy to drink and the packet very easy to open. I also alternated with Tailwind. I felt I had enough energy through the race.
I also ate a few youghat coated bars and some fruit.
# Mentally
Ultra running is about being positive and strong mentally. Being out for 13hrs or more is a real challenge as much mentally as physically.
This race was particularly challenging mentally for two reasons. One was there was lots of company on the first lap as lots of runners were doing the 30 mile race whereas only 35 or so did the second loop which mean I was on my own for the whole time.
Secondly because it was an identical loop you knew what was to come so you didn't have the sense of excitement of wondering what was coming next.
I did have to battle with the mental side of things but was pleased I stayed positive and was able to keep it going as best I could and finish still smiling!
So that's my five ultras completed for 2015. It's been a good year and I'm already looking forward to new challenges for 2016!