Now that my ultra races are over for the year I fancied doing a few shorter (and hopefully faster) races. The first on my list was today's Renfrewshire AAA Championships at Gourock.
I'd not run this race before so was looking forward to it. Our friends Thomas and Silke are part of the club Greenock Glenpark Harriers who were organising the race.
I arrived in time to catch up with other members of Kilbarchan AAC and have a warm up lap of the course. First impressions was that it was going to be muddy and hilly!
At the start the organiser reminder runners that the men were to run 5 laps and the women 3 laps. This caused much laughter and booing! I see on Scottish Athletics web site that from 2017 the men and women will both run 10k in the National Cross Country whereas at the moment men run 12k and women run 8k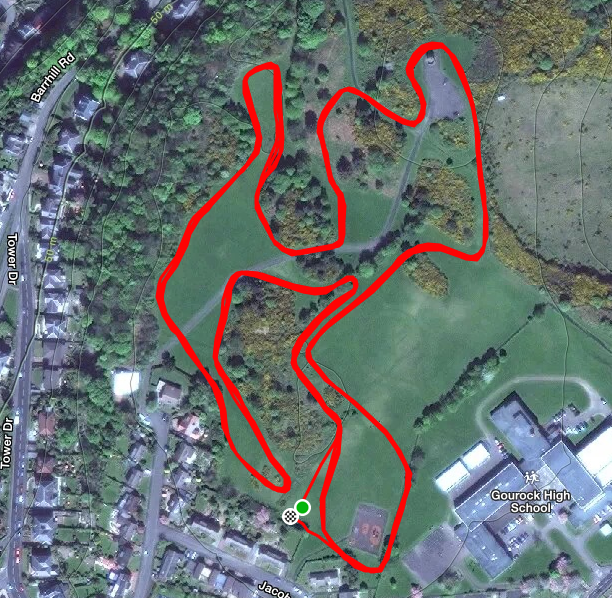 I was keen to start steady as I knew it was going to be a tough little course. I could see club mates Donald and Alan not too far ahead but they slowly moved further away!
One of the good things about the course was you could see the runners ahead coming back towards you at various points. I was feeling okay but working as hard as I could. I seemed to be holding my own but I wasn't catching anyone!
I could feel I was slowing a bit on each lap which was confirmed when I downloaded my splits.
It was good having friends around the course cheering me on. Neal and Caroline were near the start/finish so it was good to see them at the end of each lap. Thomas was half way round taking photos and I saw Silke at various points.
I did enjoy the race but it was pretty hard work! My HR showed that I kept a good effort going right through the race even though I slowed as the race went on.

The results are published and I finished 48th in 40:25.
Neal took some great photos and posted on Facebook.  Thanks Neal. Here are some of them ….