After my big weekend in Anglesea my plan for the next four weeks was as follows:-
an easy week with the Milngavie Trail race on the Sunday
a medium week with at least one tempo run, hopefully a Ben Lomond run and a run on the Gleniffer Braes
Two taper weeks running every other day
I've had to change things quite drastically because my right ankle has been quite sore. To be honest it has been sore for the last two months. It is sore just above the ankle and feels like it is ligaments.
It has not stopped me running but I've been conscious of it and have worn an ankle support for the majority of my runs over the past two months. It has been easier for some runs than others. Quite often it is sore the day after a run especially the longer ones.
It was okay during the Fling and seemed to be getting better over the three weeks when I ran over 50 miles each week.
After the Anglesea weekend I felt it a bit so I just had a couple of easy runs in the week before the Milngavie Trail Race. I could feel it right through the race but didn't seem to affect me too much.
After the race though it was really sore so I took the decision to start my taper early and not run at all for five days. It was feeling better as the week went on so I decided to run with Cammie yesterday for my final longer run on the Braes.
The weather was wet and the ground was muddy but it was great to run with Cammie again and we spent the majority of the two hours chatting about the West Highland Way race. Cammie is in great shape and I'm really looking forward to seeing how he gets on.
I set off cautiously and as the run went on the soreness in my ankle eased off a bit but it never went away. After the run it was sore again so I am now faced with a decision.
I took a few video clips which you can view …..
I feel I have a few options:-
#1 Carry on with my plan of running every other day for the next two weeks and tough it out
#2 Take another few days off and see how it feels by next weekend and have a couple of runs the week leading into the race
#3 Don't run at all between now and the race and hope the 13 days of no running will help clear it up so I can start the start with no or very little pain
Options 1 and 2 are the ones that naturally I lean towards with my heart but in my head I think option 3 will be best plan.
The West Highland Way Race this year is important to me but I'm not after a PB …. I know my 19:51:59 is way beyond me so I want to enjoy it with the main aim of finishing well.
So if I don't run for two weeks I don't think it will make a big difference to my fitness and hopefully will mean I can start injury free and have more chance to enjoy it and finish without doing more damage.
Don't hold me to it but at this moment I'm opting for option 3.  I think I will get out on my bike a few times so I can get my heart rate up and hopefully not lose too much fitness.
In the back of my mind I'm thinking about my overall miles for the year and if I don't run for two weeks I will fall behind my weekly target but this shouldn't be the overriding reason to keep running. Plus I'm 87.33 miles ahead of the red line so even if I don't run for two weeks I will still be just ahead of the red line!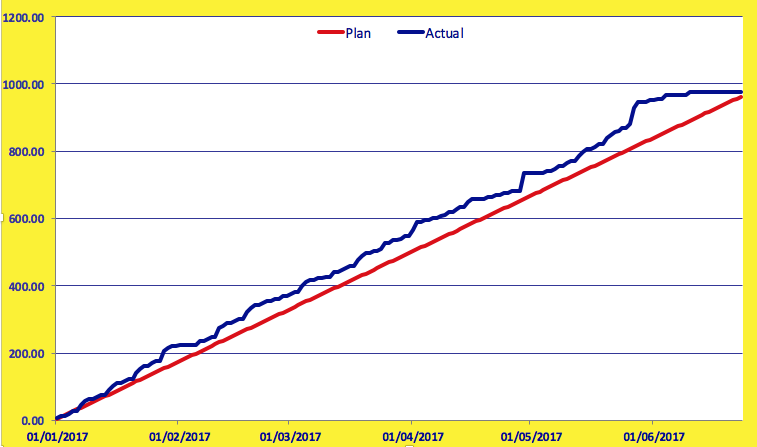 Any thoughts??
BTW I will be opening my latest Guess My Time competition for the West Highland Way tomorrow. My good friends at the ultramarathonrunningstore.com are offering a great prize so it will be well worth sending in a guess!!