I wasn't involved in the Lakeland 100 this year as we only got home from Indonesia that weekend but I followed the race closely and produced spread sheet of the results which gives runners their time and position and split time and position for each of the 15 legs.
I find this spread sheet really interesting as it shows how runners got on in comparison to the rest of the field and tends to highlight the legs you did well and those were you struggled.
I posted it on the Lakeland 100 Facebook page and received an interesting reply ….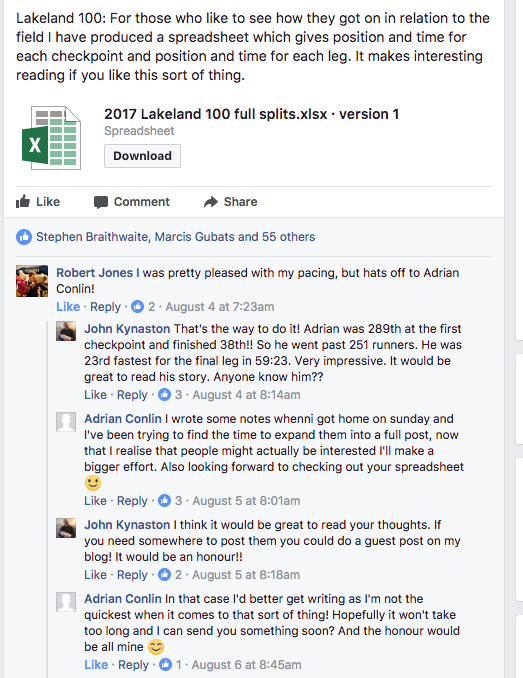 Adrian and I have been in touch and so here is Adrian's race report which makes great reading and I think it will be of great help to others as they plan to run this great race.
Adrian was 289th at the first checkpoint after 7miles and finished 38th so his story is well worth reading!
Lakeland 100 - 2017
By Adrian Conlin
Where to start…
It's hard to know where to start to provide the right amount of background, but if you'll bear with me I think my Lakeland 50 experience in 2014 makes the most sense.  My training partner (Barry Dunn) and I attended the Ambleside to Coniston recce on a damp, chilly Saturday in January and I'd listened with interest to the goal setting talk given by Dr Ian Boardley.  But if I'm honest I was more interested in his Lakeland 100 shirt, it was a moment straight out of Wayne's World - "It will be mine. Oh yes. It will be mine."
Hottest day of the year…
July 2014 came around and to cut a long story short, Barry and I made it from Dalemain to Coniston in a little under 24 hours.  It was a hot, long but enjoyable day out in the Lakes which only served to raise my desire for a 100 shirt after watching them toil through one of the hottest days of 2014, they were awesome and I wanted to join them.  So come the 1st of September I was signing up for the 100 thinking myself lucky to have got in before the event sold out in 20 minutes!
September 16th 2014 …
Once I'd been informed that my entry had been accepted it began to sink in that while Barry and I had done the necessary miles/hills in training, we'd more or less winged it the previous year when it came to pacing, if anyone had wanted to cheer us on at Ambleside we wouldn't have had a clue what time we'd be there.  I think we were operating on the principle that we'd already finished The Wall, which is almost 20 miles longer with the same time limit, so how hard could a 50 mile race be?!?  Which left me wondering how I was going to tackle an event that was 36 miles longer than anything else I'd taken on without running myself into the ground.  That was when I remembered the goal setting talk from the year before - that seemed to be a good place to start.
Fast forward …
I'll hit the fast forward button to try and keep this shorter than War and Peace and summarise my first 2 Lakeland 100 outings.  Process, performance and outcome goals were duly considered, printed and laminated for reference when the going got tough.  Some theoretical timings for each leg were also calculated based on some seriously complicated, and hideously misguided, calculations that basically assumed I'd be running at more or less the same pace throughout with a bit of adjustment for ascent.
2015
| | | | | |
| --- | --- | --- | --- | --- |
| Outcome | Performance | | Process | |
| Top 50% | A: | <30:00 | HR: | <140bpm |
| | B: | <35:00 | Downhill: | Walk where technical/steep |
| | C: | <40:00 | Run/walk: | 150/50 |
| | | | Nutrition: | Eat/drink regularly |
Anyway, the above (plus a list of important things to do at each checkpoint, e.g. eat/drink and say thank you) took me to a finish time of 31hrs 42mins, with which I was very pleased to say the least and I said never again.  I even offered the idea to Mark that he should allow participants to blacklist themselves from the following year while the pain was still fresh, luckily he thought I was joking!
Needless to say time passed, the pain faded, I stopped hobbling and could sleep without pain killers to take away the muscle aches.  And the little voice in my head started to whisper - you can go faster!
2016
| | | | | |
| --- | --- | --- | --- | --- |
| Outcome | Performance | | Process | |
| Top 25% | A: | <28:00 | HR: | <140bpm |
| | B: | <30:00 | Downhill: | Walk where technical/steep |
| | C: | <31:42 | Run/walk: | 250/50 |
| | | | Nutrition: | Eat/drink regularly |
With these "new improved" goals (you'll notice the "slightly" ambitious A goal of finishing before 10pm Saturday) I was hoping to avoid turning the head torch on again and would bound down into Coniston feeling like I'd conquered the world.  In order to achieve this lofty goal I thought I'd just need some tweaks to my leg timings, e.g. set off faster and try not to fade as badly.
This went well as far as Braithwaite where I was roughly an hour up on the previous year, if I could continue like that I had a chance of hitting Coniston in the vicinity of sunset.  Unfortunately this is when my early speed, especially downhill, started to take its toll and I started to lose time.  I did manage to hang on and scraped home in 31hrs 18mins, again a time I was pleased with but that voice was still there - you can go faster, and I knew it was right.
Walking home …
In both events I'd basically arrived at Dalemain and been rather overwhelmed with the distance remaining and just how long 40 hours is, which made me realise that I could more or less walk from Dalemain to Coniston and still make one or more of my goals. And that is essentially what I did in both years.
Time for something different …
This year I'd decided it was time for something different, I'd not head out with any goals other than to have a good time and make it back before cut-off.  Don't get me wrong I'd enjoyed both of my previous outings, but there'd always been that slight time pressure, that "can I make it to the next CP before my target time" pressure, and I thought I'd try it without that this time round.  Things don't always work out the way you think!
So what's the target this year …
About a week before the event a friend at work, another ultra and extreme event guy, asked his usual question - so what's the target this year?  I explained what I was thinking and he didn't look convinced, and over the next day or so I realised that neither was I, it wasn't like me to not have some sort of goal in mind.  So out came the spreadsheet again and I found myself tweaking the leg timings again until I realised that I was just going to end up doing the same as the previous year but based on the averages of 2 years rather than just 2015.  None of which felt like it would get me where I wanted to be.
Even pacing …
At which point I remembered that Ian had also written a pace setting blog on the Lakeland 100 site, that was my weekend reading sorted.  After about an hour of working through Ian's reasoning, building up some calculations based on my previous results and examining the numbers and charts, I confirmed that my 2015 result was closer to even pacing than last year, something that was obvious from my basic splits.  So how to improve things?  I started with the relative pace/splits that Ian offered in his article and plugged those into my calculations, giving me some initial numbers which I could then compare to my 2015 times.  It was immediately clear that the balance was significantly different to how I'd run in both 2015 and 2016 events, even accounting for the more even pacing of the new numbers.  So I set about tweaking the numbers to make the first 4 leg timings sit between my previous 2 attempts and the remaining legs sit just below the previous timings.
Into the starting pen …
With newly laminated goals and pacing notes safely packed into my running vest, I made my way into the starting pen with about 10 minutes to go, I like to start at or near the back so my slower starting pace doesn't interfere with anyone else's run.  It does mean that you miss most of the starting banter and the now traditional rendition of 'Nessun Dorma', but it reduces the chance of getting caught up in the starting excitement and setting off too fast.
How else to improve …
Before I get into all the gory details, I think it's important to note that my preparation for an event such as the Lakeland 100 doesn't just consist of sitting in front of a computer compiling race plans and then laminating them!  My training for the last 5 years has been taken from 'Relentless Forward Progress' by Byron Powell, I used the '100 mile race on a 50 mile peak week' for both 2015 and this year, and the '100 mile race on a 70 mile peak week' version last year.  I switched back to the 'shorter' plan this year because I'd felt really fatigued going into the 100 last year and didn't want a repeat of that.  Here are the other changes I made this year:
Adopting an 80/20 approach to my training, I'm confident that this helped me to avoid over-training.
Reducing the number of races this year in the lead up to the event, I entered 5 marathons (some hilly, some not) and an ultra prior to 2015 and 6 marathons in 2016, even setting a new marathon PB in April last year.  This year I only entered 2 ultras and 1 marathon, admittedly one of the ultras was the GL3D (another great event with a friendly atmosphere!), but I only ran the expert course on the first and last day, opting for the cafe class on the middle day.
Not pushing too hard when it came to racing to avoid injury/fatigue.
Increasing my focus on hills, I set myself the target of 52000m in total this year compared with 39000m last year.
Reducing the pack contents to avoid carrying items, especially food, around the whole course 'on the off-chance' that I might need them.  So I decided to take just a couple of bits of food (small packs of cheese and kendal mint cake) and 'graze' my way round the course taking advantage of the portable food items available at the CPs, i.e. biscuits, flapjack and cake.
And finally increasing the amount of strength, condition and flexibility training especially focussing on leg and core exercises.
The following table summarises the training in the run up to the 100 for each of the last 3 years, i.e. January through to July.
| | | | |
| --- | --- | --- | --- |
| | 2015 | 2016 | 2017 |
| Training mileage (km) | 2300 | 2400 | 1900 |
| Marathons | 5 | 6 | 1 |
| Ultras | 1 | 0 | 2 |
| Recce runs | 4 | 0 | 1 |
| Ascent (m) | 22100 | 17700 | 33600 |
Reviewing this table also highlights other areas where I think I misjudged things last year, no ultras, no recce runs and limited ascent.  I think another recce run or two might have made more sense to give myself more time in the Lakes, and more ultras and hills are no brainers, but that's why hindsight is 20/20 vision.
Reading and watching …
Over the last year or so I came across a couple of books and a film which I feel helped me, they may seem fairly unrelated to running a hilly hundred miler and rather corny to some, but they worked for me.  The books were 'The Chimp Paradox' by Prof. Steve Peters and 'Living with a SEAL' by Jesse Itzler, which helped in very different ways.
The first focusses on assessing your goals and how to achieve them on a day-to-day basis, while the take home message for me from the second was the 40% rule, which boils down to 'when your mind is telling you you're done, you're really only 40 percent done', which resonated with me and my experiences after Dalemain in 2015 and 2016.
The film was 'Lone Survivor' which, despite some inaccuracies compared to actual events, still managed to sum up for me the 40% rule of the SEALs, in this instance as long as you're still moving you're still in the game.  These books and film may not be to everyone's taste or necessarily help anyone else in running the 100, but they helped me realise that if you want something, really want it, then you just have to keep pushing, more of this later.
Planned versus actual …
For those keen to get to the 'how did it turn out' without having to read all the gory details the table below shows the planned versus actual times (rounded to the nearest minute) for each leg and the overall clock.
Checkpoint
Planned
Actual
Leg
Clock
Leg
Clock
Seathwaite
1:47
19:47
1:47
19:47
Boot
1:51
21:38
1:46
21:34
Wasdale Head
1:28
23:06
1:24
22:58
Buttermere
2:18
1:24
2:20
01:18
Braithwaite
1:57
3:21
1:52
03:11
Blencathra
2:01
5:22
2:07
05:19
Dockray
1:44
7:06
1:40
06:59
Dalemain
2:17
9:23
2:10
09:10
Howtown
1:47
11:10
2:02
11:12
Mardale Head
2:51
14:01
2:41
13:53
Kentmere
1:47
15:48
1:46
15:40
Ambleside
2:02
17:50
2:04
17:45
Chapel Stile
1:22
19:12
1:32
19:18
Tilberthwaite
1:48
21:00
1:48
21:06
Coniston
1:00
22:00
0:59
22:05
Looking at the table now, just over two weeks after the event, it's clear that the Ambleside to Chapel Stile leg was where I let the goal slip away, which is strange as my notes for that leg are positive.
| | |
| --- | --- |
| notes | positives |
| good up and over Loughrigg; good run along Langdale to Chapel Stile; chatted with Matt Neale | moving well; still able to run flats and downhills |
Two things occur to me - I spent too long at Ambleside just like the year before, and I got a little too engrossed in my chat with Matt, but then it's not often that you get a chance to talk to an 8 times finisher on his way to his 9th completion of the Lakeland 100!
Now for the gory details …
Leg 1 - Coniston to Seathwaite
The focus during this first leg was avoiding getting too excited as everyone headed out under the gantry and through the cheering crowds, it took all my focus to stick to a steady walk/jog all the way to the Miner's Bridge.  I was still moving too quickly though as there was quite a queue when I arrived, but after a minute or so someone managed to open the large gate and we all moved forward 10 feet to queue for the start of the single track, oh well!
The rain started shortly afterwards and quite a few people seemed to be soldiering on with the hope that it would blow over, but even more were stopping to grab their jackets, as an alternative I opted to slow to a walk and grab my jacket whilst still moving.  After that it was just a matter of keeping the heart rate under control on the hike up Walna Scar Road and keeping the pace down during the descent into Seathwaite as people started to stream past.  Reminding myself that it was the key part of my plans - avoiding quad damage in the early stages - I stuck to my slow jog and only picked up the pace on the run to the CP, where I dibbed in, grabbed some biscuits and got myself away, perfect.
Against the clock: bang on time
Against 2016: 9 minutes behind
Leg 2 - Seathwaite to Boot
I managed to settle into a nice steady pace on the climb up past Grassguards and into the plantation where my Sealskinz came into their own, keeping my feet nice and dry in these early stages.  On the descent into Eskdale I got slightly frustrated with the cautious approach of the people in front of me due to how steep and slippery the route was, so I ended up taking a couple of risks to overtake, but then I could drop back into a nice steady pace along the valley to Boot.
I'd started to eat and drink now so the CP took slightly longer as I needed to get my water bottle refilled but that also gave me time to grab my headtorch in preparation for the next leg, then I grabbed a few more biscuits and headed up the hill.
Against the clock: 4 minutes ahead
Against 2016: 16 minutes behind
Leg 3 - Boot to Wasdale
I set myself a mini-goal for this leg - reach the tarn outflow bridge before having to turn my headtorch on, which was partly to blame for me pushing the pace on the hill and spiking my heart rate to roughly 160!  The run down into Wasdale however went well and I was easily able to jog along the valley to the Stroller Beach Party, I particularly liked the dolphin in the burn and the buckets full of fish 'n' chips - the ideal addition to a cheese sandwich with a cup of soup.  I also took some time to mix my first Mountain Fuel and pack away the iPod, running in the dark with the music on feels wrong somehow, but I can't put my finger on why.
Against the clock: 8 minutes ahead
Against 2016: 18 minutes behind
Leg 4 - Wasdale to Buttermere
This year the climb up Black Sail wasn't marred by bouts of nausea and dizziness (which is perhaps one reason I started to make gains on my 2016 self during this leg) and all of a sudden I was descending into Ennerdale trying as ever to find a decent line down to the youth hostel.  After a brief pause to check out the stars I was again able to jog along the valley path to the Scarth Gap climb and was soon heading down into Buttermere at a relatively fast pace.  A quick chat with the marshalls outside while they kindly refilled my water and then I grabbed another handful of biscuits and got on my way.
Against the clock: 6 minutes ahead
Against 2016: 13 minutes behind
Leg 5 - Buttermere to Braithwaite
I continued with my steady pace up the gradual climbs, despite cutting my hand as I almost fell into one of the gills due to the muddy, slippery path.  I joined the end of a line of runners and in previous years I've declined when people offered to let me through, reasoning that it would allow me to control my pace.  But this year I'd decided to take people up on the offer and made it to the front of the line just as we hit the climb to Sail Pass.
The power walk up the hill was soon over and as I started the descent I spotted a small group of people heading up onto Scar Crags, so I gave them a shout to let them know they were off-course.  This year I found Barrow Door and avoided the extra climb over the peak to the left-hand side and was soon jogging down into Braithwaite with the odd bit of walking on the steeper sections, again trying to avoid too much stress on the quads.  Slightly longer in the CP than I'd hoped due in part to a toilet trip, and an extra portion of rice pudding is always hard to turn down 🙂
Against the clock: 10 minutes ahead
Against 2016: 8 minutes behind
Leg 6 - Braithwaite to Blencathra
This leg was the only one where I had any major technical issues, shortly after leaving the CP my headtorch started to blink before dropping to a backup level, several hours too early by my reckoning as I'd set it up to last 8 hours and it had only been a little over 6.  Luckily I'd been joined by Ian (Garnett) as I left the CP and he kindly offered to help light my way as we jog/walked towards Keswick.  We chatted as we made our way along the roadside and exchanged back stories, hopes and goals for the event so I was happy to see that Ian made it back to Coniston well within his 31hr goal.
Once we started the climb up from Whit Beck Ian decided he was going to ease back slightly and we wished each other well.  Luckily for me it was now light enough that I didn't need to slow down because the back-up light from my torch combined with the gloom was sufficient to push on.  Once I'd dibbed in at the unmanned CP it was more than light enough for me to gladly turn the head torch off and pack it away to be recharged later.  Another quick turnaround at the CP, finding time to refill both water and Mountain Fuel and not forgetting to scoff a couple of pieces of LDM's famous chocolate cake!
Against the clock: 3 minutes ahead
Against 2016: 9 minutes behind
Leg 7 - Blencathra to Dockray
Despite being relatively runnable, at least in parts, this was one of the hardest legs to keep the pace up in the previous 2 years, what a change this year.  Even the climb up to the Old Coach Road seemed to pass relatively quickly and, although I didn't know it at the time, this leg was the section of the race where I overtook my 2016 self.  The Dockray CP was as excellent as ever and the marshalls couldn't do enough for me, they quickly refilled both water and Mountain Fuel while I was plied with soup (with plenty of extra salt) and some tea which I finished off on the walk down into Dockray.
Against the clock: 7 minutes ahead
Against 2016: 9 minutes ahead
Leg 8 - Dockray to Dalemain
With the road down into Dockray being too steep to easily run down I resorted to walking until the gradient flattened out.  I made use of this opportunity to finish the tea provided by the marshalls at the CP, despite being slightly flimsy the Petzl cup provided at registration did make it possible to keep moving while still getting my essential tea ration!
Once I reached the path to Aira Force I was quickly back up to speed and was able to jog down to the foot of the climb up round Gowbarrow Fell, this was tackled with a jog/walk combination as dictated by the gradient.  Once off the fell it was back to a steady run/jog across the fields and then along the roads to the Dalemain estate before jogging past the castle and along the track to the cheering crowds, or at least so I thought.  I'd actually managed to arrive ahead of the Lakeland 50 competitors which meant that I was only greeted by a handful of spectators and the marshalls.
It was at this point that I began to realise that I might be doing significantly better than my previous 2 attempts.  I spent a couple of minutes chatting with Charles (Brent) before he headed off towards Howtown, I ran with Charles along Haweswater in 2016 and it was good to catch-up with him again.  Another refill of both water and Mountain Fuel by the brilliant marshalls, some stew (with extra salt), a double helping of swiss roll and cold custard (the breakfast of champions!), a pack refill and a change of top, socks and shoes and I was ready to be on my way.  Luckily I'd also managed to miss a heavy shower while I was in the tent 🙂
Against the clock: 13 minutes ahead
Against 2016: 29 minutes ahead
Leg 9 - Dalemain to Howtown
As I headed across the fields, after the 30 or so minutes sat at Dalemain, it proved quite a challenge getting the legs moving again, which probably contributed to my pained expression for the photographer at the bridge.  It's definitely something to think about for future attempts, the sitting still for so long rather than the photo opportunity.
Anyway as I headed along the river the legs soon loosened up and I was able to jog through Pooley Bridge and then power walk up onto the moor at which point I was able to pick up the pace and run along and down to Howtown, passing Charles just before the white house at the bottom of the hill, although he caught me up at the CP.
I was lucky again and was making use of the facilities as another heavy rain shower passed by, and after a quick refill of my water and a couple of cups of blackcurrant juice I was heading up Fusedale wondering what had happened to Charles as he seemed to have disappeared!
Against the clock: 2 minutes behind
Against 2016: 51 minutes ahead
Leg 10 - Howtown to Mardale Head
While at Dalemain I realised that somehow I'd forgotten all about the minibars of kendal mint cake in my pack, so after a steady hike up Fusedale, I was able to celebrate with a piece!  After that I headed off across High and Low Kop, with a minor detour in between as I wandered off the path somehow.
The descent off Low Kop was relatively speedy as I now felt that I was far enough into the event that I could afford to pick up the pace on the descents without worrying too much about having to slow down later on due to sore quads.  Things were going so well I wasn't too concerned (at that point) by the minor delays caused by being caught up in a couple of sheep round-ups.  As I made my way along Haweswater I was starting to feel that everything was going really well - I still hadn't been passed by a 50 runner and was still overtaking 100 runners, some of whom I thought were starting to struggle from the monosyllabic responses I was getting.
Chatting with the Spartans later at the CP it became apparent that I was somewhere near the top 50 which amazed me as I hadn't realised quite how many people I'd been passing.  A couple of cups of tasty, salty soup and another couple of tea and I was soon heading out of Sparta.
Against the clock: 8 minutes ahead
Against 2016: 95 minutes ahead
Leg 11 - Mardale Head to Kentmere
The climb up Gatescarth Pass went well and the kendal mint cake tasted wonderful after all the false summits and to my amazement I was able to run virtually all the way down to the bridge at Sadgill.  This probably helped me to reach the climb out of Sadgill before the first 50 runner came past, a quick 'looking good' went both ways, likewise with the next 3 or 4 who passed me on the run into Kentmere.
At this point I realised that I'd had enough of chocolate Mountain Fuel, so I got a refill of tropical flavour instead, this being the Mountain Fuel CP.  Two other things stick in my memory from this CP - the F1-like pitstop that the lead runners managed, definitely something to bear in mind for next year; and Sweet Home Alabama by Lynyrd Skynyrd, somehow it was an excellent soundtrack for eating pasta and sauce.
Against the clock: 8 minutes ahead
Against 2016: 115 minutes ahead
Leg 12 - Kentmere to Ambleside
The climb out of Kentmere was where I had my one and only wobble - I felt rather dizzy and lightheaded as I walked up to Garburn Pass.  Luckily I had a couple of things to distract me - chatting with a family for about half of the climb; and seeing Debbie Martin-Consani sat at the top of the climb cheering people on.
I improved dramatically after my kendal mint cake reward for reaching the top of the climb, based on which I think I was probably struggling with low sugar levels, another point to remember for future events.  After that, the run down into Troutbeck, through Skelghyll Woods and down into Ambleside went really well and as usual the reception from the people in the pubs and streets almost had me crying as the emotions started to bubble up.
Arriving at the parish hall I now knew that barring a bad injury I was going to arrive back in Coniston well inside my PB.  Another quick toilet trip, some cheese and pickle sandwiches washed down with soup and I finally cracked and started on the flat coke despite vowing to not touch it this year!  I was definitely getting tired mentally now, as I was struggling to figure out whether I was ahead of my A goal time or not and I think that was another reason for falling behind on the next leg.
Against the clock: 5 minutes ahead
Against 2016: 149 minutes ahead
Leg 13 - Ambleside to Chapel Stile
Despite my earlier comments about this leg it felt good at the time, the climb up and over Loughrigg went well and the 50 runners were starting to come past at more frequent intervals offering loads of encouragement and support.  I also realised that I was still catching up other 100 runners and was quite pleased to recognise Matt Neale as we came through Skelwith Bridge and spent a few minutes chatting as we headed along the river towards Elterwater.
About halfway to the National Trust car park I wished Matt well and pushed on towards the 'dreaded sofas' at Chapel Stile.  It was wonderful making my way through the campsite in full daylight and up to the CP, although it wasn't quite the same as seeing the firepit and sofas appearing out of the gloom.  Another good chat with the marshalls as my bottles were refilled and I quickly downed some salty stew, some sweet milky tea and 3 flat cokes before heading off towards the head of Langdale.
Against the clock: 6 minutes behind
Against 2016: 160 minutes ahead
Leg 14 - Chapel Stile to Tilberthwaite
It was all starting to feel a bit surreal as I took in the peaks that were normally hiding in the night and the climb up past Side Pike towards Blea Tarn seemed to fly by.  The route down past the tarn, round Blea Moss and to the unmanned dibber also seemed pretty straightforward with the aid of daylight as I was able to spot all the rocks lurking under the ferns.
I was starting to wonder again whether I might make it into Coniston before 10 o'clock as the run down the road, onto the track and past the Highland cattle just flowed by again.  Unfortunately I'd made my usual mistake and forgot that the stretch over to Tilberthwaite from this point is always longer than I remember despite covering it 5 times previously (2 recce runs, 1 L50 and 2 L100s).
So I arrived at the final CP needing to cover the last 3 miles in less than an hour, sadly I think I decided at this point that the goal was unachievable as I'd always taken at least an hour and a quarter to reach Coniston from Tilberthwaite in previous attempts.  A quick chat and a couple of fizzy cokes and I was climbing the steps.
Against the clock: 6 minutes behind
Against 2016: 176 minutes ahead
Leg 15 - Tilberthwaite to Coniston
If, If, If - if I'd believed it was possible and just dibbed in, said thank you and left; if I'd pushed on the climb rather than trudging up rather dejectedly; if I'd jogged more along the top rather than chatting with a 50 runner who'd picked up a problem with his ankle; perhaps I'd have made my goal time.
But those are questions for next year, all I know is that somehow I'd made it to the top of the final descent by 21.45, how I'm not sure to be honest, as this had felt like one of the slowest legs of all.  I could see the path across the valley that we'd been climbing all those hours ago in the rain, I could see the cottages below me on this side of the valley, it was still 'daylight' and while I was never going to get to the finish in less than 15 minutes I was determined it would be as close as possible.
I soon realised that if I was going to make it down in as short a time as possible I'd also have to give up on my other goal, not turning the head torch on again, otherwise I'd be limping into Coniston!  Luckily I didn't need to get my head torch out of my pack at this point as I'd done that whilst at the last CP after deciding I wasn't going to make it by the cut-off, and I was able to turn it on and blast down to the gravel road in a new PR of 10 minutes and 50 seconds.
After that it was just a case of pounding down the road, only slowing for the cattle grid, past the brewery, between the Black Bull and the Yewdale Inn, past the road crossing marshall, across the bridge, up past the petrol station and down to the finish, all the while thanking everyone shouting encouragement and applauding - it felt wonderful!
So there I was, after dibbing in at the finish line, with my hands on my knees gasping for breath trying to reassure the marshalls that I was OK, that I was just coming to terms with the 5 extra minutes and I muttered something about blaming the sheep and someone assured me that they would alert the chef to help me out with that.
I was then kindly and carefully led into the marquee with the traditional '100 finisher' announcement and the attendant cheers, applause and congratulations, it was as marvelous as ever!  And this time I wasn't vowing to never do it again, instead I was trying to work out what day of the week the 1st September falls on this year (Friday if you've not checked), just in case I need to 'book a meeting'…
Against the clock: 5 minutes behind
Against 2016: 193 minutes ahead
A bit of a blur in Coniston
The rest of the night is a bit of a blur really, I can remember some snapshots: getting the medal and t-shirt; having the dibber removed (I'm always torn at the point - sad that it's over, but happy to have finished); sitting in front of a hot air blower eating a packet of fish 'n' chips; congratulating everyone around me; eating my finisher's meal; a welcome shower and then off to bed just after midnight.
After being woken by the rain and the ache in my legs at about 4 a.m. I headed back into the marquee to 'give back' and welcome everyone arriving out of the dark and rain.  They all looked as happy as I felt, despite many of them obviously suffering from their exertions, it was great to see so many people making it back to Coniston.
I also managed to catch-up with a couple of the 100 finishers who I'd run with previously, Charles mentioned above, and Pete (Lindley) who I ran with from Braithwaite to Blencathra in 2015.  I also bumped into a friend from work, Colin (Eberhardt) the guy who's posted the parallel coordinates view of the 50 results, he'd run his second 50 also managing an impressive PB, so we spent several hours exchanging notes as we waited for my training partner to arrive, Barry was running his third 50 despite still recovering from a bad knee injury sustained last year.
About mid-morning Barry texted to say he was on the road down to the Black Bull, so I headed out to meet him and walked down through Coniston with him before dropping back to let him have his time crossing the finish line and entering the marquee.  I was really happy he'd made it round as he'd been worried about how his knee would hold up.
Overall
On the positive side my general plan to power walk up hills with the pace dictated by my heart rate, walk or slow jog down the early downhills and jog the flats worked extremely well, meaning I could keep running through to the end, as did my nutrition plan apart from the slight wobble heading out of Kentmere.  The reduced pack contents also worked well in a couple of ways - easier to find things and less weight to carry.
On a negative note my headtorch dropping to the backup level wasn't ideal but it could have been more of a problem than it turned out to be due to the timing, i.e. just after Braithwaite with the street lights, and I need to find a solution to the headache that the headband causes.
Some things to improve are my bottle strategy, emptying one at a time would mean only having to refill one, so less time at CPs; more kendal mint cake and more Mountain Fuel flavours.
Uploading to Strava after the event I was pleased to see the number of PRs that I achieved in the later stages, the ones I was most happy with were those along Haweswater where I picked up plenty of time as I didn't need to keep letting 50 runners through and the descent into Coniston.
Some final thoughts…
Am I happy with the outcome - yes, absolutely!
Do I think I should have broken 28hrs - yes absolutely!
On that slightly contradictory note I guess the key question is what did I learn this year?
Training
Hills are paramount, wherever you live

The vast majority of my hill training was done on hills 50m or less in height, the key was repeats!

80/20 training worked well in helping to avoid over-training

The jury is still out on my exact balance, but I think if anything it tends towards 90/10, i.e. the less intense end of the scale

Strength training worked well

Especially the leg exercises when it comes to ascending and descending
On the day
Keep focus

The final couple of stages could have been faster given the terrain, so keep pushing and avoid standing still, especially at CPs, see the point below

Fueling

My plans worked well on the whole: cheese, kendal mint cake and Mountain Fuel, with the proviso that your favourite flavour may not appeal after 15 hours and keep an eye on the sugar levels
Especially given how wet it was underfoot this year, the combination of a coat of Vaseline, a pair of Injinji socks and a pair of Sealskinz socks worked wonderfully.  My only foot issues were due to playing trail football with rocks that were rather too large, with predictable results - my big toenails are now both black and I'll be lucky if I don't lose one or both
Stay friendly, but reduce the chat

There's always the temptation to stay and chat at CPs, the marshalls are so welcoming and genuinely interested in how things are going that it's so easy to stay too long and have a nice chinwag, unfortunately that's not really an option if you want a good finishing time, just one minute at each checkpoint above and beyond what you absolutely need amounts to almost an extra quarter of an hour 😦
And in true Columbo style, I have just one more question:
Do I think I could go faster - yes absolutely!