This weekend we enjoyed a great weekend supporting our friend Cammie as he ran the Salomon Glencoe Skyline Race.
Last week I interviewed Cammie in the latest episode of my vblogs LOVEultras 013
Katrina and picked Cammie up at 1pm and we set off for Kinlochleven. It was a good job that we gave ourselves plenty of time as the road works on the Erskine Bridge made the first 10miles or so pretty slow.
We dropped Katrina off at the bottom of Jelly Baby Hill (Inverornan Hotel) as she wanted to do a long run in preparation for the Dunoon Ultra which is coming up in a few weeks.
Cammie and I continued on to Kinlochleven stopping at the campsite at Caolasnacon to pitch Cammie's tent. We were staying in our van.
We then drove to Kinlochleven so Cammie could register for his race tomorrow and we watched lots of runners finishing the Ring of Steall Skyrace and the Ben Nevis Ultra. Both looked tough events!
Cammie had treated us to the filmshow in the evening starting at 7pm. Katrina arrived in time to watch the four excellent films. The final one was about 89 yr old Bill who is still running 50k races. Cammie and I decided we want to be like Bill and still running at 89!
After the film we headed back to the campsite and we were tucked in bed by 10pm as we had an early start in the morning.
Our alarm went off at 5.45am and by 6.30am we had eaten some breakfast and packed up Cammie's tent and our van. We dropped Cammie off at the start at 6.45am.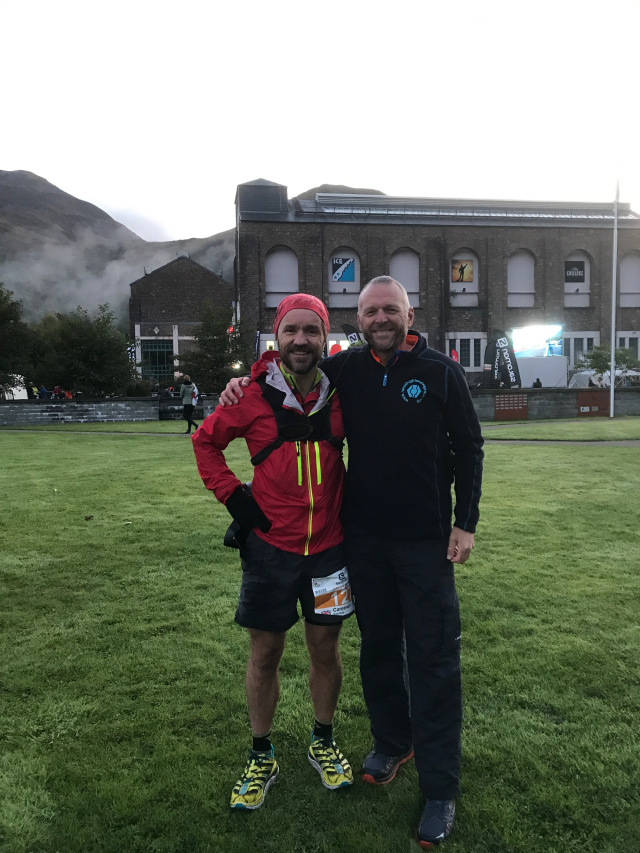 Initially we were going to stay in Kinlochleven for the start but we realised we probably wouldn't have time to see the start and then get to the Devil's staircase in time to see the leaders coming through.
So we set off before the start and we were glad we did as we got one of the last few car parking places at Alterneath. We headed up the hill and stopped at a good vantage point where we could see the runners coming over the hill and making their way down the zig zag path.
We were really looking forward to seeing Kilian run past and he didn't disappoint as he acknowledged our cheering. He was in 4th place and looking strong.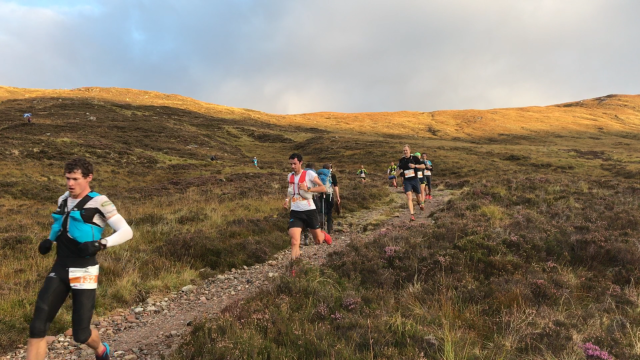 I took video clips of all the runners as they went past and put it together as a short video.
It was good to see Cammie near the back of the field but looking comfortable and running strong. It is so easy to get pulled along running faster than you intended or can maintain so it was great to see that Cammie had started sensibly.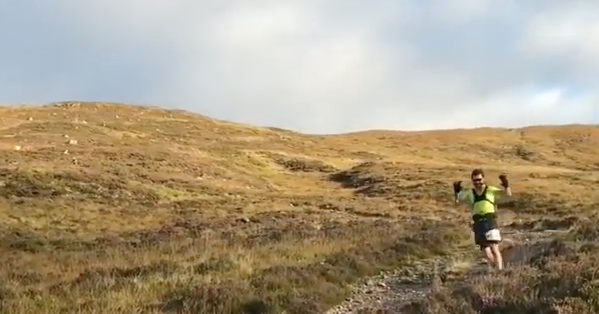 We waited until the final runner went past before making our way down and heading to checkpoint 5. The car park leading to the checkpoint was full so we drove back up the road 400 yards or so and found space there. Other cars were parked on the side of the road and later on we talked to a policewoman so was taking registration numbers and was going to fine them for irresponsible parking!
We walked up to the checkpoint and were pleased to hear that the leading runners hadn't come through yet so we were going to be able to see Kilian and the top runners again.
We decided to walk further up the hill as the midge's were out. As the runners came we stopped, cheered them on and took some more video clips before walking further up the hill. I've not put this one together yet.
Kilian was at the front of a group of 4. They were all moving well and it looked like it was going to be a great battle to finish. We knew that would be the last time we would see them.
We found a good spot to watch the runners coming over the hill and heading down to the checkpoint. We knew Cammie was hoping to be at checkpoint 5 by 11.30am at the latest as that would give him 3hrs 30mins to reach checkpoint 11 by the cut off of 3pm.
The official cut off for checkpoint 5 was 1pm but Cammie had worked out that he would need well over 3hrs to complete that section.
When Cammie came past us he definitely looked tired but he was moving well and reached the checkpoint around 11.15am so he was ahead of his plan but he didn't have too much time to play with.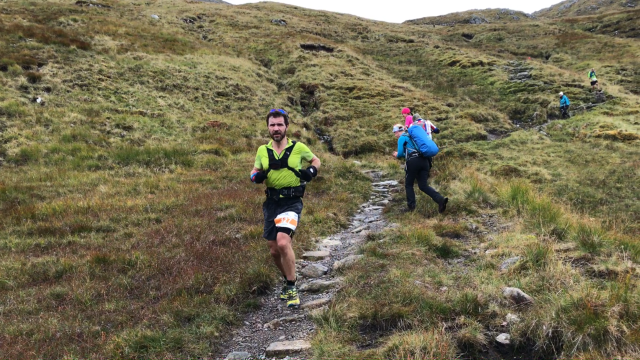 Once Cammie went past us we headed down the hill cheering runners as they went past. One of the final runners we saw was Bob Allison who completed the UTMB only two weeks ago so this was an amazing effort. He reached the checkpoint around 11.30am so it was going to be touch and go whether he would make it.
After chatting to Stuart who was one of the race officials we decided to drive past checkpoint 11 and head to the Glencoe Tourist Café for some lunch. It was a good idea as the checkpoint was full of cars and vans and it would have been difficult to find somewhere to park.
The Café had wifi so it was good to catch up with how the race was going as well as getting the Football scores from Saturday!
By the time we arrived back at checkpoint 11 there was room for us to park so it all worked out well.
It was great to catch up with various friends including Clark & Amanda, Graham & Katie to mention a few.
As we had seen everyone at checkpoint 1 and checkpoint 5 so once we started seeing runners who were ahead of Cammie earlier we started to look out for Cammie. The cut off for this checkpoint was 3pm so we hoped that he would arrive in plenty of time.
I had my binoculars and I was looking out for his lime green top. Suddenly Katrina say him arriving … he had put his red gillet on so I hadn't seen him earlier.
Cammie was really pleased to arrive with plenty of time. He spent 10mins ini the checkpoint during which time Katrina and I put a couple of compede plasters on two toes, fed him some coke, refilled his water bottles and sent him on his way.
On the way out Cammie had time to do his 'Usain Bolt' pose.
We stayed until after 3pm to watch the final runners make it in time. One of the last runners was our friend Bob Allison who squeezed in just in time.
It was going to take Cammie around 5hrs to run the final section to Kinlochleven so we had plenty of time to drive to Kinlochleven and go and get some food. We wandered up the course to see a few runners finishing off.
We went to a pub opposite the finish. I was hoping that they might be showing the Man Utd v Everton game. They were but only downstairs and the food was upstairs! It was just as well in the end as the toffees lost 4-0!
We walked back up the track and watched a number of runners finish. Some were finishing really strongly while others looked in pain and struggling a bit.
We were back at the finish around 7pm and had a competition to guess what time Cammie would finish. I guesses 8.10pm which would be 13hrs 10mins whereas Katrina went for 7.45pm.
Cammie was faster that both our guesses and finished in 140th position in a time of 12hrs 18mins 43secs
We were so impressed with Cammie. What a great performance and we really enjoyed supporting him.
I put together the various video clips of his run which hopefully will give a feel for the race.