Saturday 17th March 2018
Sometime last year Katrina said that she would like to do one of the Hardmoors races. I suggested the Hardmoors 55 in March.
Katrina: What will the weather be like?
Me: I've done it four times and only once in bad weather so it will be fine.
Katrina: Sounds good to me. Sign me up!
It worked out really good for me as well as I would use this as a preparation for the Northern Traverse in May. We would run it together so I could help Katrina with the navigation and she could set the pace which would help me for the longer run in May.
Since January we have steadily built up our training. During the week we did our own runs and then at the weekend we did a run together.
At the end of January we ran 30 miles as part of the whw training weekend and then in February four weeks before the Hardmoors 55 we ran 37 miles. We had planned 40 miles but had to cut it short due to the snow, which in hindsight was perfect preparation!
We were both able to leave work early so we set off about 2 o'clock from Paisley making sure we had all the necessary gear for a tough race in what was going to be tough weather. During the week Katrina been checking the weather app every day and the forecast just got worse and worse. I persuaded her that it wouldn't be as bad as they said  and also a lot of the route is through forests and lower down so it would only be really bad on the tops.
We had a straightforward journey down and arrived at Guisborough around about 7 o'clock having called in to the Fox & Hounds to pick up our key for Saturday night.  We were staying in our van at the Scout Hut for the Friday night.
We met up with Andy Cole in the Foxing Inn and enjoyed an evening together chatting about the race tomorrow and our plans for the rest of the year.  Andy has very kindly lent me two drop bags that I can use for the Northern Traverse.
At 8.30pm Andy headed off to his hotel and we walked back to our van to get ready for bed. We read for a while before trying to fall asleep. Neither of us slept particularly well and we were awake before the 5.15am alarm call.
The leaders of the scouts had very kindly had the hut open all night so we were able to go in and get ourselves ready for the race and get a cup of coffee/tea before heading for the bus.
I was still undecided whether to run in shorts or not but when I opened my bag I realised I left my shorts at home so running tights it would be.   I wore a Helly Hansen base layer, my favourite long sleeved green top, skins, running tights and Drymax socks.
I was also planning to start wearing my Brooks Windproof top which meant when I put my OMM jacket on later I would have an extra layer.
At 10 to 6 we wandered over to the meeting point where we met a lots of the other runners waiting to board the bus to Helmsley. We got on the second bus and we are right at the front so we had a great view.
We arrived just before 7am and walked up the hill to the Helmsley Rugby club where the registration was.  Fortunately we were very near the front so very quickly we were able to do our kit inspection, receive our numbers and be fitted with a tracker. The whole process was very efficient and didn't take too long.
The hall was filling up so we found the space in the kitchen where we repacked our bags and got ready for the race.
I went outside for a while to do a little intro to my video diary and realised that it was starting to snow but it wasn't too bad and by the time we were called out for the race briefing it has stopped.
The race started at 9:10 after Jon's briefing. By the time we made it to out of the car park the race had started so we just followed the runners down the hill.
Helmsley to White Horse - 9.15 miles
I always like to have a plan so I had worked out splits for a 13hrs 30mins finish. I thought we were capable of that if most things worked in our favour. Obviously once we factored in the potential weather then we would have to add some time on. Katrina was only interested in getting to the finish so I didn't share any of my splits with her!
What I did want to do though was to finish well. To do that means that you have to start very conservatively and make sure you don't push too hard too early. So right from the start the plan was to walk all the hills and run easily on the flats and downhills.
The first few miles passed quite quickly and it was good to be on the route again. The last time I ran on the Cleveland Way was when I was finishing the 160 race in May 2016. The whole section from Guisborough took me a long time so I was enjoying the fact that the various landmarks were passing quickly!
The weather early on was fine with little wind. The sun even tried to appear a few times. I did my first video diary update after 4.65 miles and the sun was shining.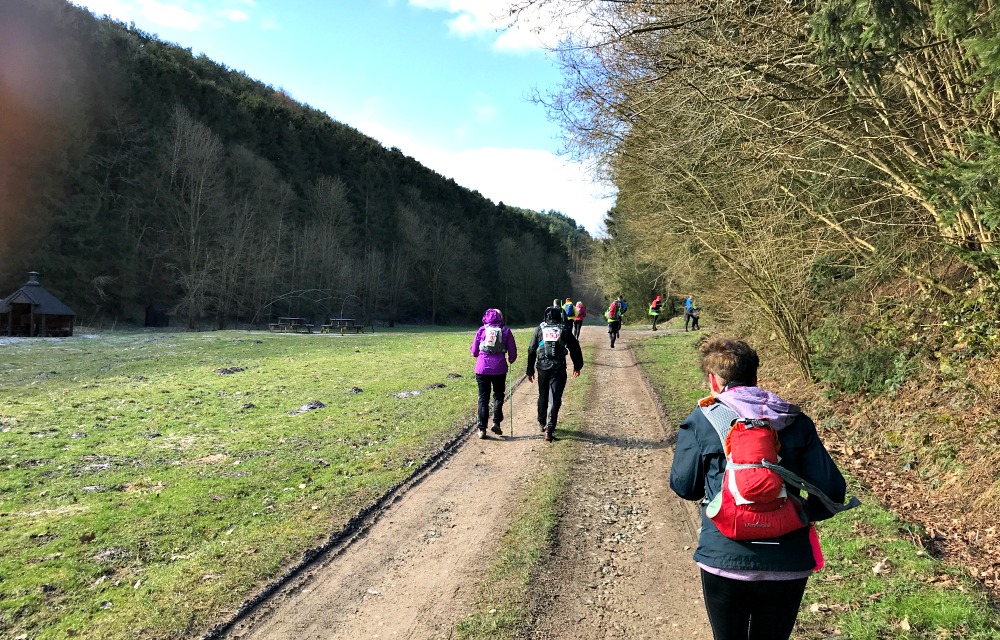 Once we climbed up through 'death valley' (named by another runner near us due to the amount of dead animals there are) we had our first snow flurry. It wasn't too bad or last too long but a sign of things to come.
We ran/walked through Cold Kirby after 6 miles before turning left and making our way along a muddy path. After a mile or so we went past the Horse race track and then we were directed on a slight detour which turned out to be a lovely path through the trees.
We came out on the main road which we crossed and then made our way to the first check point at White Horse.  One of the nice things about this out and back section is you get to see the runners who are ahead of you making their way back.
I tried to greet each one but not many answered back as they were definitely in race mode! It was good to see my friend Malcolm Green who I ran a lot with in 2016. He was moving well and he did return my greeting!
The steps down to the checkpoint were quite icy so we took our time as we didn't really want to have a fall this early in the race.
As we approached the checkpoint we could hear a drum banging. I love the way people love to encourage ultra runners and this guy was certainly having lots of fun as he greeted us! Thanks to Doug Sharp for the following photos.
We arrived at the checkpoint in 1:53:11. My plan had 1:45 so we weren't too far off. We stopped long enough to refill our water bottles. We were both using Tailwind. We had drunk one bottle each in that first section and also had a hot cross bun (Katrina) and fruit bread (me).
White Horse to Osmotherley - 13.01 miles (overall 22.16 miles)
As we left the checkpoint I encouraged Katrina to take it steady as there are a lot of steps to make it back up to the top. Katrina had asked whether I could give her an idea of what was coming next.
I explained that the next 4-5 miles were mainly runnable as we made our way around the embankment.  Once we reached the top of the stairs and were looking down on the checkpoint in the car park we started a steady run to the road.
The snow stopped for a while and once again it was very pleasant as we made our way. There were a few runners still making their way out to the checkpoint. They looked in good spirits and we hoped they were enjoying the day as much as we were.
There was a little crowd at the road crossing so it was great to be encouraged as we made our way through the trees.
After a mile or so the snow started again with a vengeance. It was being driven across us by a very strong wind. We were right in the middle of it as we came to the SportSunday photographers so our photos give a good sense of the conditions!
The next couple of miles were hard going in the snow and wind. My jaw was so cold I could hardly open my mouth! I pulled my buff over my face to try and get some protection. But we kept moving and soon enough we reached the road at Sneck Yale Bank.
Kim was there as one of the marshals so it was good to see her. I grabbed a handful of peanuts as we set off up the hill.
It was so nice to be in the shelter of the trees and away from the wind but it didn't last too long. As we went past the farm I stopped to get out my hat so I could use my buff around my face and still keep my head warm!
The snow was easing off now for a bit so it was easier to chat and make our way up the hill towards the next set of trees before the open ground. Just before we made it to the trees we saw Jayson running towards us with their dog. Now I'm not really an animal lover but if I did have a dog it would look like theirs!
Jayson turned round and ran with us for a bit saying that it is very cold up on the moors and if we wanted to put an extra layer on to do it now.
We were in a bit of a lull with the weather so decided to stay as we were. When we were though the gates and onto the open moor we were caught by three runners. One of them had a big beard (Phil?) who said that I was the reason he was running the race! He had watched my videos from previous years and wanted to be part of it. I hoped he still felt the same later in the day!!
I had been wondering whether Any Cole was ahead of us or behind. He had explained the previous evening that he planned to take the full 16hrs allotted as this wasn't his main race of the year and so expected us to be well ahead of him.
I wasn't in the least bit surprised when he caught us. I was about to do my next video update so got Andy on camera as well!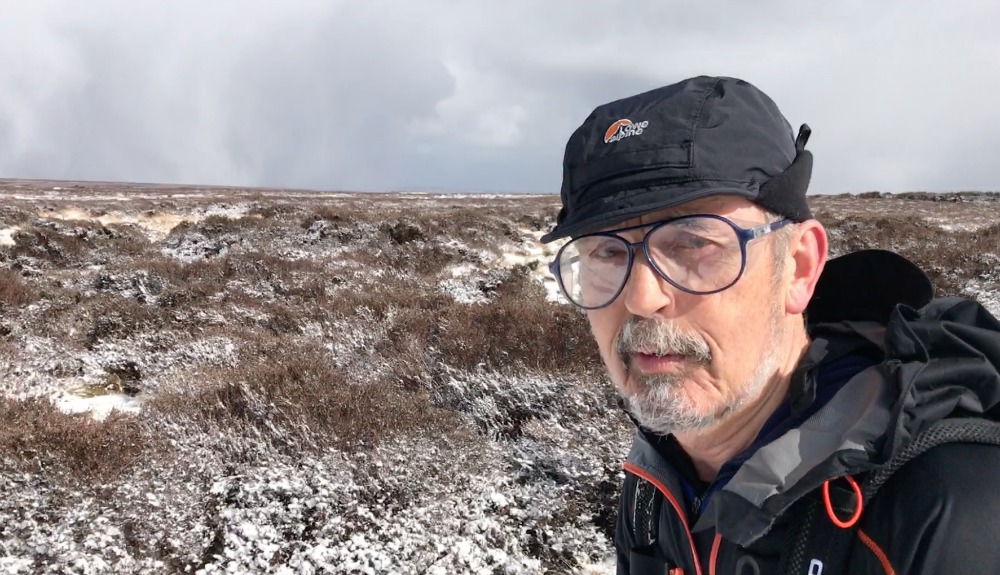 We ran together for a while before he said he was easing off a bit. I knew that this wouldn't be the last we saw of him and I was right!
The break in the snow blizzards lasted until we reached the sign post where you take a 90 degree left. As we made our way down to Osmotherley Square the snow started again. At least it was behind us now helping us on our way.
When we were within sight of the car park Katrina slipped her hurt her knee. Katrina has had a sore knee for a number of years and does really well to manage the pain on these long runs. We had brought poles so we got them out to give her a bit of help for the rest of the race.
When we arrived at the car park the snow was really thick. Ann Brown was there with her camera taking some great photos. She had some stunning photos of runners before and after us with amazing backgrounds.
Our photo in comparison shows how thick the snow was!!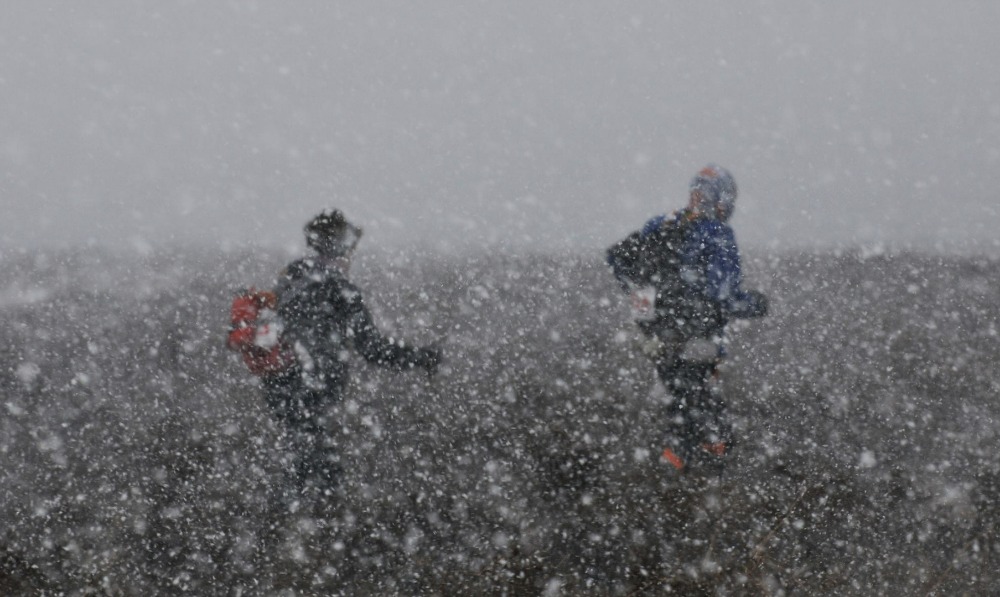 The stone steps weren't too slippy but we were careful as we made our way down. Andy caught us again and we ran the last mile or so together into Osmotherley.
We arrived at this first indoor checkpoint in 4:53:04 against my plan of 5:00:00 so we had made some time up which was encouraging.
The checkpoint was fairly busy but we found a couple of seats. I quickly refilled our Tailwind and I ate my sweet potato while Katrina had her fruit pot. After 11mins we were on our way. We didn't want to spend too long inside.
Osmotherley to Clay Bank – 11.23 miles (overall 33.39 miles)
We left the checkpoint in sunshine but knew that once we started climbing the snow would be waiting for us!
I have gone wrong a couple of times on this section to the TV tower but I'm not sure why as it is so straight forward! I do think though that there a lot more signposts on the route.
I knew the Coast to Coast route joined the Cleveland Way along here and so it was going to be another chance to recce part of the route before the race in May.
I wasn't expecting to see a signpost where it did join. I should have taken a photo but I do know where it is. So the Northern Traverse route follows the trail all the way to Bloworth Crossing so I spent some of the time wondering what state I'll be in by this stage in May. I just hope it not still snowing!!
Once we climbed up and ran past the TV tower I chatted to a guy who was doing his first Hardmoors race. He was going well and his main aim was to finish. We chatted about what was to come and hopefully I was able to encourage him!
As we left the woods through the gate I had my first slip in the mud! Nothing serious but a sign of things to come. I lost count how many times I ended up on my back side!
We were running well whenever we could and it wasn't too long before we crossed the road and then ran through the woods to the open field and then over the stream and down the road to the next mini checkpoint at Scugdale.
We gave in our numbers but didn't stop. I knew there was a long climb along the old Roman road but I must admit I'd forgotten how long it was! The snow had started again and we made our way single file along the stone slabs.
Every time I run along here I'm amazed at how the Romans built their roads. All the stone slabs must have been carried to where they are.
We climbed and climbed and eventually reached the top and that was when the run really started! The stone steps were really icy with a coating of snow so it was really difficult to know where to step. I made a few errors and ended up on my backside more than once.
Katrina with her sore knee was even more cautious and rightly so but we eventually we made our way down. Andy went past us on this bit as he loves the more technical ground.
In fact quite a few people went past us on these downhill sections but we were just interested in getting down safely no matter how long it took us!!
Maybe because we were descending slowly I started to feel quite cold for the first time. We decided that we would need to start at Lord's Café to put on our waterproof tops and an extra pair of gloves.
I knew there were toilets at the café but they seemed to have locks on which is fair enough but we found a small room which is used for washing pots and pans so we sheltered in there for a few minutes.
It was great to get out of the wind and snow so we could put on all our extra gear. I also took the opportunity to refill our water bottle but to be honest from here on we didn't drink too much as it was just too cold!
My Suunto had 20% battery left so I also connected it to my portable battery pack and recharged it on the go. I like to have a record of the run so it was good to set this up while we were sheltered.
As we came out of the room there was a lull in the snow so we were able to climb the first of the three sisters in relatively good conditions. I was really encouraged that we were both moving really well and felt strong on the climb.
The descents were a different matter though and once again we lost some time and places as we gingerly made our way down. The snow and wind were back as well. Once again the stone slabs were very icy with a covering of snow which made it difficult to know where to step.
We made it down and then were able to have a little run before the next climb. They aren't too high so pretty soon we were over the top of the second one. Visibility was reduced quite a bit in the snow but the path is obvious so no problems.
Another slow decent was followed by another strong climb up the Wainstones. We caught a group ahead as we made our way through the stones in the snow and mist.
I said to Katrina we have a bit of a run along the top before the final descent to Clay Bank. Katrina has run this bit before when Jon & Shirley had a wedding run the day after their big day. Not surprisingly the weather was sooo much better then.
A few more people went past us on the descent. Every one of them were in good spirits and raising to the challenge of what the weather was throwing at us. I didn't hear a single moan or complaint.
There was a checkpoint at Clay Bank so we gave in our numbers. We didn't need anything so we went straight through and headed up the steps away after crossing the road. I did note just how much snow there was on the road.
Clay Bank to Kildale – 9.25 miles (overall 42.64 miles)
As we climbed up the steps I explained to Katrina that we had 3.30 miles to Bloworth Crossing and most of that will be climbing up but gradually rather than steep. Then we had 2.40 miles to the gate and a lot of that is runnable. Finally there is 3.50 miles down to Kildale and again we'll be able to run most of it.
It was almost 6pm by now and the light was fading. Visibility was very poor, the wind was blowing really hard and to cap it off it started to rain really heavily. We both had our hoods up and felt quite snug as we battled along.
I had bought some over mittens which were proving to be superb. My hands were nice and toasty. It was only the parts of my face that were exposed that felt really numb.
Once we climbed up and were on the wider path we were able to run a fair bit. I was leading the way and with the wind and rain and having my hood up I couldn't hear whether Katrina was behind me or not.
So I would run for 4 lots of 50 breaths and stop to look back to make sure Katrina was okay. Every time she almost banged into me as she was right there! We weren't able to chat at all and so we were both in our own little world getting the job done.
A couple of guys went past us still in their shorts! A bit further on they stopped as one of them was putting on his over trousers but the other one continued in shorts. Impressive!
We could see behind us that runners had their head torches on but I like to get as far as I can before getting mine out. Plus it was in my bag and I didn't fancy the prospect of having to take off my gloves to get it out!!
We reached Bloworth Crossing in just under an hour. Katrina very wisely had put her head torch in her pocket at Lord's Café. As I walked along I took my ruck sack off and got out my torch. But I was struggling to get the clip back together.
Eventually I made it and ran to catch up Katrina who was running strongly. For the next couple of miles we ran really well and caught up with a number of runners including Harriet who was running with a couple of ladies.
Harriet was very positive and encouraging and so it was great to share that part of the run with them. We weren't chatting much but the five of us made our way to the gate and then started the descent to Kildale.
I assumed that when we started descending to Kildale the wind and snow would ease off but oh no it was actually worse! We caught up with more runners as we reached the car park.
Once we were on the paved road Katrina was away and she was the one setting the pace. I think the prospect of a cup of coffee at Kildale was spurring her on!
We talked a lot about once we reached Kildale then the tougher sections were behind us and we 'only' had 12 miles to go. That included Roseberry Topping and we were both apprehensive about that descent but we would face that once we got there.
Our initial plan had been to get in and out of Kildale fairly quickly but I said to Katrina that we will take a bit longer and make sure we get something hot to drink and eat as we hadn't eaten anything for a while.
We arrived at Kildale checkpoint in 11:09:01. The section from Clay Bank had taken us 2:21:55. My plan had 2:25 so that just shows how well we were going in those conditions. The overall plan had us at Kildale in 10:24 so we were only 45 mins behind that plan!
Kildale Checkpoint
Our good friends Andy & Sarah were in charge of this checkpoint so it was so good to see them. Andy found our drop bags and while Katrina had a seat to sort hers out I went off to get some tea and coffee.
I also saw some folk with soup so went to the kitchen where Sarah was hard at work making the soup. I ended up drinking 3-4 bowls. We also saw Andy Cole again! He was getting all his gear on ready for the final section.
There must have been well over 50 runners in the checkpoint. Some had decided to stop while others were getting ready to go. At one point a marshal asked for hands up for those who were stopping and wanted a lift back to Guisborough.
About 20 people put up their hands. I was so proud of Katrina that she didn't!! We were both feeling quite cold having stopped running but we knew we could get this done and once we were moving again we'd be okay.
We decided to put on our extra layer and waterproof trousers. As we kitted up we were chatting to various folk around. Some had decided to stop while others like us were getting ready to go.
Andy Cole left about 8.40pm looking determined to finish this off in style! I think it was around 8.50pm that we were ready to go. We had our extra layers on, our bags on our backs and we were just about to stand up and head off when Andy Norman asked for quiet …
The race is being stopped he said. Andy explained that with over 200 runners still on the Moors and the emergency services stretched to the limit Jon & Shirley had taken the decision to stop the race and make sure everyone gets to somewhere safe as soon as possible.
I knew that they wouldn't have taken this decision lightly and we completely trusted them to make the right decision which they had.
Obviously we were disappointed as we were ready to go and knew that we were capable of getting to the finish but it is only a hobby and runners safety must be the priority.
Once the decision had been made I went and got some more soup and drinks! It was good to chat to various runners as we all had our stories to share.
A consequence of the decision though was now Jon & Shirley and their team had to get all the runners back to Guisborough!  Those who were particularly cold were taken first. I did suggest to Katrina that she should look colder than she was!!
I think it was about 10pm that Shirley took Katrina & I and another couple of runners back to Guisborough. Even in a 4 wheel drive car it was a quite difficult but Shirley was in control. The added bonus for us was that her car had heated seats so we were toasty!
On the way we discussed t-shirts and medals and Shirley rang Jon to discuss. They both agreed that they would give t-shirts and medals to everyone who had it to Kildale.
We were so glad that we had booked a room in the Fox & Hounds which was only 5mins away.  So it wasn't long before we were in our warm room and enjoying a lovely hot shower.
So it was quite an adventure. We love being part of the Hardmoors family and we will be back! Thanks to Jon & Shirley and all the amazing team of volunteers who helped make the race happen.
Finally congratulations to everyone who ran no matter how far you got. We certainly will not forget this race in a hurry!