As I look back on my running in March two events stand out, one that took a second but had repercussions for over four weeks and the second which took almost half a day.
The second I fell on Tuesday 23rd February (well it was almost March!) running home from work I never thought it would take four weeks until I was running without pain in my chest.
It meant that I lost 2 quality weeks that I'd planned and then I took 11 days off completely hoping it would help me recover in time for the Hardmoors.
One glance at the graph below shows how poor my running was in March with one run dominating the month.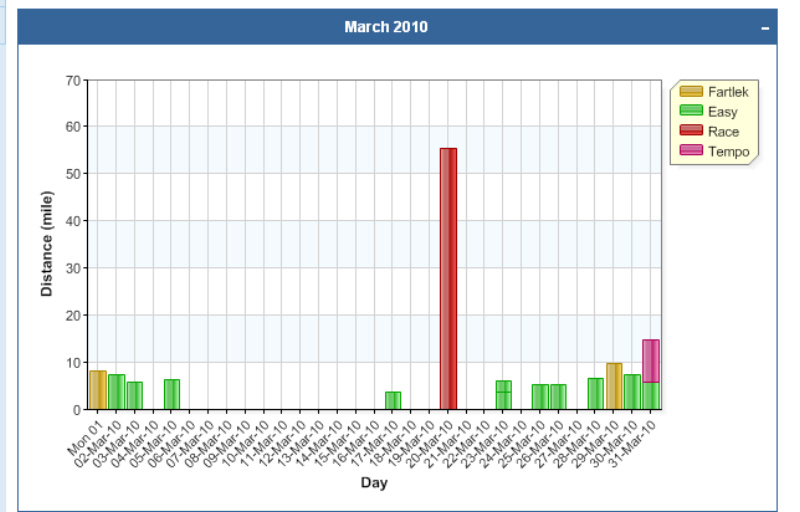 I've started to break down the types of runs I'm doing to help me analyse my running (okay Debs … it's just an excuse to do another spread sheet!!). Anyway the gaps in the long and longer columns tell their own story.
I've always felt that the long runs are the key to my training and I missed two that I'd planned due to my fall.
The second event was obviously the Hardmoors 55 which almost took me almost half a day. I'm glad I did it and as Adrian pointed out as we ran in together at least now I have a pb which I should be able to beat next year (or whenever I run it again!!)
I like to compare how I'm getting on with previous years. At this point at the end of March in 2008 I'd run 707.5miles and last year I'd run 641.25miles. This year I'm at 585.32miles so again due to having 18 days off in March I'm over 50miles down on last year and over 120 miles down on 2008.
Here is a graph showing my weekly runs from January to March 2010 (from RunningAhead)
The temptation is to try and play catch up but I don't think that's sensible. I wanted to be flexible this year and I'm going to have to accept that I've lost those weeks and build on what I have from here on.
April is dominated by the Highland Fling which I'm really looking forward to. It will be the fourth time I've run the race and it has been such a key part of my built up to the whw as well as being a great race in its own right.
Three weeks tomorrow …. can't wait!
Tomorrow is the second in the
SUMS series
, the newly formed
Deeside33
. So to all those who are running I hope you all have a great race and enjoy it. It is an out and back course so it will be interesting to see the front runners coming back as you are still going out. Normally in an ultra race once you've started you never get to see the front guys until the presentation.