Last year I did a number of runs up and down Ben Lomond with Jonny and we were keen to do it again this year. The main aim of these runs is to strengthen our guads for the downhill running. We walk up as fast as we can and run hard on the way down.
I will be supporting Katrina this weekend as she runs the Greater Manchester Marathon so I knew I won't be able to get a longer run in so asked Jonny whether he fancied running 15miles. Jonny is doing the Fling in a few weeks time so it fitted in well for him to.
So we parked the car in the lay-by with just under 4miles to go to Rowardennan.
So we'd run to Rowardennan on the West Highland Way path run up Ben Lomond on the Ptarmigan path, back down the tourist route and back along the path to the car.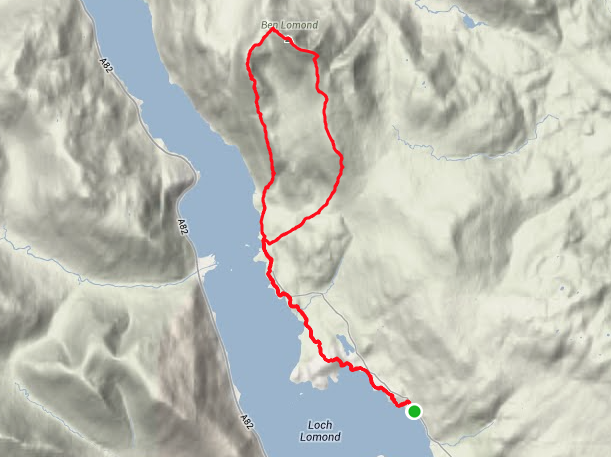 Which included over 4,000ft of climbing ….
We set off just before 5pm and had a nice run along the path to Rowardennan. The authorities have been doing a lot of work on the path and still have a fair bit to do.  We came across a few piles of stones which are ready to laid on the path.
We arrived at Rowardennan and decided to go for the Ptarmigan path. Ben Lomond was in cloud and we knew it would be windy but we like a challenge!
We walked as hard as we could all the way up. Once we got into the cloud it was very windy, cold and wet.  I did have a chuckle to myself as we were in shorts fighting our way through the wind!
For a while the path zig-zags and in lone direction the wind was behind us then we turned and the wind was straight into our faces!! We saw a few bits of snow near the top but we could skirt round most of them.
I was feeling warm enough except for my hands that were getting dumb.  I forgot to take my buff so my head was a bit colder than I'd like but I put my hood up on my OMM jacket and I was okay.
I must admit I was glad to see the top and then we were able to head back down. We didn't stop for a photo as my hands were too cold and the view was non-existent!
Jonny very kindly too pity on me and we made steady progress on the way down. The last time we did this before the Ultimate Trials 100k race in September we had a race up and down.  I was about 8mins faster to the top but Jonny zoomed past me with less than a mile to go!
It was very eery in the mist, especially as it was starting to get dark as well. I wondered what would have happened if one of us twisted an ankle on the top as I don't think we would have lasted too long!
We did pause for a photo further down and before it got too dark …
We got down before it got too dark and then we set off for the 4 miles along the West Highland Way route to the car.  We met a couple of girls who are walking the West Highland Way and who stayed at Frances and Jonny's B&B in Drymen the night before.
They had got lost a couple of times and were heading for the Youth Hostel at Rowardennan.  They hadn't booked so I hope there was room for them!
We were hoping to make it back without using our head torches but it got really dark so I put mine on for the last mile or so.
We arrived back at the car just on 9pm so the 15miles had taken us 4hrs 7mins.  A great evening out! I stayed the night in Drymen and then Jonny took me to work this morning.
I had an easy run home from work tonight. I'm pleased with how my legs have recovered from the Hardmoors 55 so all is looking good as I build up to the big one …. Hardmoors 110.