I had enjoyed 2013 running wise as I felt I got myself back on track especially with the West Highland Way race where I had really enjoyed the race finishing strongly. It gave me real confidence that I can still run 100 mile races and enjoy them rather than endure them.
I started ultra-running in 2007 and the majority of the 29 races I have done so far I've been really pleased with but there are two races that I'm keen to do again and do myself justice. The first one is the Hardmoors 110 and the second is the Lakeland 100.
I have done both races once and both times I had a tough tough time. I'm proud of the fact that I finished both races but I want to prove to myself that I can do them in a better time. So my main goal for the next two years was to concentrate on the Hardmoors 110 in 2014 and the Lakeland 100 in 2015.
Having decided that the Hardmoors 110 in May would be the priority for 2014 I decided to do the Hardmoors Grand Slam which is four ultra-races on the Cleveland Way. So I committed to running the Hardmoors 30 on Wednesday 1st January, the Hardmoors 55 on Saturday 22nd March, the Hardmoors 110 on the weekend of Saturday 24th May – Sunday 25th May and finally the Hardmoors 60 on Saturday 20th September.
With the first race on 1st January it meant I had to change my yearly training plan a bit. Normally when I'm doing the West Highland Way Race I would mentally start my training in January and have six months of building up to the race in June.
So I decided to use December to build up for the Hardmoors 30 and then have three main blocks of training building up to each race with a break of easy running after each race. This worked really well and stopped me from over training and getting injured.
The other main goal I had for 2014 was to run 2014 miles. I figured that as long as I stayed injury free and I stuck to my training plan I should achieve that.
Hardmoors 30 – Wednesday 1st January 2014
5hrs 01mins 36secs (overall 27th)
I had not done this race before so was really looking forward to it. It seemed a great way to start the year! Katrina was running the 15 mile version so we were both happy to have an early night before the race.
The course is definitely a course of two halves with one half on the Cleveland Way and the other half on a cycle track. The weather started off fine but got progressively tougher as the run went on. My goal was sub 5hrs 30mins but it went a lot better than that and I finished just over 5hrs.
I wore my Hokas which were great on the cycle track but pretty useless on the muddy coastal path. So that was a bit frustrating as I felt strong but I was slipping all over the place and found it hard to keep a rhythm going.
I was using a new energy drink (Matrix Energy Boost) for this race and it worked really well. It tasted good and provided enough energy to keep me going.
It was a great start to the year and it was good to tick off the first race in the series. The following day I did a recce run with a few friends for the Hardmoors 55 race which also went well. It also meant it the first 2 days of 2014 I had run over 50miles so was always ahead of the target for my 2014 miles and I never slipped behind the target!
Hardmoors 55 – Saturday 22nd March 2014
10hrs 10mins 24secs (overall 32nd)
I had a really good build up to the second race in the Hardmoors Grand Slam so I arrived at the start line with lots of positive thoughts about the race. I had done this race once before in 2010 in really bad weather and it had taken me 11hrs 46mins. I was going for sub 10hrs 30mins for my gold goal which I felt was realistic given my training.
This year the race was being run from Guisborough to Helmsley which I must admit I was initially disappointed with as if it was run the other way it would have been better preparation for the Hardmoors 110.
We stayed in the Youth Hostel at Helmsley for the weekend which meant I could get the organised coach to the start and Katrina didn't have to worry about driving anywhere to meet me.
I was keen to start sensibly again and finish strong so set off in the middle of the pack and work my way through the field as the race went on. It worked really well as I went from 46th at the first checkpoint after 10miles to 32nd at the end.
I really enjoyed the whole day and felt strong throughout. It was one of those rare days when I didn't really have any tough times. The only thing I could have done better was to keep up the intensity for the last 10miles or so. Once I realised I was going to be well inside my 10hr 30min goal I found it hard to push that bit harder. If my goal had been sub 10hrs I wonder whether it would have helped.
I was 32nd overall and 5th in the M50 category plus it was a pb by over 90mins so I was very with the second race in the Hardmoors Grand Slam.
Hardmoors 110 – Saturday 24th – Sunday 25th May 2014
27hrs 58mins 10secs (overall 11th)
Race Report
This was my A race for the year and I was really happy with my preparation for it. Over Easter Dave Troman and I had run the last 70 miles of the route over two glorious days. That recce run gave me a lot of confidence as it banished all the negative thoughts going round in my head from 2009 when I struggled big time over the final 30 miles or so.
On the race day I had one main goal and that was to be able to finish strong. To do that I realised I needed to start really comfortable and to help me do that I committed myself to run to a heart rate of 124.
For the first 4 hours I felt I was holding myself back a lot but I was prepared to trust it hoping that it would mean I could finish well and thankfully that was what happened. The weather was pretty mixed but I made good progress throughout the day. We started at 8am which meant the first 60miles was in the light.
I made one silly navigational mistake in Guisborough woods which added a mile which I meant I had to really push the pace to arrive at Runswick Bay before the high tide at 1am. I just about made it but had to regroup a bit as I had run faster than was sensible with over 40miles still to go!
During the early hours of the night I had a low point when I was on my own a lot, my feet had some blisters and the checkpoint seemed to take forever to arrive but I got through that and by the time I got to Ravenscar with 20miles to go I knew I was on for a good time and was able to push on and finish strong.
Katrina joined me for the final 10miles from Scarborough to Filey and it was so good to be able to still be running and accomplish my goal! My finishing time of just under 28hrs meant I had run over 3hrs faster than 2009! All of that and more was gained over the second half of the race.
The Grand Tour of Skiddaw – Saturday 23rd August 2014 (with Katrina)
After the Hardmoors 110 I had a few weeks of easier running. I had planned to do some shorter faster races but my calf was slightly sore so wisely opted to keep ticking over for a while which paid dividents as I didn't actually miss any running.
As a build up to the final Hardmoors race Katrina and I entered the 44mile Tour of Skiddaw race as a pair. It is a race organised by our friend Gaynor Prior. We did a recce run a few weeks before the race in wet misty weather but come race day we had a superb day and we both loved the route and especially the views from the top of Skiddaw.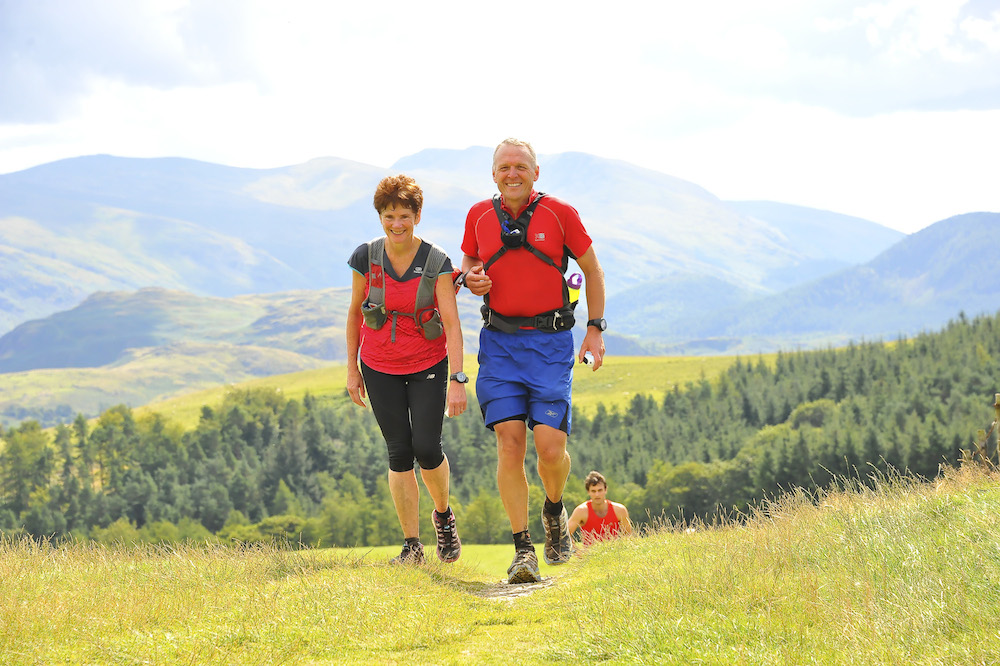 I was thinking anything under 12hrs would be a good effort so was really pleased that we finished in 11hrs 13mins. Katrina was running well and it was good preparation for the Loch Ness Marathon she did a few weeks later.
Hardmoors 60 – Saturday 20th September 2014Kim
11hrs 51mins 20secs (overall 15th)
I was really looking forward to the final race in the Hardmoors Grand Slam as it covered the second half of the 110 route. It would be good to see what it would feel like to be able to run the coastal path on fresh legs rather than with 60miles already run!
Martin and Lydia Dietrich kindly offered us accomodation for the weekend and as they live near the start in Guisborough it made it all a lot easier logistically.
Once again I was keen to finish strong so ran to a heart rate of 135. This meant the first 10 miles to Saltburn was comfortable and I was further down the field but from then on I steadily made my way through the field and was happy to finish 15th
I caught Kim at Filey and we ran a bit together and leap frogged each other a few times. It was Kim's longest ultra to date.
Once again I loved being on the coastal path and was happy with my run. I had to battle a bit from Scarborough but finished with a smile on my face!
So I had completed the Hardmoors Grand Slam. I finished 2nd overall out of 17 who entered in a combined time of 55hrs 01min 38secs. I really enjoyed being part of the Grand Slam and loved the challenge of having to peak for 4 race from January to September.
For the rest of the year I continued to run 4 times a week and have been back to Kilbarchan to do some speed sessions on a Monday night. I have also run a cross country race and some shorter road races.
As I finish this on New Year's Eve I have one more race for 2014 …. Our Kilbarchan AAC Donald Crawford 11mile Handicap Race. So once I've done that I've do another post with a breakdown of all my runs for the year and lessons I've learnt!