Saturday 21st March 2015
I love it when a plan comes together and wow did my plan for this race come together. I was hoping that I might be able to run under 10hrs but to finish in 9:35:40 was beyond even my optimistic visualising!
Katrina and I travelled down to Yarm on Friday after work. Dave and Tracey had kindly offered us accommodation with their friends Jeremy, Bev and their daughter Imogen since we didn't have the van. We had fish and chips while the rest of them tucked into a Chinese.
Dave and I spent an hour planning out recce runs for the Lakeland 100 then we headed to bed at 11pm. I was up at 6am, ate my porridge, got changed and filled my water bottles ready for the race.
We left at 7.25am arrived at the Sea Cadet hall at 7.50am. We were kit checked and received numbers very efficiently and had 40mins before the race briefing. It was good to lots of familiar faces and have a chat we various folk including Nikki Carr who would join the 1000 miles club after this race. It was also great to see Andy Cole.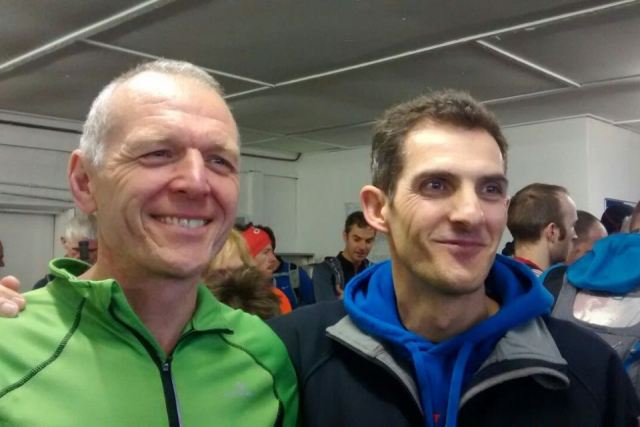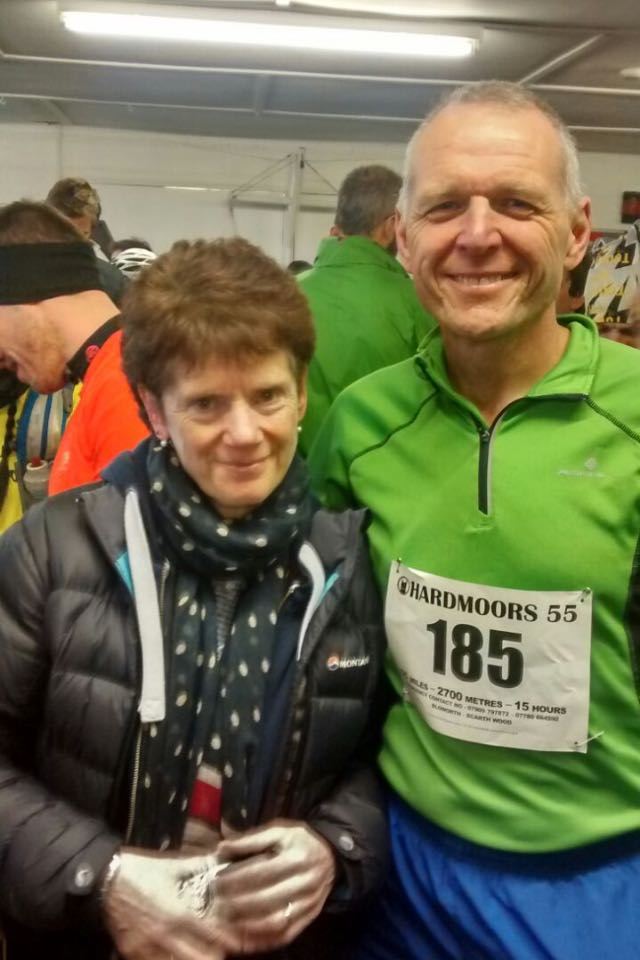 After Jon gave his race briefing we headed outside for the start of the race. I made a last minute decision not to run with my camera. So there will not be any video of this race I'm afraid! I was feeling good and thought I had enough to think about for this race without doing video clips.
Route and profile
Guisborough to Kildale (11.19 miles)
If you have read my blog over the last couple of weeks you will now that I had a very clear plan for this race. My friend Robert Osfield has been helping me think about being the best way to run to heart rate.
So my plan was to run to a HR of 137 but importantly I wanted to try and keep it within a few beats either side so no higher than 142 and no lower than 132. I knew this was going to take a lot of discipline but I was really looking forward to the challenge. I carried with me last year's splits when I finished in 10:10 but they were secondary. I was hoping that the first half would be very similar to last year but over the second half I might be able to run a little quicker.
The results are not published yet but I reckon there were almost 300 running.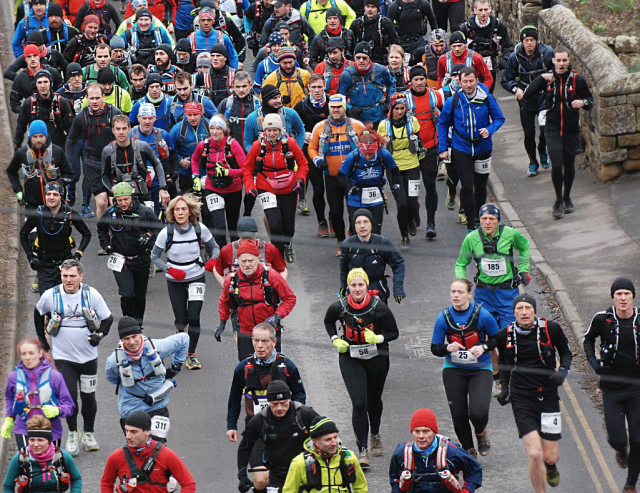 (Photo thanks to Ann Brown)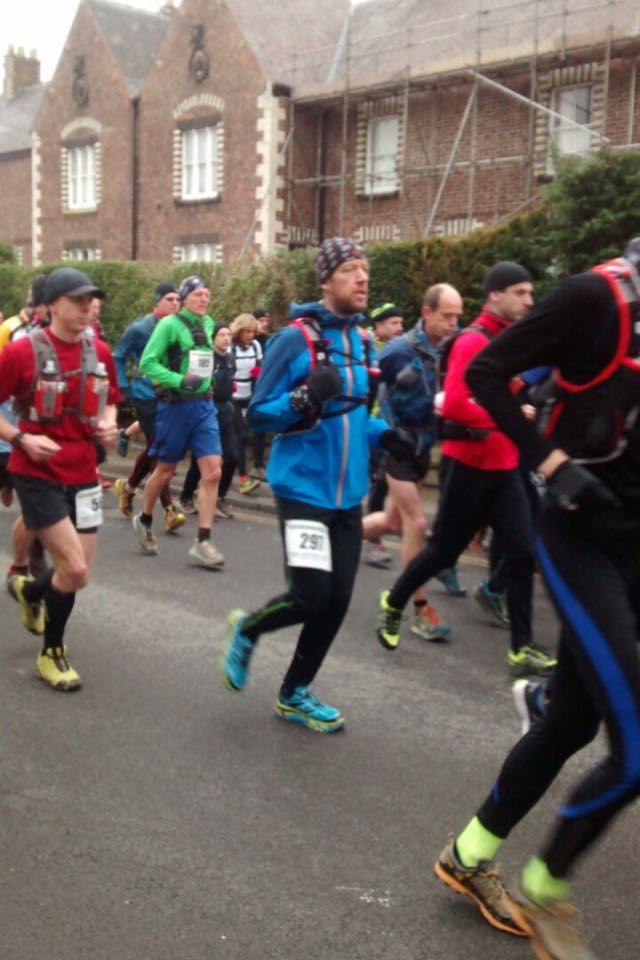 (Photo thanks to Katrina!)
After a few hundred yards we climbed up onto the railway line so it took a little bit of time but it was no problem. There was a long way to go. I ran with Peter Wilkie for the first mile or so before he skipped past a group and was away.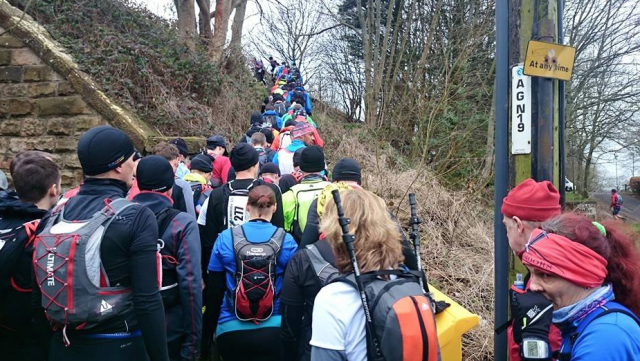 (Photo thanks to John Allison)
Jon Vernon was making sure everyone turned right and up onto the Cleveland way route. Quite quickly the field spread out. As I climbed I was watching my HR closely and as soon as it went over 140 I walked and when it dropped to 134 I ran. This pattern was repeated for the next several hours!!
I found it really interesting as I wasn't bothered at all with what anyone else was doing. I was running my own race with a very definite plan and if my pace meant I had some company then that was a bonus.
I went past Martin Dietrich who seemed to be finding it fairly hard going. I then caught up with Nikki Carr and we ran together for a few miles before I pushed on.
My mini-split was at the end of the woods and I was pleased to see that it was very close to last year. I was with a group of 3 or 4 runners as we made our way over to Roseberry Topping. I was pleased to see that I was able to keep my HR around 137 on the downhill run.
I went through the gate and headed down and then up Roseberry Topping. I tried to greet as many runners so I could. I saw Dave sooner than I had last year which meant that he was running faster. I didn't count how many were in front of him but he looked relaxed and running smoothly.
As I climbed up the hill my HR went over 150 so I eased off a bit and tried to concentrate on walking up with a steady pace rather my normal style of pushing it. I thought about the comments Robert had said about not using my glycogen stores. I wanted to keep that tank as topped up as possible for as long as possible.
It was very windy on the top which I reached in 1:06:46 which 35secs slower than last year but we had run 0.13 mile further due to the different start position! I headed down the hill on the path to the left as it means you don't get in the way of those coming up. Nikki went flying past me showing great skill and nerve bounding down. I on the other hand took it easy!
Again I tried to greet as they made their way to the top. The wind was right in our faces for this bit so again I eased of a little to keep the HR in the zone. Photo from SportSunday …
Once we were through the gate and running down the path I ate my peanut butter and jam sandwich. Cara had commented that my food plan looked good but it would only help me if I actually ate it!
On the climb up to Cooks moment I was catching some runners when I was running then being caught when I was walking but I was really settling into my plan now and fully committed to keeping my HR with a few peaks and troughs as possible.
It's a lovely run down through the trees to Kildale and I was feeling really good. I ate my yoghurt  covered peanuts and finished off my energy drink by the time I arrived at the checked point which was a few hundred yards up the road from the hall we used last year.
It had taken my 1:50 last year and as I passed the hall my time was 1:50 but I was hoping that I was in better shape. I certainly felt good and feeling as though I was holding myself back.
As I refilled my water bottle I asked where the drop bags were. I was told there was a technical problem and that they were would be at Clay bank 10 miles further on. It obviously wasn't their fault but they must have had to explain the same thing to every runner.
I took a couple of pieces of flap jack and set off for the next leg of the journey.
Kildale to Osmotherley (20.11 miles overall 31.30 miles)
As I climbed the hill I wasn't too worried about the lack of a drop bag. I had my energy drink which I knew would be enough for the next 90 minds or so to Clay Bank. Plus I had eaten all my planned food since the start so all was good.
There was a line of runners ahead and I wondered how many I might catch! I could see Nikki going well. I ran the next few miles with a guy Steve. We chatted inevitability about HR among other things.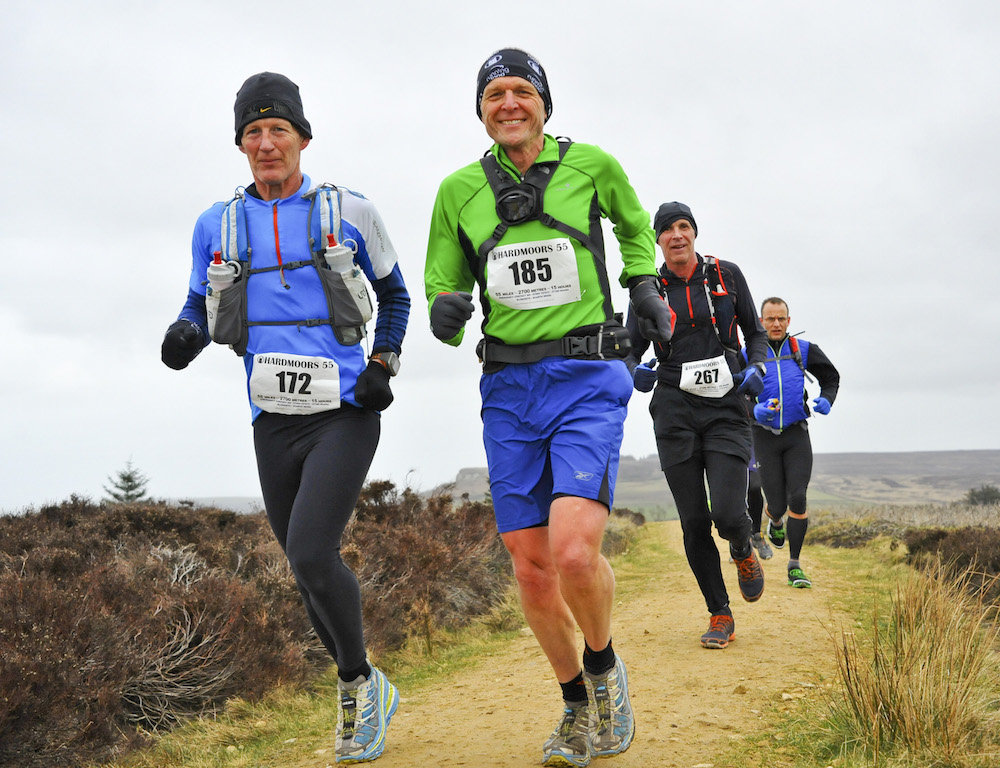 (photo thanks to SundaySport)
I didn't have my mini- split cards as they were in the drop bag but I thought I had a split of 3.5 miles to the path junction then another 3 miles or so to Bloworth crossing and then down to Clay bank. It is a very runnable path for this section and I settled into a steady run.
One of the screens on my Suunto shows my HR as a graph for the last 30 mins or so and I took great pride in seeing that I was keeping it on a fairly straight line. I thought Robert would be proud of me!!
Soon enough I was clipping my number with the self clip and heading down to Clay Bank and my drop bag. I had a quick stop for a wee but I have perfected the art of walking as I wee so didn't lose too much time!
The path was so dry throughout the day so I didn't have any feet issues at all really. By the end my little toes were a bit bashed but that tends to happen on most longer runs and races. As I headed down to Clay bank I saw Tony Holland sitting down. He had hurt his foot and was trying to decide whether it was bad enough to have to stop. It turns out he had broken a metatarsal so did have to pull out at the checkpoint.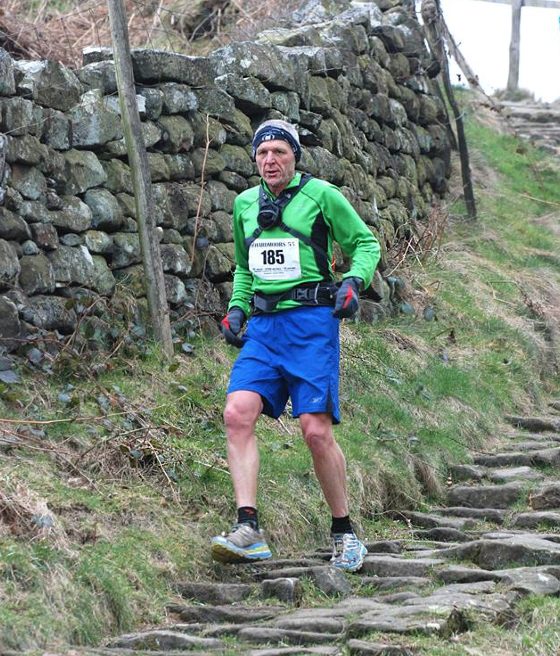 (Photo taken by Ann Brown - thanks)
I was given my drop bag and I quickly sorted it out. Someone very kindly filled my water bottle as I packed away my chia bar, chocolate coated almond and stuffed my sweet potato mash in my pocket.
Lydia was there waiting for Martin and gave me lots of encouragement as I headed up the steps. I looked at my splits and I reckoned I was about a minute or so head of last year so all was going to plan. The big question was whether I would be able to run faster over the send half.
I ate my sweet potato and cheese as I climbed the first hill. It tasted good and I managed to eat over half of the portion. The plastic spoon I had was pretty useless though and broke in half!
Once on the top I was able to have a run along the slabs to the Wainstones. I caught up another runner and just as I did I took a tumble. I wasn't going too fast so no damage done. I was relieved to see my watch was okay! What would I have done without my HR readings!!??
As we descended a runner in blue with white compression socks went hurdling past. This was repeated on each hill for the next 3! I would catch him on the up and he would fly past on the down. After the third time I said we would make a great relay. I'll do the up and you do the down.
I was concentrating hard on my HR on the hills as it very quickly went over 140. I had to ease off and keep it under that 140 line. On the downs I found it hard to raise it to 137 but I tried my best.
Jon Vernon and Flip Owen were checking numbers at Kirby Bank. All the marshals were superb and they certainly had an exposed post for the day. The last time I had run this section was for Jon and Shirley's wedding last May a week after the Hardmoors 110. We had all run in wedding garb and it was great fun.
Lord's Stones checkpoint is almost 24 miles into the route so not quite half way but fairly close. I noted my time and was interested to see that I was now 1min 47secs up on last year and feeling good. I know when things are going well by the fact that I don't have a count to 10 before I start running. As soon as my HR dropped to 134 I was ready to run.
Steve Walker with others was manning the checkpoint. I didn't stop as I had all I needed. I take a hand full of haribo though. I also started eating my almonds coated in chocolate over the next hour or so. They tasted great but needed a drink to swallow.
I left the checkpoint on my own but could see a few runners ahead. I felt I was climbing well and really enjoyed the run down. There is so much of this route that is runnable and it felt great to be running strongly. I was still holding myself back at times which was a bit of novelty almost 30 miles into a race.
There are a few more ups and down before the path reaches a road. I knew the turn off from the road can be tricky so for the for the first time I switched on the navigational guide on my watch. I probably didn't need it as I remembered the path but it was good to have as a back up and reassurance.
Last year on the open field it was raining and I had to put my jacket on. This year it was dry and I didn't have to get my jacket out once. The only thing I changed was sometimes I took off my gloves or buff.
Lydia was again waiting for Martin at the road crossing. I asked her how he was doing. So so was the reply.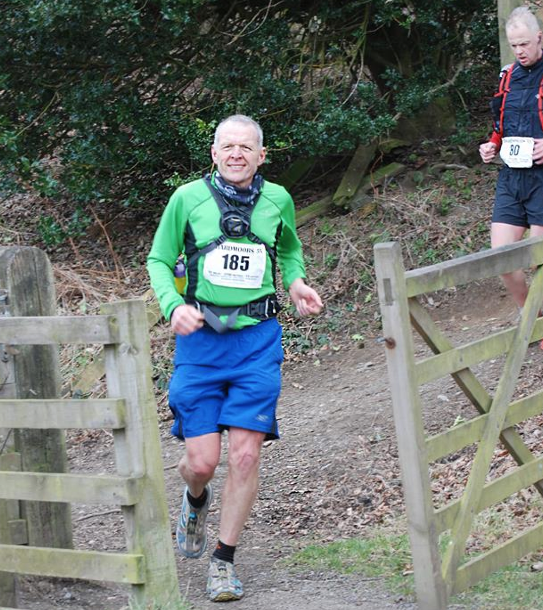 (Photo taken by Ann Brown - thanks)
For the first time for ages I could see Nikki ahead. I was really impressed that she was running so well. I reckoned she was about 30secs ahead of me.
Just before the self clip at the TV tower I saw a runner lying down sleeping. I asked if he was okay. There was no reply but from his position he looked okay. The runner behind me said he'd replied to him saying he was needing a rest.
As I headed down to Osmotherley I looked at my splits from last year and saw I was there in 5:44. I reckoned I was going to be under than by 5mins or so which would mean I would need to gain another 5 mins for the final 22 miles to get under 10hrs.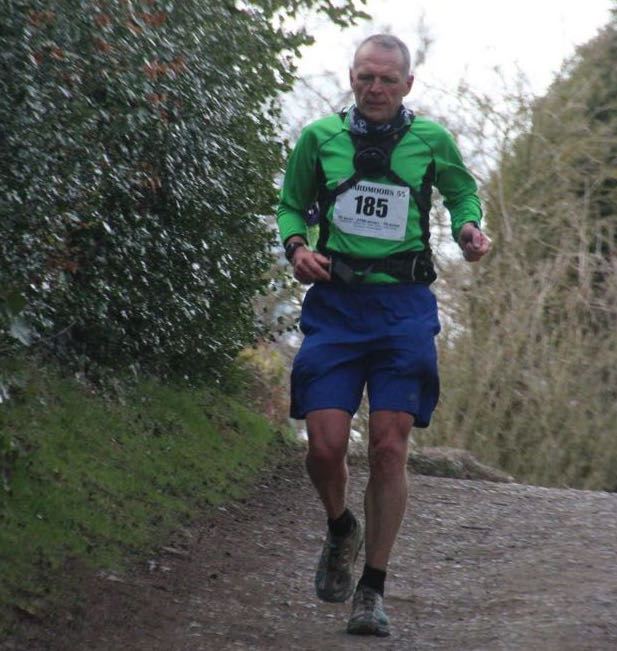 (Photo thanks to Mark Brodie)
Initially Katrina and Tracey were going to see us at Osmotherley but the race instructions said no support was allowed. Jon had said that there was nothing to stop support walking into Osmotherley as it was the car parking that was the problem.
I gather it was just as well they went as there had been a problem getting the key and they helped to set up the hall organising the drop bags and helping runners when they arrived.
I wasn't sure if they were going to be there so it was great to hear Katrina shouting my name as I approached the hall. Nikki was just leaving as I arrived so I wondered whether I would be able to catch her over the final 22 miles.
There was a kit check here. I had to show them my jacket. One of the marshals commended me for my drop bag and said I should give lessons on how to prepare a drop bag to all the other runners Dave did copy mine but he still has some work to do!!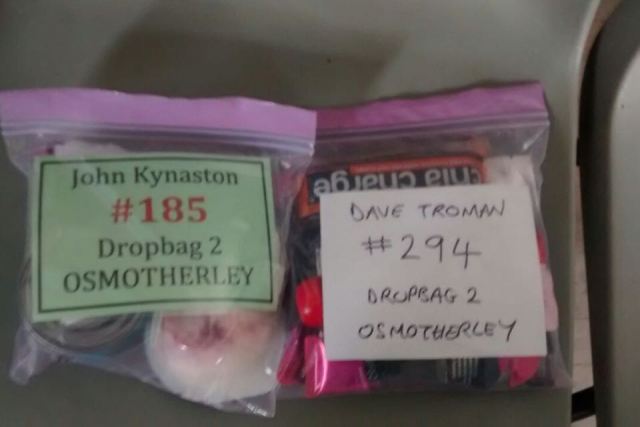 Katrina and Tracey helped sort out my drop bag. I sat down and ate half a small tin of baked beans and my youghat. They told me that Dave was in 3rd place. Superb.
I was keen to get going so after 3mins 43secs I waved them good bye and gave Katrina a kiss on the cheek (too sweaty for a kiss on the lips I was told!) and set off for the final section to Helmsley.
Osmotherley to Helmsley (21.80 miles overall 53.10 miles)
I looked at my stats from last year and I was at this point in 5:49:49 so I was 5mins up.  If I wanted to break 10hrs I would need to run this final 22 miles at least 6mins faster than last year. I was feeling really good and knew that I had found things hard at times last year so felt my gold medal goal of sub 10hrs was definitely on.
There was still a long way to go so switched my watch back to HR and concentrated as I had for the whole of the race on keeping my HR as close to 137 as I could.  I also wondered whether I might catch Nikki!
After a mile or so I was caught by a runner who I found out was Simon. The first he said was he had added an extra couple of miles onto the route! He had missed the turn off the road where I had switched on my gps trace.
He seemed okay about it but I knew he must be going well if he has run an extra two miles. This was his second ultra and longest so keen to finish. Another runner in red (Frank Murphy) caught us and the three of us headed up to Osmotherley Square. I encouraged them both to go for sub 10hr as that was my aim!
I chatted to Simon on the way up the hill but once we reached the top he was away and within 10mins was a dot in the distance. I wasn't expecting to see him again. I could see the familiar shape of Nikki though in her black top and leggins with white sleeves.
When I reached my mini-marker 4.03 miles from Osmotherley I looked at my splits from last year and saw that it had taken me 55:50. When I looked at my watch and realised I had done it in 49:51, 6mins faster, I started to really believe that this plan of consistent effort over the whole race was going to pay off big time.
There was a line of 5 runners or so including Nikki, Simon and the guy in red ahead of me so I settled into my pattern of running until I went over 140. I was pleased to see that I ran for a long way and it felt comfortable.
Once I caught Frank we worked together and caught up with quite a few of them. Nikki was running with Rich Buckle so the three of us ran together for the next couple of miles.
Nikki was starting to find it hard but was still moving well. Rich said he had dnf the have two years so was determined to finish this one. He too was moving well so there didn't look any danger of him missing out on that medal this year.
I explained to them that my friend Cara was hoping to come out to see me and sure enough there she was running towards us. It was great to see her and I really appreciated that she took the time to find me.
Cara was keen to know how it was going especially regarding my nutrition. It was good to be able to tell her I was eating and drinking well and felt I lots of energy left for the final 15 miles or so.
I asked her to take a photo and post on Facebook if she could with an update which she kindly did!
I checked in with the marshals at High Paradise Farm and noted that I was now 16mins up on last year. Cara said goodbye and wished me all the best for the rest of the race. Thanks again Cara!
As we crossed the road there was a guy, Wayne and his son, Jack, waiting (I learnt later) for Frank. I had a high five from Jack and took a few of their sweets. I saw them about 3 more times over the next couple of hours and it they cheered me on each time. Thanks guys!
Nikki and Rich had dropped back a bit but I had caught Simon. He said he was battling a bit so was happy to let me lead. Once more I was running and walking depending on HR. Simon said, "I love this. I walk when you walk and run when you run!"
I explained to him what I was doing and why and we spent the next 45mins or so chatting about training and running ultras. It helped pass the time.
We saw Wayne and Jack again as we crossed the road and headed down to White Horse. We saw a few runners coming the other way including Kim and Shelley who were running together looking very strong.
Just as we left the path and headed down I saw Peter Wilkie coming. He said, "oh no I'll be looking over my shoulder now!" It takes about 20mins to do the loop so wasn't expecting to see him until the end!
Simon ran ahead down through the woods but I almost caught him again by the time we reached the checkpoint. Someone was taking photos …..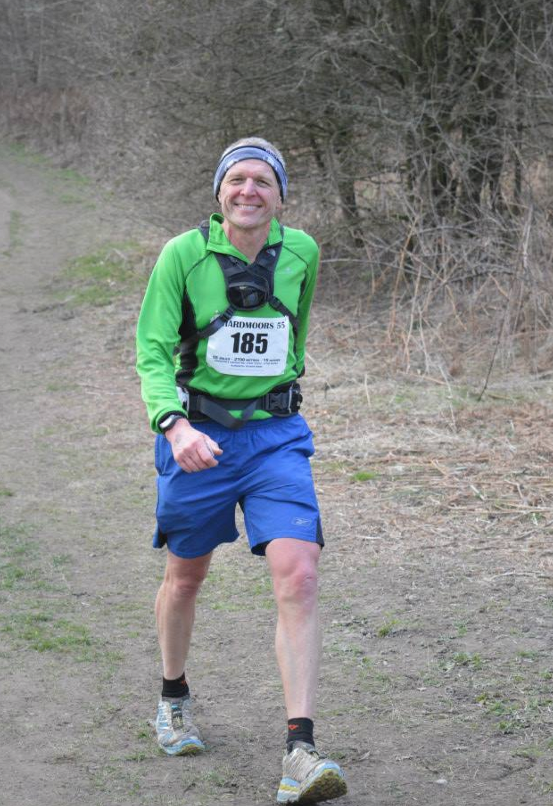 I think my smile says it all. I knew by now I was going to smash my sub 10hr goal as I was now 2omins up on last year and going stronger.
I filled my water bottle with Coke for the final leg to Helmsley and set off with Simon up the steps. We went past one runner who was finding the steps tough.
Simon and I continued our chat about running and life in general. I found out he owns a deli and started running because he was drinking too much. We also discovered that we both have the same birthday … 20th March as Simon said he couldn't have a drink because it was the day before the race!
We reached Cold Kirkby and I was now 32mins up on last year. This was getting better and better. A little later we were caught by another runner who was going well. The new guy and Simon were chatting together and I fell back a little bit.
For the couple of miles I went through my only real struggle. It was more mental than physical as the job was only almost done and I my focus was on the finish. I was determined to finish well so regrouped and got going again.
I could see Simon not too far ahead but not quite in reach.  I went past my final mini-split which is the stone bridge on the road. I was now almost 30mins up so a sub 9:45 was new target.
It was still light and I knew I would be able to reach the finish without having to get my head torch out which was a bonus. I climbed out of the woods and could see the left hand turn which I knew meant it wasn't far to go.
Suddenly a runner came past me! It was Mark Dalton who I had run with before. He looked so fresh and strong. I asked him whether he was in race! He said yes and that he had had a superb second half. His time last year was 11:11 so he was 90mins up … a superb run.
We chatted for a few minutes but I told him to push on as he was going so well. I took a final drink and then decided I was running the final half mile or so. I caught a runner just as we reached Helmsley. He was walking but started running as I went past so I made a final push to the finish.
I felt quite emotional as I turned the corner and heard Katrina cheering me on to the finish at the Town Hall. Shirley wrote down my number and time …. 9:35:40.  To say I was pleased would be an understatement!! I really thought sub 10hr would be a challenge so to smash it by 25mins was incredible.
Katrina helped me took off my Hokas and we headed upstairs to get my medal and congratulate Dave and other runners who had finished.
It was great to chat to Dave and find he finished 3rd in 8:24. What a great effort. We had both improved by over 30mins from last year but I need to point out I improved more!!
I checked my 'Guess My Time' sheet and discovered that Robert Osfield was closest with his guess of 9:36:00 just beating Karen Nash who guessed 9:35:00.  I must admit I was really pleased Robert won as he has helped me so much in preparing for this race and over the last year or two.
Thanks to Katrina and Tracey for your support and a massive thanks to Jon and Shirley for organising another superb race. They just keep getting better and better and I will be back. I've now run 475 race miles and I'm keen to reach 1,000 miles to join the 1,000 mile club.
Finally here is my heart rate graph which I'm very proud of …