I was so looking forward to getting back on the Lakeland 100 Course and it didn't disappoint! Jonny picked me up after work on Thursday and we drove down to Keswick where we stayed with Dave and Tracey. Thanks for your hospitality once again!
On Friday morning we were up and out by 7.40am and met Rick at the car park at Dockray at 8am. Time for a team photo and then we off on our run to Ambleside. Sorry Rick for almost cutting you off!!
Day one - Dockray to Ambleside (39.95miles)
Initially the plan for this run was to run from Coniston to Keswick but for various reasons it made more sense to start at Dockray and run to Ambleside. It meant that Rick could join us which was great.
My main aims for the day were to have a great day out on the Lakeland 100 race and to help Jonny recce the course. I also wanted to confirm all my mini-splits and make sure I knew the way so hopefully I won't need to look at the map or road book at all on race day.
Dave & I had run the Hardmoors 55 less than 2 weeks ago and both Jonny & Rick are running the Fling in 3 weeks time so the timing of this run was good for us all. Rick is also doing the Lakeland 50 race so was keen to have another run on the route in preparation for that race.
We set off in overcast conditions. It wasn't actually raining so I didn't wear a jacket unlike my three running companions. I did feel a bit smug though as within 30mins they stopped to take their jackets off!!
The first part of the route took us round Gowbarrow Fell and offers one of my favourite views of the whole route.
We ran at a very sensible pace all day, taking time to enjoy the views and make sure we all knew the correct way to go at the key points. There are a number of places when it is so easy to take the wrong path so it's worth while on the recce runs getting it right.
A lot of the time on the Lakeland 100 route once you have made the correct choice you are on a path with few decisions to make for 30-45mins or more and it's good to know when you can relax and when you need to be switched on.
I was trying out my Hoka Mafate Speed. This would be their second and longest outing. The toe box is narrower than the Stinson Evo and so I could feel my bunion on my right foot. I'm hoping they will mould to my foot over the next couple of runs. I do like the grip of them though.
Over the course of the run I had a good chats with Rick, Dave and Jonny about lots of subjects but inevitably running was the main topic of conversation! Rick was running very strongly and tended to be at the front. Sometimes he would push ahead and then wait for us to catch up so we all got a lot out of the day.
Jonny had run the Ultimate Trails 100k and I tried to point out various places where he had run but I think he was getting a bit confused with it all!!
We had a quick stop at Howtown to eat some food. Rick was not too impressed as it was messing up his monthly average pace!! I think he started pausing his watch when he had to wait for us!!
I had warned Jonny about the climb out of Howtown up Fusedale but there is nothing like actually being on the route and experiencing it. It's a tough enough climb when you have done 18 miles but even harder when you have over 80 miles in your legs!
The cloud was very low as we reached the top of the col so visibility was very limited. It was really good though to have to navigate over High and Low Kop in poor conditions. Dave was using his map and compass. Jonny had the road book and I was using the gps trace on my Suunto Ambit.  Rick seemed to be going by memory!!
I didn't have the Suunto when I did the race in 2012 and so I was keen to see how easy it was to follow over a difficult section like High Kop. It was excellent and so easy to keep on the trace and feel confident even in the poor visibility.  It will be worth carrying a battery pack so there is enough power to last the whole race.
Just before reaching Low Kop Dave pointed out the track to the right that we used last time but the trace and road book directs you over Low Kop. So I said I would follow the trace and the other three went Dave's way.
I arrived about the same time as Rick so I don't think there is much between then. I do think my route was easier terrain so I'll be going that way come race day.
We dropped down to Hawswater and enjoyed the run along the lake to the Mardale Head check point where we paused to refill our water and grab some more food.
As we set off up the hill I was telling Jonny that a lot of people drop out at this check point as they can see this climb winding its way up the hill and after 86 miles it seems insurmountable to them.  I know in 2012 my feet were so sore by now but it was a case of plodding up step by step and you will get there. I'm hoping this year I'll be going a lot better!
Rick and Dave pushed ahead while Jonny and I keep our sure and steady pace up the hill. Once over the top I was, as usual, trying to stay with them on the descent. I put on my jacket for the first and only time over the two days. It lasted about 40mins as we descended. Once we were lower down it soon came off again.
At the bottom we met a couple of guys who had just finished their run. One of them had done the Lakeland 50 but thought anyone who was doing the 100 must be crazy. Yes that's us crazy!
We were starting to think about the timings for catching the bus back to Keswick. They leave on the half hour so we thought we should be able to make the 5.30pm if we got our skates on!
We arrived at Kentmere in good spirits. Another quick stop to eat. I had one of my favourite Greek Style Youghats and we were off for the final leg for today to Ambleside.
Jonny and I were starting to think about the fact that we had another 15 miles to do tomorrow so we were happy to let Dave & Rick push ahead and save ourselves a bit. Basically though we stayed together and enjoyed the final section to Ambleside.
We came into Ambleside around 5.15pm so had plenty of time to catch the bus.  All our watches showed slightly different distances as you would expect. Mine had 39.95 miles and I was proud of myself that I resisted doing an extra 0.05 miles to make it 40 miles!!
Rick on the other hand did a little tour of the town to make sure he reached 40 miles. Even though I did notice when I uploaded my Suunto to Strava it showed 40.8 miles.
The bus was on time so we went on the top deck at the front and enjoyed the drive back to Keswick. Time for a lovely shower at Dave's before he drove the three of us back to Dockray to collect ours cars.
We all agreed it had been a superb day out. Rick headed home while Jonny & I drove to Ambleside for some food before heading to Coniston to pitch our tent and get some sleep before Day 2.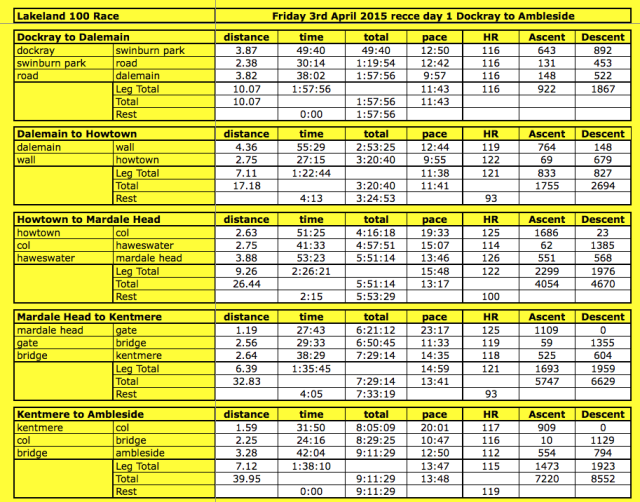 Day 2 - Ambleside to Coniston (15.29 miles)
We were up and tent packed away by 7.30am. Our initial plan was to find somewhere to have breakfast in Coniston then catch the 9.30am bus to Ambleside. We would then run back to Coniston where Jonny's car was waiting for us to drive home.
Plan A was abandoned when we couldn't find anywhere open to have breakfast. So Plan B was to buy a breakfast wrap from the Spa Garage and drive to Ambleside.  We would then catch the bus back to Ambleside after the run.
We set off from the Ambleside checkpoint just before 9am.I wore my Hoka Stinson Evo's for day 2.
I was really pleased with how good my legs felt after a good meal and sleep. Jonny too was in good shape and the weather was superb. Blue skies, warm and hardly any wind. It was going to be a good day!
I was really keen to enjoy this 15 miles as I had a very tough time in the 2012 race. It took me 7hrs to cover these final 3 legs. Most of it was in the dark with very sore feet. I wanted to replace those negative thoughts with lots of positive ones that would help me for the race this year.
I wasn't too bothered about pace because I wanted to make sure I got in my head what was coming in each section. In the 2012 race I was very confused about where I was and struggled with finding the route a few times.
Jonny had left the road book in the car and we debated going back for it but I thought it might be a good idea to navigate with just the map so that's what we did. We also had the gps trace on my watch!
It didn't take us long to get going and once we climbed out of Ambleside we had a lovely run along then down to the road and along the path to Elterwater.
Jonny swapped tops for a short sleeved one and we made our way to the area where the Chapel Stile Checkpoint is. I told Jonny all about the comfy sofa and told him under no circumstances was he allowed to sit down on it. If he did it sucks all resolve to get up from it!!
The next part of the route is the same as the 100k but in the opposite direction. We were really enjoying our run now and with less than 10 miles to go it all felt so much easier than Friday!
We climbed up and followed the path towards where the compulsory dibber is situated.
I had explained to Jonny that the path to find the dibber is quite difficult but we followed it really easily! In my defence I had been going for almost 30hrs and my feet had been killing me!! Did I mention my feet were very sore in the 2012 race???
We stopped for some food at the road and then made our way down to the bridge and then the climb up and over the hill towards Tilberwaite. In my mind the path down to the final checkpoint was really difficult with lots of massive rocks to climb down.
I remember how painful it was having to drop down holding on to things. By the way I explained it I think Jonny was expecting to have to use a rope!
We were chatting away and suddenly the gate to the farm appeared and we had run down the path that I had been describing in such graphic detail without realising. It just goes to show how your mind plays tricks with you. I'm so glad I have done this section now as it doesn't hold the same fear it did!!
We ran to the checkpoint point and then made our way up the steps on our way to Coniston. I made our only mistake half way up as I thought we followed the path to the right rather than continuing up.
It headed down to a bridge over the river. I knew I didn't remember that so we retraced our steps 200 yards and headed up the hill. Better making that mistake on a recce run than race day!
Jonny said he read on the timetable that the buses left Coniston at 44mins past each hour. We worked out we were going to arrive about 12.55pm so decided to enjoy the last run down, have some lunch then catch the 1.44pm to Ambleside.
Once again the descent was nowhere near as bad as I imagined in my head.  It was 3am in the pouring rain when I made my painful step by painful step down to the finish.  I would love to be able to come down this year still smiling and maybe even with some light left in the sky!
We ran through Coniston to the John Ruskin school. I showed Jonny where the tents and camper vans fill the field. We had such a great day out loving every minute. We can't wait to get back in June for our 2 day recce of the rest of the route.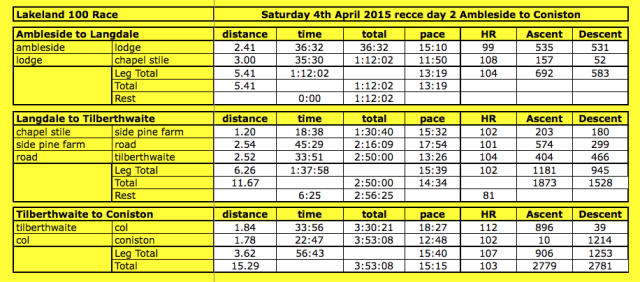 We had a lovely well earned lunch. I had potato & leek soup with a ham & cheese toastie while Jonny went for chilli and jacket potato.
We headed to the bus stop 10mins before the due departure. I checked the timetable to discover the buses leave for Ambleside at 22mins past the hour!! The bus from Ambleside leaves at 42mins last the hour so I've no idea where Jonny got 44mins past the hour from!!
It was a lovely afternoon so we bought a cup of tea and chatted some more waiting another 40mins for the bus to come! It was 10mins late as well!!
We arrived back at Ambleside at 3.15pm then drove back home. I arrived at 6.30pm in time for a lovely roast chicken dinner as Jo was down from Inverness and that was her choice.
To finish off a superb couple of days Robert Osfield came to visit. He was taking one of his daughters and her friends to a concert in Glasgow so we arranged to do an interview for the next whw race podcast which will be coming out in the next few days.
Thanks to Jonny, Dave and Rick for your company. What a great way to spend a couple of days. Can't wait to do the next one in June when we are planning to run from Coniston to Keswick on day 1 and Keswick to Howtown on day 2.