Friday 24th July to Saturday 25th July 2015
105miles starting and finishing at Coniston in the Lake District
This was my 32nd ultra-race since 2007 and over that time I have realised that there is big difference between the 50 mile distance and the 100 mile distance. For the 50mile races I know I can get a few things wrong and still have a decent race but in the 100 mile races I can't afford to get many things wrong and expect to achieve my goals.
I did this race in 2012 and, though proud of my finish in a race where the drop out is 50%, I knew I could better than 34:33:59. As I trained for the race over the past year my goal has been to try and break 30hrs. As the race approached that was still my gold medal aim but I did add a sub 29hrs as my Platinum.
As I reflect on the weekend I did make two significant mistakes. One was a navigational error and one was a nutritional error but because I got so many other things about right I just about got away with it and I did achieve my sub 30hr goal. If that's the short version here are the details.
My friend Jonny Rowan and I set off on Thursday night after work and drove from Paisley to Keswick arriving just after 6pm. The chat all the way down was about the race and going over our plans.
We stayed with our good friends Dave & Tracey in Keswick. Dave was also running the race so inevitably more race chat. We headed to bed about 10.30pm and I was straight to sleep. I've only been back from Indonesia since Sunday and my body clock is still adjusting.
I was awake and up by 7am and enjoyed some porridge for breakfast. Just as we were about to leave at 9am I said to Jonny, 'You have uploaded all the legs on your Suunto?' The look on his face told me he hadn't!! Fortunately Dave also uses a Suunto so we were able to log on and download most of the legs he didn't have.
We arrived at the John Ruskin School in Coniston about 10.30am. There were plenty of tents and cars but loads of room left. The marshals directed us to where we could set up. It wasn't too far from the HQ which I knew would be a blessing at the end of the race!!
I was sleeping in our campercar and Jonny was in a tent. We set that up and then headed in to register for the race. It was all very efficient and within 15mins we had our kit checked, ID confirmed, dibber secured and most importantly our weight taken.
In the 2012 race Dave had been surprised at how heavy I was. It is something I took seriously and I've worked hard to lose well over a stone. So I was looking forward to the weigh in this year. Dave videoed it and was suitably impressed this time. I was 75.4kg which is 11st 11lbs.
Over the next hour or so we met up with a number of friends I've not seen for a while and quite a few of them remarked that I was looking trim. It was a real confidence booster that the hard work I've done in losing weight was going to help.
We had a baked potato for lunch and I had a great chat with Andy Cole who was marshalling this year. Andy was doing a similar job to the one I did in 2013 which includes greeting people at the finish. One of his shifts was to finish at midnight which would be 30hrs so just in case I needed any more incentive to run sub 30hrs I wanted to get back to the finish so Andy could take me into the hall.
In the afternoon I chatted to more friends including Rick who was running the 50 mile race. At one point I was lying on my bed in my car listening to a conversation that Dave was having with a couple of American runners. They were thanking Dave for the videos we had made of the route. As they couldn't recce the course they found them invaluable. Conversations like this were repeated many times with runners thanking us for doing the videos. They are certainly the best things I've done!
I didn't sleep but it was good to rest and soon enough 4pm arrived and it was time for to head back to the hall for the 4.30pm briefing. Terry and Mark were very entertaining as they inspired us to set off and make it back to Coniston. Matt Neale was given an award for completing 6 Lakeland 100's and four others were about to start their 5th so they would join the #500 legends club.
I went back to my car and kitted up. It didn't take long. One thing I did was to tape both my little toes with 2nd skin. I watched Annette do this in the whw race and thought it was worth trying as I often (always) get blisters on my little toes.
I also decided to wear sweat bands on my wrists as I knew the dibber we were given would annoy me banging on my wrist. I also wore one under my watch. Plus plasters on my nipples!
At 5.30pm Tracey took a photo of Dave, Jonny & I and we wandered over to the start area. I was looking for Marco but didn't get a chance to wish him all the best. There is a great atmosphere but also a lot of apprehension as running 105 miles is a long way. The thing is you don't really know until several hours into the race how things are going to go.
We were treated to a live performance of Nassun Dorma by the opera singer Alexander Wall then the countdown and we were off.
As we left the school there was a big crowd cheering us on. The 50 race starts the next day so loads of them were out as well as family and friends.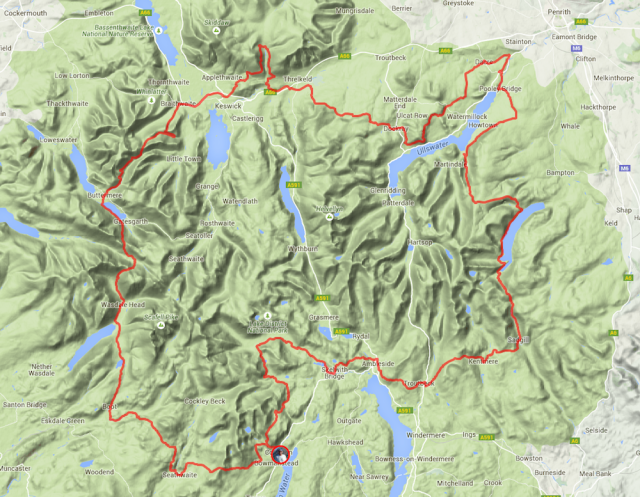 Leg 1: Coniston to Seathwaite (7.03miles)
Tracey was at the top of the hill videoing the start so I gave her a wave as I passed.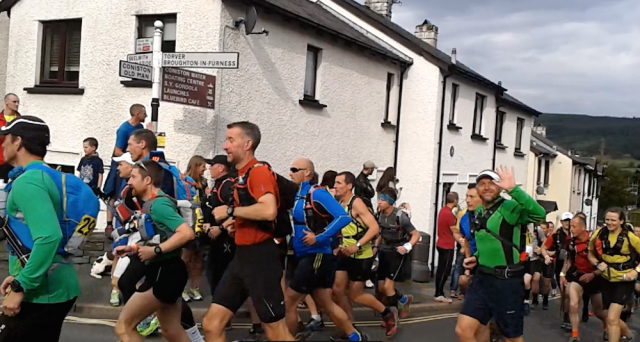 I started in the final third as my aim was to start easy. We ran though Coniston with more people cheering us, then left at the Black Bull and started climbing up the hill.
Most people around were walking so that was good. Jonny & I set off together and we joined up with Hardmoors regulars Jon, Andy and Sarah. Jon's wife Shirley was waiting half way up the hill so another shout out.
We crossed the Miner's Bridge and headed up the single track. At the first gate I saw Debs sitting there. I made sure I smiled as she had her phone ready for a photo.
Debs was running the 50 race and we'd had some banter about where she would catch me. I thought Ambleside would be a good target but I really should have said Kentmere (though I would have still been wrong!)
I was concentrating on my Heart Rate. I had my mini-splits for the whole race but the priority was to keep my HR around 125. I didn't want to go over 130 too often. It took a real discipline as it felt so slow and too easy but I had to trust that this was the best way of getting the best performance by being able to run right to the end.
There were more folks cheering us on at the car park at the bottom of Walna Scar road including Denise (whose husband Dale was running the 100) and Jayson & Kim (who were running the 50). It is a long climb up so I settled into an easy walking pace.
The weather was perfect with a mild temperature and no wind. What a lovely night to be out running! In fact the forecast for the whole weekend was good which can make such a difference to a race of this length.
I chatted to a few folk and as well as Jonny. At one point I did a clip for my video diary which I was going to do throughout the race (coming soon!!). I wondered how many of them would include Jonny. We had decided to start together but knew that more than likely we would separate as the race went on.
I reached the top in 1:13:05 with a HR of 124 so pretty well bang on my target of 1:14:00 so all good so far! It was a beautiful view of the valley ahead and once again I was very thankful to be able to do these races through such amazing countryside.
I ran with various folk on the way down including Andy & Sarah. They were running as a pair in their yellow Hardmoors tops. It was good to chat to them. Andy proposed to Sarah at the end of the Hardmoors 160 so I enjoyed finding out about their wedding plans (nothing booked or planned yet!!).
We arrived at the first checkpoint and within a minute I had dibbed in, topped my water bottle, grabbed some flapjack and was out again. There were a lot of people hanging about inside.
Sub 30hr plan: 1:41:00
Actual: 7.03 miles in 1:39:58 (14:13 pace) 201st place
Leg 2: Seathwaite to Boot (6.98miles)
As I left the checkpoint Jonny arrived so I knew he wasn't far behind. I came out with some different runners and we headed up the hill together.
After 10mins or so Jonny caught up and we were then part of a group of 5-6 runners as we went past the High Wallowbarrow Farm. The plantation above was a bit wet underfoot but nothing too bad. We climbed up the hill through a couple of gates, along the new path that has been built and into the open fell.
I looked ahead and Jonny was away. I was quite happy running at the back of the group. I hoped he wasn't pushing too hard. We climbed the stile and headed down the path by the crags. I was running with a lady called Hester Cox who was supposed to be a team with her husband but he had been in hospital recently and wasn't able to run.
I had a variation of the video theme. Hester was saying that she had run the 50 but hadn't been able to do as much running on the first half of the course but she found these videos on YouTube that were helpful. I assumed she realised they were mine so I said 'My videos?' She laughed and said, 'Oh I didn't really listen to them I just watched them!!'
We made our way down past the finger post which marks the way. I was surprised by how high the ferns were compared to our recce run in June. The path drops on to a road which leads to Doctor Bridge. I was running with different people now as I was slowly making my way through the field.
I came to one point to see a group of 4 deciding where to go. 2 runners had gone right but the correct line was straight on before turning at a right angle at the church and heading to Boot.
There were a few people enjoying a drink in the pub as we ran past to the checkpoint. I'm not sure what they made of us!! As I approached the checkpoint I emptied my Tailwind sachet into my water bottle so the volunteers would quickly fill it for me. I was alternating between Tailwind and Matrix Energy Boost for my nutrition in between checkpoints and the plan was to eat as much real food as possible in the checkpoint.
Sub 30hr plan: 1:41:00 (overall 3:23:00)
Actual: 7.02 miles in 1:47:31 (15:24 pace)
Overall: 14.01 miles in 3:28:18 (15:52 pace) 191st place
Leg 3: Boot to Wasdale Head (5.43miles)
I took some flapjack from the table and headed up the hill. I was now 6mins 30secs slower than my sub 30 plan. I wasn't too worried as the plan was always to go with HR and see what it is. I was feeling really good and knew that there was still a long way to go!!
I knew this was a shorter leg of 5 a half miles. I have a mini-split at the wooden bridge at Burnmoor Tarn after 2mile or so. I had thought that somewhere on this leg I would need to put on my head torch. It was still light enough for the next 40mins or so and I wanted to switch on my head torch as late as possible.
I was running and chatting with a group of 3-4 as we made our way up the hill and around the Tarn. I wondered who would put their head torch on first. It was Hester but it didn't long until we all switched on and we could see more lights ahead.
The track was fairly dry as we made our way up and around the hill before dropping down to the stony path which made its way to the climbers hut. I was pleased that my quads were feeling really good. My weekly trips up and down Ben Lomond were hopefully going to mean I was prepared for the downhill sections. So far so good but still a long way to go!
Before the race I had asked my friend Steven whether he could text me my position after each leg. I thought it would be fun to find out my position as if my plan worked I should be making my way through the field.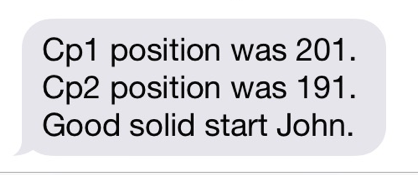 So I could see I made 10 places from CP1 to CP2. I reckon most of those were at the checkpoint.
I also signed up to receive the texts from SIEntries.
I liked it that it gave my ETA at the next one. I wondered whether I would be ahead or behind their prediction. I wasn't sure what that was based on but I thought if I was ahead of their estimate it must mean I'm going well. The text said I was due to arrive at Wasdale Head at 23:04 (11.04pm). I arrived at 10.54pm so I was 10mins faster than their estimate.
The checkpoint at Wasdale is a 80's disco theme so it's all strange but in a good way. I saw Jon Steele and gave a quick greeting. I knew from the menu published before the race what was available at each checkpoint so I knew what I wanted, took it, ate it and was away again. This time it was soup and cheese sandwich. It was really tasty and meant I was in and out in 1:49 again arriving after and leaving before all the others there.
Sub 30hr plan: 1:17:00 (4:42:00)
Actual: 5.43 miles in 1:25:15 (15.42 pace)
Overall 19.44 miles in 4:54:18 (15:08 pace) 183rd place
Leg 4: Wasdale Head to Buttermere (6.99miles)
It was very dark now as I left the checkpoint and I knew for the next few hours the main view I would have is the ground in front of me. I'm glad I had done the recce runs in the daylight so I could imagine what the views were.
I was now 12mins down on my sub 30 plan. Still okay but I was hoping it wouldn't get much bigger. Another runner joined me as we started the climb up to Black Sail Pass. Once more I had my watch on HR view and I was going to keep it around 130 as I climbed.
There a few small sections before the path really climbs up when you can run. On one of these I was running along quite happily when suddenly I tripped and I found myself face down on the ground. The first thing I did was to check my watch was alright. Thankfully it was!
The runner with me checked I was okay and we carried on. My left palm took a bang and felt a bit tender for a while but eased off after a few minutes. It reminded me how careful you need to be and how easy it is to trip, fall and your race could be over.
I was on my own for the majority of the long climb up. I was concentrating on keeping a nice, easy rhythm up the hill. I would have a look at my HR regularly and it would often be creeping up to 138 so I would have to ease off until it dropped to nearer 130.
I could see ahead of me a line of head torches and I assume there was line behind me but I don't like to look back. Eventually the line of torches head of me disappeared so I knew I was near the top.
I took my mini-split at the top. The climb had taken me 1:10:58 compared to my plan of 1:05:00 so I'd lost a few more minutes on my plan. I was having to stay with it as my HR averaged 130 for the climb. I could have gone faster but I would have had a higher HR. I decided I needed to stick with the plan and trust it would come together over the second half of the race.
Looking back on it now I wonder whether it would be best not to have my mini-splits if my priority is HR. Anyway I tried to put in the back of my mind that I was behind my plan and enjoy the fact that my legs felt good and I was moving well.
Once over the top and heading down to Black Sail YH I remembered Dave telling me the path is close to the river on the right. I could see a lot of runners further to the left so I ignored them and headed right. I found a path and skipped my way down going past a lot of folk on the way.
A runner followed me. We chatted a bit but I'm sorry I can't remember who it was but he was from Scotland! As we went over the bridge I did wonder whether Jonny was one of the runners I went past but I couldn't find out. Maybe I have gone past him or maybe he is still ahead.
We ran past the Youth Hostel where 3 guys were sitting on bench cheering us on as you do at 1am in the morning. Thanks guys.
Another climb up to Scarth Gap. This one is not quite so long so soon enough I was over the top and navigating my way through the rocks and boulders down to Buttermere. I found the gap in the wall and made my way down. I love this view as we camped at Buttermere as a family many years ago.
Infact one time we camped at Buttermere when I was about 10 my Dad decided we could walk up Scarth Gap. It was our first family walk up a hill and started a love of walking in the hills that I still have 46 years later!
Once we got to the lake I enjoyed the chance to have a steady run as for the last hour or two it had been either uphill walking or carefully running downhill. I caught up with a few more runners and we arrived at the checkpoint together.
Once more I was in and out in 1:28 having taken some soup & bread and had my water bottle filled up. There were a few runners in the checkpoint including Nick Ham in his tutu!
Sub 30 plan: 2:13:00 (overall 6:58:00)
Actual: 6.97 miles in 2:20:13 (20:04 pace)
Overall 26.43 miles in 7:16:20 (16:31 pace) 152nd place
Leg 5: Buttermere to Braithwaite (7.45miles)
As I left the checkpoint Jonny arrived!! I think he was surprised to see me!! I said I must have overtaken him on the descent from Black Sail Pass. So at least I knew where he was now. He looked good and moving well.
Nick Ham appeared and led the way up through the trees alongside the river. I don't know Nick too well so I enjoyed chatting to him about various races he has done which includes the Western States 3 times as well as UTMB.
Once we were over the stile I slipped ahead as I knew I wanted to keep moving on this climb. There are plenty of places where I wanted to run and thought it would be better to lead. I paused at the junction where we head up and Nick went ahead again.
Nick settled into an excellent pace and I was more than happy to follow. I offered to lead a couple of times but he was happy to lead. As we ran/walked over the 3 becks we caught and went past 6-7 runners. Some of them looked as though they were struggling a bit. I was glad I had adopted my conservative start as I now felt I still had plenty in the tank.
The final climb to Sail Pass is steep but I knew that was the last long climb until Fusedale after Howtown. There would be plenty of smaller climbs but not as tough as this one until later. Another advantage of following someone is I couldn't see how far to go. I was moving fairly comfortably and we soon reached the top.
I was keen to try and record the whole run on my Suunto Ambit 3. I knew using the gps trace and HR that it would give me around 10hrs. I carried a small battery pack so I could recharge on the way. As we approached the top I fixed it on and it worked really well. It took a couple of hours to fully recharge but meant I have the whole race on one file. I did have to recharge one more time after Mardale Head.
The climb had taken me 1:10:48 compared to my plan of 1:05:00. A few more minutes lost but my quads were feeling strong and I knew I could make up some time on the downhill without pushing too hard.
I knew from our recce runs that this next turn to Braithwaite was one of most tricky junctions of the whole route especially as it is in the dark. Dave on our recent recce run had taken time to show Marco, Jonny & I where it is. I had my Suunto GPS trace on my watch. So why did I miss it?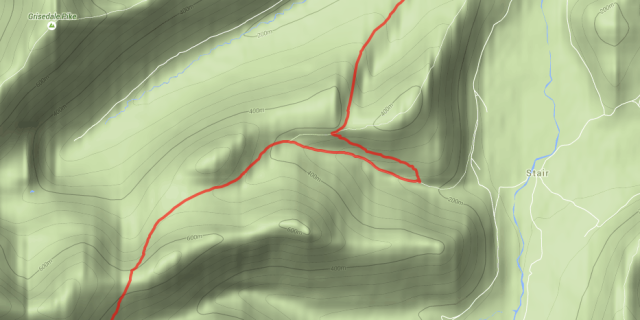 I had my Suunto screen on the GPS trace but what I didn't realise is that I had it on the wrong scale. You can either have a larger scale so you can more of the route or a smaller scale which is more accurate. I was on the wrong one without realising.
The watch just has a line to follow and an arrow showing you where you are. On the recce run it was really clear and if I missed the turn the arrow would show I was off the route very quickly. So I was very confident. Infact if I'm honest I was cocky!! I caught two guys who were debating whether they were at the path (they were!!).
I ran past saying, 'it's okay I have it on my gps watch.' I think they followed me. We ran on for a good few minutes before someone shouted we've missed the turn. I stopped, looked back at the line of torch lights and my heart sunk. I was so annoyed with myself. I knew it was a tricky junction and I didn't pay close enough attention. Why didn't I take a split from the top to the junction on the recce run so I could have a double check?
Someone suggested going back up the path but I said I'm heading up over the ferns. That was probably another mistake as it was tough going. I didn't bother looking at my HR as I knew it was going the roof!
I ploughed on leaving the other 3 behind. I felt really bad for them that they had trusted and followed me. If you are reading this please accept my apology. I eventually made my way to the correct path and headed down to Braithwaite.
In the Lakeland 100 race in 2012 I made a navigational mistake missing the turn at Glendeterra and adding a mile on. It really spoilt my race messing up my head for ages. I kept feeling sorry for myself thinking I should be further on.
Then last year I added a mile on to the Hardmoors 110 race. I dealt with that better than 2012 and was able to put it behind me and finish well.
So I knew I had another choice. I could either let that one stupid mistake ruin all my preparation and enjoyment or put it behind me, accept what I'd done and move on feeling positive. I was feeling really good. My legs were strong; I was eating and drinking well. All was good physically and there was still a long way to go. If my plan worked I should be able to keep strong right to the end so I decided to push on and keep to my HR and trust it would come together.
I knew a lot of people will have passed me again and I wondered whether Jonny was one of them. As soon as I entered the hall I had my answer! Jonny was sitting there. He said, 'What happened to you?' I replied 'Don't ask' and lots of people in the hall laughed.
I didn't want to go through it all right then so I quickly ate a bowl of rice pudding and jam, refilled my water bottle with my energy drink and with a goodbye and thanks to the checkpoint team I was off again. A man on a mission!
Sub 30hr plan: 1:55:00 (overall 8:56:00)
Actual: 7:45 miles in 2:20:13 (20:04 pace)
Overall: 33.88 miles in 9:38:20 (17:04 pace) 157th place
Leg 6: Braithwaite to Blencathra (8.47miles)
I reckon I ran an extra 0.9mile and lost at least 25mins. Nick arrived 23mins before me and I was ahead of him coming down from Sail Pass. I was now 46mins behind my sub 30hr schedule. This was not going to plan!! This was now more serious as 46mins is a lot to make up.
I felt the only way to do it would be to chip away at the deficit. There were still 10 more legs to go so if I clawed back 5mins per leg I could still do it. I knew I was going to give it my best effort. I certainly never thought about giving up on the sub 30. I thought it was still achievable.
My friend Cammie got in touch a few weeks ago to say that he was in Keswick for the week for the Christian convention. They were leaving on Saturday but he wanted to get up and cheer Jonny & I on. I said to him I reckoned I would be through Keswick about 3.30am.
I was now 45mins later than that but I knew he would wait to see me through. I ran along the road still feeling really good. Infact I took a couple of walking breaks not because I needed to but more to make sure I didn't push too hard.
I made sure I didn't miss the cycle track which goes past Dave's school. I was getting a bit paranoid about missing any other turns!! I caught and went past a couple more runners. At the top of Fitz Park I saw Cammie waiting for me.
A quick greeting, high five and I was off again. I thought he's waited for well over an hour for that but I really appreciated his support. Cammie is running his first ultra, Devil O' the Highlands on Saturday 1st August. I'm helping with the timing for the event so I'm looking forward to seeing how he gets on. He has prepared well and is ready for the challenge.
As I started the climb up to the car park I looked at my SI ETA for Blencathra. It said 6.13am. My plan was 2:12 from Braithwaite. If I kept to that I should be Blencathra for 5:52am so I would be ahead of the SI plan. I was feeling positive.
As I reached the car park I saw Nick in his tutu ahead. When I caught him up I briefly explained my mistake and wished him all the best. At least I was back where I was position wise 2hrs ago. I felt I was moving well and I love that run out to the dibber so went with the flow.
I went past two guys who were having a wee. One of them who had a very splendid beard went past and I followed him the rest of the way to the checkpoint. I had changed my mini-split from the car park to the dibber so I wasn't quite sure of the distances.
I dibbed my dibber and set off back down the valley to Blencathra. I thought it was about 2miles and if it was I had 44mins to run those 2 miles and a lot of them were downhill. I rechecked my figures in my head as I know when I'm tired I can't add up simple numbers! It looked right and if it was I was on my way back to being nearer my sub 30 plan.
I arrived at the checkpoint at 5.34am so a full 40mins faster than SI eta!! Yes I was back. I took a couple of Chia bars, refilled my bottle with Tailwind and I was off within a minute.
Sub 30hr plan: 2:12:00 (overall 11:13:00)
Actual: 8.47miles in 1:54:11 (13:29 pace)
Overall: 42.35 miles in 11:34:16 (16.24 pace) 124th place
Leg 7: Blencathra to Dockray (7.69miles)
I left the checkpoint with a real spring in my step. I had made up 18mins on one leg and I didn't think I had really pushed it. The sub 30 was well and truly back on!!
I left again on my own. This was the pattern for the whole race. I knew what I wanted at each checkpoint so I didn't waste any time deciding. I had my powder in my water bottle so that was efficiently filled by the volunteers each time. The only time I sat down was at Dalemain. I kept splits of all my stops so I reckon I stopped for a total of 34mins 31secs.
I could see three guys ahead. I realised I needed a wee so decided to do it before I caught them. I have perfected the art of weeing as I walk which saves a bit of time. I do have a laugh though wondering what runners behind me think of the wet line on the ground!!
I caught up with the guys ahead. I had a quick chat and one came with me. We ran together along the cycle track. He was explaining that it was his first hilly 100. He had done the South Downs Way as preparation but this was a lot harder.
He also said he would prefer it if the course was marked! I don't think he realised what it would involve to mark 105 miles around the Lake District. Also the navigational aspect of this race is a key part of what it is. I said to him if you want a marked course there are other races that do that!
We ran together to the end of the cycle track. I explained that the track over the field is fairly indistinct and you have to aim for the gate in the fence and then follow the path up to the Old Coach Road. When we got to the field there was a very clear path where the 100 or so runners in front of us had trampled down the grass.
As I was making my way up to the coach road I guy went past. I was fairly surprised as I'd not really been overtaken since the start. I said, 'Well done. You are going well.' Then a girl went past with no rucksack. I thought that's not right so said, 'Have you lost your pack?' She replied, 'I'm doing the Bob Graham!' She had the guy plus another girl as her support. We had a quick chat and I wished them all the best. They had started from Keswick at 3am so were about 3 and a half hours into the challenge.
Just before reaching the Old Coach Road I caught up with Kirsty Williams. It was good to see her and we chatted for a bit. I'd seen on Facebook that Kirsty was doing the WHW, Lakeland 100 and UTMB this year. There is only 5 weeks behind each one so it's a massive undertaking.
I asked how she recovered from the whw and plans for UTMB. I see from the results that Kirsty finished in 35:23:06. Very impressive and I'll be following her in the UTMB in a few weeks' time.
I enjoy the run along the Old Coach Road and I was feeling good so ran and walked keeping my HR around 125. I caught up with some runners and one went past me just before we reached the checkpoint.
The checkpoint is a tent at the car park but they had soup and sandwiches which I really enjoyed. Again in and out in 2:14 knowing one more leg until Dalemain and my drop bag with change of shoes, socks and top.
Sub 30 Plan: 2:01:00 (overall 13:17:00)
Actual: 7.69 miles in 1:46:00 (13:47 pace)
Overall: 50.04 miles in 13:21:15 (16.01 pace) 106th place
Leg 8: Dockray to Dalemain (10.20miles)
As I headed down the hill I checked my phone and Steven had sent a text saying I was now in 106th place. I wondered if I could get into the top 100 by Dalemain. I thought there had been at least 5 people in the checkpoint so hopefully I would!
I could see a runner ahead who was walking backwards. Maybe his quads were sore but no he was looking to see if it was me!! It turned out his name is Dave and he sat with Stuart Mills and I at the prize giving in 2013 when I was a marshal and Stuart won.
Dave reminded me of the conversation and how we had encouraged him to try an 'easier' 100 as a stepping stone between the Lakeland 50 and this one. He had taken our advice and ran the South Downs Way and was now here. We chatted and ran together all the way to Dalemain.
I was so absorbed in the chat that a couple of times when I glanced at my watch my HR was under 120. Looking at my HR graph from this point on it never really got much above 120 no matter how hard I was running or walking.
I didn't really look at it too much after this as I knew it wasn't a case of holding back anymore it was all about going as well and quickly as possible. I do think that keeping to the HR for the first 9-10hrs though is the key factor for me. If I can do that I'm giving myself a chance of being able to finish strongly.
We caught a couple of guys on the climb up to the great views of Ullswater. I paused to take a video and take in the amazing views. Once again I reminded myself how grateful I am to be able to do this.
Over the next few miles we caught up with some more runners including Geoff. Geoff knows Marco from work. We chatted for a while and we ended up running together for a good while. Once we were on the road to Dacre and then Dalemain we caught a couple more runners so there were a group of us coming into Dalemain around the same time.
It was about 9.35am when we arrived at the checkpoint so the 50 runners were not there but there were plenty of supporters and the volunteers were amazing. I came into the tent to see all 6 chairs being used. I did make a joke about being time to get going but no-one moved!!
Keith Mabbot was in one of them. I had run with Keith during the recent Cateran race and knew he had been struggling with an injury so it was good to see him still running.
I was determined not to waste too much time in the checkpoint. I had 8mins on my plan but I knew that would be hard to get everything done. I quickly changed my shoes and socks. My feet looked okay. The 2nd skin on my toes was working well.
I changed my top to a short sleeved one. Packed away my energy powder, Tailwind sachets, splits cards and took another power pack for my Suunto. The marshals brought me some lovely stew and bread. I packed away my drop bag to be returned to Coniston, took some sweets for the journey, thanked the volunteers and a wave to the guys who were still in their seats and I was off. It had taken me 11:32 but I don't think I could have done it any quicker.
When I came outside I saw loads more runners on the grass outside. I hadn't realised there were more people at the checkpoint. I did think that there was a good chance that I would be in the top 100 now!!
Sub 30 Plan: 2:26:00 (15:46:00)
Actual: 10.20 miles in 2:14:15 (13:10 pace)
Overall: 60.24 miles in 15:37:44(15:34 pace) 86th place
Leg 9: Dalemain to Howtown (7.07miles)
As I left the checkpoint I saw John Vernon who said I was looking good. I know supporters say these things to encourage you whether do look good or not but it works as I moved off with a renewed determination to get this done.
As I walked over the bridge and headed up the field I did some maths in my head. I have 45 miles to go and 14hrs to achieve my sub 30hrs. That's just over 18mins per mile. I had been averaging 15:33 up until now so hopefully I would be able to do that.
I was on my own now but I could see a runner in the distance. I ran down to the stone wall by the road. I caught up with Raj and we ran over the road together. Then Geoff caught us and we ran along the river together.
Geoff & I ran/walked through Pooley Bridge then headed up the hill. Geoff asked me how I go into ultra-running so since we had the time I gave him the full version! He may have regretted asking me!! We continued to chat all the way up the hill and down to the next checkpoint at Howtown.
We seemed to be running at a similar pace and the miles flew by. It was clear we were both keen on a sub 30hr time so we talked about what it would take. I share my splits and explained that I was now 11mins up on my schedule.
I decided it was like banking time. We had 11mins in our saving account for any problems further on. The more time we could bank at each checkpoint the better our chances of achieving our goal. I didn't want to be on the edge at each checkpoint. I remember chasing my first sub 20hr whw when it was on a knife edge the whole time. I actually finished in 19:59:33 so it did go right to the wire!!
We also agreed that we would try and help each other but I said to Geoff if he was going well not to wait for me as it's his race as I wouldn't be waiting for him if I was stronger!!!
As we arrived at Howtown checkpoint point I said to Geoff, 'Do you want the good news or the good news!' We now have 22mins in our bank! We had run that leg over 16mins faster than my plan. Happy days.
I knew Mike and Annette Raffan were marshals at this checkpoint so it was so good to see them. They quickly filled my water bottle and checked whether I needed anything. I explained to Mike I was ahead of my plan and going well. He said my beard was the reason!!
I took some Chia bars and a bag of fudge and set off. The theme was cowboys and injuns so they had a wanted poster wall. One of them had my name on so they took a photo of me next to it.
Sub 30hr Plan: 1:54:00 (overall 17:48:00)
Actual: 7.07miles in 1:37:22 (13:46 pace)
Overall: 67.31 miles in 17:26:38 (15:33 pace) 70th place
Leg 10: Howtown to Mardale Head (9.33miles)

I set off before Geoff but he soon caught up and we started the climb together. We were chatting for a while but then we each needed to concentrate on getting up Fusedale the best we could without pushing too hard.
I did a mental MOT and felt everything was okay. I was tired after running for almost 18hrs but still felt I had plenty of energy. I settled again into a very easy steady walking rhythm. I was counting four steps over and over then 50 breathes, then back to the step count again with a variation of only counting left foot .
I wanted to get to the top without stopping. I caught up with a couple of guys about half way up. One of them stayed with me and we chatted a bit. He was really struggling with the grips on his Hokas and was talking about stopping at Mardale and how he should have stopped at Howtown.
I encouraged him to keep going but I didn't really want any chat about stopping as it's not on my agenda or plan! I saw him several times over the next 10hrs hours as he tended to stop longer in checkpoints but run faster than me so he did make it to the end.
It was getting quite hot now. Last week I'd read a post on Facebook with tips to stay cool. One guy said keeping your neck cool is important so on my last run in Indonesia I tried running with a buff wrapped round the back of my visor so that it draped over my neck.
Every time I came to a stream I would soak my visor and buff and it really helped to keep my head and neck cool. Maybe my heat training in Indonesia did pay off a bit because I felt I coped okay when it did get a bit hotter.
It was good to see the top of Fusedale and I felt even better when I looked at my splits to see I had climbed it in 57:27 compared to my plan on 1:10:00. So another 12mins in the bank. Geoff was behind but I pushed on hoping he would catch up soon.
It took a few minutes to feel I could start running again. My legs felt a bit wobbly after the ling walk up. Once past the small post which marks the highest point of the course I was running again heading to High and Low Kop.
I started using my positive motivational mantras to get me going. I repeat endlessly, 'You are strong. You are fit. You are awesome.' It certainly seems to help me whether the statements are true or not!!
I could see a runner ahead but it was hard to tell how well they were moving. There had been some debate as to the route over or around Low Kop. Terry said at the briefing there is only one way – over Low Kop. That is the way I had gone in our recce in April so was confident of the way. Terry said they have put two wooden posts to make sure everyone knows the way.
I didn't look back but assumed Geoff would catch up at some point. After Low Kop I saw a lady lying down on the track. I checked she was okay. A power nap was her reply. I couldn't imagine stopping for a sleep like that but everyone has their own tactics of getting this race done. I hope she finished.
I followed my gps trace carefully and was happy to see the wooden bridge and then the path down to Haweswater. It is a long leg this one so I had broken it up into 3 sections and almost treated them as 3 separate legs.
Leg one was to the top of Fusedale, leg 2 to Haweswater and then leg 3 along the lake to the checkpoint. Leg 2 had gone as well as leg 1 and I was now over 20mins up on my plan for the overall leg and overall I had 36mins in the bank.
But when I looked at my splits for the 3.98 miles to the checkpoint my heart sank a bit. I had given myself only 58mins which was 14:39 pace. What was I thinking?? There was no way I was going to be able to do that. So I thought I'd need to run as much as I could and not lose all of the 20mins I had gained since Howtown.
I now come to the nutritional mistake I made. I knew that my Matrix Energy drink would run out way before Mardale Head checkpoint. I could have carried another 500ml of drink but I knew there was a stream or two along the path that I could refill.
I was so pleased to see a fast flowing stream right on the path so I refilled my bottle. I had 1 more Tailwind sachet and 1 more Matrix energy in my bag but I wanted to keep them for the next two legs. My plan was to use coke for the final 3 legs.
So I thought water would be fine for the final hour or so to Mardale Head checkpoint. In hindsight I was wrong. I was using the excellent Tailwind and Matrix Energy Drink as a way of topping up my stores and by only drinking water I didn't get enough energy in.
I was okay for the first 2-3 miles but the final mile felt really hard. It was the first time in the race that I started to slow and it became a bit of a battle. The leading L50 runners went past looking so strong and fresh. Jayson was in 3rd place and asked for a S cap but I didn't have enough to share. Sorry Jayson. It didn't hinder him as he went on to win!!
I could see my average pace for this mini-leg getting slower and I was very happy to arrive at the checkpoint. I had lost 13mins over that 4miles section but I was still 7mins faster overall from Howtown so all was not lost!!
I took some more soup and 3 sandwiches from the checkpoint. I felt quite shaky and my legs were wobbly but I hoped the food would kick in very soon. I didn't want to hang around so after 3:54 I was off again.
Sub 30hr Plan: 2:59:00 (overall 20:51:00)
Actual: 9.33 miles in 2:50:30 (18:16 pace)
Overall 76.64miles in 20:19:07 (15:54pace) 67th place
Leg 11: Mardale Head to Kentmere (6.44miles)
As soon as I left the checkpoint I knew I was in big big trouble. I had absolutely nothing in my legs at all. It really panicked me as I could see all my precious minutes that I had banked being withdrawn and I would soon be in overdraft.
I slowly plodded up the hill hoping that the food I had taken on board would have some effect. It didn't and every step seemed so hard. I wasn't sore but it felt like someone had switched off my energy tap and I was using the very last reserves.
I had no choice but to keep putting one foot in front of the other and I hoped eventually I would make it to the top. After about 15mins of this painfully slow progress I looked up and saw runners way in the distance. My heart sank again and I started feeling sorry for myself!
I then did something that I don't normally like to do …. I stopped for a few seconds rest. Then I walked again to the next corner and had another rest and then again and again. I must have stopped about 8 times as I slowly made my way up the hill.
I was looking for any excuse. I noticed my Suunto was getting low again so that was an excellent excuse to stop and get the battery pack out and set it up!
The 50 runners were going by and encouraging me but it was hard to even thank them. It was definitely my lowest point of the race. If I can't get going again this is not going to be pretty. Eventually I could see the top and knew at least I would have a downhill section.
Just then Geoff appeared. He was moving a lot better than me so after a quick chat I told him to push on. I decided to have a look at my splits and see what the damage was. I had a mini-split at the top. I read on my card 45:00 for the 1.21 miles which is 37:11 pace. I couldn't believe it. Why did I give myself so long? But I was so happy I had!
I looked at my watch and realised that I was going to be at the gate in about 41mins!! So suddenly what I thought was going to be a massive bank withdrawal suddenly became another few minutes saved!! It gave me just the positive boost I needed and I slowly got going again.
I realised I needed some sugar so remembered I had the fudge from Howtown. I struggled to eat it but got it down with some Tailwind and almost immediately felt some power returning to my legs. Geoff wasn't far ahead and soon I caught up and we headed down together.
The path is really tough further down so I was carefully making sure of my footing but I was running and feeling stronger. I was on my own again. Maybe Geoff was having his bad patch.
The steady flow of 50 runners were going by but now I could thank them and encourage them. Then about a mile before the bridge Debs came by. A quick hug and well done and she was away running so smoothly as always. Debs was in 2nd place with the 3rd women not far behind. Debs stayed in 2nd and finished 10th overall. I look forward to seeing how many she overtook from Mardale because a lot more than 9 of L50 runners went past me before Debs.
I reached the bridge at the road in 38:54 so I'd only lost 4mins which considering how I felt at the top wasn't too bad. As I climbed up again I worked out my timings. I now had 34mins in the bank. If I could keep most of them through to Tilberthwaite I would have an excellent chance to go sub 30hrs. If I lost 5mins per leg with 4 legs to go that was still okay.
I was feeling so much better now and so was confident I could do this. I had another couple of miles to Kentmere and after a short climb it would be downhill again. I just about got away with my nutritional mistake. I knew I had to keep topping up my fuel but as long as I did that I should be okay.
The run down to Kentmere was fine and I entered the hall feeling good. I think a scout group must have been manning this checkpoint as they all had their neckties on. One of the young people got me a smoothie and filled my bottle.
I didn't fancy or really need anything else so set off again. I'd stopped for 1:53.
Sub 3ohr Plan: 2:04:00 (overall 23:00:00)
Actual: 6.44miles in 2:03:21 (19:09pace)
Overall 83.08miles in 22:26:22 (16:12 pace) 67th place
Leg 12: Kentmere to Ambleside (7.49miles)
I had less than a marathon to go and over 7 and half hours to do it to break sub 30hrs. Surely I can do this. I started imagining the finish line and what I'd feel like but I had to try and put that aside as there was still a long way to go.
It's another long twisty climb out of Kentmere on rocky ground but I was relieved that my legs were working again. I was glad the energy tap had been reconnected. One of the tough aspects of this race is the underfoot conditions and no matter how well prepared you are your feet take a real battering.
Under the balls of my feet were tender. Nowhere near as bad as 2012 but I could feel them particularly running down rocky paths. The other pain I started feeling around this point was my left shin. It was sore but didn't hinder my running. I knew it wouldn't stop me but could be sore after the race.
The path down to Troutbeck was a lot rockier than I remember but when I reccied this route with Jonny in April we only ran from Ambleside so I wouldn't have noticed so much. Now I was aware of every rock and stone.
Andy Johns came past around here. He was having a great day and moving well. It's good to see him back after a couple of years of injuries. As I walked up the hill at Troutbeck I wondered where Dave was. It was at this point in the 2012 race than Katrina rang me to say he had finished in under 26hrs. It was now 23:40 and I knew he was aiming for under 24hrs so I hoped he was on the hill down to Coniston. Dave finished 6th in 23:48:18. Another superb run.
Yet another climb out of Troutbeck and then a lovely run with great views of Windermere before heading down to Ambleside through the woods. L50 runners were still going past plus a few L100 runners as well. I was still passing one or two L100 so maybe I was holding my own position wise.
I wasn't too bothered about overall position as the time was my all-consuming target. I know some people don't like having a target but for me it's part of the fun and challenge. I like to set myself a challenging yet realistic goal. In this race it certainly helped keep me motivated and pushing on right to the end.
Keith Ainslie caught me on the road into Ambleside. He made me laugh as he said I was running really well. Then added, 'I've said that to lots of 100 runners but I really mean it for you!!' He went on to smash his pb and his race report is a good read.
My friend Cara had sent me a message in the week saying she was going to go to Ambleside to see me and her flat mate who was running the L50. I'd said my target for Ambleside was 7.09pm but it could be earlier or later. As I approached the checkpoint I could see it was only 6.30pm so I was early!!
I loved running through Ambleside. Lots of people knew the race was on and cheered us as we ran through but I really chocked up coming to the checkpoint. There were loads of people waiting and cheering. I spotted Cara and had to hold back the tears as I sensed the good will being showered towards me. I gave a high five to as many as I could.
I dibbed in and then climbed up the stairs to the checkpoint. Noanie was there looking very smart in an evening dress. I'm not quite sure what the theme was but they all looked great.
After some more lovely soup and sandwich and my water bottle filled with coke I was off again. 15miles to go and just under 5 and half hours to do it. I still had my 34mins in the bank and one less leg to lose it!
Sub 30hr plan: 2:06:00 (overall 25:09:00)
Actual: 7.49 miles in 2:06:14 (16:51 pace)
Overall: 90.57 miles in 24:34:28 (16:17 pace) 59th place
Leg 13: Ambleside to Chapel Stile (5.46miles)
Cara walked me with in the park checking I was eating okay and wishing me all the best for the final few hours. Thanks again for your support Cara.
I caught up with two girls who were running together. They were not officially a pair in the L100 but friends running together. I said to Isobel and Nicky that sub 30hr was definitely on. I try to share my passion for times to aim for with anyone I see!! We passed and repassed each a couple of time before they went ahead and finished under 29:30 so very impressive. They were joint 3rd in the Women's race.
I opened my water bottle to have the first swig of Coke and got showered by the stuff! I hadn't realised it was fizzy and not flat coke. I don't mind fizzy but I need to put the nozzle in my mouth before I open it. Anyway it gave the girls a laugh!
I went over what I had left in my mind. It was just over 5miles to Chapel Stile, then another 6 and a bit miles to Tilberthwaite before the final 3 and half miles to Coniston. So just under 15miles to go. I knew the sub 30hrs was in the bag now as long as I could keep going at this pace.
I couldn't afford to ease off but at the same time I didn't need to really push. I felt the intensity wasn't quite there. Sub 29 had been my Platinum goal but I thought that was only possible if everything went to plan and the navigational and nutritional mistakes I'd made put that goal out of reach really.
Plus I was starting to feel sleepy tired. Maybe the jet lag from Indonesia was playing a part but maybe the fact that I'd been running for over 25hrs non-stop had something to do with it. Whatever it was I had to give myself a couple of pep talks not to give away.
I didn't want to get so close to my sub 30hr goal only to lose it over the final 10miles or so. I decided I needed to keep giving myself little challenges. Once I got to the path towards Elterwater I would run for 100 breathes then walk for 50 or run to a certain point.
The runner with the slippy Hokas caught me again and he was running smoothly. We ran together for a while but he carried on when I had a walking break.
I was glad I had run this route with Jonny in April as it was all very clear now. In 2012 I got really confused as to what came where. Now I knew and it made it so much easier. I went over the bridge at Elterwater, up the hill, turn at the cave, over another bridge and out onto the road past Wainwright's Inn.
There were loads of people outside enjoying the evening sun. They were cheering us on as we ran past. There were a group of 4 children with their arms out wanting a high five. The L50 runners ahead of me went past them so I went over and gave them a high five. As I ran on one shouted, 'Thanks John for the high five!'
I realised I really need a poo. I had thought about asking at the Inn but hoped there would be a portaloo at the checkpoint. I don't normally need a poo in ultras but I had been eating a fair amount of ordinary food.
As I ran past the campsite on the way to the marquee Rick Williams caught me. He wasn't enjoying it very much. He had been injured after the Fling and had to pull out of the whw. He was running pain free again but wasn't in the best shape and so it was frustrating not to be able to really race it. We ran into the checkpoint together. He said he'd passed Jonny on the climb up Fusedale and that he thought Jonny was finding it tough.
Rick offered to run the rest of the way with me but I said I was fine. I needed to do it at my own pace. Thankfully there was a portaloo so I went in before dibbing in. I won't go into details but let's just say I was glad I went!! Apologies to anyone who went in there after me.
Peter Jamieson was one of the marshals at Chapel Stile. I ran with Peter during the 2012 race. We are both Everton supporters so it's always good to see him. Peter looked after me refilling my coke and telling me how well I was doing. I left the checkpoint with his encouragement ringing in my ears!
Sub 30hr plan: 1:29:00 (overall 26:43:00)
Actual: 5.46 miles in 1:30:55 (16:39 pace)
Overall 96.03 miles in 26:08:23 (16:20 pace) 53rd place
Leg 14: Chapel Stile to Tilberthwaite (6.26miles)
Two more legs to go. 6 and bit miles then 3 and half miles. Less than 10miles in total and 3hrs 50mins to do it. No problem but I was feeling tired and the drive of time was fading a little as I had plenty of time. I realised I need to keep moving as well as I could and get this finished.
The track towards Side Pine Farm is fairly runnable but I was finding in hard to run on the rocky ground. I ran as much as I could but not as much as I thought I should be. I gingerly ran/walked done the stone steps to the farm, up the field and then over the first large wooden stile. I took one rung at a time and then backwards on the descent.
The field across to the main path up was a section in 2012 that almost defeated me. My feet were agony by then and every step on the wet grass was so painful. This year the grass was drier and my feet were loads better. I was able to run and life was so much better. Plus it was still daylight. I reckon I should just about make Tilberthwaite in the light.
A few L50 runners went past me at the second wooden stile and I could see them working their way up the path. I adopted my steady walk up the zig zags and was happy to reach the top. There was a guy there cheering people on and I said 'That's another hill ticked off' and that's how it felt. One more milestone passed.
I worked out how many more climbs there were left and it wasn't too many. Over the road the left through the gate and onto a good if a little stony path. I was in a world of my own just getting the job done when Geoff comes breezing by. He said 'I thought you were long gone!!' Thanks Geoff.
Geoff said 'Painkillers are amazing things.' He explained he went through a really tough time but is going well again now. I wished me a strong finish and he was away. I saw him the next day for breakfast and he finished in 28:49:14 so he was 49mins faster than me over the final 7miles. Very impressive. Geoff said he was keeping up with the 50 runners. I bet they loved that!!
I made my way over to the road and second unmanned dibber. The ground was a bit wet near the road but it actually felt quite nice on my feet. The balls of my feet were a little tender but not too bad. My shin was getting worse but I tried to ignore that as much as possible. I did consider getting some painkillers out of my back but I knew they were right near the bottom and basically couldn't be bothered!!
Once on the road I knew I had a mile or so of downhill running on the road. I was so pleased that my quads were strong and I ran the majority of it. A couple of walking breaks to fuel on coke. Over the bridge, past the white house and then the climb up to the signpost and the path to Tilberthwaite.
When I got to the signpost which I reckon marks 100miles there were three massive offroad vehicles churning out their diesel fumes. They were in the way and I had to squeeze past them. Then I could hear them coming behind me.
When they caught me I had to stop to let them past. Then they stopped and I had to try and get past again. I don't get too annoyed with things but this annoyed me!! One driver said 'we'll give you a lift. We won't tell anyone!' I didn't even reply!
Thankfully they got away and I was on my own again. It was getting dark now so I stopped to put my head torch on. I ran through the farm and along the road towards the final checkpoint.
For the final time the volunteers were superb, filling my bottle with coke. They had watermelon so I ate 5-6 pieces which was so lovely. I took a few segments of orange as well. The fruit definitely hit the spot. I was off again with a thanks in 1:23. No time to hang around. The finish line called.
Sub 30hr Plan: 2:02:00 (overall 28:48:00)
Actual: 6.26 miles 2:03:29 (19:44 pace)
Overall: 102.29 miles in 28:12:54 (16:33 pace) 56th place
Leg 15: Tilberthwaite to Coniston (3.48miles)
The first step up the path seemed massive as I climbed up. The rest weren't too bad but I took them one at a time. I knew I had plenty of time to achieve my sub 30hr goal but I wanted to get there as quick as I could.
It was a slow plod with quite a few groups of people going by. Looking at the places I lost 4 places on this last section but that's fine!! Well done to them for having a strong finish.
I tried to picture the scene at the finish and how nice it would be to have a shower and lie down in my comfy campercar! I wondered where Jonny was and hoped he was okay. I hoped that Dave had stayed awake to see me home. I thought about Katrina and Emma following me from Indonesia. They would be getting up soon and I knew they would be checking the live tracking to see if I had finished. I wondered how many friends would wait up until I had finished before going to bed!
And still I kept plodding away. I could see the lights ahead and then they disappeared so I knew the top was coming soon. I was feeling quite cold so stopped top put on my OMM jacket for the first time in the whole race. Eventually I reached the col and started my final descent.
I had my gps trace on and followed it carefully all the way down. It was slow going at times as even though my quads were fine my feet and shin were complaining a bit. Half way down I caught up with another 100 runner who was unsure of the way. He followed me down.
It was so good to reach the road, run past the miners bridge and know the end was in sight. I ran most of the way down. I realised I needed a final wee so decided to do it now rather than finish and have to find a loo!
Running through Coniston at 11.30pm was very different to the start of the race but that sense of having completed this massive circle is amazing. I ran down the road past a small group of supporters cheering me in and there I was at the finish! Andy Cole greeted me with a big smile and hug. I had made it and I had achieved my goal. 29hours 36minutes 25seconds. YES!
Sub 30hr Plan: 1:09:00 (overall 29:59:00)
Actual: 3.48 miles in 1:22:08 (23:36 pace)
Overall: 105.77 miles in 29:36:25 (16:48 pace) 60th place
Andy took me into the hall and I was announced as a 100 finisher. Nice round of applause and through to the hall to get my medal, sheet with my times and my t-shirt.
Dave & Tracey were there to welcome me. I sat down and smiled. It was good to be able to stop and not have to rush off to the next checkpoint. I asked Dave about his run. He finished in an amazing 6th place in 23:47:18. I can't remember too much about the conversation, as I was ready for a shower and bed.
I wanted to wait to see Jonny home but had no idea how long he would be so I shuffled slowly to the shower block, had a lovely hot shower then shuffled to my car, got in and slept!
I woke about 5.30am and wondered whether Jonny had made it. I got dressed and looked in the tent. He wasn't there so I headed over to the hall to check the live updates. Then Jonny called me. He had just finished and was coming over. I was hobbling as my shin was really sore. Jonny said 'How did you get me into this!!'
Jonny had finished in 142nd place in 36:03:29. He had almost quit at Ambleside but showed great character and made a wise decision to rest for a couple of hours before getting going again and finishing well.
The rest of the day was spent chatting to folk, having a full breakfast in Coniston, going to the prizegiving and driving home. What an amazing weekend!
Thanks to Dave & Tracey for your hospitality again and to Jonny for your friendship over the training and race weekend.
Thanks to Marc, Terry and the whole team for the way you organised and looked after every runner. This really is a very special race.
Congratulations to Hugh Cook who not only ran the 100 race as well but won my Guess My Time competition.
My full splits