Sunday 1st November 2015
For my fifth and final ultra race for 2015 I was keen to do a new race. I came across the White Rose Ultra through Steve Foster who lives locally and who I've met when we both ran the Lakeland 100 in 2012 and this year.
I was quite attracted to the fact that it was a 30 mile loop that the 60 mile race does twice. There is also a 30 mile option and for the first time this year a 100 mile option which is 3 loops plus a 10 mile loop at the start.
I wasn't going to be able to recce the route so thought the first loop can be the recce! The race has been run for two years so hopefully it would be well organised which it was!
I travelled down on Saturday afternoon stopping off for a meal on the way. I was on my own as Katrina decided spending a weekend with our grandson Seth (and his parents!) in Inverness would be more fun than waiting to see me at the start, at half way for 5 mins and at the end!!
I arrived about 8.30pm after a few minutes of trying to locate the headquarters. My stat nav suggested a place to park and walk the rest of the way! I was able to register and sort out my campercar for the night. I chatted with Mark Dalton who was supporting Adam. He looked focused and ready for the challenge but sadly had to pull out with hip problems.
I met John & Helen Munro. John was doing the 100 mile race mainly to get the 4 points he needs to enter UTMB next year. I'm sure a lot of people were there for the same reason!
I must admit John didn't sound too keen or confident. The 100 mile option started at midnight and about 2.30am when I got up for a wee I saw Helen and then John at their car. Helen said John had pulled out. I had a quick chat with John who explained that his legs had nothing in them so he was stopping.
I got some sleep but woke before my alarm at 6am to get ready. As I ate my porridge I watched the screen the organisers had set up so friends and family could follow the trackers. Not everyone had a tracker but it was interesting to see how it was working.
I met Jonny Pritchard who had come down from Isle of Lewis to run. I met met Jonny through Strava and knew he would be at the sharp end of the race and he was …. he won!!
As we were chatting in walked Debs Martin-Consani with a big smile on her face!! She thought it was very funny that I hadn't cottoned on that she was running! I had checked the entry list a few weeks ago but Debs had entered quite late. Again she needed the 2pts the 60 mile race would give her.
I was explaining to Jonny that I used to be faster than Debs so decided I needed a competition where I might have a chance. I miscalculated badly in the Lakeland 50/100 so this time suggested our challenge was to see who could run the most even splits!!
I headed back to my car to get changed and ready for the race. Lots of runners were arriving and registering. I also saw Andy Cole who was doing the 30 mile race. I thought there was a good chance we would run together which is how it worked out.
Just before the planned start at 8am we walked up the lane to the start line. There had been a few 100 mile runners through having run 40 miles in under 8hrs but the majority were still coming in so I thought I wouldn't see them. Mark was hoping Adam would be through by 7am so he was a bit behind his schedule.
As I switched on my Suunto it didn't seem to be pairing with my HR strap but thankfully I had time to pair it again and it was ready for the start. I did some video clips throughout the race and took one as we waited for the start.
The course was really well marked and the checkpoints were roughly every 5 miles.
Loop 1 start to CP 1 - 4.39 miles
One of the things that attracted me to this race was the fact that it was two identical loops. I thought it would be interesting and challenging to see whether I could run two laps at an even paced.
So my plan was to try and run the first one well within my comfort zone and then be able to maintain the same pace for the second loop. I was aiming for sub 12hrs. According to the spreadsheet that Robert Osfield helped me with I should be aiming for a HR of 136.
I decided to try and keep it nearer 130 and hopefully that would mean I would be able to keep it going for longer. The unknown factor was what the course was really like. When I entered I assumed it would be mainly off road so when I discovered a few days before the race that it was actually 60% road and only 40% trail I was a little concerned.
We set off at 8am. I'm not sure how many were running but there must have a couple of hundred between the two races (30 and 60 miles). I set off with Andy Cole who was doing the 30 miles. 'A nice day out in the Yorkshire hills' was how he described it. Within a 100 yards of the start we saw a group of runners coming towards us who were late for the start. I assume they had difficulty finding the race HQ.
The first mile or two were spent climbing so it was a good walk to get going. Steve Foster was just ahead and stopped to take a photo or two including this one of Andy and I.
As you can see from the photo the sun was shining and is stayed out all day. In fact it got pretty warm and felt like a good summer's day!
I didn't really pay too much attention to the route as it was well marked and plenty of people to follow. A couple of people recognised me from my blog including Richard Horner who said he's been reading it for a while.
A few times Andy encouraged me to push on if we were going too slow but my HR was spot on where I was aiming for and I was really enjoying chatting to Andy about various races as well as Football and cars. Soon enough the first checkpoint came into view.
Loop 1 Start to CP1 4.39 miles in 50:17 (11:27 pace) HR 126
Loop 1 CP1 to CP2 - 5.66 miles (overall 10.05)
We hardly paused at the checkpoint as I still had plenty of energy drink. For this race I was alternating with Tailwind and a new product from Herbalife called CR7 that I had been asked to try out.
Andy and I continued to chat and others joined in. We seemed to catching and passing runners fairly regularly and some were going past us. Again I was happy with the pace and the effort I was putting in.
One of the things about a course like this is to get it right mentally so I was keen to view the whole of the first loop as a glorified warm up. I never wanted to get into the red zone so I had plenty of energy for the second loop.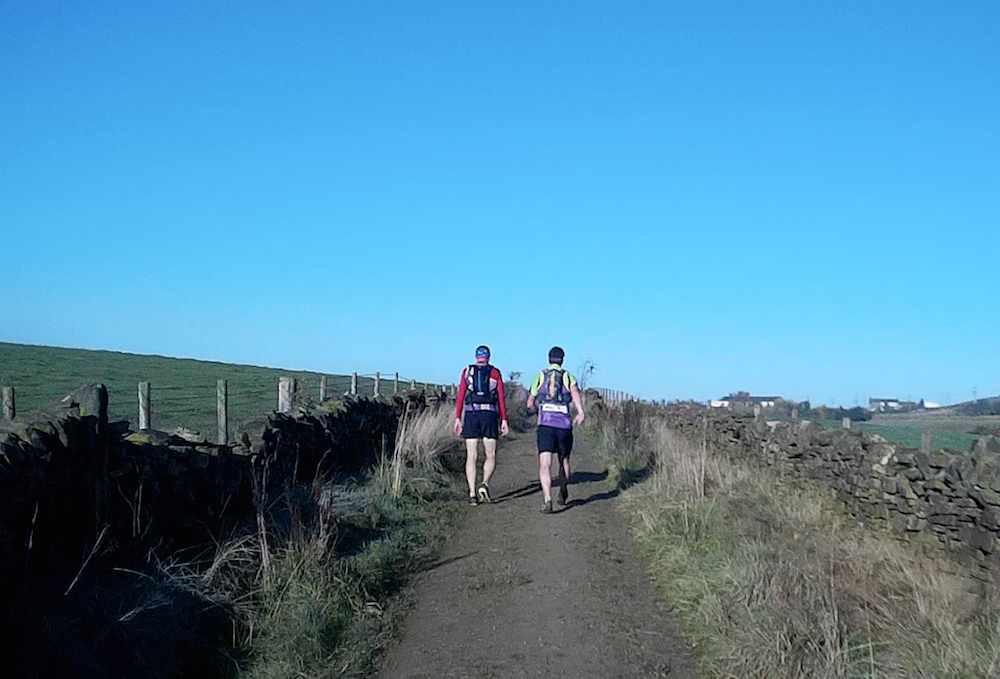 There seemed to be a mixture of tarmac and compacted trail paths with lots of ups and downs to either walk up or run down. There wasn't too much of flat ground!
The miles flew by as we chatted and before I knew it we came into the second checkpoint point.
Loop 1 CP1 to CP2 - 5.66 miles in 55:51 (9:52 pace) HR 132
Overall 10.05 miles in 1:46:08 (10:34 pace)
Loop 1 CP2 to CP3 - 4.70 miles
While I stopped to fill up by water bottle Andy carried. I basically spent the next 5 miles catching him up! I ran with various other people and thought maybe Andy was away. I didn't really want to push too hard to catch him.
After a couple of miles there was a very steep downhill on road which seemed to take a fair bit out of my legs. I was still feeling pretty comfortable with the pace but I did worry what effect all the pounding on tarmac would have as the race went on.
Andy came back into view and I slowly caught up with him.
I caught Andy as we reached CP3. I had a drop bag here so quickly took the energy packs and a youghat covered bar and was again with Andy.
Loop 1 CP2 to CP3 - 4.70 miles in 52:36 (11:11 pace) HR 132
Overall 14.75 miles in 2:38:44 (10:46 pace)
Loop 1 CP3 to CP4 - 6.60 miles (overall 21.35 miles)
I knew that this was the longest leg and with the biggest climb but also part of it was on the Pennine Way so would be off road. After a run on the flat we had a climb up and along a path with Marsden down below.
We reached a road, turned left and ran all the way down to Marsden where the race started last year. It was quite a steep road in places and again I wondered whether I would suffer a bit for this on the second loop. My quads were okay and certainly my weekly trips up and down Ben Lomond certainly helped!
Andy & I caught a few more runners including Javed who Andy knows well. Javed has completed the Spine race twice and is doing it again in January. Andy is also doing the race so I listened in as they discussed all things the Spine.
Once we were through Marsden we climbed up again and then had a lovely run along the Reservoir. We came a decent pace up before hitting the climb when we walked up. My HR was still under control but deep down I knew my legs were more sore than I would want them to be after 18 miles.
I really enjoyed the next few miles to the next CP. This is the terrain that I prefer for ultras and the views were excellent.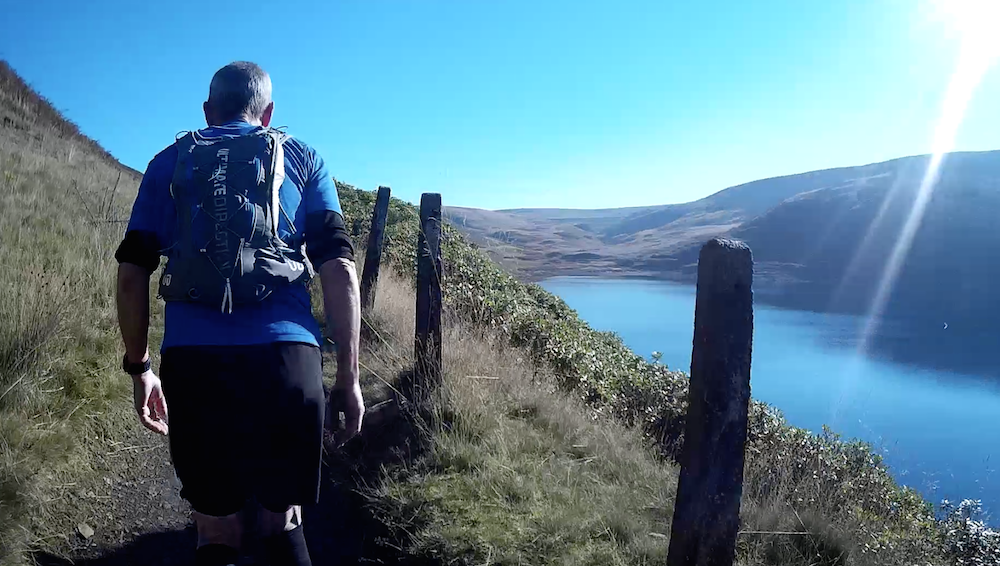 I had a seen a few photos from previous race reports of a particular bridge and I assumed it was on this section and sure enough it was. I took a photo of Andy as he crossed it.
Also along this path there was a photographer from Sport Sunday taking photos. As we passed he called out, "well done old timers!" Thanks a lot! Harsh but true!!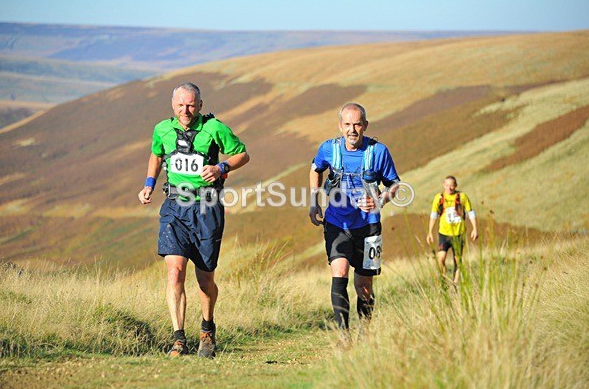 We continued to climb up the road and the next CP. There was a bit of a crowd there and it was good to arrive knowing there was less than 10 miles to go. I thought about the next loop and knew that getting here would be a good landmark.
Loop 1 CP3 to CP4 - 6.60 miles in 1:28:06 (13:21 pace) HR 134
Overall - 21.35 miles in 4:06:50 (11:34 pace)
Loop 1 CP4 to CP5 - 3.80 miles (overall 25.15 miles)
It was really, really warm now so Andy stopped to take off a layer. I refilled my water took a slice of melon and was away.
I set off down the road and realised I was on my own for the first time in the race. I suspected that Andy would catch me soon enough but in did feel strange to be running on my own. Over the next 9 hours I would get used to it!!
I carried with me the basic outline of the route and the profile so I knew I'd be on the road for a mile or two and it was all down hill. It was a main road so a fair bit of traffic and a few cyclists working hard riding up the hill.
I decided to open up the gps trace on my Suunto not that I was particularly worried about missing any turns but more as a back up and security blanket. I ran all the way down and could see a couple of runners ahead who I seemed to be catching. I wondered whether they were 30 or 60 mile runners.
After a good few minutes of quad trashing down the tarmac road we turned off to the left on a dirt track which I found more enjoyable!
I went past one runner who was walking on  a down hill section. I asked him whether he was okay. My thighs are shot he said. He was glad he was only doing the 30 mile and didn't have too far to go. When I said I was doing another loop his reaction he couldn't think of anything worse!
I wasn't sure how far behind Andy was as I make a real effort never to look back! The route though takes a 90 degree turn to the right so I did see him and gave him a wave.
I ran into the CP still feeling generally okay but felt my legs had done more than the 25 miles they had done!
Loop 1 CP4 to CP5 - 3.80 miles in 42:04 (11:04 pace) HR 136
Overall - 25.15 miles in 4:48:54 (11:29 pace)
Loop 1 CP 5 to finish - 4.76 miles (overall 29.91 miles)
I left the CP before Andy arrived but again it was a turn to the right so I gave him a shout as I set off down the road.
The route went down a lovely narrow path and then alongside the Blackmoorfoot Reservoir. Mark Oliver posted some photos including a few of me!
I was getting myself ready mentally for the second loop. There were still a few runners around but I assumed most of them would stop after one loop.
With a couple of miles to go Andy finally caught me. He joked I was slowing down so I would hit my splits!! We ran together for a bit but then he pushed on and I didn't want to go with him but he wasn't too far ahead.
There were a few twists and turns all really well marked and then we came through an industrial type area and the signs stopped. Andy and I both had our gps tracker so could see the way but I think a couple of people went left along the canal.
Having caught up with Andy as he worked out the way we ran in together with another runner. Andy was so positive and encouraging saying how strong I looked and how he expected me to run as strongly over the second loop. He said sub 12hrs was definitely on.
On the one hand I agreed with him that I was going well but on the other hand I knew my legs felt a lot sorer than I felt they should be after 30 miles. Once I reached the first checkpoint I'd have a good idea of how it would go.
Andy and I ran into the HQ together. We shook hands and Andy went for a sit down and something to eat while I went to my car to get my sachets for the second loop.
Loop 1 CP 5 to finish - 4.76 miles in 58:31 (12.18 pace) HR 134
Overall - 29.91 miles in 5:47:25 (11:37 pace) HR 132
Loop 2 start to CP1 - 4.65 miles (overall 34.56 miles)
I set off after less than 5mins which I was pleased with. Not worth hanging around when there is another 30 miles to do!
As I ran up the road from the HQ I realised I hadn't really watched too carefully on the first loop which way we had gone. I thought we turned left at the top and it was right! I would need to be a bit more careful so kept my gps tracker on.
I did remember most junctions and the markings were excellent all the way round. One guy caught me but then I went past him again as we ran past the muddy field and I never saw him again.
I was now completely on my own and couldn't see anyone ahead. According to the results 44 started the 60 race and 216 started the 30 mile race so it's no wonder I was on my own! By the way 69 started the 100 mile race but only 27 finished.
I had taken a note of the time it had taken me to run to the first CP. It was 50mins at 11:27 pace. After a couple of miles I glanced at my average pace for the leg and it was over 13mins per mile so at this rate I was going to take at least 8mins longer than the first loop.
If I lost 8-10mins on every loop then I'd be about an hour slower so my sub 12hrs quickly went out of the window and anything under 13hrs was going to be a very good effort. It didn't bother me too much as I'd worked that out without knowing the course and it was probably very unrealistic!
The first checkpoint seemed to be taking longer to arrive than I thought and I suddenly saw some high vis jackets over to my left. I realised that I must have missed a turn somewhere and and ran a slightly different way. Comparing the two loops …
I don't think it cost me too much time but did show me that I needed to be more careful. As I ran through the CP I could a couple of runners approaching so I didn't hang around.
Loop 2 start to CP1 - 4.65 miles in 1:05:41 (14:58 pace) HR 128
Overall - 34.56 miles in 6:58:02 (12:06 pace)
CP1 to CP2 5.73 miles (overall 40.29 miles)
On the first lap when I was running with Andy the miles flew by as we chatted but now I was on my own it became a lot more of a mental challenge and battle. I decided I need to just concentrate on getting to the next CP and then worry about the one after that.
It's easier said than done though especially on a two loop course as you know exactly what's to come! I wasn't looking at times any more. I just wanted to try and do the best I could from here on in and my time would be what it was.
The sun was really low in the sky and there was a section when I was running right towards it and it was hard to look up as it felt so bright. I was glad when we turned left and headed west so it wasn't in my face!
One of the things I do is to count breathes or paces or repeat some mantras (slow & steady make it last etc) anything really to distract my mind from thinking about what's I still need to do. I did wonder whether this race was one too many and I wasn't in the best shape for it. I decided in the end that it was more the amount of tarmac that affected me. That was my excuse anyway to help me deal with the fact that I was struggling!!
The second CP eventually came into view. The marshals were excellent filling my water bottle and encouraging me. I asked them whether anyone had gone through recently and they said no there was a fair gap. They also said the leading 100 runner was a female and she was storming round. I later discovered from the results that it was Irene Kinnegim who won in 18:30. Very, very impressive!
Loop 2 CP1 to CP2 – 5.73 miles in 1:18:38 (13:54 pace) HR 120
Overall – 40.29 miles in 8:16:40 (12:20 pace)
Loop 2 CP2 to CP3 – 4.65 miles (overall 44.94 miles)
I set off again with the aim of getting to the next checkpoint as best I could. My HR was a lot lower than I'd hoped but I couldn't run fast enough to get it any higher! I was still running on the flats and down hills but not very fast!
It was this section on the first loop that Andy was ahead and I tried to imagine him ahead again and where I was running to catch him. There is a steep downhill section about half way through the leg which again thrashed the quads a bit more!
As I ran into Marsden at the northern end a runner suddenly appeared having caught me. I was really pleased to see it was Steve Foster, my friend. He was moving really well. He said he had struggled a bit on the first loop but was feeling good now. He powered up the hill and I didn't see him again. Looking at the results he finished in 12:42. Steve only took 30mins longer for the second loop. Impressive!
It was getting dark now but I hoped to make it to the next CP without having to get my head torch out but I didn't quite make it. I also wanted to recharge my Suunto on the go. I hoped to do it after the next CP as well but it was down to 5% so got out my recharger at the same time as my head torch.
It was now about 5.30pm and I knew I had another 4 hrs to go so this was going to be in the dark. So another little challenge to face. I don't mind running in the dark but your whole world is reduced to a small patch of light just ahead of you.
I was pleased to see the next CP as that would be another CP ticked off.
Loop 2 CP2 to CP3 – 4.65 miles in 1:11:06 (15:08 pace) HR 115
Overall – 44.94 miles in 9:27:46 (12:38 pace)
Loop 2 CP3 to CP4 - 6.61 miles (overall 51.55 miles)
I set off knowing that this was going to be the key leg. Once I had this one out of the way then I would have less than 10 miles to go so I could count down.
I'm not quite sure whether I ran on the right path for the first half mile or so. I'm sure we were on a path to the side of the road but I was on the road this time! Anyway it came out at the same point and I continued to follow the arrows.
There was a climb up, a run along a stony path and then the route joins a main road into Marsden. It took a while to arrive but eventually I was running down the steep road to Marsden. It was this point we caught Jared. I was keen to run all the way down without stopping which I did.
I could see a few head torches on the path above me where I had come from. They seemed to be a fair distance behind. I wondered whether they were going to catch me. If they did there wasn't much I could do about it!
Once through Marsden I climbed up the road and then onto a good path along the Butterley Reservoir. I got into a really good rhythm here counting my breathes and running all the way until the path started climbing.
I still couldn't see any headtorches ahead. It felt a very lonely race! I was concentrating on getting to the next CP and on to the finish. I thought that sub 13hrs was maybe possible but my average pace was slowing and was now 13:00 per mile. I wasn't sure I would be able to increase the pace so I was thinking I would be over 13hrs.
I was looking forward to going over the two bridges that are on the Pennine Way as that would be another landmark ticked off. Once I round the hill after the bridges I saw two head torches ahead and it wasn't long until I caught them.
Looking at the results it was Carl and Toby who finished in 22:43. They said they were really tired which is not surprising having run almost 90 miles. It was good to see them at the finish looking happy they had made it.
The guys had full waterproofs on and I was starting to feel a little cold so put on my gloves. I just had my long sleeved top and shorts and felt okay.
It was still quite a climb up to the road and the CP. I could see the cars on the road for ages and the head torches of the marshals. It seemed to take forever to close the distance but if you keep putting one foot in front of the other you will get there!
There were a few supporters and marshals encouraging the runners. They would be out there for a good few hours yet.
Loop 2 CP3 to CP4 – 6.61 miles in 1:48:37 (16:27 pace) HR 112
Overall – 51.55 miles in 11:16:23 (13:07 pace)
Loop 2 CP4 to CP5 - 3.82 miles (overall 55.37 miles)
I set off down the hill planning to run all the way down to the turn off. I didn't quite make it as I needed a wee stop and I took off my gloves.
When I reached the gate where we left the road there were a couple of marshals who were a bit concerned about a 100 mile runner who they had heard was struggling. They said he was only on his second loop and was determined to go round again but the organisers wanted him to stop. Anyway they asked me to look out for him but I never saw anyone so not sure what happened to him.
I ran as much as I could and knew that once I was through this CP I was definitely on the home straight!! I thought the CP was just ahead but we had another road to cross and then another half mile or so until I saw it on the corner of the road.
The lady who was looking after the CP said she'd just had a meal in the pub opposite. That is the least the marshals deserve! Most of the CP were out in the open and it was getting colder now!
Loop 2 CP4 to CP5 – 3.82 miles in 55:37 (14:39 pace) HR 107
Overall – 55.37 miles in 12:12:04 (13:13 pace)
Loop 2 CP 5 to the finish – 4.72 miles (overall 60.09 miles)
I was so looking forward to getting to the end now. It had been a long lonely loop and the thought of some food and being able to sit down was pulling me on. I couldn't remember exactly how far it was but knew the total distance was going to be around 60 miles so I worked on that.
My average pace was 13:15 so I knew I was going to be over 13hrs 15mins for the race. I was hoping that no-one was going to catch me this late on. If they did they did but it gave me something to work on. I never looked back so had no idea if anyone was in sight. I see from the results that the next person after me was 16mins later so I didn't need to worry!
I mentally checked off each of the landmarks I could remember – the narrow path, past the Blackmoorfoot reservoir, the point where Andy caught me.
I had my one and only slip as I descended on a grassy path. Fortunately it was on the grass and so no harm done and it wasn't easy getting back up again!!
I passed the canal where on the first loop the signs were missing. Someone had replaced them so that was good.
It was a longer climb that I remembered from the first loop but eventually I came to the final road crossing before the road to HQ.
A car went past and called out their congratulations which was nice. It was good to leave the road and run along the final path into the HQ and the finish.
There was a small crowd to cheer me in. I finished 12th in 13:21:59. I asked about Debs and Jonny and was pleased to hear they both won! Well done to both of you. The marshal on the finish said that Debs had been hit by a car so I hoped she was okay. She's definitely hard core that girl!!
When the results came out on Wednesday I added some columns and worked out the difference between loops. No surprise that I didn't win my competition with Debs and Jonny.

Race splits for the 30 and 60 mile race
I think a number of runners who set out to do the 60 stopped after 30 miles. Looking at the difference column it is clear that I wasn't the only one who found the 2nd loop a lot harder.
Thanks to all race organisers and all the marshals who were superb throughout the weekend. The race was well organised and marked.
My only negative comment, and this is not the fault of the race, was that there was far too much road for me. People said it's about 60% road and 40% trail. I prefer 90% trail!! Maybe I should have checked the route a bit more carefully before I entered!
I did a video diary during the race so I'll upload that once I've put it together.
Finally congratulations to David Hall who won my 'Guess My Time' competition. That is the third time David has won which is impressive!