My final run of the year didn't quite go to plan! I was really looking forward to our Kilbarchan club Donald Crawford 11 mile Handicap on Hogmanay.
I arrived at 1pm to register and chat to friends before the start of the race. The first runner was off at 1.30pm and my start time was 1.55pm. I set off at 1.35pm to have a very easy warm up.
I ran up to the start of the race and stopped to have a quick chat with Jim Goudie about Everton's Boxing Day game with Stoke.
Suddenly I felt really dizzy and remember thinking I need to hold on to something. Next thing I remember I'm in an ambulance and people asking me how I am.
From what friends have said to me I collapsed mid sentence and was unconscious for about 10secs. Then friends helped me up and an ambulance was called.
I had my Suunto on and it shows interesting reading ….
It took me a few moments to realise what was going on. I remember looking over to see Jim starting the next runner and thinking 'oh yes I'm supposed to be running!'
I was in a fast response ambulance and within a few minutes a larger Ambulance arrived to take me to hospital as they wanted to check me over.
As I was helped into the second Ambulance I felt sick and as soon as I sat down I was sick. After I settled down a bit they took me to the RAH in Paisley.
By then Katrina had been called and she met me with Hollie at the hospital. I was very impressed with how the A&E dwelt with me. I was checked over by a doctor and they were obviously concerned as to why I suddenly collapsed.
There has been a virus going round the family so the feeling is that it was in my body and my short warm-up reacted against it. They took my blood and gave me an ECG.
Everything seemed pretty normal except my white blood cell count was a little high which could be a sign my body was fighting an infection. The doctor also mentioned that my heart rate was a lot lower than normal but she seemed happy enough when I explained that my resting HR was under 50.
I was hoping they would let me home but they felt because there wasn't a clear reason why I collapsed they wanted to keep in over night and decide in the morning whether I could have further tests or allowed to come back as an out patient.
While they found me a bed Katrina and Hollie went home and brought some things for me including my pj's and a book to read. I was given Alan Sugar's book 'Unscripted - my ten years in telly' for Christmas and was looking forward to reading it.
So I spent New Year's Eve in ward 2. Neal & Caroline had planned to call in at home so they came to visit for half an hour so it was great to see them. Neal has had a similar 'episode' was it was interesting to hear his thoughts.
Another doctor came to see me and went through various options. He too decided they wanted to keep me in and leave it to the consultant in the morning to make the final decision.
I read till past past midnight and then tried to sleep. My ribs were really sore as I must have fallen quite heavily. I had a bump on my head but no blood but it was unconformable trying to sleep.
Throughout the night various patients came and went from the room of 6 people. At about 2.45pm they brought it a guy in his late 60's who had obviously had too much to drink and fallen over. He spent the next 3 hours muttering to himself which made sleep pretty hard. Some of the other guys in the ward told him in no certain terms to be quiet!!
I gave up trying to sleep just before 6am so went back to my book and waited for breakfast and a visit from the consultant.
The consultant came just after 10am and she said how healthy and fit I looked! Having heard what happened and looking at my bloods and ecg she felt that it was probably a reaction to the virus and nothing more sinister.
The Consultant did say though that she would like to rule out anything irregular about my heart so I will have to come back and be given a HR monitor which I will wear for 24hrs which should be interesting.
The worse thing is she said I shouldn't drive or run until I have had the test. To be honest I couldn't run at the moment as my ribs are really sore.
So I missed out on running with Noah this morning at Victoria parkrun! I'll have to wait until they return in the summer!!
I would like to thank everyone who has got in touch or left messages on Facebook. I realise it must have been quite scary for those who were waiting to run or watching the start.
Hopefully I will get the test done soon but I'm sure once my ribs have healed I will venture out for an easy run! I need to start my 2016 miles in 2016 as soon as possible!
Once I got home we went out for a family walk at Pollok park which was great.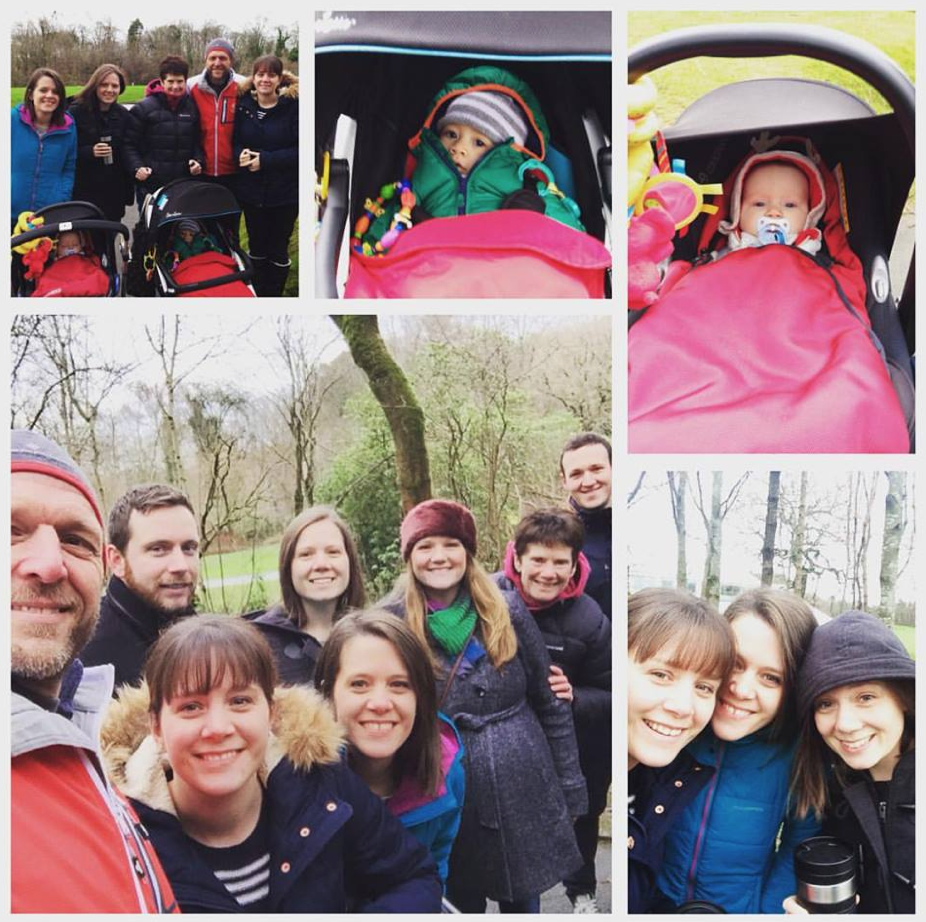 Finally let me wish you all a very happy 2016 and I hope you achieve all your goals especially the running ones!
PS … Laura and Josh are still waiting for their son to be born. He is now almost 2 weeks late and Laura is booked in tomorrow to be induced so the end is in sight!!