Between now and the West Highland Way Race I have planned 3 weekends of longer runs.  I love the fact that they take a fair bit of planning and organising.  Here are my plans for those training weekends.
Saturday 28th & Sunday 29th January 2017
This is part of the West Highland Way Training weekend at Balmaha.
Saturday: Balmaha to Inversnaid and back – 30 miles (with about 80+ other runners)
Sunday: Balmaha to Drymen – 7 miles (probably on my own unless I find someone else wanting to join me)
Saturday 1st & Sunday 2nd April 2017
In the past I have done a 40 mile run on the West Highland Way as my last longer run before the Highland Fling but this year I want to change it a bit as I also want to practise running back to back longer days in preparation for the Ring o' Fire in September.
I also want to run the Devils route in preparation for the West Highland Way so my plan is as follows.
Saturday: Drive to Glencoe and catch the 11.30am City Link bus back to Tyndrum. Run the 17.37 miles to Glencoe. Stay the night in my van.
Sunday: Run from Glencoe to Fort William (25.20 miles). Catch the 2pm City Link bus back to Glencoe to collect my van and drive home.
Friday 26th – Sun 28th May 2017
Instead of doing my normal 70 miles two day run on the West Highland Way I'm going to go down to Anglesea and do a three day recce run on the Ring o' Fire route.  I'm still trying to work out the logistics as I'm hoping I might find some other runners who would like to join me.
I don't want to run the full 135 miles so my plan is to run the second half of each day.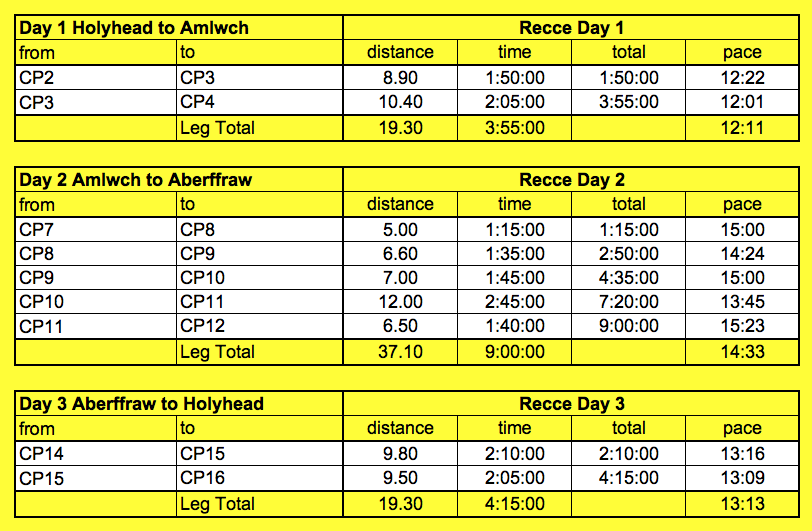 Friday – Drive to Church Bay (CP2) and run to Amlwch (CP4) 19.3 miles. Taxi/hitch/car share back to Church Bay
Saturday – Run from Penman Point (CP7) to Aberffraw (CP12) 37.1 miles.  Hopefully car sharing with another runner meeting at Aberffraw and driving one car to the start of the run.
Sunday – Run from Four Mile Bridge (CP14) to Holyhead (CP16) 19.3 miles)
If anyone wants to join me for any of these runs just let me know and we can see if we can sort something out!