I have run the run the Inverness three times before in 2011 (1:25:38), 2013 (1:27:36) and 2015 (1:26:19) so I'm glad I ran this year to keep my every other year sequence going!!
Katrina has also run it a fair few times whereas Hollie, our youngest daughter, was running her first half marathon.
We parked in the Rose Street car park and walked the mile or so to the Leisure Centre to register. There was a queue to get in but once we made it to the sports hall we went straight to our desk.
Hollie was a bit disappointed that there were no small t-shirts left as she was looking forward to showing it off at her next Zumba class!
I insisted we had a group photo before we headed outside.
Katrina and Hollie needed to visit the toilet (again) so wee wished each other a good race and headed in different directions.
I wandered over to the Run-4-it store to find Ryan who was running. We had a chat and headed out for a short warm up. The weather was good but the forecast did promise some rain later.
Lesley and Callum came over as I waited to start and we had a quick chat. Lesley asked me what time I was after. I said sub 1:30 but I was hoping for nearer 1:28. Soon enough the start time of 12.30pm arrived and we were off. I started fairly near the front.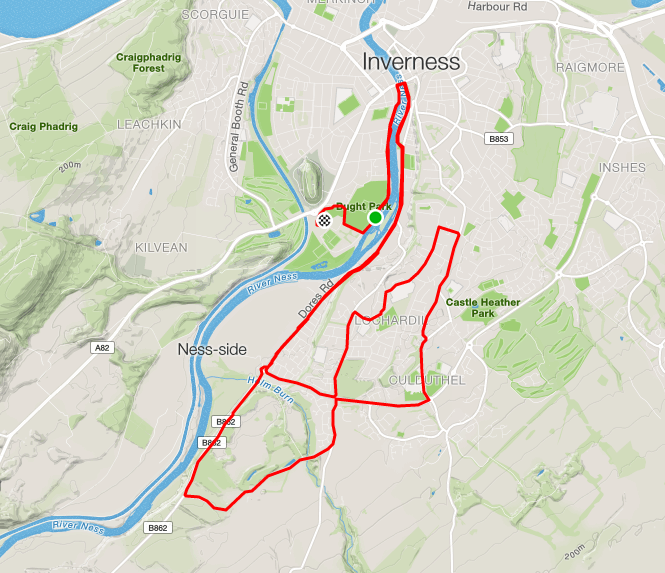 I put my watch onto mile splits and my plan was to try and keep it around 6:45 pace which would get me under 1:30.
I set off feeling quite steady and tried to keep my breathing relaxed. I went past the familiar figure of Erika and wished her a good race. Once I was over the bridge I caught up with Ryan who was running with a couple of team mates. He was chatting away so I assumed he was taking it easy!
When I reached the 1 mile mark I glanced at my watch and saw that I'd run it in 6:23. So much for taking it steady on the first mile! I decided to put my watch on mile splits so I couldn't see the overall time.
For the next couple of miles I did settle into a steady run. I was breathing fairly hard and knew I was working hard without being flat out. On runs like this I like to count my breathes.
I count to 40 four times which normally takes me to about 0.7 mile. I then count another couple of 40 breathes and hopefully the mile marker arrives. Ryan slowly moved away and I was glad I'd made the decision not to try and stay with him!
I was going past a few people and others were going past me. Miles 2 and 3 were completed in 6:38 and 6:48. I was slightly concerned that each mile was getting slower but there wasn't much I could do about it as I was working as hard as I could.
I knew Mile 4 is mainly uphill after the main roundabout so I was prepared for it. There were a few runners around me so I concentrated on trying to stay with them. A couple of guys went past running strong but I caught them again before the top.
I like this section of the course as it goes through country lanes. Miles 4 and 5 were ticked off in 7:01 and 6:50. I was into the heart of the run by now and at a pace which I felt I could maintain but it felt hard work.
I went past the roundabout that the route visits again at 9 miles and crossed over the main road. There were plenty of marshals out on the course doing a great job. I think this photo was taken somewhere along this section.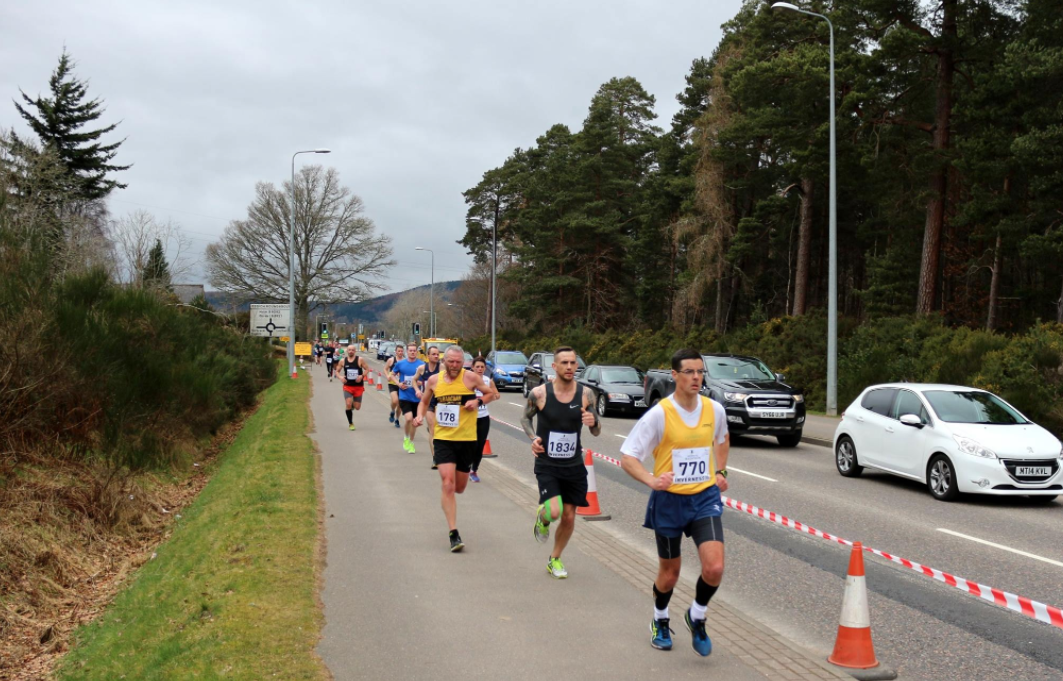 I saw a lot of runner number 770 who I see from the results is Iain Shaw. We were together from around mile 2 and I finished 1 second behind him. We passed and repassed each other a number of times and I think it helped both of us keep going.
At mile 6 just before the school I was looking out for Jo, Jono & Seth as their house is very near to the roundabout. I couldn't see them and found out later that Jono dropped Jo off near the finish as Seth had fallen asleep after church.
I ran miles 6 & 7 in 6:49 and 6:45 and I was pleased to see I was nearer my 6:45 plan. This section of the course goes through a residential area and there were plenty of people out supporting which is always encouraging.
As well as Iain there were a couple of runners from Aberdeen that I saw a lot of. Again we seemed to have different strengths and good patches we I kept going past them and being passed again.
Miles 8 & 9 are mainly uphill and once again I was digging in to maintain my pace counting to 40 over and over to help with my rhythm.  They took me 7:03 and 7:10 so I knew I would need to up the pace if I was to get under 1:30 but I also knew there was a good downhill to come and the wind should be behind us for the final few miles.
As we hit the downhill a runner went past looking very strong so I tried to hang on to him and he definitely pulled me along.  It was around this point that it started to rain and the wind seemed to pick up.
Once we reached the roundabout and were heading along the main road retracing our steps I was starting to count down the miles. Just over 3 miles to go. I was picking off a few runners and a couple of runners went past me.
I seemed to slip back a little and for the first time in the race there was a significant gap between me and the runner ahead.
Miles 10 & 11 took me 6:39 and 6:52 so I was holding my pace. As I reached the 11 mile mark I glanced at my watch and even though it was on the mile slips the overall time was showing …. 1:15.
So I knew I had 15 mins to run the final two miles but I wasn't sure whether it was 1:15:59 or 1:15:00 which would make a big difference. So I decided to push as hard as I could and hope I could get under the 1:30.
It was good to get over the bridge and feel as though I was on the home leg. There were a few people out cheering and I was running with a group of 3-4 including Iain. We were all working hard to keep the pace up.
I went through mile 12 in 7:04. The route takes you round the outside of the stadium and then through the car park and onto the track. I put my watch to overall time and it was showing 1:28 as I approached the stadium. I remember thinking this might be my last sub 1:30 if I make it!
Once onto the track I pushed as hard as I could but when I reached the 13mile mark (time 7:05) my watched showed 1:29:30 so I didn't think I'd be able to run the final 198 yards in 30secs!!
I heard the commentator announce my name as I headed for the line. I stopped my watch on 1:30:06 but I thought I might be okay as it took me 8 secs to get through the line at the start and I said as much to Iain.
It was a few minutes later that I realised that I only started my watch when I reached the start line so that would be my time. When I got my phone from my bag I already had a text saying my chip time was 1:30:08.
I had a quick chat with Iain at the finish as we collected our goodies and I congratulated the runners around me. I went inside to get my bag and change my top before I got too cold. As I headed to the hall Jo appeared. It was great to see her.
I headed inside while Jo went to wait on Katrina and Hollie finishing. I saw Ryan at the Run 4 it stall and asked him to take a photo but he handed it to Emily who was working on the stall as his hands were too cold!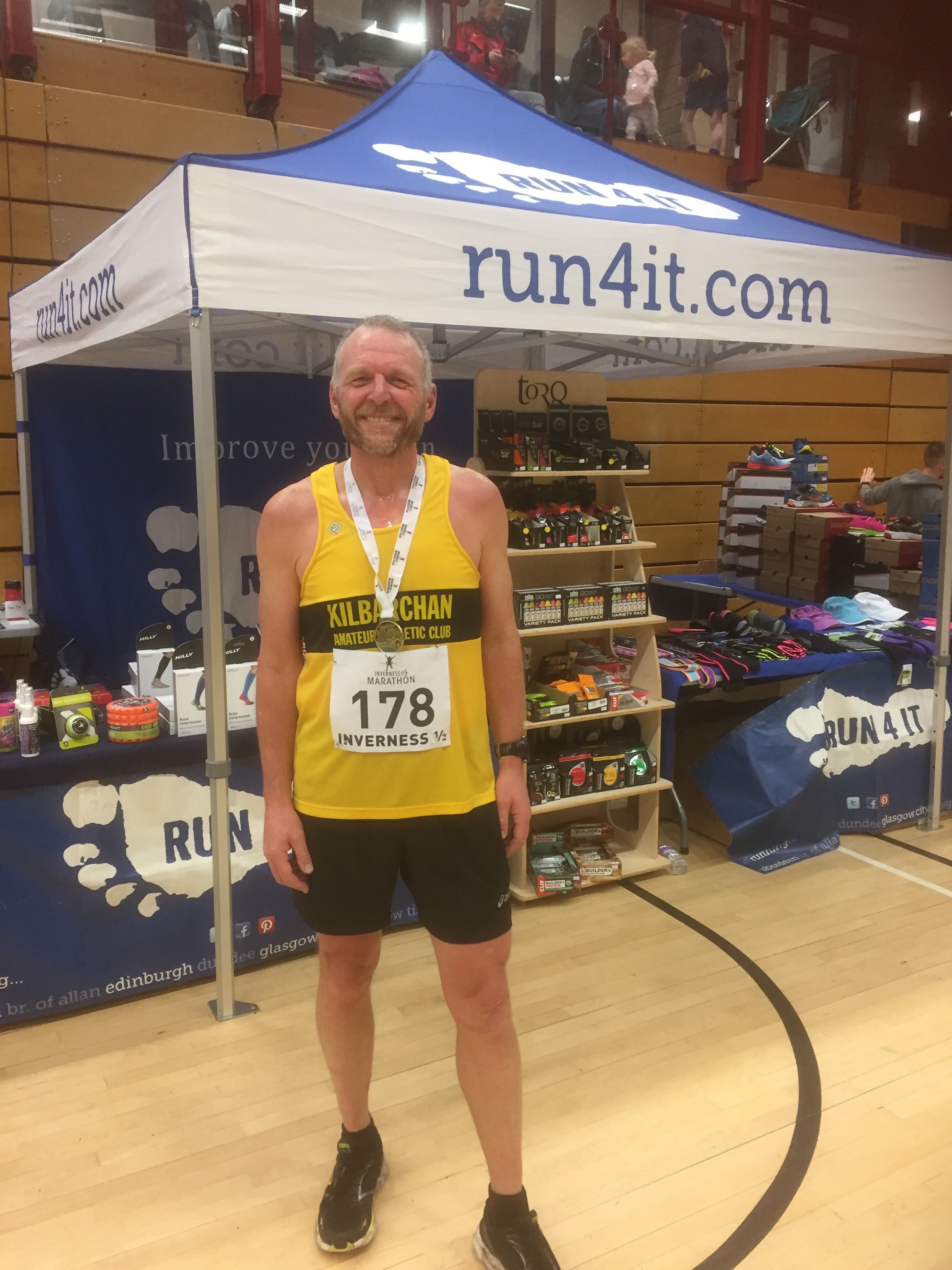 I headed outside and was hoping to see Katrina finish but Jo had sent me a text saying she was in. I looked at my watch and it was 2.10pm so I thought there was a very good chance that she had beaten 1:40 for the first time …. she had by 3 secs! 1:39:57.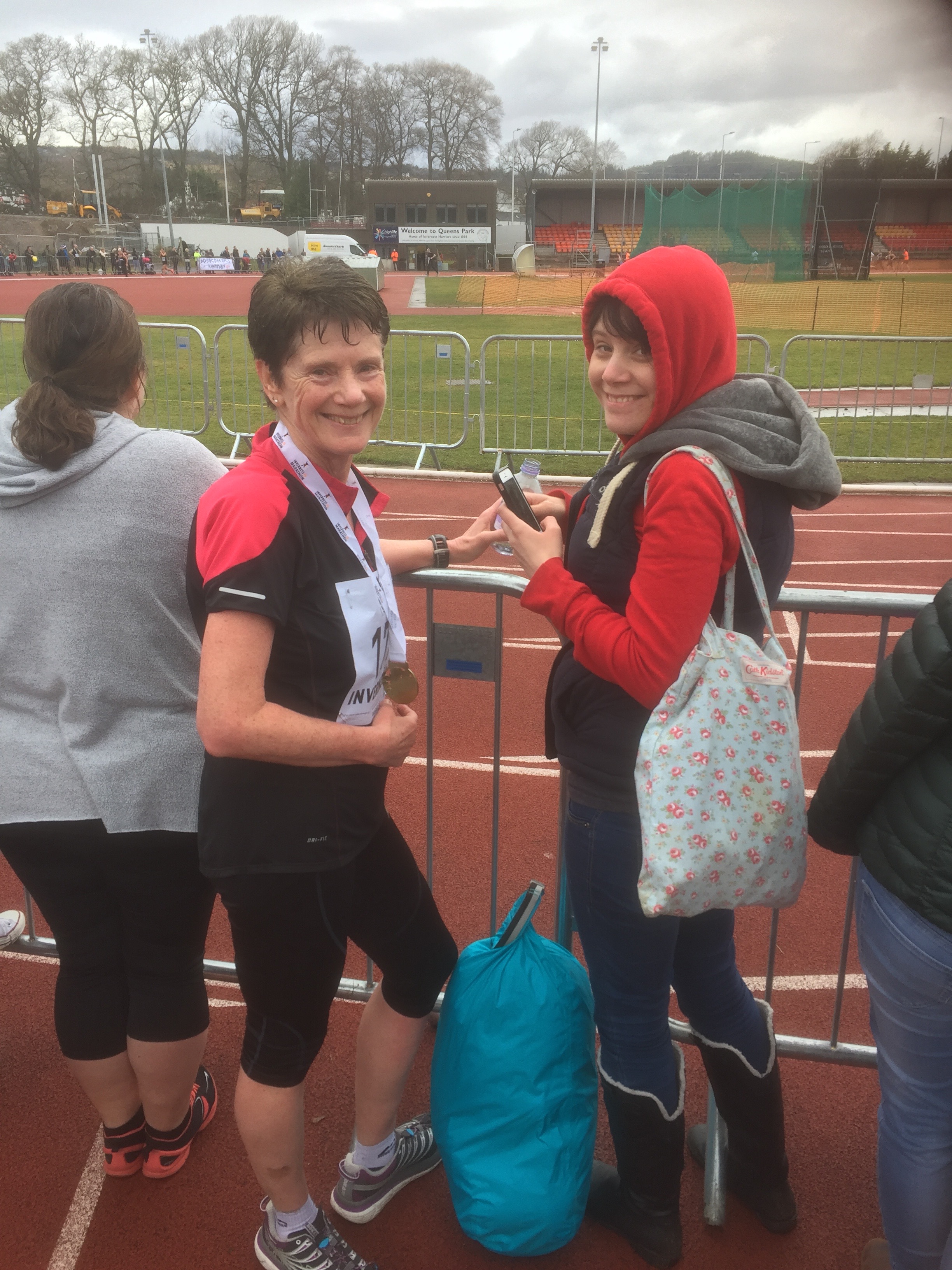 We didn't have to wait too long to see Hollie striding for the finish in a time of 1:56:48. I met her at the finish tunnel and I insisted on a photo ….
We went inside and put on our finishing t-shirts and medals for a photo on the prize winning stage!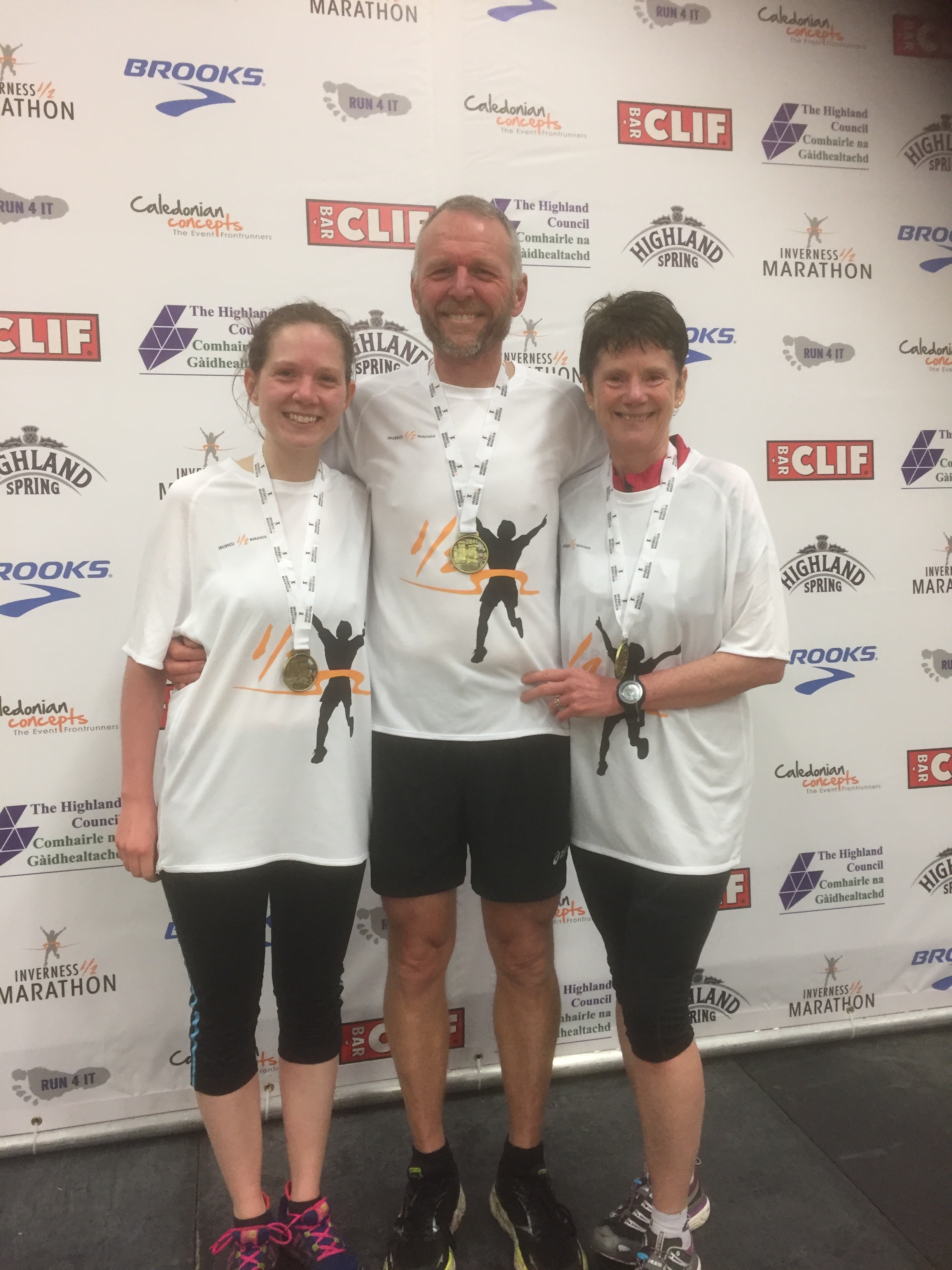 Jo took some video clips of the three of us finishing so I've put them together ….