Tiffany Kalus sent me an email a few weeks ago …
I wanted to get in touch and see if you'd be interested in getting involved in a fitness campaign that Get The Label are running. We're looking for running and fitness enthusiasts like yourself to try out our gym gear and give your honest review and opinion, to help our customers make a more informed decision about the best product for their needs.
I'm more than happy to try out some new running gear so agreed especially if I'm seen as a running enthusiast!!
Tiffany sent me a link to the 'Get the Label' company and I could choose £50 worth of gear.  The prices were very reasonable and I was able to choose 3 items to try.
I have worn all three items on a number of runs over the last 3 weeks. So here is my review.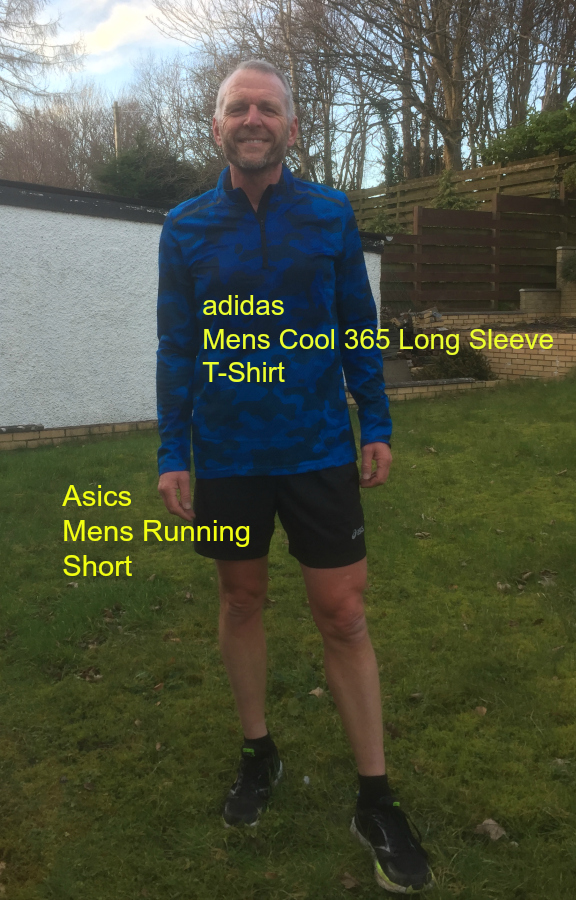 adidas Mens Cool 365 Long Sleeved T-Shirt
I must admit I chose this top for the design and colour as it looks really different to most of the plain tops I wear.
Details from the web site …
-Stand up collar with quarter zip
-Ventilated climacool® keeps you cool and dry
-Bonded seams on shoulders for comfort
-Anti-odour fabric
-Regular fit
-Camouflage detail throughout
-Branding to sleeve
-Shoulder to hem 27.5" approximately
-100% Recycled Polyester. Machine Washable
I really like wearing long sleeved tops in the winter and this was as comfortable as any I wear at the moment. It is very light weight yet kept out the wind and when I wore it in the rain it dried very quickly.
I had a medium fit which was slightly tight but I would plan to wear this one without a rucksack so it was fine. It has been washed a number of times and shows no sign of wear and tear at all so it looks like it will last a long time.
For just under £20 is a real bargain and I will continue to run in it.
Asics Men's Running Shorts
I like different shorts for different types of runs. These are definitely in my selection for speed sessions and short races.
Details from the web site …
- Lightweight shorts perfect for running.
- Reflective detail keeping you visable in low light.
- Printed Asics branding to front.
- Mesh interior.
- Elasticated waist with drawstring ties.
- 100% Polyester.
- Machine Washable.
They are really comfortable to wear with no rubbing or chaffing at all. They are extremely light and give plenty of room to stretch out on those faster runs!
Again at £12.99 you can't go wrong!
Asics Men's 1/2 Zip Running Top
This was the first item on my list to pick as I'm always looking for a warmer long sleeved top for the winter. For my ultra running I'm looking for two key things.
Firstly a collar as the rucksack I like running with can ride over a round neck top and it becomes really annoying and sore.
Secondly I like a 1/2 zip so when it gets a bit warmer I can let some air in.
So this top had both of those. Plus it has a warm lining which is ideal for keeping me warm on those colder winter runs.
The above photo was taken last Saturday 23rd March 2017 on the Kilpatrick Hills. I started running at 7.30am and it was pretty chilly so I was glad of the extra lining.
But within an hour or so the sun warmed me up but I never felt too warm in the top.
BTW … that's Ben Lomond over my left shoulder!
Details from the web site ….
-Half zip at collar
-Long sleeve
-Elasticated cuffs
-Stripe detail to sleeves and reverse
-Branding to front
-Shoulder to hem 26" approximately
-Main Fabric: 91% Polyester, 9% Elastane. Insert: 91% Polyester, 9% Elastane. Machine Washable
I have worn this top with my rucksack and it feels really comfortable. With all my tops I like to tuck it in my shorts when I run with a rucksack otherwise it can ride up. Also the elasticated sleeves work well.
I have run it in when it has been raining and it was fine never getting too heavy or soaked. Plus it dried quickly once the rain stopped.
It has washed really well and is ready to go again!
I'm very impressed that it is for sale at £19.99.  I've paid a lot more than that for tops which aren't as comfortable and hard wearing.
Thanks to Get the Label company for the opportunity to try out some of their gear.