I find it is always good to do a post on lessons I have learnt from an ultra race. So before the race drifts into history I thought I would jot down some key lessons. These are in no particular order.
Kit
I was generally happy with my kit. I wore my tried and trusted outfit. Sketchers Ultra 2, Drymax socks, thigh length skins, Reebox long shorts and my trusted green Ronhill top.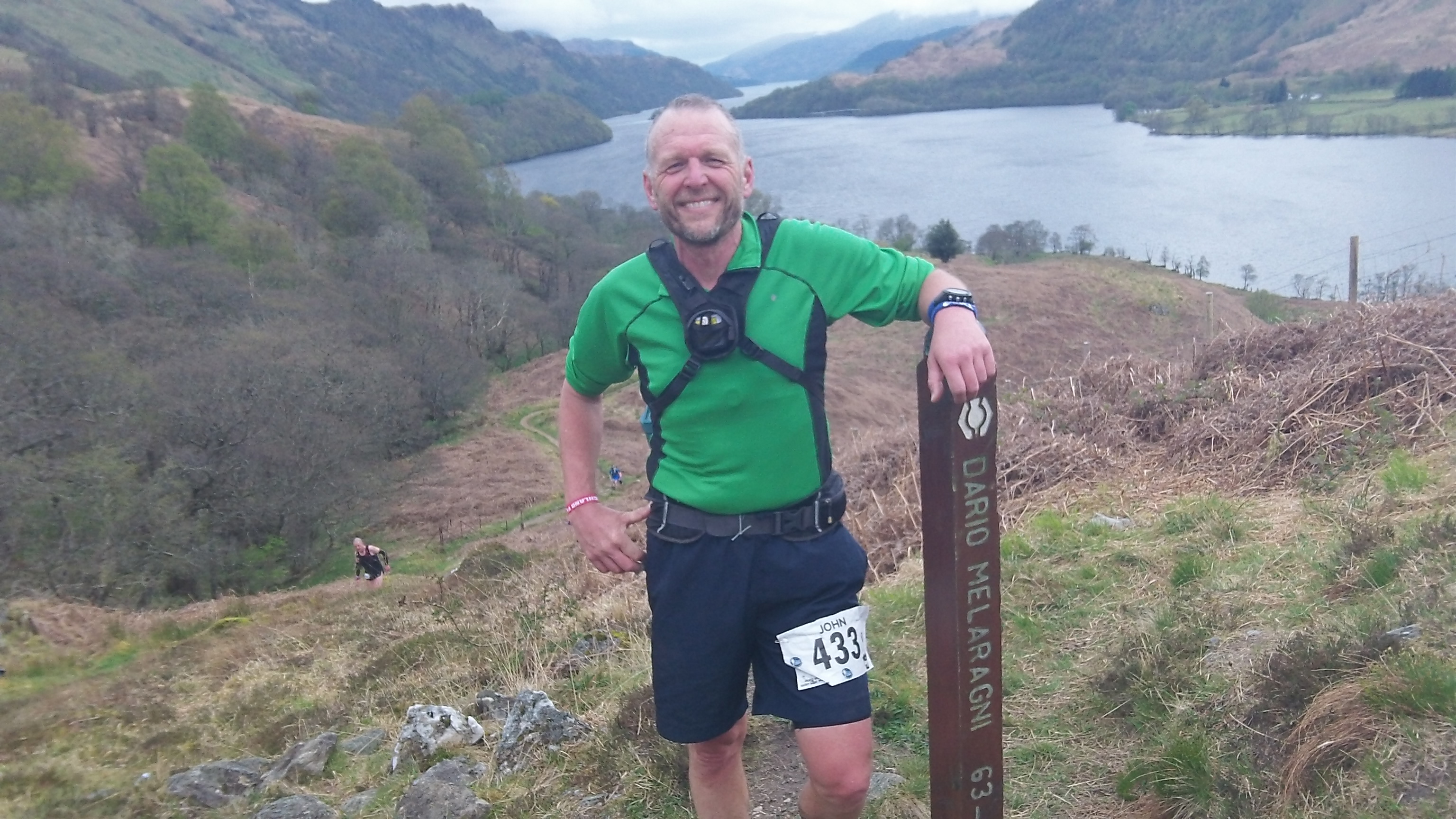 I carried my North Face Enduro rucksack with windproof top, gloves, hat, camera and compulsory items of emergency survival blanket and mobile phone.
I reckon I didn't need to carry the windproof top, hat and gloves but you never know what the weather might do.
Food
I managed this pretty well I think. I ate and drank the following …
Milngavie to Balmaha: 2 slices of fruit bread with peanut butter and jam
Balmaha to Rowardennan: small pot of mashed sweet potato
Rowardennan to Inversnaid: small pot of baked beans
Inversnaid to Beinglas Farm: Greek style youghat
Beinglas Farm to Tyndrum: Fruit pot and a Strawberry Milkshake
Plus I drank 5 x 600ml of Tailwind (neutral flavour)
I carried other bits of food including a Chia bar, youghat covered raisins, 9 bar etc but never ate any of them so I ended up carrying them as I didn't want to throw them away or leave them at the checkpoint so I ended up with a heavier bag than I needed!
Pacing
I set off with a sub 10:15 plan as my gold goal but the main factor was going to be my heart rate. I was keen to try and keep it around 135 for the whole race.  Once again I realised that it takes a lot of discipline to keep to this.
I would say for the first 27 miles to Rowardennan I was holding myself back. There were several times when I wanted and could have run a bit quicker but I wanted to trust my strategy and see how it would work out.

This graph of my heart rate shows I was able to stick to my plan and able to finish well with my heart rate around 135 right to the end.
The other indicator for me if I have paced myself well is to see how I got on in relation to the rest of the field. Once the results were published I like to sort them out in time and position for each checkpoint and also split time and position for each checkpoint.
I don't think the times I had included all the dnfs but this is what I have.
So this is how I got on …
Milngavie to Drymen: split 1:53:56 (241st)
Drymen to Rowardennan: split 2:53:25 (231st) overall 4:476:21 (221st)
Rowardennan to Beinglas Farm: split 3:18:40 (164th) overall 8:06:01 (190th)
Beinglas Farm to Tyndrum: split 2:32:49 (142nd) overall 10:38:50 (178th)
This is what I would expect if I paced it right. Starting sensibility and slowly working my way through the field. I overtook 63 people after Drymen and my best split in relation to the field was the final one were I was 142nd fastest.
The other good thing for me was how my legs felt. Obviously I knew I had run for 53 miles but I had no major soreness over the next few days. This is always a sign to me that I paced it well and within myself whereas the races I have pushed myself right the limit and beyond I have been really sore for several days.
My right ankle has been a little sore since the race but it has been like that for the past 6 weeks without getting any worse. I gave myself 5 days off from running after the Fling and it is definitely feeling easier.
Preparation for whw
I always like to run the Fling as a race in its own right but I am conscious that the whw race is only 8 weeks later so I want to be able to resume some good training fairly soon. I'm happy that I was able to do that.
I always thought that the Fling would give me a more realistic idea of what I should aim for in the whw race. In 2013 I ran the Fling in 10:05 and the whw in 21:26 so I'm thinking that my three goals for the whw race will be …
Bronze - sub 24hrs
Silver - sub 23hrs
Gold - sub 22hrs 30mins
I think that is realistic and if on the day things are going even better than my gold goal I'll certainly go with it!
Thoughts on the Fling
Finally just some thoughts on the race as a whole. I have now run 8 Highland Flings but my last one before this year was 2013 so I found it interesting to compare.
The biggest change is just the amount of runners and marshals that are involved. As I took a video clip of the start line it struck me as how much bigger the event is. Plus Katrina was one of the volunteers at the finish so I had a glimpse of the amount of work goes into making the Fling happen so smoothly each year.
Once the race started it felt pretty similar to all the other Flings. A great atmosphere, lots of encouragement from fellow runners and the marshals and a chance to test myself against the terrain and distance.
Obviously there were more people on the track but where I was it wasn't an issue and in fact meant there was always someone to try and catch or stay ahead of!
So congratulations to John, Noanie and your massive team for making it such an excellent event.
I don't think I'll be running next year as it doesn't fit in with another race I hope to do but I will happily be involved again as a marshal so I can be part of this ultra experience.