Normally I don't have any problems in motivating myself to run. Basically I love to run and have been running regularly for the majority of my 58 years but at the moment I'm injured with a sore tendon so I've not been able to run for the last 6 weeks. It is getting better and I really hope to be out running soon!
It is easy when injured to do nothing. The physio I have been seeing said that some of his clients just vegetate when they are injured but I have been keen to maintain some fitness so when I can run again it won't take too long to regain my fitness.
I have always felt that to maintain a regular fitness programme it needs to be part of your daily routine. If you can run/cycle to work then that is ideal.
So while I've been injured I have tried to do the following three things ….
Cycle to work. I work about 5 miles from where I live so it's great to be able to use that time getting some exercise. I'm also fortunate in that there is a shower where I work!!
Cross Trainer - I must admit I don't like to be indoors to exercise. I much prefer to be outside even in the rain and wind but sometimes it may be the only option.
Elliptigo - A friend lend me his Elliptigo so I can get outside. An Elliptigo is basically a cross trainer on wheels. It is closer to a running action that a bike but you don't have the impact of running.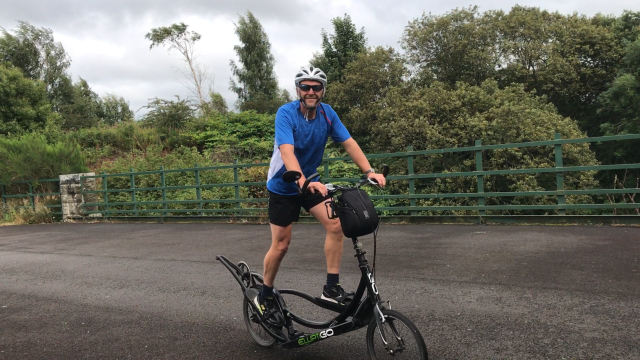 So far I've been for an hour along the cycle path which is a mile from my house. I wear similar gear to running plus a cycle helmet! I've not worn my heart rate monitor but I suspect it would a similar rate to a steady run.
So if, when, you are injured look for creative ways to keep some sort of aerobic fitness until you can get back to running!