A few weeks ago I posted my plans for the next few weeks.  Here is an update on my road back from injury.
MRI scan
I had the scan on my sore ankle on Thursday 2nd November at the Royal Jubilee Hospital in Clydebank. It too about 45 mins altogether.
Next steps ..
Monday 4th December 2017
I have an appointment with the Orthopaedic consultant to get the results of my X-Ray and MRI scan.
Monday 11th December 2017
I have an appointment to get some new orthotics at the RAH (Royal Alexandria Hospital) in Paisley.
My ankle is definitely getting better by the week but I've decided to wait unit I have the results of the MRI before I get back to running properly.
In the meantime I have carried out my aim of trying to do some exercise most days. I have been doing one of three things …
Walking
I have been out walking hard for 2-6miles. Over the past week or two I have been adding in a little bit of jogging counting to 100 before walking again. I'm not counting this as running yet as I don't want to put pressure on myself to run all the way.
Cycling
I've been cycling to and from work 2-3 times a week which has been enjoyable. Some nights I cycle a longer way home to add in a few more miles.
Elliptigo
I've been getting out once a week on Tim's machine. I do an out and back on the cycle track especially as it is dark after work now.
Here is a summary of my cycling and Elliptigo rides. Elliptigo rides are in yellow.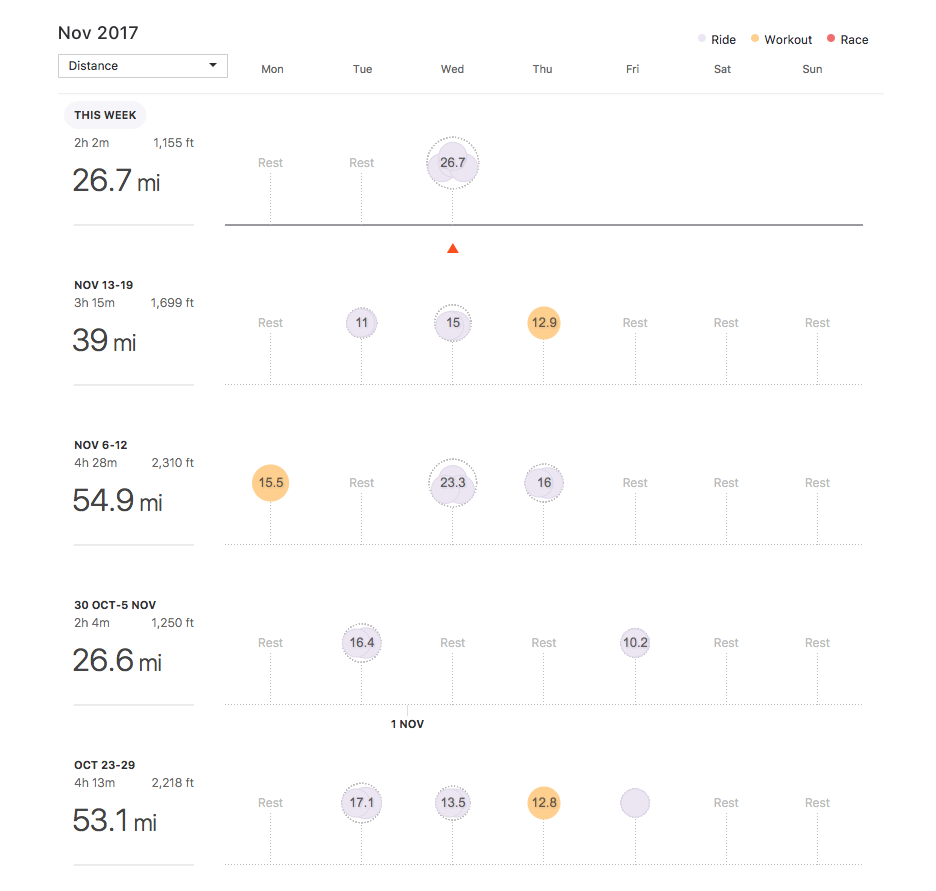 The other thing I have worked hard on is losing some weight. I wasn't happy when I realised I was just over 13st. I weigh myself each Friday morning and I'm now 12st 3lbs so I'm pleased with that. Hopefully I'll be under 12st soon and working towards my goal of 11st 8lbs.
So all in all I'm a lot more positive than I was a month ago. I can see the end of the tunnel and can't wait to be running again.
My big target for 2018 is the 190 mile Northern Traverse in May. I will have 18 weeks from the 1st January so I'm hoping to be able to run 3-4 times a week by then.
This Sunday I'm going on a Navigation Course with some Ultra Dafties led by Gary Tompsett. We are going to be running/walking/exploring round the Kilpatricks. I know parts of the area quite well but I'm sure we'll be off the beaten track as well.