Saturday 6th October 2018
Last year Katrina, my wife, ran this race and I enjoyed meeting her at the various checkpoints. It looked a lovely route and a well organised race so I was keen to run it this year. Katrina decided to join me and run it again.
It was an early start. Our alarm went off at 4.30am, we were dressed and out the house by 4.50am. We drove to Lesley McKerral's house and then Lesley drove us to Gourock to catch the 6.20am passenger ferry. We met lots of other runners who were also heading to Dunoon for the race.
On the ferry I chatted to Ricky Saez who is a good friend of Neal & Caroline Gibson. Ricky was part of Neal's whw race support team this year so it was great to chat.
Once we arrived the registration process was very smooth and efficient. Then it was onto the bus to take us to the start at Benmore Gardens. I sat next to a guy who was doing his first ultra. His longest run has been 20miles so he was feeling a little nervous.
For me this would be one of my shortest ultras. My last two ultras have been 190 miles and 125 miles so for me this one felt pretty short!!
Once we arrived at the start we enjoyed the excellent hospitality of the race – a cup of tea and a couple of pastries. I would have had more but thought I was pushing it a bit so close to the race!!
It was great to meet up with good friends Chris McGlennon and Neil Fowler who were also running the race. We've not seen them for a quite a few years so it was really good to meet up and to meet Chris' wife Sara.
It was also great to see Thomas and Silke Loehndorf again. Silke was running leg 2 of the relay and Thomas was planning to be out on the course taking photos and encouraging the runners.
Before long we were called outside for the race briefing and the start. Chris took this photo of Katrina and I.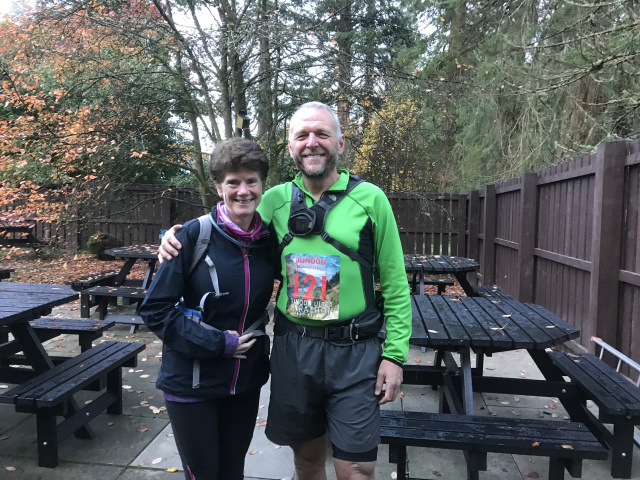 The route takes the runners right round Loch Eck
Benmore Gardens to Aldentiny Road (8.06 miles)
The race is very well organised with lots of individual touches. At the start there is a piper playing and the start is signalled by several mini cannons!
The weather was excellent for running with blue skies and very little wind. I set off in shorts and a long sleeved t-shirt. I was wearing my newish Altra Lone Peak shoes which were excellent for the race.
I like to have a plan and so my gold goal was sub 6hrs. The splits were based on my friend Donald Sandeman who ran the race last year in 6:01.
I carried these splits with me to give me an idea of how I was getting on. I must admit I'm not as worried or motivated by running a certain time these days but old habits are hard to stop!

The distances were estimates but they did give me an idea of how what to expect.
There were 143 runners on the start line dong the individual race and another  19 who were running leg 1 of the relay. I started a few rows back maybe in the top third.
I was keen to set off as comfortable as possible keeping an eye on my breathing. The first mile or two was along the river before turning left over the road and heading up the river on a lovely path in the woods.
I was at the back of a line of runners which suited me just fine. I rarely like to be at the front of a line as I tend to run faster than I want to. The single track didn't last too long and we were soon on a wider path with plenty of room to overtake or be overtaken.
This path wandered up and down for the next few miles and I joined up with 3-4 runners from Greenock Glenpark Harriers. They were moving well and I followed them for a while.
After a while Graham Reid caught up with me. I've met Graham before. He has run the Lakeland 100 3 times and also the West Highland Way. We ran for a couple of miles to the checkpoint at Aldentiny.
I didn't have a drop bag at the first checkpoint at the Aldentiny Road so I just had a quick drink of coke and continued on.
Aldentiny Road to Glenbranter drop bags (6.74 miles) Overall 14.80 miles
Graham and I continued to climb and enjoy the views. We caught up with a few runners and I think a couple went past us. I decided not to take any photos or videos so I've borrowed some from Facebook! Thanks to Murray Ratcliffe.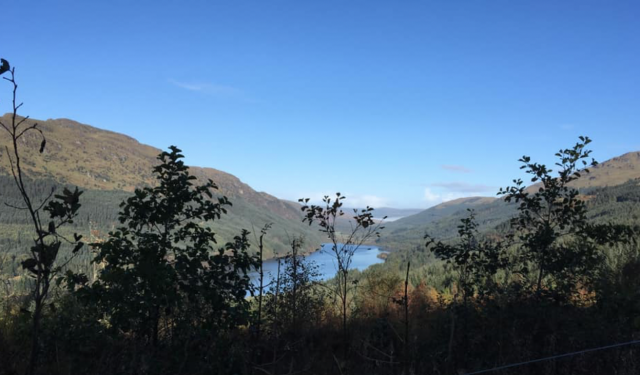 At some point along the route Kirsty Burnett and her friend Ellen Cattanach caught up with us. Kirsty runs the 'By The Way' campsite at Tyndrum and we have run together quite a few times. It was really good to run with them for a while.
Graham pushed on as we descended to the main road. The timing mat with a good sized crowd of supporters was before the road but I decided to take my split at the checkpoint further on where the drop bags were. I did look at my watch though and it showed 2:20 which was bang on my plan!
I felt I was moving well and encouraged by how my race was going. Once we hit the road I followed Kirsty and Ellen who were setting a good pace. By the time we reached the end of the road we had caught up with Graham again so the four of us ran into the checkpoint at Glenbranter together.
I stopped for a couple of minutes to eat my Greek Youghat and drink my Protein drink while a helpful marshal refilled my water bottle with my Tailwind powder. It was a bit of a challenge as she had put in the water first and then had to tip in the powder but she did a great job. Thanks.
Official timing: Leg 1 - 2:20:27 (48th place)
My timing: Aldentiny Road to Glenbranter Drop Bag: 6.74 miles – 1:07:27
Overall: 14.80 miles – 2:30:31
Glenbranter to Benmore Gardens (8.77 miles) Overall 23.57 miles
I set off just behind Kirsty and Ellen but they were walking so I went past them and just kept going. After a few minutes I caught up with Graham again but this time I pushed on and I didn't see any of them for a few hours.
I was starting to feel things a bit but still felt as though I was moving okay. Since running the Ring of Fire 5 weeks ago I've had some good runs but also some runs were I have struggled and I wasn't totally sure how things would go today.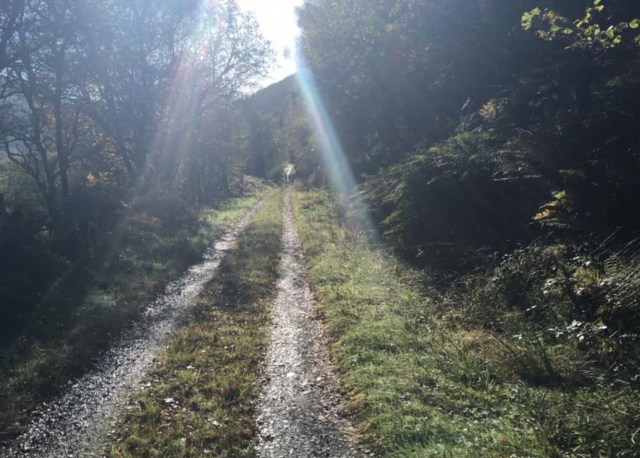 The path climbs for a bit before levelling out along the Loch. I could see a runner ahead so I wondered if I would catch up. Eventually I did and for a mile or so we yoyoed as we had different strategies. I was walking the ascents while he was running but my running pace on the flat and down was faster.
We did have a chat eventually and it was interesting to hear that he had done each of the previous two races. The first year he was just under 6 hrs and last year he ran with a friend taking 6:45. He was hoping to be faster than last year.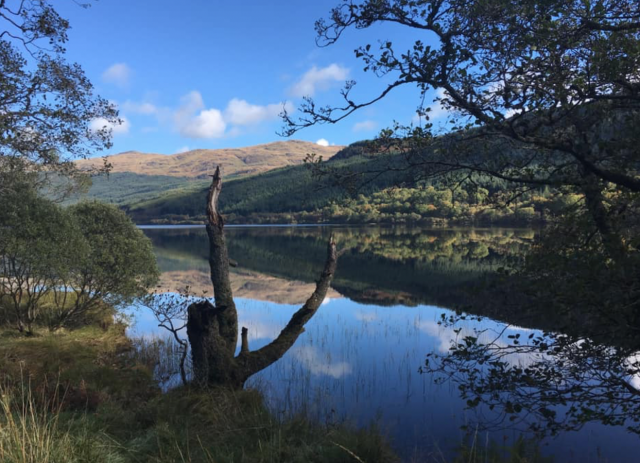 After a while I did pull away and I didn't see him again. A few relay runners caught and went past me but I wasn't too bothered about them! I could sense a runner catching me about a mile or so from the next checkpoint and I assumed (or hoped!) it was another relay runner but it wasn't.
Looking at the results it must have been Sue Hewitson. She was running really strongly and went on to finish in 5:49:58.
It was good to arrive at the final checkpoint at Benmore Gardens. I was aiming for 4hrs and my official time was 4:00:16 in 42nd place. I was very happy with that but there were doubts in my mind that I could keep that pace going for the final 10 miles!
I decided to sit down for a couple of minutes while I ate my protein youghat and a cup of coke. Again a very helpful marshal refilled my water bottle with Tailwind. This time I out the powder in before she filled it with water which made it easier!
My timing: Glenbranter to Benmore Gardens: 8.77 miles – 1:28:02
Overall: 23.57 miles – 4:00:17
Benmore Gardens to Dunoon Pier (10.30 miles) Overall 33.87 miles
Sue was away just before me but I thought it would be good to see if I could keep her in sight. I ran past the piper who was doing a great job motivating the runners.
I looked at my split plan and realised I had given myself 2 hrs to run this final leg which was 12 min per mile pace. I was averaging about 10:15 mins per mile up to this point so I hoped that I would still be able to make the sub 6hrs.
My legs were starting to hurt a bit now and it was harder to get running each time after a walk but I knew I could only do the best I could.
The route follows the river again and then comes out onto a road. Sue was still in sight but once we hit the road she was running and away. I decided to deploy my 'run for 100 paces walk for 20' strategy. It works okay but if anyone else is running all the time then they will be faster which some were.
Over the next couple of miles 3 or 4 runners went past me plus a couple more relay runners. One of the runners was Angus Alston who I've run with on Glee Club runs. Angus was running very smoothly so it was good to encourage him to keep going which he did finishing in 5:46:55 which I think was over 30mins faster than last year.
I was having to battle a bit now. I could feel myself slowing and losing places. I found it hard not to get too negative wondering who would catch me next? Kirsty? Graham? Chris? I decided I couldn't do anything about what others were doing so I tried to concentrate on doing the best I could on the day.
It was Graham who went past me saying … 'You're a hard man to catch!' That brought a smile to my face but he soon disappeared into the distance running well.
Last year I met Katrina at the start of the forest and the final big climb so I was looking forward to reaching that point. Eventually it did arrive and our friend Morven Walsh was the marshal there. She kindly took this photo as I passed. I did my best to smile and look happy but deep down I was digging in as best I could.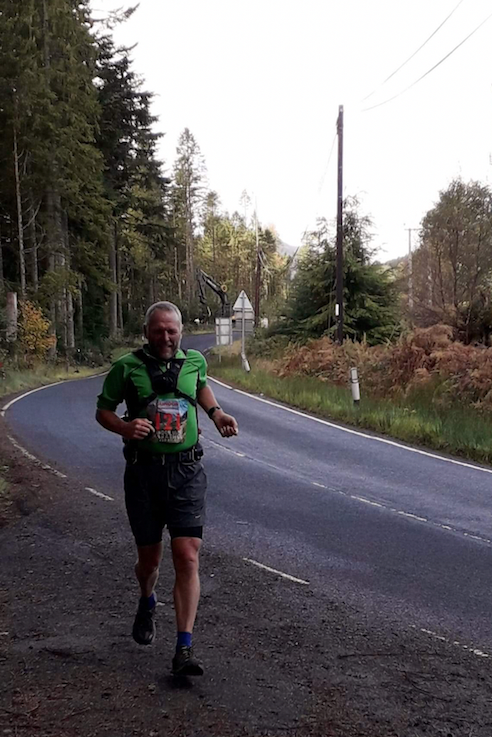 I reckoned I had about 6.5 miles to go and I also knew that most of them were uphill! I got into a rhythm and climbed as steady as I could. Another relay runner went past and then after another mile or so a lady went past. She my legs are gone, they are so sore. Then she ran up the next hill so I assumed they weren't that sore!!
The climb continued and I tried to stay as positive as I could. At one junction there was a sign saying 4 miles. I glanced at my watch and it was 5.05 miles since Benmore. I knew it was at least 10 miles from there to the finish so it was probably at least 5 miles to go.
I had 55 mins to get under 6hrs and if that sign was right then I still had a chance but I knew it probably was wrong but if it was only 4 miles ….. anyway it gave me some hope for a while!!
I could sense another runner catching. I try and make a point of not looking back as it doesn't help. When a runner in an orange top came along me I realised it was my good friend Chris McGlennon. I had asked him before the race what did he hope for and typical for Chris he had no idea but did say maybe 6:30.
Chris said his calves were really sore especially on the descents so he wasn't looking forward to the final mile or so. Chris is quite tall and puts his long legs to good use as he powers up the hill.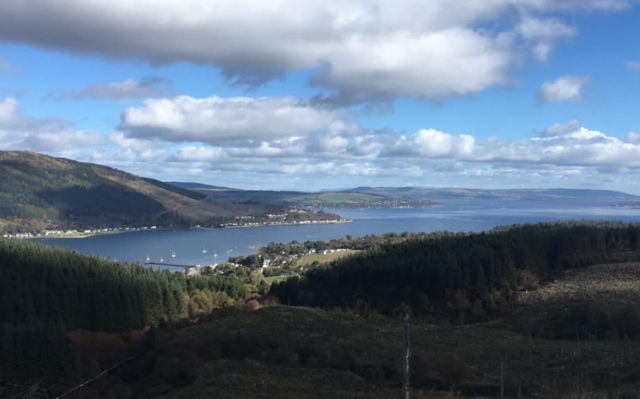 When we finally came to a downhill I caught up with him again as he had stopped to stretch out his calves. He soon caught up with me again and was away again. Dunoon was in sight by now but the path took us away and up hill again.
By now I knew that the 4 mile sign was wrong as I had almost run 4 miles and we still weren't down. I reached the road at 5:55 so my sub 6hrs was gone. A relay runner caught me as we ran down the road to the prom.
At the road there were marshals making sure we crossed safely. I was a little confused as the first one signalled me to go right whereas I thought we would be going left! I soon realised once we were over the road then we turned left and ran along the prom.
As I headed onto the prom I couldn't help but see another runner not far behind. I didn't really want to be caught in the last mile but again knew I couldn't do much about it! I adopted my run walk strategy and made my way along the prom. I could see Chris in the distance.
Thankfully the runner behind me didn't catch me and the ferry terminal and the pier got closer. Just before the finish I saw Lesley which surprised me. Sadly she hadn't felt very well and stopped just before Glenbranter.
The finish is great on the pier and I was happy to finish in 6:06:11 for 47th place. I think my sub 6hr goal was realistic but I did struggle over the final 10 miles. Other runners around me such as Graham and Kirsty were comfortably inside.
Like most runners I was interviewed on the finish line which is another fun touch of the race.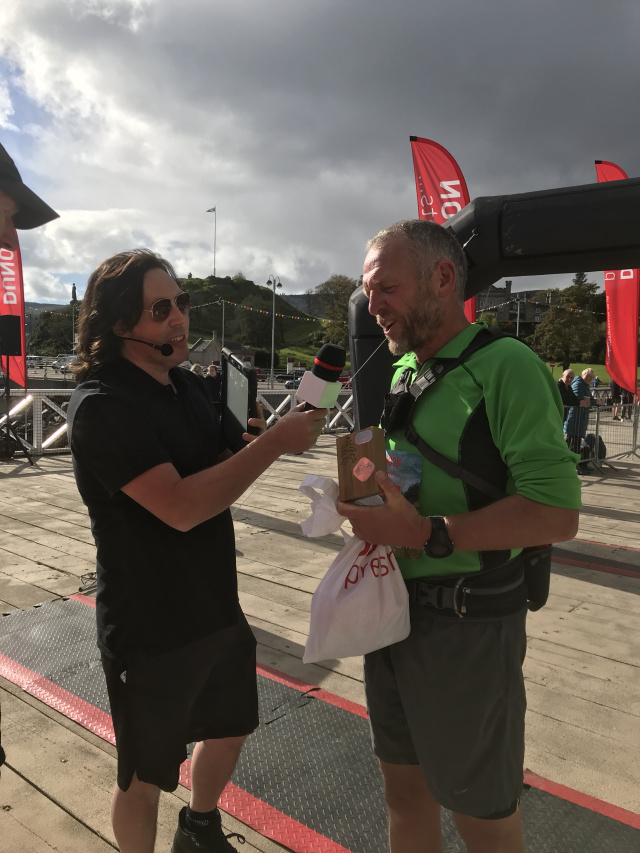 The prize for finishing is yet another individual touch. The wood that makes the memento is from the original pier.
I had enough time to get changed an enjoy some of the lovely minestrone soup before Katrina arrived in 75th place in a time of 6:48:51 which was just 29 secs slower than year!
We both really enjoyed the race. The route is varied, well marked with amazing views all the way round. The organisation is excellent with lots of friendly and super helpful marshals. We would definitely recommend it!
Thanks for a great day out.