Saturday 24th November 2018
Introduction
I was looking for a final ultra race for 2018 and a friend recommended the Hardwolds 80. I've done lots of the Hardmoors races on the Cleveland Way and enjoyed each and every one. Jon & Shirley Steele, who organise the series of races, are good friends so it didn't take long to decide this was a race I wanted to finish my year with.
Plus I had visited all the checkpoints in May 2017 when I was part of the support team for Andy & Sarah Norman when they attempted the Hardmoors 200. I was pleased to see that they too had entered so I was looking forward to seeing them again.
The route follows the Wolds Way from Hessle near Kingston upon Hull to Filey. It is possible to do the race unsupported as Jon puts on a bus from Filey to the start at 5.45am in time for the 8am start.
Initially Katrina was keen to come to support and help but was asked to look after two of our grandchildren over the weekend so I was quickly ditched. I know my place in her priorities!
I left work in Glasgow just after 3pm and had a straight forward journey to Filey with one section of roadworks on the M74 which added on 40mins or so. I stopped for something to eat at a truckers café and had a lovely plate full of mince, chips and veg. I arrived at Filey at 9pm and settled down to sleep in my van at the car park where I could leave our van all day and where the meeting point for the bus was. There were a number of others doing the same.
I slept okay and was up and ready for 5.30am. The buses arrived on time and we were away for the journey to the start. I chatted to Paul Walker the whole way and the time passed quickly.
We had a short walk down to the road underneath the Humber Bridge where the race was starting. The first people I met were Andy & Sarah and their support team so it was good to quickly catch up.
I headed over to register. I did wonder how the kit check would go as it all done outside but Jon & Shirley Steele decided to trust runners to have the right gear and then have two spot checks during the day. It worked really well and meant things moved quickly.
Once I had my number I went over to James Thurlow and his team from Open Tracking to get my tracker for the day. I must admit I love races that have a tracker as you know family and friends are able to follow you through the day and night!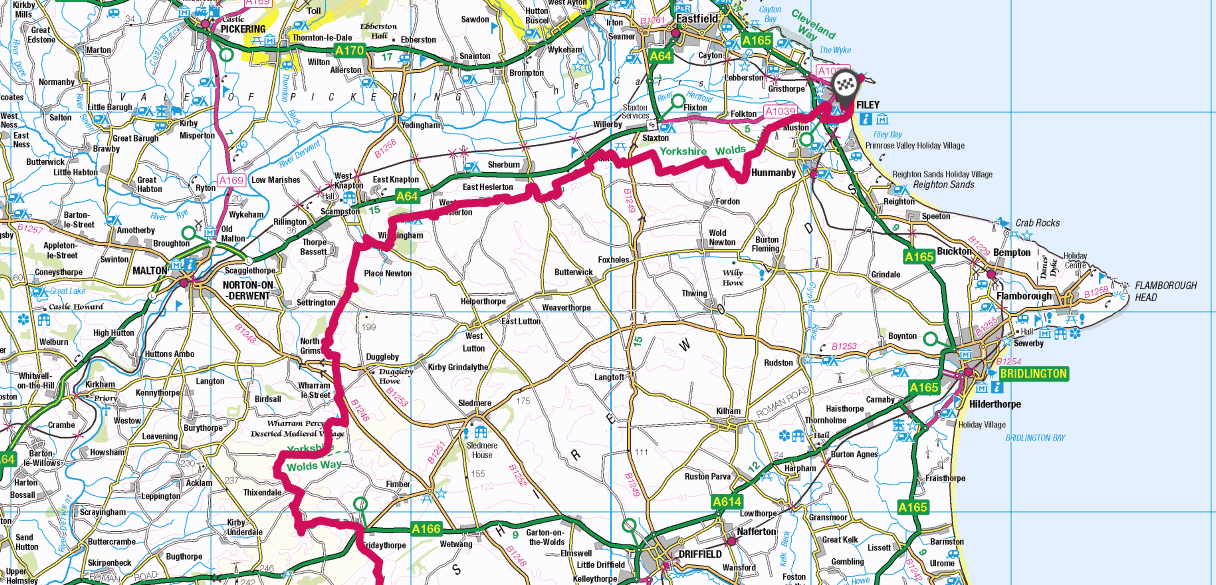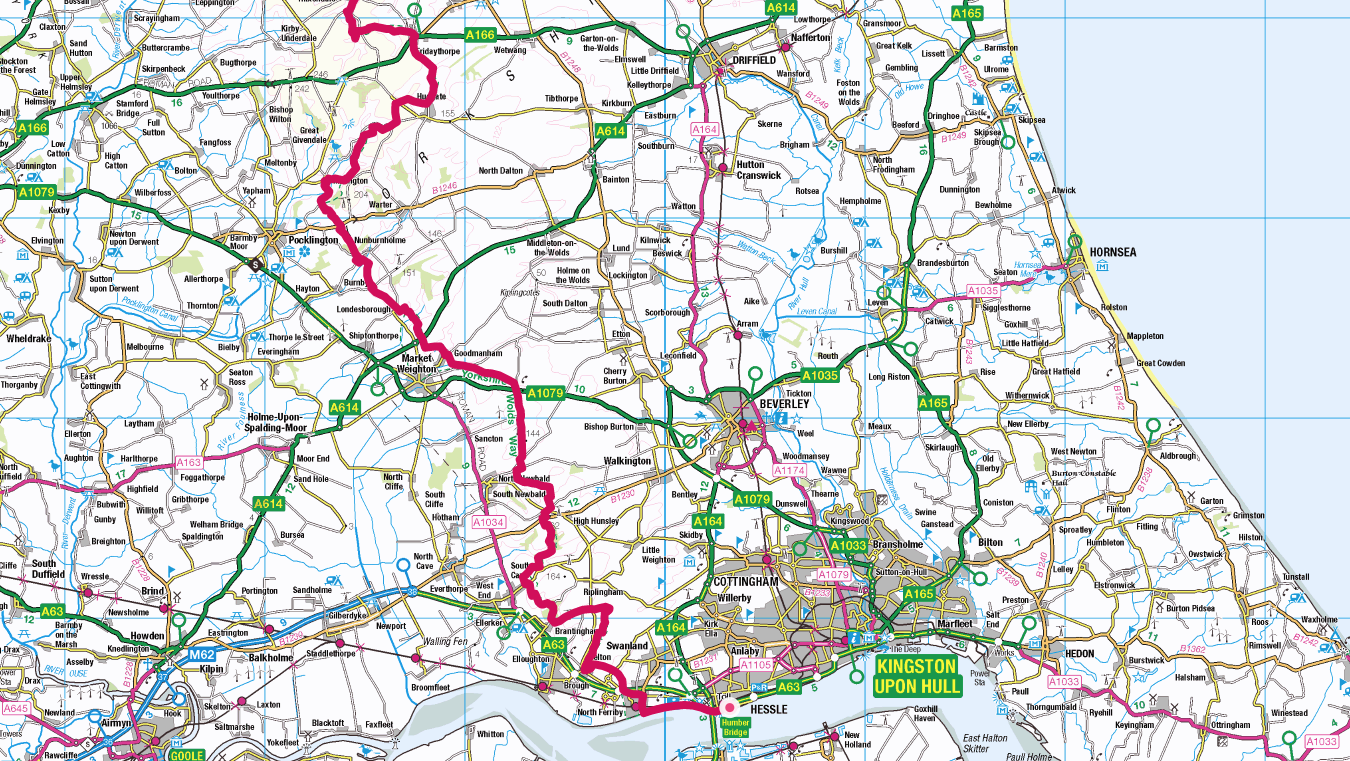 It wasn't too cold but I waited as long as I could before putting my hoody, hat, gloves and jacket into my drop bag that would be taken to the finish at Filey. I also handed in my two drop bags which I'd see at Millington and Wintringham.
I had a chat with a few friends as we half listened to Jon's briefing then it was time to start.
Leg 1: Hessle to Brantingham 9.87 miles
I was keen to set off very easily so I deliberately went right to the back. I didn't hear the start so suddenly we were off. I do like the relaxed atmosphere of ultras. Neil Thirkell came over and introduced himself. Neil is a friend of Steven & Nicole Brown and had been on Nicole's support team for this year's West Highland Way Race.
This was going to be Neil's longest race so he was sensibly wanting to start comfortably as well. We ran for the first 30mins or so chatting away. There was a gate not long after the start so there was a little wait to get through.
I like to have a plan and so I was working on a finish of 18hrs 30mins as my gold but I wasn't sure how realistic it was. It turned out far too optimistic but it gave me something to work on.
I had plotted the route on OS Maps and downloaded it to my Suunto watch. I had also worked out my mini-splits of between 3-6 miles as I like to break these longer races into bite size sections.
As we made our way through North Ferriby Neil said we were running faster than his target pace and said he was going to ease off which was sensible. I didn't see him again but was really pleased to see that he finished in 21:43:43
The field had spread out quite a bit by now. As we made our way through Weldon Dale I saw Andy who said Sarah was taking a Bear stop! I ran with Andy & Sarah for the next hour or two. It was so good to run together and catch up with their news. Sarah and I both like to do a video diary of our runs so I was able to photobomb their hourly updates!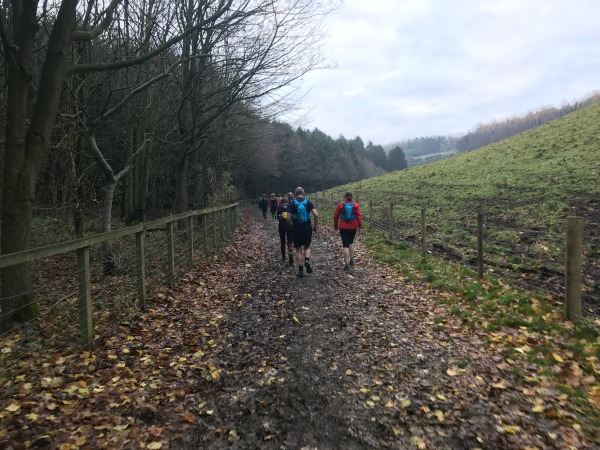 The miles passed quickly as we made our way to the first checkpoint. I remember walking out from Brantingham when I was supporting Andy & Sarah on the Hardmoors 200 so when I recognised the kissing gate I knew we were almost there.
On my plan I had 1:50 for this section and as I glanced at my watch I was happy to see I wasn't far off. In the first couple of hours I had eaten my fruit bread with jam and an energy bar but I hadn't drunk much of my Tailwind so didn't need to refill my bottle.
87 miles in 1:51:38 (overall place 146th out of 204 starters)
Leg 2: Brantingham to Arras Wolds 9.80 miles (overall 19.67 miles)
Andy & Sarah met their support team as I went straight through but they quickly caught up and we continued on together. I photobombed Sarah's 2hr update!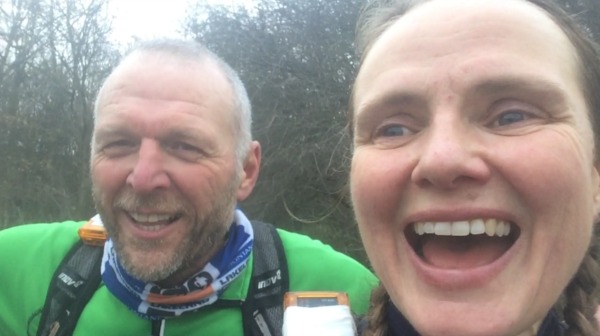 This was one of two short sections I had run with Andy & Sarah in 2016 and looking back now it was fairly typical of the whole route. Lots of undulations on good paths with kissing gates to go through. I was very impressed with the amount of Wolds Way signs. It is a very well-marked walk.
I was keen to follow the route on the Harvey map to get familiar with it as the Dragon's Back uses the same map so I thought it would be good practice. As I mentioned I had downloaded the route to my watch but decided not to use that until it was dark.
I really enjoyed this section as we ran through Bilks Hill, then Low Hunsley Plantation and just before Arras Wold a long open section with trees on both sides.
The excellent photographers from http://www.sportsunday.co.uk were out taking photos. Thanks to Dave & Laura for these great photos …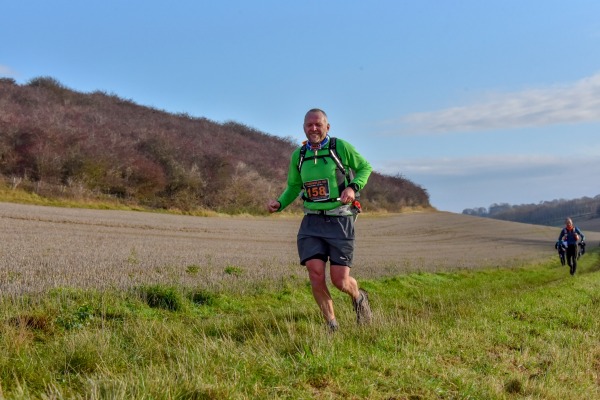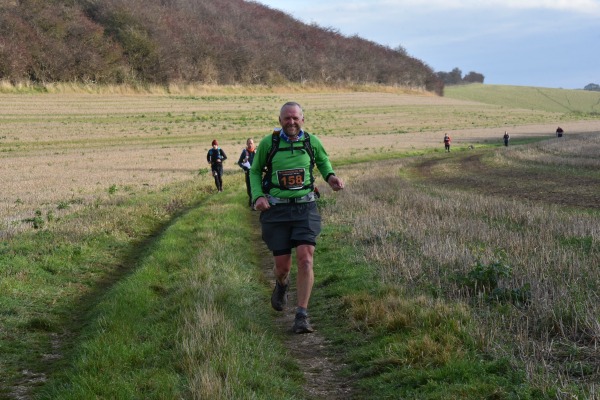 I can't remember exactly where but I lost Andy & Sarah somewhere before the next checkpoint. I had been passing and getting passed by Lucy who was running with her lovely dog Rosie and a guy who I thought was Rob but his name is Antony I see from the results!  Just before the checkpoint Yannick Peron caught me and we ran in together having a quick chat.
My overall plan for here was 3:50 and I was 3:56 so again not too bad but I realised that my 18:30 gold was probably unrealistic!
I sat down here for 3mins while I ate my protein pouch and the excellent marshals refilled my bottle. As I left I took a couple of sausage rolls.
80 miles in 2:04:24 (leg split 115th fastest)
Overall 19.67 miles in 3:56:02 (overall place 130th)
Leg 3: Arras Wolds to Millington 11.36 miles (overall 31.03 miles)
I set off in good spirits. The weather was excellent with not much wind, no rain, not too cold and the sun was shining. I was wearing a base layer, a long sleeved top and shorts and felt comfortable. I also had a buff and gloves and regularly took them on and off as needed.
As I walked past the support cars and vans I did my 4hr update for my video diary. A number of runners did seem to have a support team but I was quite happy on my own and the marshals, as in all Hardmoors events, were excellent and so helpful and cheery.
It didn't take too long for Lucy and Antony to catch me and we ran together for the next hour or two. Lucy was telling me all about her border collie Rosie who runs with her everywhere. Rosie was obediently trotting along by her side even when we passed through a field of sheep.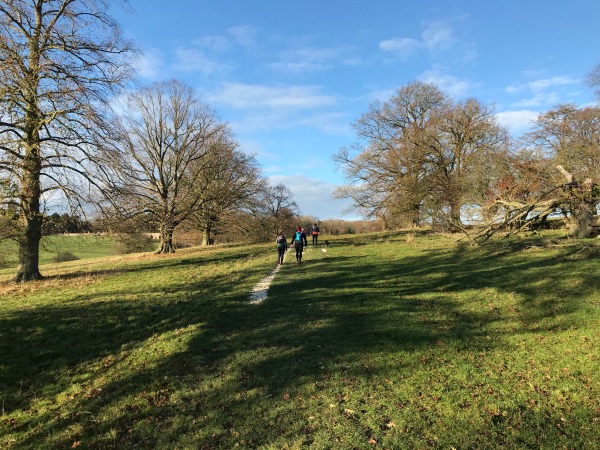 Part of my plan for these longer ultras is to get to 30-40 miles as comfortably as possible and if I'm still running by then I'm pretty confident I can keep running to the end. I was really pleased to feel that I was moving well and if I could keep eating and drinking sensibly then I had a good chance of being able to keep moving strongly to the end.
A good sign for me that I'm going well is when I come to a flat or downhill I start running straight away. If I'm struggling, then I have to do a countdown to get me going! As normal for me I was doing a lot of counting which always helps me. In this race I gave myself 2 counts of 4 to get going before I started counting to 20, 30, 40 or 50.
This was another picturesque leg as we passed through various villages with interesting names, Goodmanham, Londesborough and Numburnholme. Again lots of undulations, gates and a variety of underfoot conditions. Some of the paths were pretty muddy and slippery at times but I didn't really get my feet wet at all which is a bonus.
The race route took a slight diversion from the official route to take us into Millington where the first indoor checkpoint with our drop bags. The route guide reckoned it was 33 miles but on my OS map trace I had it as 30.87 miles. When we arrived my watch had 31.03 miles. My plan was 6:20 and I was just under 2:30 so still in touch.
Lucy found a marshal who was more than happy to look after Rosie as she went into the checkpoint. There were a number of runners sitting round the small hall. I was surprised to see Karl Shields as I expected him to be well ahead. He said his legs didn't have much today so was taking time to recoup. Looking at the splits Karl arrived at 5:57 but her is doing the 160 mile Hill race in 3 weeks so didn't want to push too hard!
I stopped here for almost 8 mins but I needed all that time to sort out my drop bag, put my watch on recharge, drink my milk shake and enjoy a lovely bowl of warm rice pudding. We also had to show the marshal our waterproof jacket.
More runners were coming in so I decided to get going again. Some including Karl were still there as I left!
36 miles in 2:29:37 (leg split 102nd fastest)
Overall 31.03 miles in 6:29:31 (overall 116th)
Leg 4: Millington to Wharram Percy 16.37 miles (overall 47.04 miles)
Lucy & Rosie left before me so I was on my own again. This was another section that I had run with Andy & Sarah on their Hardmoors 200 and I remembered that there is a longish climb from the village so I settled into a steady walk.
All hills are relative but because on this route there aren't any really long climbs the ones that are to be climbed feel harder somehow! It didn't take too long before I was able to run again. This was a lovely section with wide open spaces and excellent views of the countryside.
As I was doing my 7hr video update Karl caught me. Karl with his wife Harriot ran the 190 mile Northern Traverse with me in May so it was good to catch up on what we've both been doing since. Karl is a stronger runner so I was surprised to see him but he said he was struggling and wanted to take it steady with the Hill race coming up soon.
It was now after 3pm so we both reckoned we had another 90 mins or so before we would need the head torches on. This was one of the longer sections at around 16 miles so I'd broken it down to 3 mini-splits of between 5-6.50 miles.
When I was chatting to Lucy she said her plan was to get to Fridaythorpe which is around half way by 4.30pm. That seemed a good plan and that became my goal to get there before I needed to put on my head torch.
After a mile or two I caught up with Lucy and another couple of runners and was moving happily along but it wasn't too long after that I had a bit of a struggle. As the light faded it stared to drizzle and I was feeling quite cold. I had another mile or two before Fridaythorpe and I thought I would just keep going but I remembered Steven Brown's advice before the Northern Traverse to do things straight away! I'd been thinking I should get a jacket on for a few minutes already so decided it would be better to do it now.
Lucy, Antony, Karl and a group of about 7 runners all went past me as I slowed down. Karl waited to check I was okay but I explained that I was going to get a jacket on. I stopped by a gate and in the time it took me to put on my jacket and head torch another 4-5 runners went past!
It was the right decision though as I felt a lot better straight away. I had two waterproof jackets with me and I decided to wear the lighter Montane one knowing I had a thicker OMM one if needed later.
I was now well behind Karl, Lucy and co and I wondered whether I would see them again. I was caught by Wendy Colling as we made our way to Fridaythorpe. Wendy is number 8 which means that she was the 8th person to complete 1,000 Hardmoors miles. After this race I will be on 812 so not too far away!
By the time we reached Fridaythorpe it was dark and the head torch would be on for the rest of the race. This was not an official checkpoint but it felt like it as anyone with a support team seemed to be meeting their runners here.
The race did have a small tent with water for those runners like me without a support team so I was able to top up my bottle. It was only 4.30pm or so but it felt a lot later somehow.
I reckon the next hour or two was probably my strongest of the whole race. I had warmed up and was running strongly again after my short wobble. I started catching runners ahead especially on the long descent to Thixendale. I ran the whole way down and I was feeling really good.
I caught up with Karl again as we went through the village and we started climbing up the hill together but I pushed on wondering if I would catch Lucy & Rosie!
It was a lovely evening now. I still had my shorts on and my thinner jacket but felt okay. It was quite a light dark sky as there was a fullish moon. A couple of times I switch off my head torch and the visibility was actually quite good though I did to have the head torch on!
I could see one or two head torches ahead but I was on my own again as I made my way to Wharram Percy, which is a Medievel Village. I didn't quite know what to expect but it was very interesting when I arrived. The checkpoint marshals had put loads and I mean loads of fairy lights over trees, gates, fences to guide us through the ruins and onto the checkpoint.
I assumed the checkpoint would be close to the village and if I'd looked at my map I would have seen that it was a further half a mile or so. Since it got dark I had started to use the gps trace on my Suunto to guide me and it was excellent.
It was good to arrive at the checkpoint. I sat down for a few minutes to eat my Protein shake and have a drink of Coke while the again excellent marshals filled my bottle. I wasn't too worried about my overall time now compared to the plan but looking at it now I was an hour behind.
37 miles in 4:18:55 (leg split 92nd)
Overall 47.40 miles in 10:56:18 (overall 100th)
Leg 5: Wharram Percy to Whintringham 7.30 miles (overall 54.70 miles)
As I set off it started to rain and rained for the next 30mins or so. We had been pretty fortunate with the weather all day so I wasn't too upset but if it was going to rain all night I might think differently.
I decided I wasn't going to go anymore video updates as I had my Montane Gloves and over mits on so Knew it would be hassle taking them on and off every hour! Plus it not particularly good viewing when all you can see is a patch of ground by the head torch.
I left on my own and headed through the woods. It was a good path until the route turned right up a hill. I knew it was going to be a harder climb as the sign post stated 'steep gradient' and it wasn't wrong. I got into a rhythm with my hands on my knees and slowly made my way to the top which eventually arrived!
When I came to the road (B1253) the map and my gps trace indicated straight on but there was a fence blocking the way. Plus the Wolds Way signpost had alternative routes but right and left.
As I was pondering which way to go Wendy arrived and as we discussed another runner came and he saw the gate slightly to the left which meant we could go straight on as indicated. It was the only difficult decision to make route wise of the whole race.
The guy who caught us was running very strongly and soon disappeared into the distance. Wendy & I ran together for the next mile or so through the woods towards Settrington Beacon.
I carry my splits on a small laminated sheet and for some reason I had the wrong one. I wasn't too bothered about my plan time wise but I was still keen to break the legs down into my mini-splits.
This leg was just over 7 miles but according to my 'wrong' splits I thought it was 11 miles. I arrived at the beacon with Wendy who stopped to see her support. As I went into the woods there was a sign saying Wintringham 2.5 miles. I was expecting it to be about 7 miles.
When I realised what I had done and checked the map to make sure I was really pleased! So I only had 30mins or so before the second indoor checkpoint and my drop bag. It gave me a real spring to my step and I made good progress to the checkpoint especially as it mainly downhill.
The checkpoint was a very welcome sight. I decided to spend a little longer here as I wanted to refuel, change my head torch batteries and recharge my watch. I was surprised to see Paul Walker.  When I chatted to Paul on the bus he said he as aiming for 16hrs so I hadn't expected to see him at all.
Once again the marshals were so helpful and I was brought hot tea and they refilled my bottle while I enjoyed some pizza and a cheese sandwich. Lucy and Antony were in the checkpoint when I arrived and Wendy and then Karl came in after me.
Lucy was keen to go and was encouraging Antony to get going. I asked Antony whether Lucy was bullying him! As they left I said to them to keep looking over their shoulders as I was after them!
After 15mins I was ready to go knowing there was less that 20 miles to go!
30 miles in 1:47:01 (split place 95th fastest)
Overall 54.70 miles in 12:46:49 (overall 95th)
Leg 6: Whintringham to Flixton Wolds 14.86 miles (overall 69.56 miles)
I had decided to stick with my lighter jacket rather than put on the heavier OMM jacket and I wondered whether it was the right choice as I felt very chilly leaving the warm hall at Whintringham. But it didn't take long before I'd warmed up and was moving well again.
The route follows a fence around the village before heading up through woods. Paul came past running well and that was the last I saw of him. I assumed he would have finished well ahead of me but according to the results he was only 7 mins ahead of me in the end.
I knew this leg to Flixton was 14.40 miles as I had the right card this time! So I had broken it down into 3 mini-legs and I tried hard to just concentrate on getting to the next split and staying in the moment!
I was starting to think of the end though and wondering what time I might be able to make. My gold of 18hrs 30mins was gone. My silver of sub 19hrs was also out of the question but my bronze of sub 20hrs was still a possibility.
I was really pleased that I was still running on the flats and downhills. Anything that looked remotely like uphill I was walking but as strongly as I could.
I don't remember too much of this section but I was happy to tick of the miles and slowly but surely get to the final checkpoint at Flixton Wold.
What I do remember though is the final climbs before that checkpoint. In my mind I was thought Flixton was Muston where I met Andy & Sarah on their Hardmoors 200. So in my mind the final mile or so was easy going but how wrong I was on both counts.
I caught up two guys as we went past RAF Staxton. I had been chasing them for ages and so it was good to finally catch them. They were both using poles and walking everything. As I ran past they commented how strongly I was running which gave me a bit boost!
At the end of the lane there was a left turn into the woods and another short steep climb. Hopefully that is the final climb before the checkpoint I thought. Unfortunately it wasn't even the penultimate climb. There must have been another 4 or 5 short climbs and descents before the lights of the road and cars could be seen.
I was still moving well and in a good frame of mind so kept going and got there. The marshals had a wood fire going in a basin and it was all very cosy. I sat down for a few minutes before setting off for the final leg to Filey Brigg and then the finish.
42 miles in 4:12:03 (split place 73rd fastest)
Overall 69.56 miles in 17:14:18 (overall 90th)
Leg 7: Flixton Wolds to Filey 9.78 miles (overall 79.34 miles)
I had less than 10 miles to go and 2hrs 45mins to do it if I wanted to get under 20hrs. I thought it might still be possible but it all depended on how much I could run. I was keen though not to lose any places and if I could catch anyone before the end.
The route took us through Camp Dale and then past Stockendale Farm before heading across fields to Muston. I was moving okay but it felt that most of it was gradually uphill and I was finding it hard to run uphill so I walk it was! I could see a head torch not too far away and eventually I caught up and went past.
I caught another runner as we made our way over the field to Muston then I could see two more runners head. I caught them as we went into the field around the village. I was now on very familiar ground as the 2nd time I did the Hardmoors 110 in 2014 we finished at the school and followed the same route from Filey Brigg.
I tried not to look at my overall time too much as I was going as fast as I could and it wasn't going to make any difference. As I approached the sea front I could tell it was high tide as the waves were crashing against the promenade.
I made my way along the Promenade alternating running two sets of lights then walking for 1 set. I was thankful the Prom is not as long as Scarborough!
As I reached the point where the road heads up to the Sea Cadet Hall and the finish I could see a runner heading up. I wondered how long it would take me to get to that point having been to Filey Brigg and back.
At the end of the Prom there was another runner heading the other way and I was genuinely surprised how many runners I saw coming down as I made my way up. Jon had marked out the way with green glow sticks that helped but I've been this way before and was happy with the route.
It didn't seem to take too long before I was past the final steps and could see the green glow sticks and orange tent in the distance. When I arrived I gave in my number and had a quick chat. The marshal said I was the first person who was smiling that she had seen!
I decided to look at my watch and see whether sub 20hrs was on. It read 19:45 and knew there was no way I could run the final mile and a bit in that time so I was happy to relax and get there as soon as I could!
On the way down I greeted the runners who I had overtaken over the past few hours though it's hard to see who they all were in the dark.
It was good to reach the road then the marshal who was directing runners into Filey. I walked up the hill to the church, turned left and then made my way to the Sea Cadet Hall and the finish.
As I entered I got a cheer and Jon was there to give me my medal. I finished in 85th place in a time of 20:12:34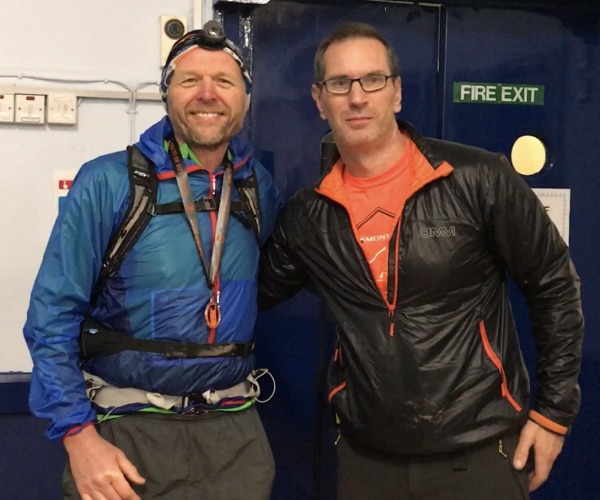 It was great to sit down, take off my shoes and socks and have something to eat. The simple things in life are the best!!
Thanks to Jon & Shirley and all their team of excellent marshals for organising another superb event.
9.78 miles in 2:55:41 (split leg 77th fastest)
Overall 79.34 miles in 20:12:34 (overall 85th)
Results