I started the year coming off the back of a long term injury and unsure just how the year would unfold. My big target for the year was the 190 mile Northern Traverse in May which I really hoped I'd be able to train for and complete without aggravating the tendon injury in my right ankle.
Thankfully I was able to complete that race and four others, one in the build up and three in the second half of the year.
Here is my summary of the year highlighting the five ultra races I completed.
# 1 - Hardmoors 55 with Katrina - Saturday 17th March 2018
Katrina had been keen to do one of the Hardmoors races so I suggested the Hardmoors 55 in March as it is on a route similar to the Highland Fling that Katrina has done a couple of times and it would be a great preparation for me to test out some kit and my fitness for the Northern Traverse a couple of months later.
I've done the race 4 times before and after the first year when the weather was pretty touch I've had good weather. Famous last words!!
The race started at 8am and the first hour or so the conditions were very pleasant with the sun even appearing in the sky!
It didn't last long and by the times we had been going for 2-3 hrs the snow and high winds started and bascially continued for the rest of the race.
These photo taken by SportSunday give a good idea of what it was like!!
In a strange way both Katrina and I really enjoyed the challenge of keeping going in tough conditions. We continued to move well all day and stay positive. Katrina was struggling a little bit on the slippy descents on the stone slabs so was grateful for the poles to give her a bit more support.
We had a longer stop at Lord's Café where we found a small room to add on some layers as we knew the three sisters would be quite exposed.
The worse of the weather we encountered was the section from Clay Bank to Bloworth Crossing and then to Kildale. It was getting dark and the visibility with the snow/mist was pretty much zero.
We kept moving but hadn't eaten or drank much as we didn't want to take off our gloves to open up our bags.
We went past a number of runners on the way to Kildale. We arrived there in good shape and knowing we only had 12 miles or so to go and plenty of time. We decided to spend a bit longer than planned in this indoor checkpoint so we could get some hot food inside for the final leg.
Sadly just as we were about to leave the race was called off due to the weather. We were disappointed that we couldn't finish but fully understood and accepted the decision.
It was very interesting over the next few days to see what the press made of the event. Without knowing all the facts they jumped on the story and made it sound 100 times worse than it was. I felt really sorry for Jon & Shirley Steele who organise the race and took most of the flak. The Hardmoors family know better and were very supportive.
Katrina doesn't often like to do the same race twice but we will be back in 2019 to complete the race!
#2 – Northern Traverse - Saturday 12th to Wednesday 16th May 2018
I was really pleased that my training for my main race of the year was going well. I covered the majority of the course of 190 miles over three weekends in February, March and April. It was good to be able to work out the navigation and see the various terrain and climbs I would be facing.
By the time the race came in May I felt as prepared as I could be and confident I would be able to complete the route. I had an ambitious target of 72 hrs which didn't allow for too much sleep which in hindsight was a mistake!
I was running this unsupported which is easy to do as the race organisation is excellent. You are allowed two large drop bags which are taken to the four main checkpoints. One goes to Patterdale & Richmond and the second ones goes to Kirkby Stephen & Lion's Inn.
This does cause for some preparation trying to work out what you might need where. It also means you need two sleeping bags, mats etc but I was able to borrow from friends so that wasn't too bad.
As with all my ultra races I write a full race report but for this review here are the highlights.
I would say St Bee's to Shap went pretty much to plan. I joined up with Andy, Rob and Russ and the four of us helped and encouraged each other especially through the first night when it was quite wet and potentially easy to lose time getting lost. Between us we made an excellent job of staying on target.
My plan had been to get to Kirkby Stephen before sleeping which is what I did but I was pretty tired by the time we got there. I stopped for a couple of hours and then was off again.
The four of us set off for the next main checkpoint at Richmond and we suspected there would be lots of drama on the way. I felt strong climbing up to Nine Standards but I started to struggle with some blisters so decided to sort them out letting the others go on ahead.
They had a slight mix up at Keld so I caught up with them again. We had now reached half way and we were bang on schedule for 72 hrs. We soon went into the second night. Andy & I were pushing ahead a bit but missed a turn and ended up behind Russ & Rob!
We joined up together as we reached Reeth in the early hours of the morning. This is were my race started to go badly wrong. I was struggling with my eye sight again. When I'm really tired I start to see double. I have had this checked recently and discovered I have lazy eyes which mean they turn inwards when I'm tired.
I badly needed some sleep. We stopped in the open air for a 15mins and then tried to sleep on the floor of the cycle shop in Reeth for an hour or so.
We set off about 4am heading for Richmond. After an hour or so I was still struggling with my eye sight and blisters and falling behind the others. As they pushed on I made a decision to stop as long as I needed at Richmond and not worry about times. It was going to be all about the finish.
Basically that is what I did. I stopped for over 3hrs at Richmond and had a completely different focus for the final 60 miles. It was all about enjoying them as much as I could and making sure I completed the race.
I stopped when I needed to. I ran when I could and I kept moving getting closer each step to Robin Hood's Bay.
I made a couple of silly navigational errors which cost me some time but it didn't really bother me because it was all about the finish.
I finally made it Robin's Hood Bay at 4.25am on Wednesday 16th May which was 91hrs 25mins 57secs after I left St Bee's but I had done it and had the medal to prove it!
#3 – Ring o' Fire – Friday 31st August to Sunday 2nd September 2018
I entered this race in 2017 and did a 3-day recce covering the final 75 miles in the preparation but due to my injury I wasn't able to run. So I was really keen to run it this year but waited until after the Northern Traverse to make sure I didn't aggravate the injury which thankfully I didn't.
The other main reason I wanted to run the race was to experience a multi-day race in preparation to running the Dragon's Back in 2019.
As a child I visited Anglesey every May as part of a cricket tour my Dad played in so the island has lots of good memories.
A number of good friends have run the race and everyone said how well organised it is and what a lovely route so I travelled down after work on Thursday afternoon really looking forward to it.
It was great to share the race with Mark & Helen Leggart who have run the race a number of times. I didn't see much of them on the course on days 1 & 2 but we bunked next to each other over both nights.
The race covers the whole island in 3 days as follows, Friday – 35.7 miles starting at 1pm, Saturday – 65.9 miles starting at 6am and Sunday 33.4 miles also starting at 6am.
I wanted to learn as much as I could about how to pace a 3-day race and especially how to look after myself between each day so I could recover enough to be able to run strongly on days 2 and 3.
Friday was pretty hot and I struggled for a few hours but once the evening drew in I felt a lot better and finished happily in 8hrs 18mins in 36th position. I hadn't run any of day 1 in my recce run so I really enjoyed seeing that part of the island. It was some of the most rugged of the whole island.
Navigation wise I was fine and thankfully didn't make any mistakes though I was grateful to join up with a couple of runners at key times who helped me find the 'honesty' books that are placed to encourage runners to keep to the coastal path and not take any short cuts!
On Friday night we slept in a Sports Hall at Amlwch and I got as much sleep as I could expect! I felt pretty good starting off on Saturday morning for the long day.
After 5 miles or so I caught up with Chris and Melissa and stayed with them for the majority of the day. It was great to have their company and we all helped each other with the navigation.
The first 25 miles were new to me but after that I had run the rest of the route though there were parts I couldn't remember too well especially when it got dark later in the day.
It would be fair to say that I was hanging on to Chris and Melissa for the majority of the day. I was keen to run my own pace and when I felt they were stronger I let them go but each time I caught up with them.
When we reached Sea Zoo with just under 20 miles to go I was in and out of the checkpoint quicker than them and decided to see how long it would take for them to catch me! Basically they never did and I finished over an hour ahead of them!
I finished the day in 17hrs 41mins 42secs in 22nd place and was really encouraged that I paced the day well and finished strong.
The overnight was in a village hall and a little tight for space but everyone had enough room to sleep! The highlight of the overnight was waking up to discover that our daughter Emma had had her second boy and our 6th grandchild! Emma lives in Bali, Indonesia.
I really enjoyed the final day and again was really happy with how I felt. I was working my way up the field running with people I'd not seen on days 1 and 2.
One of the highlights of day 2 was the bacon rolls at the first checkpoint! I would say for me the lowest point was the final climb after the lighthouse. I was also done but still had the final few miles to do but eventually I got there and was very happy to finish day 3 in 8hrs 33mins 22secs in 19th place.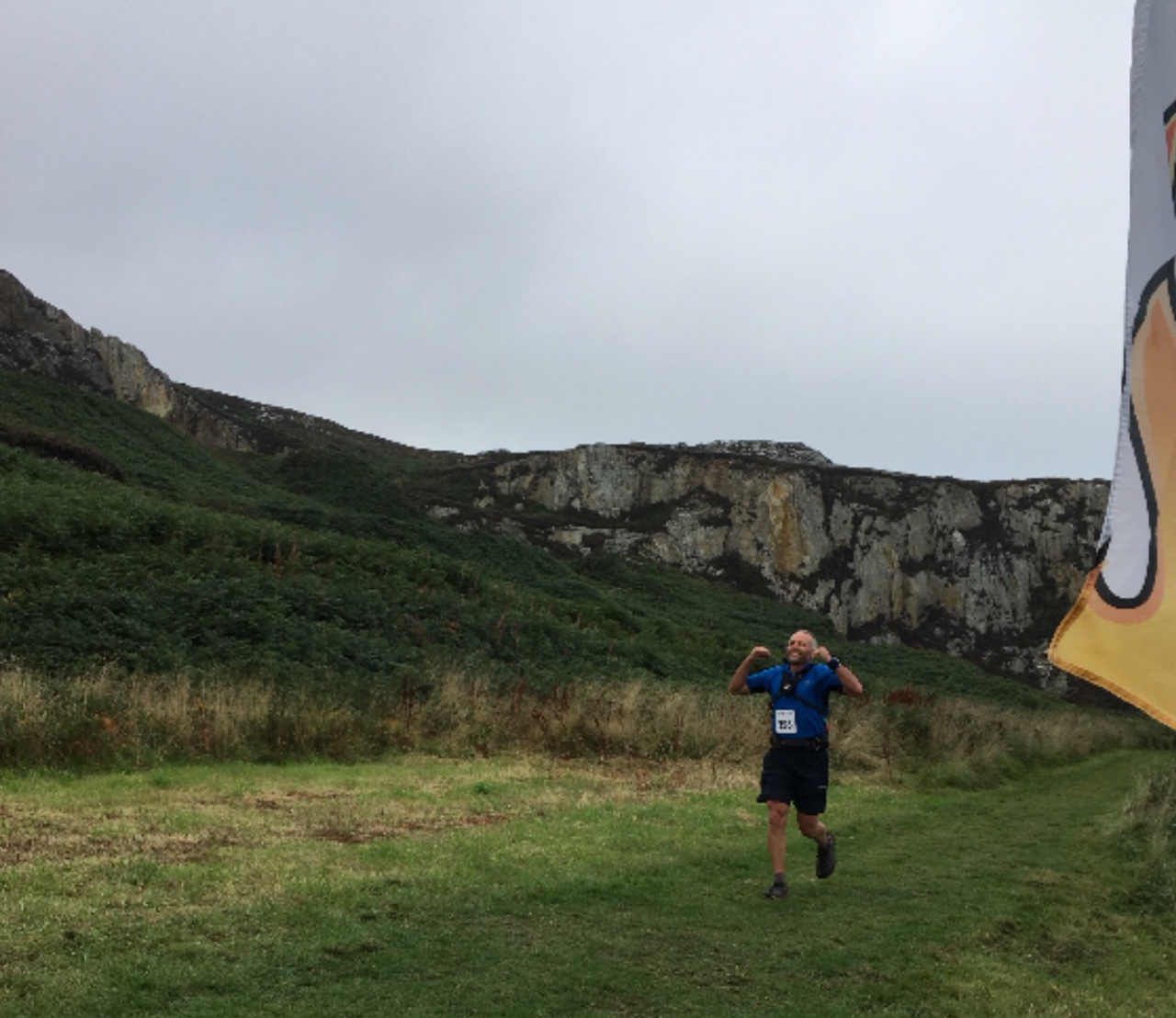 Overall I finished 21st in a total time of 34hrs 33mins 04secs.
It was a great race in every way and it was a real confidence booster as I plan for the Dragon's Back in 2019.
#4 – Dunoon Ultra (33 miles) – Saturday 6th October 2018
My fourth ultra of the year was my shortest but another one that I was really looking forward to running as it would be the first time on the course. Last year I supported Katrina as she ran the race and it was one that I was keen to run for myself.
Katrina decided she would rather run than watch so we both entered and made our way after picking up Lesley McKerral to the ferry at 6am to make it to the registration and start line.
The race is very well organised and it was great to catch up with lots of friends who were running. In particular, it was really good to see Chris McGlennon and Neil Fowler. We hadn't seen them for a number of years so we spent time before the race catching up with their news. It was lovely to meet Chris' wife Sara who was supporting Chris throughout the race.
I had a goal of running the race in under 6hrs which worked out at around 10 mins per mile which I knew would be a challenge for me these days!
I really enjoyed the route and was able to maintain the required pace for the first 24 miles to Benmore Gardens.
I was spot on my target but the final 10 miles or got harder and harder and I eventually finished in 6hrs 6mins 11secs for 47th place.
Overall I was fairly happy with my performance and really enjoyed everything about the race. I would fully recommend it to anyone wanting to run a first ultra. It has a bit of everything that is great about ultra-running.
#5 – Hardwolds 80 miles – Saturday 24th November 2018
My final ultra of 2018 and my 45th overall was a new race to the Hardmoors family organised by Jon & Shirley Steele. I was keen to do one more ultra and when this one was suggested I didn't take long to put my name down.
While it was in the back of my mind for a few months it was only when I started to plan for it that it really dawned on me that 80 miles is a long way! Having run the 190 mile Northern Traverse and 135 mile Ring of Fire it is easy to get a bit blasé about running 80 miles!!
I hadn't reccied the course at all but I had visited all the checkpoints when I supported Any & Sarah Norman when they ran the Hardmoors 200. The 80 mile Wolds way is the first section of that particular mammoth race.
I travelled down on Friday after work and slept in the car before catching the 5.45am bus from Filey to the start at Hessle (under the Humber Bridge). The weather in November could be anything but we were fortunate to have a lovely day and just a small amount of rain through the night.
Again it was great to catch up with friends who were running the race. I ran the majority of the first 20 miles with Andy & Sarah Norman. It was so good to catch up with their news and the miles passed quickly.
I had a gold target of sub 18hrs 30mins but it was a bit of a stab in the dark and I wasn't too worried about whether I achieved it or not. I was more interested in enjoying the race and for me that means finishing well and to do that I need to start comfortably.
I wanted right at the back of the field which mean I could run my own race and slowly make my way through the field. It worked pretty well and I went from 146th (out of 204 starters) at the first checkpoint to finish in 85th place.
I can honestly say I enjoyed the whole race and was really pleased with my effort and pace. The only low point I had was about 7hrs into the race as it was getting dark and the rain started. I delayed a little too long in getting my jacket on and it took a while to get going again but once I did I didn't look back and ran through the night well.
One of the challenges of this race was the fact that over 12hrs was in the dark. Fortunately it was almost a full moon and while a head torch was absolutely necessary I wasn't in the pitch dark.
It was great to run with various people throughout the day but the majority of the time I was on my own which I prefer as it means I can go at my own pace.
I finished the race in 20hrs 12mins 34secs which was outside my bronze goal of sub 20hrs but it was more about how I felt and I felt really good so I was very happy with my run.
# Other highlights
I ran a few parkruns over the year but my other main running goal for the year was to run at least 2018 miles in 2018. I write this on 30th December and I have one more run of about 5 miles to do tomorrow so I will end up with just over 2064 miles for the year.
So 2018 was a very successful year running wise especially after the disappointment of 2017 when I didn't run for over 4 months due to injury.
The big target for next year is the Dragon's Back in May. I turn 60 on 20th March so I'm looking forward to moving up to the M60 (Veterans) age category and chasing some silverware!!
If you have followed my blog at all this year thanks for your support and I plan to do some more LOVEultras vlogs as well as sharing my training and race reports on this blog.