It was really good to have an easy week last week but I was ready to go for it this week.
Monday 25th February - Fartlek Session
8.36 miles in 1:12:54
Ascent - 427ft
There was a good number of us running which is always good for making sure you work hard right through the session!
This week the session was 5 x [1min (30secs recovery), 2mins (1min), 3mins (90secs)].
Having had an easier week I felt I had a real spring to my step and was keen to push as hard as I could right through the session which is what I did.
4.71 miles for the 30mins must be my highest mileage for a good few years so I do feel I have a bit of speed in my legs again. I really do enjoy these sessions though they are hard at the time! It is the only time of the week where I really do push the pace and get my heart rate right up there.
Tuesday 26th February - Cycle to and from work
I do try and cycle to and from work on the days that I don't run but it all depends on whether I need the car for work once I'm there.
Wednesday 27th February - Long Drive!
I had planned to do an off road run around Pollok Park but my plans changed as we bought a VW Camper Van! We bought it from a garage in Bournemouth so I caught the 7am flight to Southampton, train to Christchurch and lift to the garage.
I then drove the 476 miles home arriving at 8.30pm. We are really pleased with it and can't wait for our first night in it which will be at the Hardmoors 50 in a couple of weeks.
Thursday 28th February - Ben Lomond Run
7.63 miles in 2:26:09
Ascent - 3245ft
I met Cammie at Rowendenan and we started running at 4.30pm. We like to go up the Ptarmigan Ridge and down the tourist path.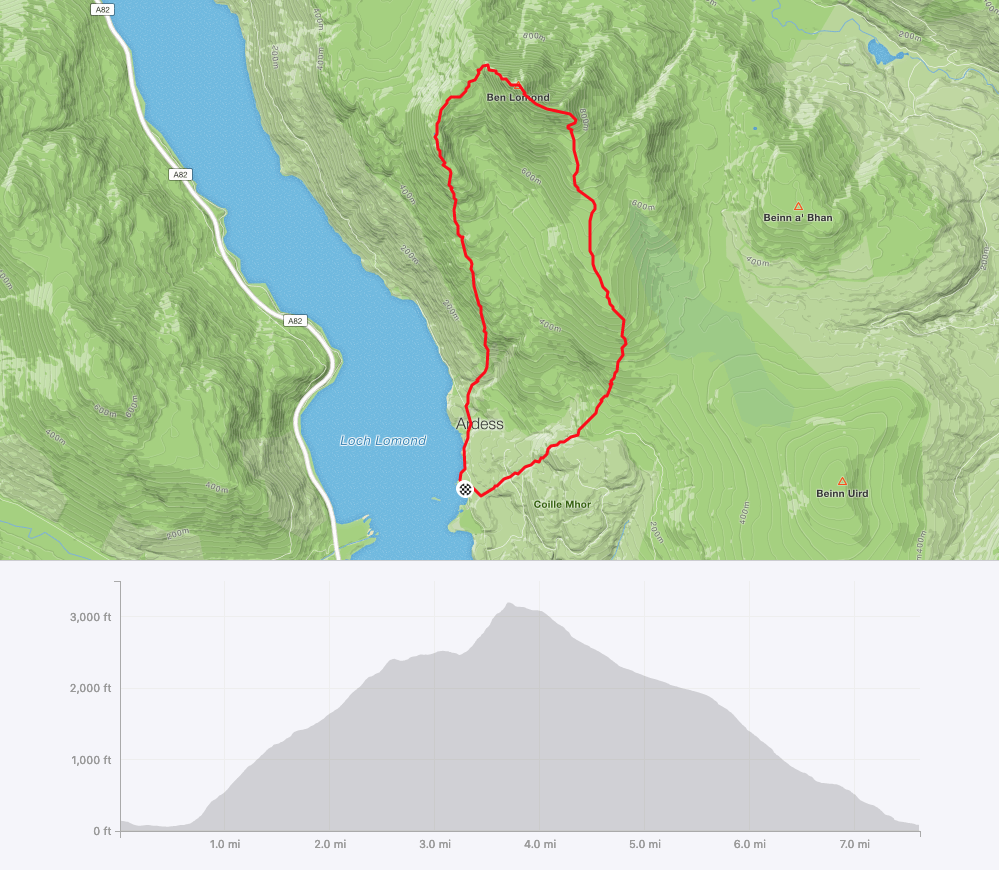 It was very misty from about 500ft so we didn't see anything but the views are a bonus as we've been up so many times.
We chatted the whole way and down and had a great evening. We had our head torches on for the final 30mins.
So this will be my bench mark for the year. It gives me something to aim for in the coming weeks!
Friday 1st March - Weigh in
This must be my lowest weight for at least 4 years! Very happy with the downward line!
There are a lot of things I can't control about the Dragon's Back but I'm working hard on the things I can look after and keeping my weight down is one of them.
Saturday 2nd March - Arrochar Alps Route
14.29 miles in 4:58:22
Ascent - 5886ft
I picked up Cammie at 6am and we drive to Arrochar in time to start running at 7am. Our original plan was to do the full Arrochar Alps route which includes 4 Munros but we both needed to get home earlier so we decided to miss out Ben Vane.
We ran most of the first few miles on the approach to Ben Vane then walked up the main path.
The mist was low to start with but by the time we reached the top the clouds had parted a bit so we had some views.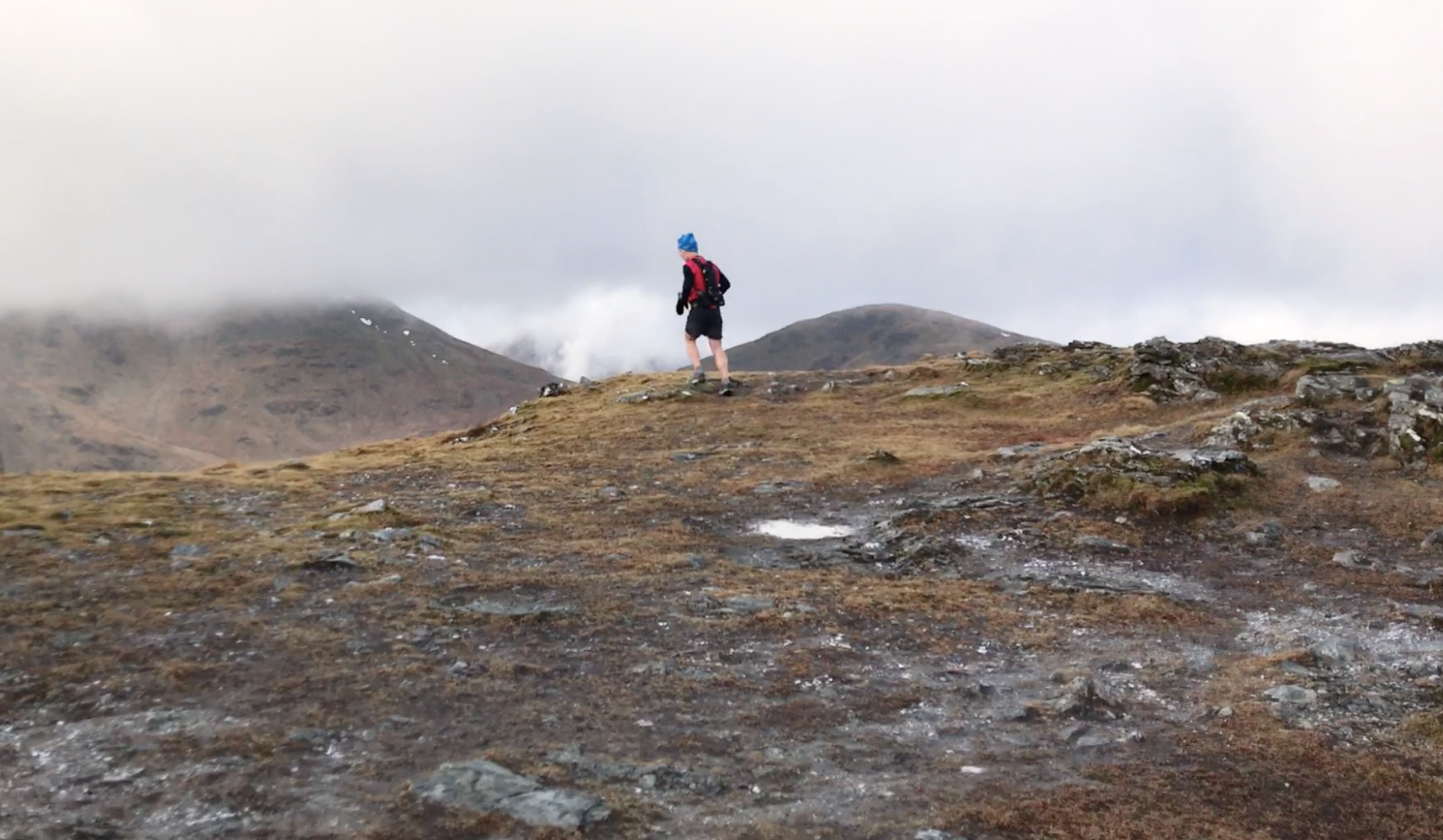 On the descent we chose slightly different routes but ended up back together as we climbed up Ben Ime. It was cold and windy on the top so I didn't take any photos!
Cammie once again descended far quicker than me and then I spent the ascent of Ben Narnain trying to catch him.
We decided to retrace our steps and head down the valley path rather than the race route.
All was going well until I tripped, stumbled and fell onto a large rock. It really winded me and I lay down for a minute or two until I got my breathe back. My should and side were pretty sore but thankfully no permanent damage.
I ran down very gingerly as my side was quite sore. It stiffened up a bit on the journey home but a hot shower some deep heat and a pain killer helped.
In the afternoon Katrina and I went to the Cycle and Running show at the SECC. It was really good and we bought a few things including some runderwear. The girl who served us, Tanya, is part of the marshalling team at the Dragon's Back!
Sunday 3rd March - Recovery Run
6.49 miles in 1:01:11
Ascent - 344ft
I was keen to see how my side felt.It was still a bit sore so I took it very easy. It eased off as the run went on so good to report it all seems fine. It was very windy though.
Summary of the week
I did miss my planned Wednesday run but I ran 4 times with lots of ascent