The highlight of this week was my final recce runs on the Dragon's Back Course. Andy, Mark and I covered day 4 over Friday and Saturday.
Monday 8th April - Run to and from work
4.16 miles in 38:08
Ascent - 187ft
4.15 miles in 35:52
Ascent - 308ft
We had some of our family staying with us for a few days so I didn't want to miss seeing them by going to my normal Fartlek session in the evening.
So instead I decided to run to and from work which gave me 8 miles or so. I ran with a rucksack which definitely affects the way you run.
Tuesday 9th April - Cycle to and from work
I do enjoy cycling as an opportunity to do some exercise on a non running day.
Wednesday 10th April - Lunchtime Run
6.80 in 1:05:01
Ascent - 571ft
It was lovely to set off with clear blue sky. It was a little chilly as I started but I soon warmed up and it was great to feel the sun shining as I finished my run.
I have a day off tomorrow before my recce of Day 4 over Friday and Saturday. We are driving down to mid Wales tomorrow.
Friday 12th April - Dragon's Back Day 4 part 1 Recce Run
20.99 miles 6:59:38
Ascent - 4,035ft
Katrina and I drove down to Llandrindod Wells where we stayed with our friends. In the morning Mark, who I'd not met before, picked me up at 8.30am and we drove to the start of Day 4 where we met Andy who had driven down from Chester.
It was a chilly but clear morning as we set off to run to Elan Village which is the half way point of Day 4.
I was really looking forward to covering day 4 over two days as that would complete my recce of the whole course. I was also interested to see how my hill fitness was after the training I've done since my last recce in February.
We had a great day chatting the whole way round. Mark attempted the race in 2017 but sadly was timed out on Day 3 so he is back more determined than ever to slay the Dragon!
Mark is very much a map and compass guy whereas I'm more happy to use my gpx trace on my watch as well as the map. So it was really good to see the way Mark navigated especially looking at the details around him and matching it to the map. I learnt a lot.
The navigation was fairly straight forward though we did miss a couple of key turns and had to work out which way to go.
I was pleasantly surprised that the terrain was a lot easier than I was expecting. There are lots of good paths which, if I'm still able to run on Day 4, are runnable!
It always helps when the weather is clear and you can see the way ahead. There wasn't as much climbing as Days 1-2 but still plenty of ups and downs.
One of the other things I like about running with others is the little gems of advice you can pick up along the way. Both Andy and Mark have been involved in the race and so have experience of what camp life is like so I was gaining as much help as I could.
I took lots of video clips of the route so I'll be putting that together in the next few days but here are some photos to give you an idea of our day.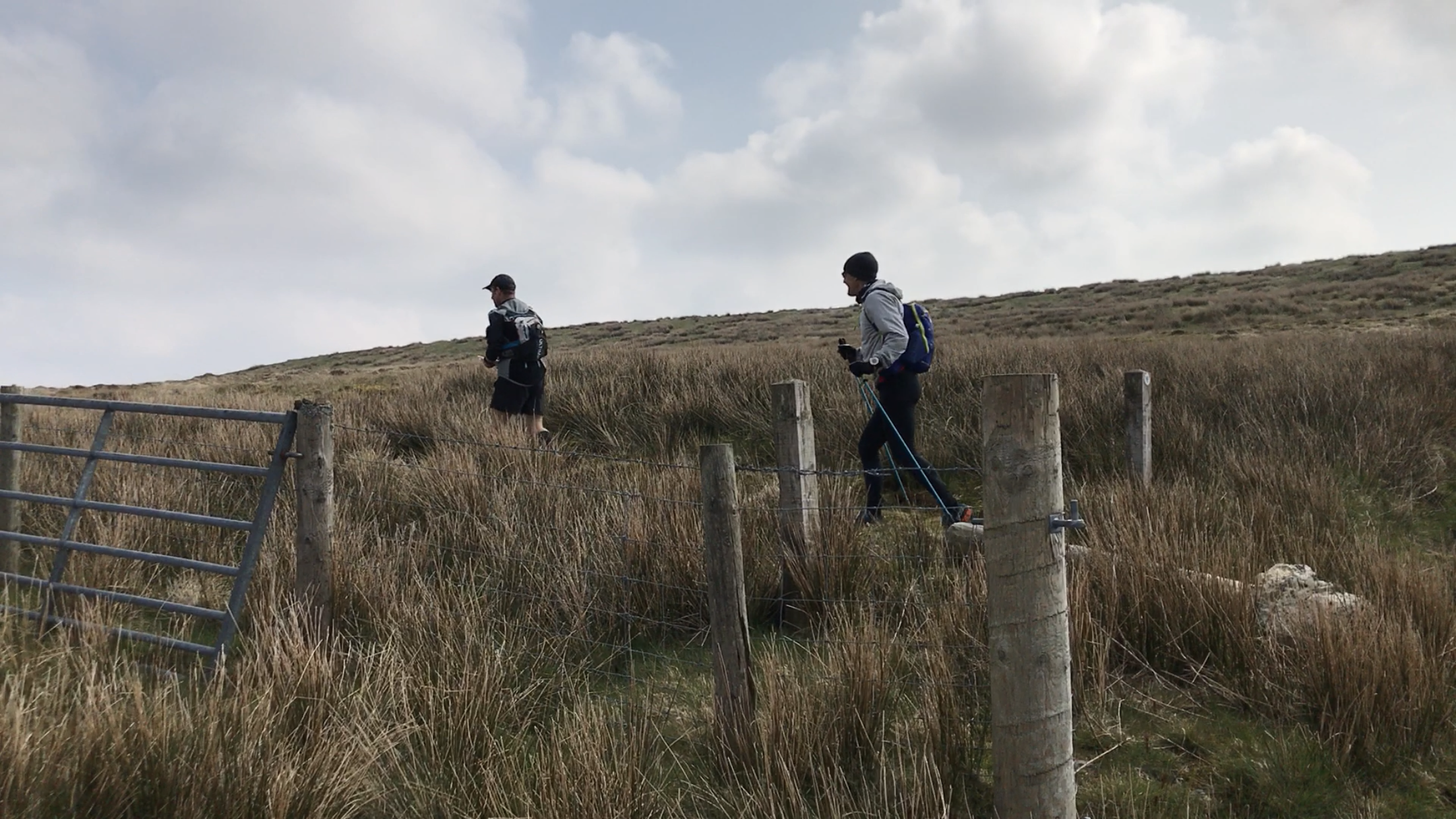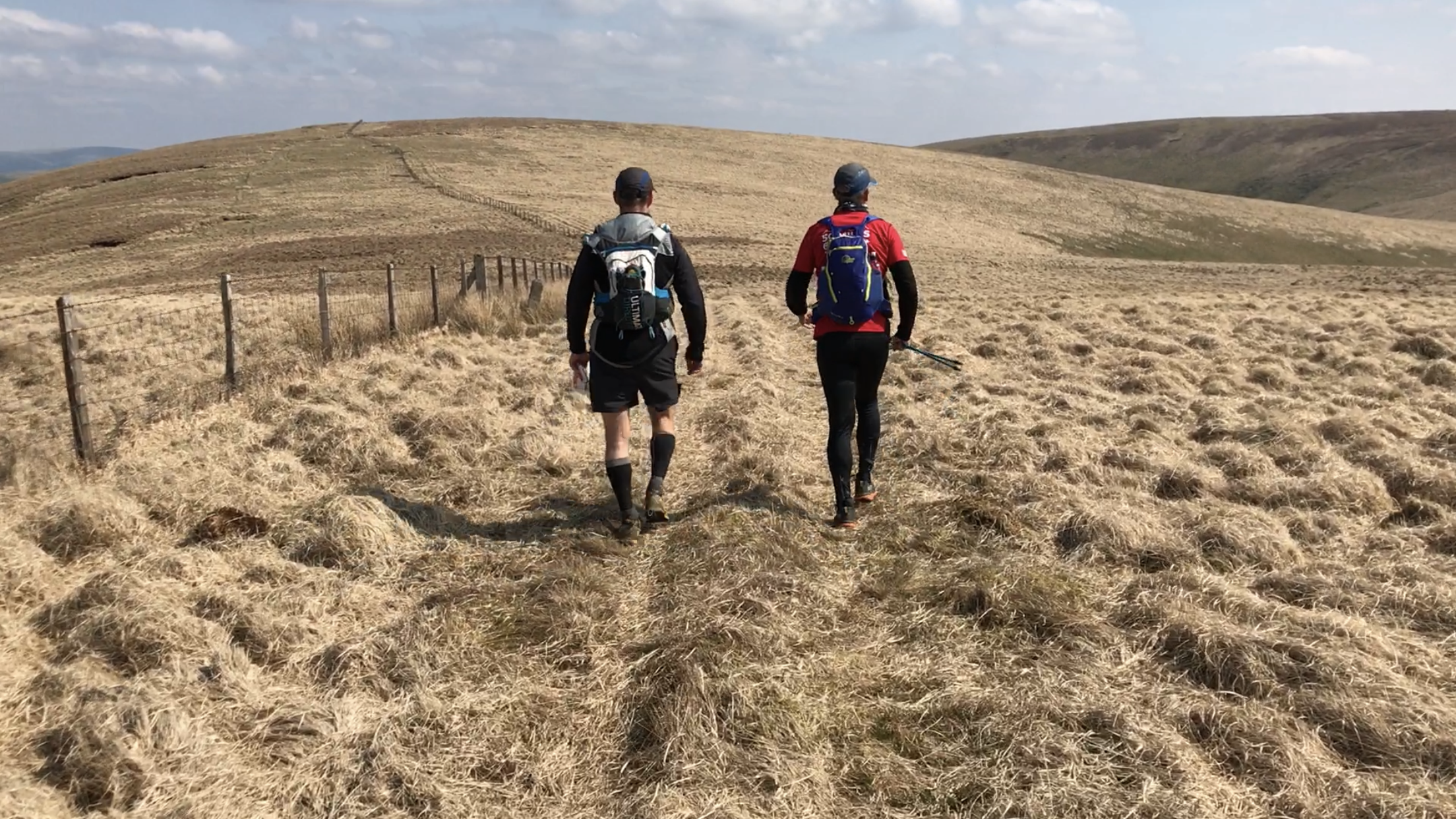 When we reached the final checkpoint before Elan Village Mark was keen to try a more direct line but we wanted a bit too far left and ended up having to cross marshy ground. I'm not sure I'll go that way in the race but Mark still thinks he'll get it right and save some time.
We finished at Elan Village where Katrina picked us up having spent the day with her Dad. Katrina have a bit of trouble finding the village as the postcode I gave her took her to a car park miles away but that's another story!
Saturday 13th April - Dragon's Back Day 4 part 2 Recce Run
23.02 in 6:48:48
Ascent - 3727ft
In the morning we drove back to Elan Village. Katrina headed off to visit her Dad again and the three of us set off to complete Day 4.
I was really encouraged that my legs and feet felt good after yesterday and I was looking forward to the day.
Mark had another of his alternative routes out of Elan Village which cut out the switchback on the road. This one worked out better so I might well use this one!
The weather was stunning again with clear blue skies but it was quite chilly so I had my light gloves on all day.
The route climbs up, down then up again but the views were among my favourites of the whole route. The trees around the reservoir were amazing.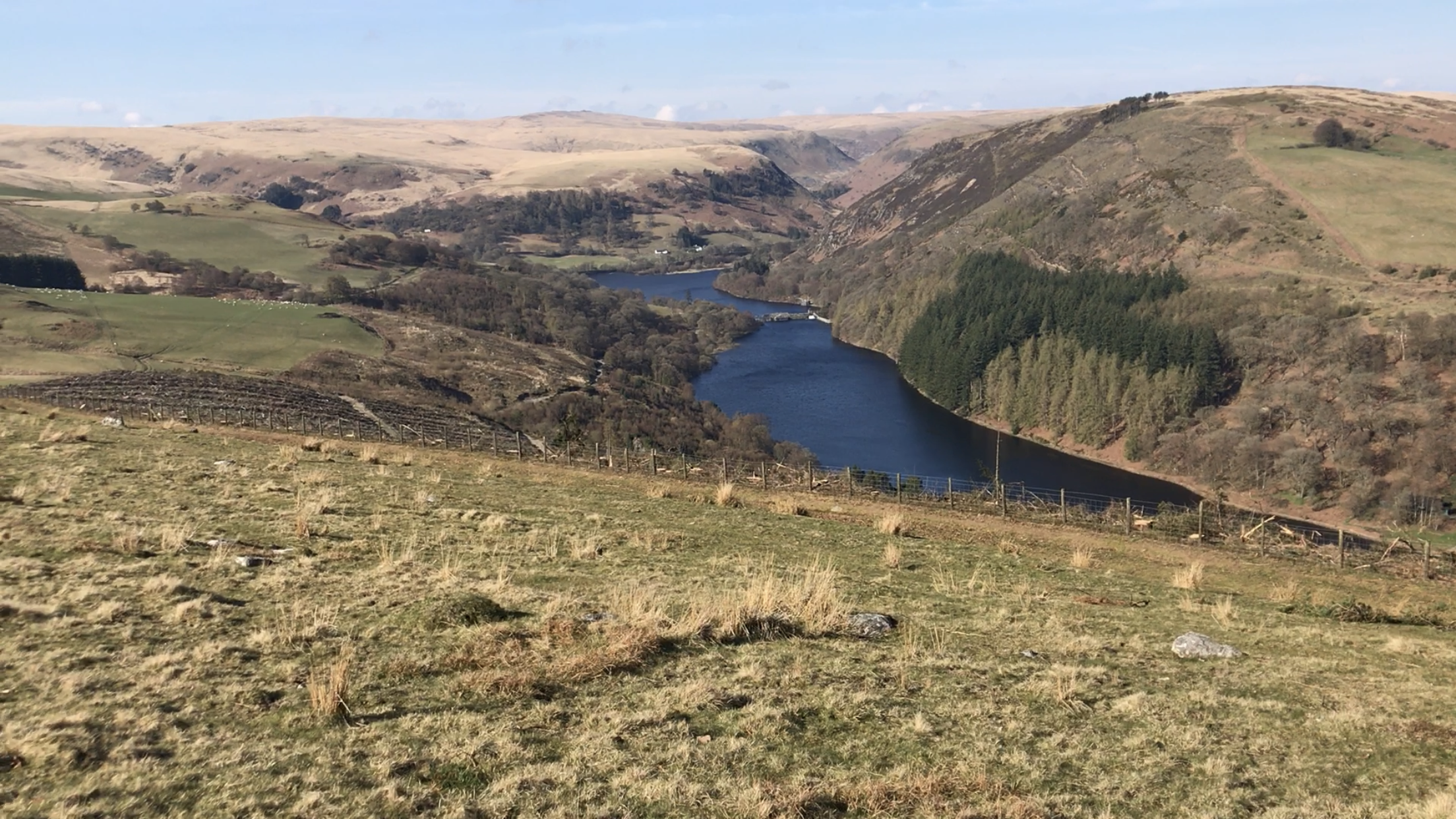 The leg from CP7 to the CP8 Trig Point on Drygarn Fawr (Big Dragon) was over 8 miles so I decided to have a mini-split half way.
The climb up from the reservoir started on a good jeep track and on the 2017 map the recommended route carried stayed on that track longer before turning right along the ridge to the top.
The 2019 recommended route basically cuts out the corner and takes a more direct line. We found the start of the path fine and made our way up but once we got to the top I decided I knew the way and headed off … 90 degrees to the way we should have gone!
I realised my mistake in the end and we joined back together to head to the top of the hill.  The tremendous views were well worth the climb.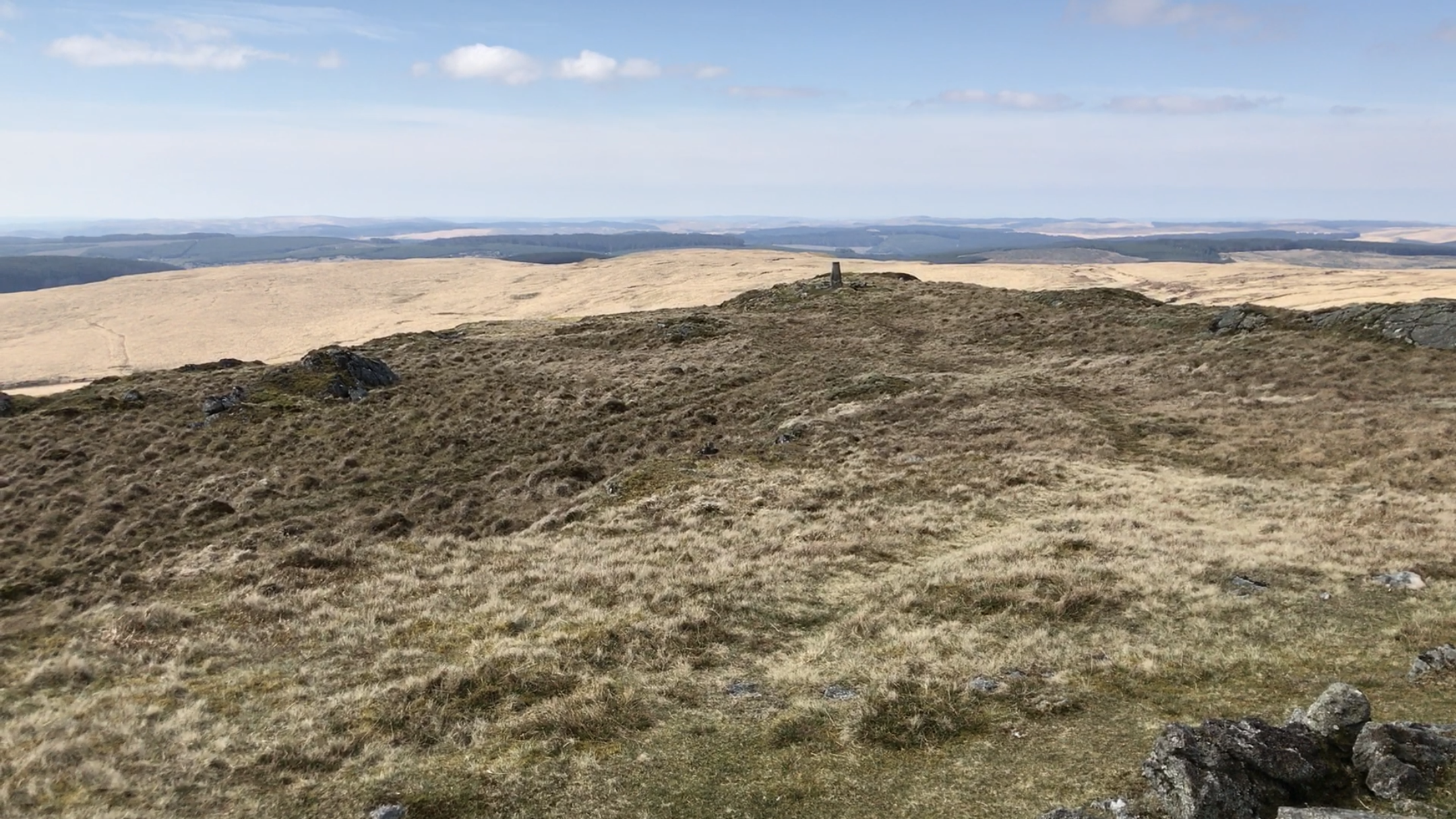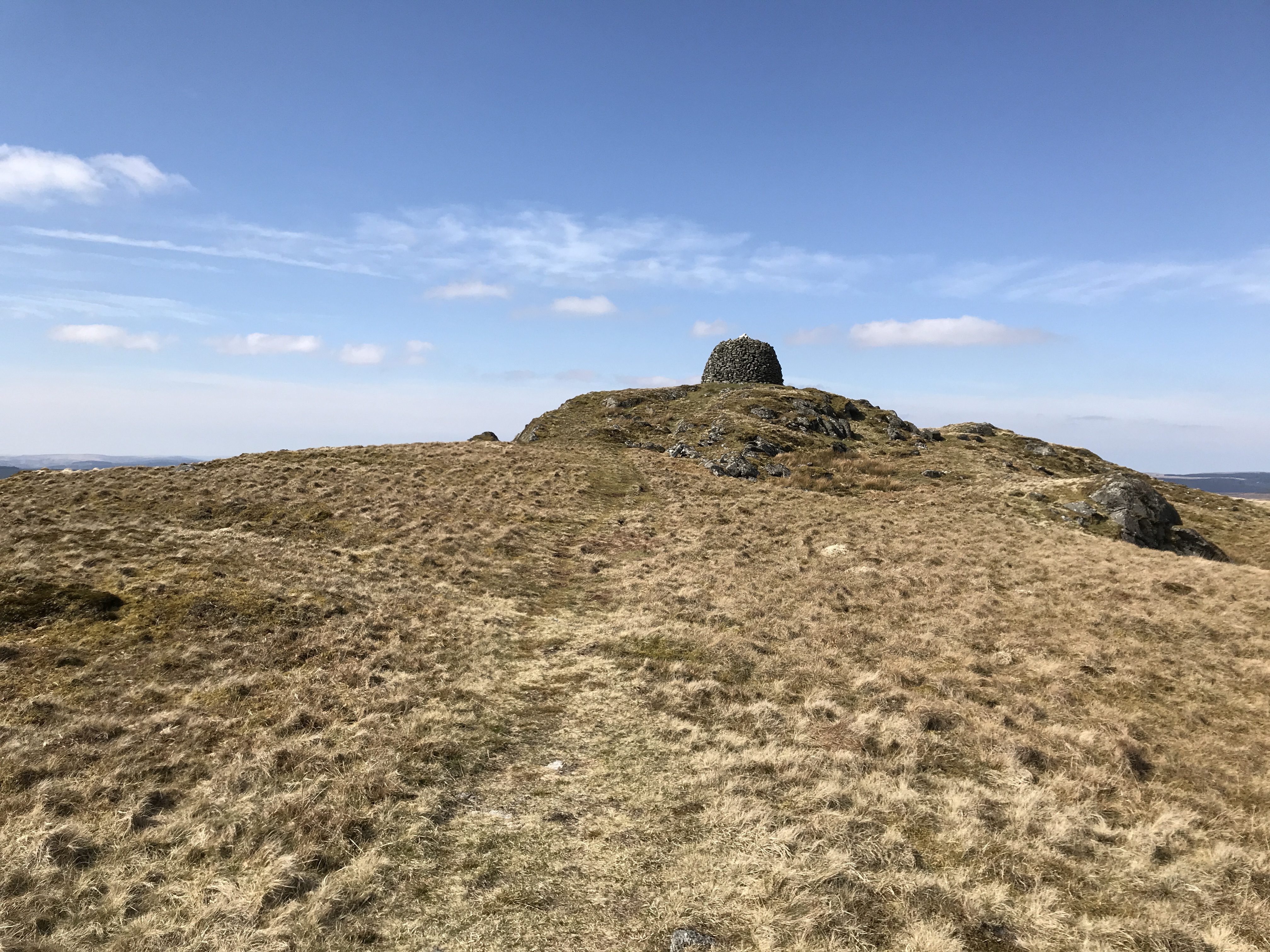 On the way down to the forest Mark & I were chatting and we took a path to the left so had to back track a bit to get on line and it took us a few attempts to find the correct path through the forest but we got there eventually! Always better to make these mistakes in a recce rather than the race!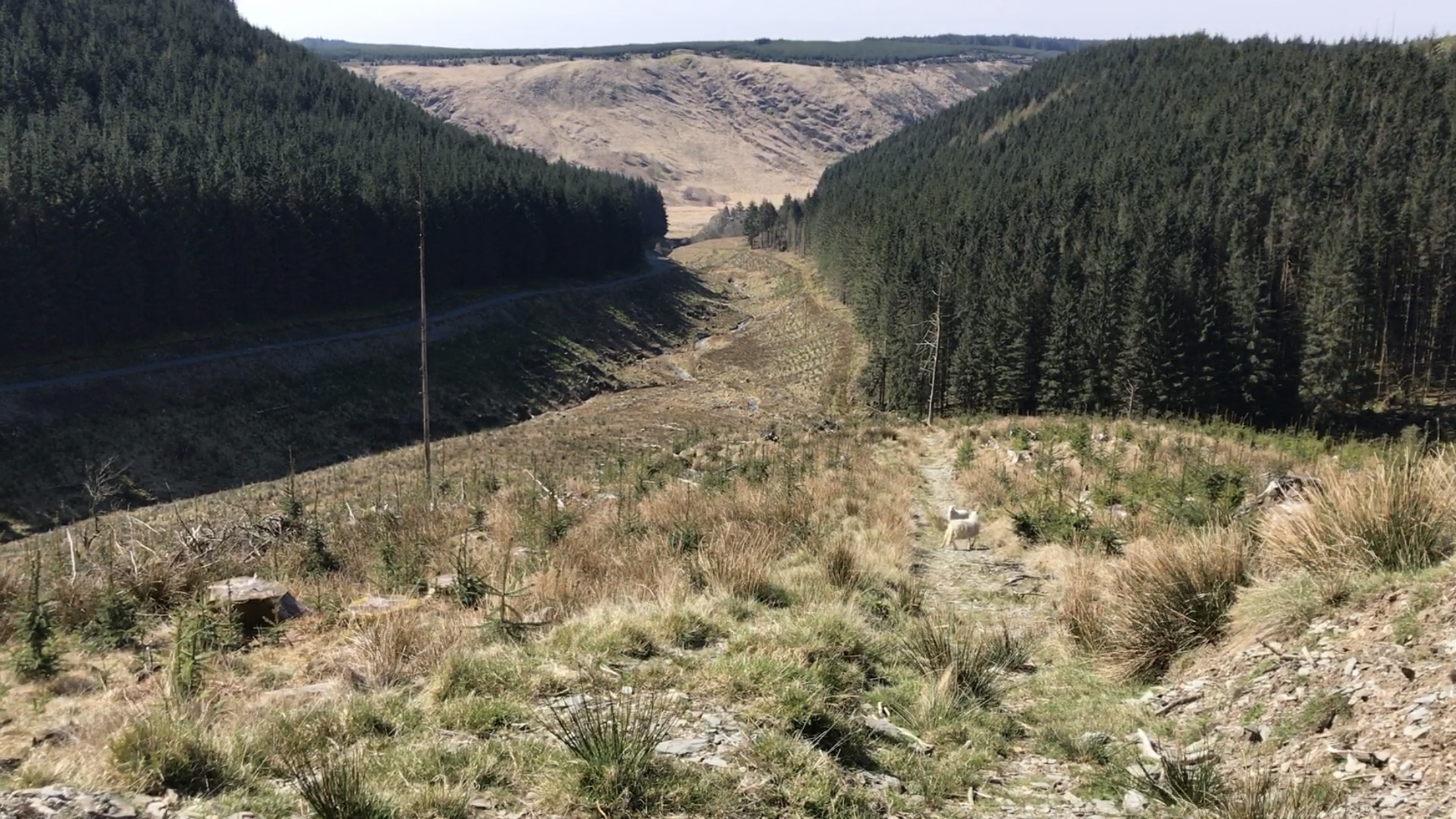 There is a lot of road in the final 10 miles but again that's good to know so I'm ready for it on race day. It was great to reach the campsite of Day 4 and know that I have now completed the whole route. All I need to do now is put it all together over 5 days!!
Katrina had another adventure with the sat nav which gave us time to have a drink before she found us.
So another superb weekend in Wales on the Dragon's Back course!
Summary of the week
Photo of the week