My plan for this week was to have a slightly easier week but with a bit more emphasis on speed.
Monday 15th April - Club Fartlek Session
8.18 miles in 1:08:13
Ascent - 449
The session this week was our regular hill session where we use the warm up to run to Craigends Hill and then run the 0.31 mile hill 10 times.
I had Sunday off after my two day recce on the Dragon's Back course so I was hoping my legs were recovered enough to give it a good go.
It was fairly windy which affected the first section but helped a bit on the final push to the top. I was keen to try and keep all 10 within a 5 second band.
I was happy with my effort and felt I kept going right to the last rep.
The quickest (#9) at 2:02 and the slowest (#5) at 2:08 so a 6 second band. I was very happy with that.
Wednesday 17th April - Lunchtime Run around Pollok Park
6.46 miles in 54:36
Ascent - 548ft
I was keen to push hard from the start. I was aiming to get under the hour but was really pleased when I looked at my watch at the end and realised I had run under 55mins.
The ground was a lot firmer with all the mud dried up which helped but it is an encouraging indication that my training is going well.
I love the way strava compares all my runs on this route. According to Strava I have done this route 25 times and todays run was my 2nd quickest. I have also done the route lots of times the other way round as well.
Thursday 18th April - Ben Lomond
7.66 miles in 2:15:07
Ascent - 3,264ft
This was only my second ascent of Ben Lomond mainly due to the snow on the Munro. I was on my own as Cammie, my normal training partner, had things on tonight so he ran yesterday. He said it took him 1:11 to ascent and 32mins to descend.
I ran/walked as hard as I could on the ascent. It took my 1:18 and then I ran all the way down but not too fast in 57 mins.  So quite a bit slower than Cammie!
I was encouraged though that my legs felt good on the descent. I think I just have to accept that I'm not very fast on the descents.
Saturday 20th April – Blaven
51 miles in 2:36:57
Ascent - 3,051ft
Katrina and I decided to have a few days away over Easter on the isle of Skye in our VW camper van. The weather forecast looked reasonable.
On Saturday morning we drove down to Torrin to the start of the climb to Blaven. Katrina's knee had been a little sore so she decided to walk for a mile or so with me and then head back to the van to read her book.
The Munro was shrouded in mist but I was hopeful it might clear by the time I made the top. It is a very clear path and so easy to follow. The top third is very scree like and rocky and so perfect training for the Dragon's Back.
I stopped to put on my jacket, buff and gloves as it was getting quite cold. I met a couple on their way down who said that it was misty and cloudy all the way to the top. The guy was wearing Hokas so we had a quick chat about how good they are!
About half a mile from the top I met a couple of guys who were on their way down. They said that the mist had gone from the top and you are above the clouds. So I was really looking forward to getting to the top.
They were right and it was such a great sight to be above the clouds with some the Cullins peaking above the clouds. The photos probably don't do it justice but give an idea of the views.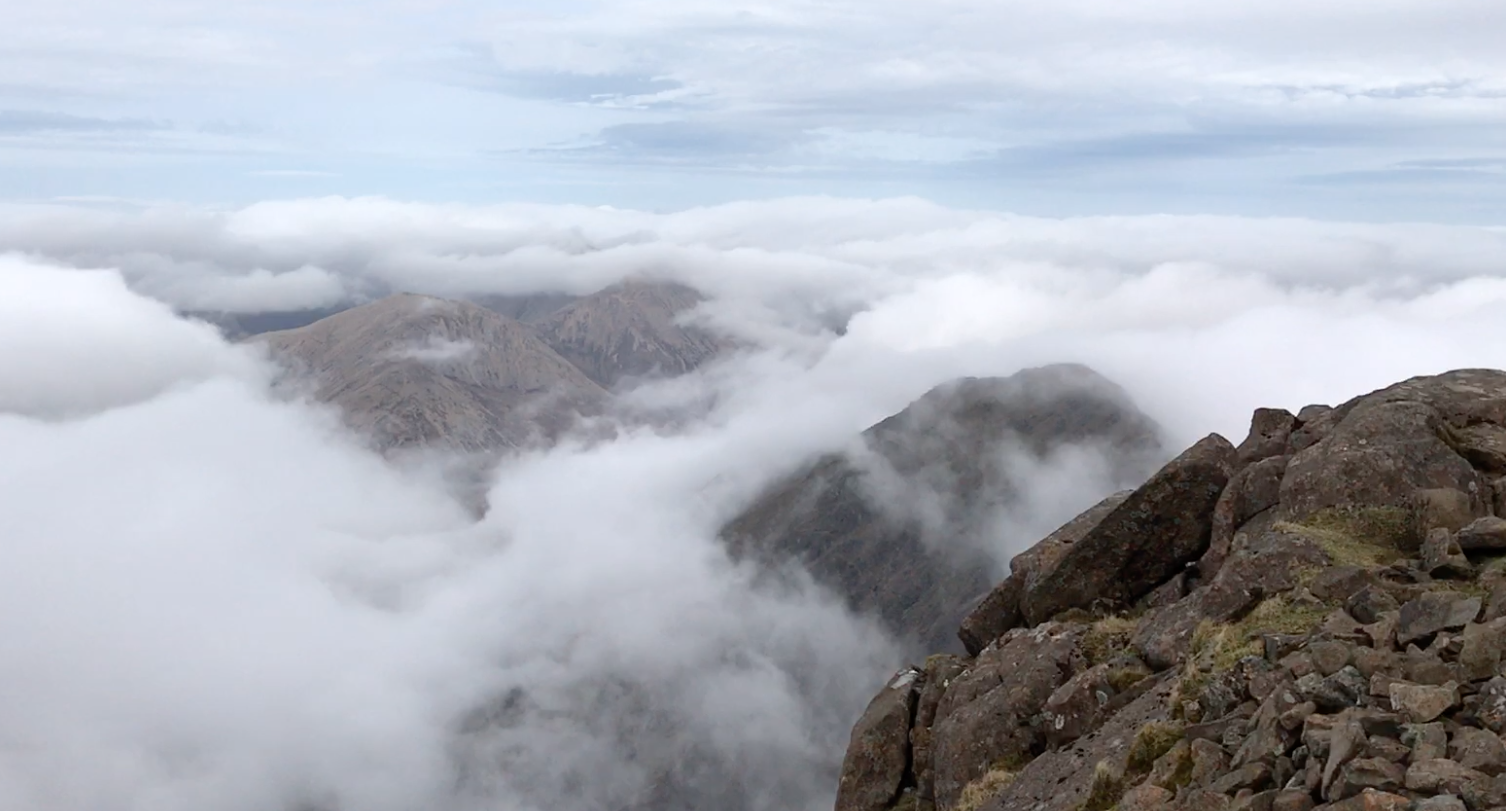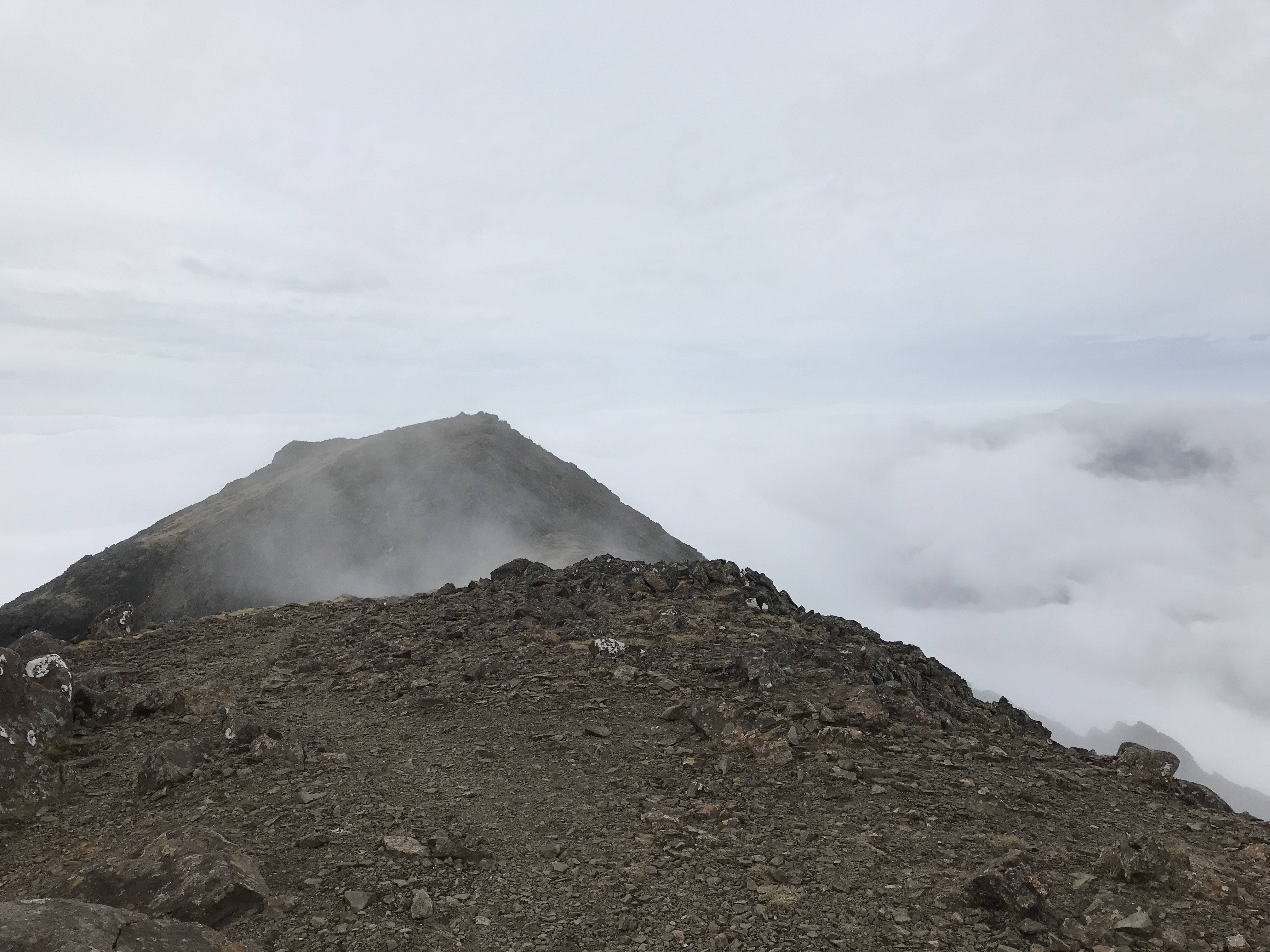 I aimed to run as much as I could on the way down. I've come to the conclusion that I'll never be very fast on the descents but I'm definitely feeling more comfortable which I'll take.
We had some sandwiches in our van at the car park and then drove round to the Fairy Pools and enjoyed a walk to the pools. The drive back to our campsite was excellent as well.
Sunday 21st April – Morning run
5.53 miles in 1:02:49
Ascent - 371ft
I got up early and was out running by 6.50am. There was a path from the campsite along the shore so I set off running along the water age hoping it would keep going for a few miles so I could run for 30mins and then turn round.
It was a decent path for almost a mile but then just stopped at a fence so I turned round and ran back then went up onto the road and ran to Edinbane and back.
It was pretty windy and rainy but good to get out and have a run before setting off to explore a bit more of Skye.
Summary of the week

Photo of the week