Week four of my training plan went okay …. I still feel I'm struggling with my running. I keep hoping that everything will click back into place and I'll feel as though I'm running strongly but it is still to happen!
Monday 9th September - Club Fartlek Session
This week was our hill reps. We run over to Craighill Road and each up hill is 0.30 mile. We run up as hard as we can and then run down as a recovery. We do this session quite regularly so it is good to compare were you are at.
The last time I did it in April each uphill took me between 2:02 and 2:08. Here are my stats for this run.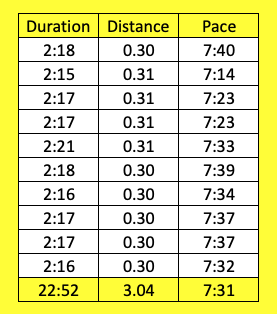 So I was about 15 secs slower per run which feels about right. I was pleased though that I was able to maintain the pace right through the session.
Wednesday 11th September - Lunchtime off-road run
6.47 miles
1:04:08
9:54 pace
I ran my normal lunchtime route around Pollok Park. It was very muddy and slippy underfoot and even though I was about the same pace as last week I did feel a little stronger.
Thursday 12th September - Hill run on Kilpatricks
8.80 miles
2:09:08
1,827 ft of ascent
14:40 pace
I have been driving over to Drymen after work and running Conic twice with an out and back but I needed to get home sooner so decided to drive to he car park at the bottom of the Kilpatricks and run from there.
So I started on the same route as Saturday's route but basically just did an out and back. It was good to bump into Marina who was out for a run.
I came back a slightly different route as I followed Marco's trace which was a better route as it avoided a lot of boggy ground.
I had to walk a fair bit of the uphills but overall I was happy with the run and the advantage of running here rather than Conic is I was home 25 mins after finishing rather than 50mins.
Friday 13th September - Road run after work
5.25 miles
46:26
8:50 pace
I don't normally run on a Friday but this weekend I'm doing my long run on Sunday so I thought I would have my easy run on Friday, rest on Saturday before my 25 miler on the Ochil route with good friends Neal Gibson and Richie Cunningham.
I spent the run listening to Test Match Special of the 5th Ashes Test hoping that England would finally get Steve Smith out. During the run we got Marsh out and then not long after Steve Smith fell to Woakes.
Sunday 15th September - Ochil Recce Run
25.27 miles
5:23:52
Ascent - 2611ft
12:49 pace
I've been looking forward to having a run on the Ochil course and it didn't disappoint. To make it even better I was joined by good friends Neal Gibson (who is also doing the 50) and Richie Cunningham (who is doing the 30).
We met at 8.45am and set off to run the final 25 miles of the course. Richie was stopping at Bridge of Earn as living in Perth he knows the final 10 miles well and didn't want to run more than 15 miles.
I really enjoyed the route and it was as I expected, lots of rolling hills on a mixture of paths.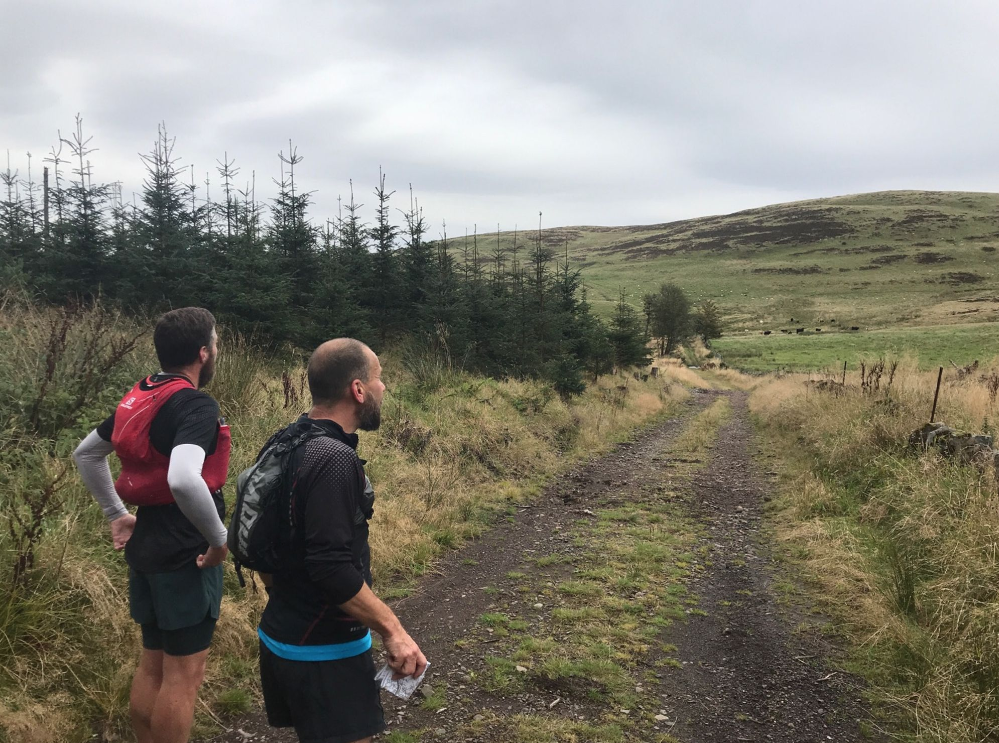 It was an encouraging run and with two weeks to go before the race I feel ready!
Summary of the week