Saturday 28th September 2019
This 50 mile race was my 50th ultra which felt a nice symmetry. My training had gone fairly well over the past 8 weeks since I ran the Devil o' the Highlands. The main concern I had was my chest was still sore when I started running.
It eased off a lot a few weeks ago but over the last week or two it was quite uncomfortable. It was in the back of my mind and did affect my preparation. I decided to start really easy and hopefully it would ease off which I'm glad to report it did.
Katrina & I travelled to Perth on Friday afternoon as we were both off work for the long weekend. We met up with our good friends Neal & Caroline and their 3yr old son Harrison. It was great to spend the weekend together. Neal was also running which meant our wives had company as we ran!
Neal & I were up at 4am to have some breakfast and then walk down to meet the bus at 5am at South Inch Park. We met Ben the race organiser and 8 other runners. We were surprised there were so few as 30 had booked to go on the bus.
Robbie Dunlop introduced himself and thanked me for the whwrace podcasts. He said he loves listening to them on his long runs. Robbie won the Cateran race this year and was aiming to be in the mix for this one. His main rival would be Rowan Boswell who won the whw race this year.
As we chatted we realised that there had been a mix up with the bus. It had picked up the other 20 runners at a different location and gone! Ben quickly sorted out two taxis to take the remaining 10 of us. Neal, Robbie and I were joined by Mike who was on holiday with his wife from USA. The race was a key reason why they were in Scotland.
We arrived at Stirling University at 6.30am and within a few minutes we had registered and were ready to go.
After the race briefing, where Ted explained that it would be very wet and muddy underfoot, we headed down to the start. There was a slow mist/cloud over the lake which felt very atmospheric.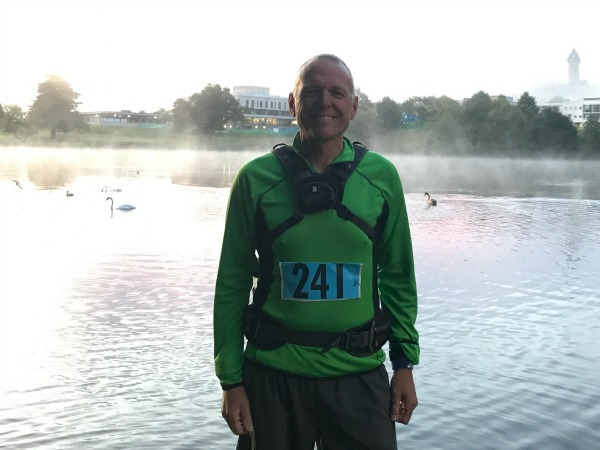 I had reccied the second 25 miles with Neal and Richie Cunningham (who was doing the 30 mile race) a couple of weeks ago and had set my gold target as 11hrs which was based on 5hrs 15mins for the second 25miles.  Double that and add 30mins. I had 11hrs 30mins for silver and sub 12hrs for bronze. The goal turned out to be very optimistic as the first half included two decent sized hills.
Leg 1: Stirling to Tillicoultry - 8.83miles 
Ben started the race at 7.09am. I started fairly near the back with Neal but as soon we hit the first small hill Neal was away and I didn't see him again until the finish.
I started very cautiously as my chest was uncomfortable. When I walked it seemed a lot better so I probably walked more than I would do normally but my plan was to walk the hills so I was happy with that.
As the climb progressed I felt more comfortable and by the time I reached the top I was a lot happier and confident I was going to be able to complete the race. The views were amazing as Stirling was covered with a low cloud.
SmugMug.com photos were out taking photos of the runners. Here is mine.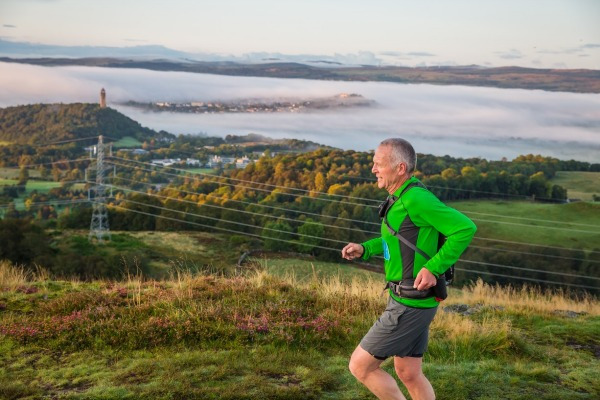 I had decided to do a video diary of my race so the photos in this report are screen shots from the video clips I took. Watch out for the video diary which I'll post in a few days.
I caught up with Matt Lemmon who was running in a kilt. We chatted together all the way to the first checkpoint. Matt had recently run the UTMB so it was interesting to hear all about how he got on. He was timed out at the final checkpoint as he had stopped to help a fellow runner. Matt carried on and finished under the cut-off and was eventually given his gilet and official time.
When we reached the top of Dumyat Matt went up to the cairn while I took a video of the sun coming through the clouds.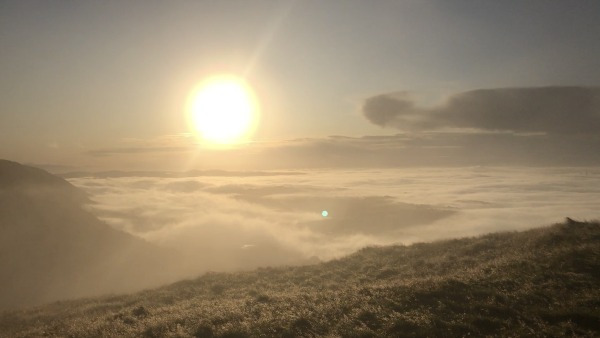 We descended carefully as it was quite slippy and then ran through Minstrie. I did another of my video updates with Matt joining in.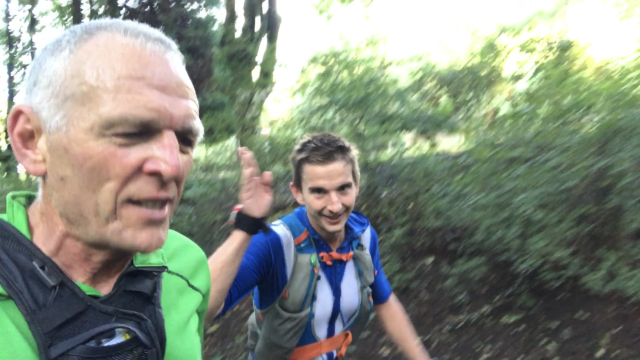 The time passed as we chatted. We caught a few runners but we were both happy with the pace. Matt said that he would be happy with sub 12hrs.
A few minutes after my video update we passed a waterfall in the woods which merited another video clip!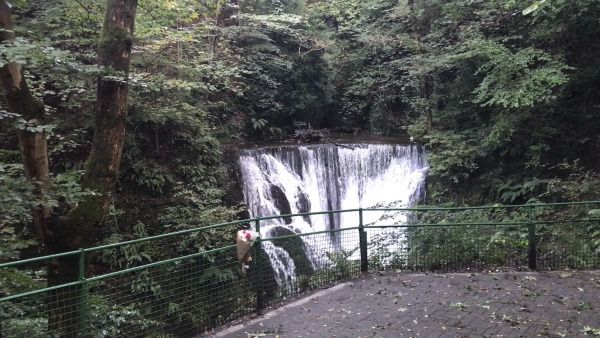 It was a lovely run through the woods and soon enough we reached the first checkpoint at Killicoultry. I had eaten some peanut butter and jam sandwich and drank my 500ml of Tailwind so I was ready to refill my Tailwind from my drop bag.
Leg 1: 8.83 miles in 1:52:46 (12:46 pace)
Leg 2: Tillicoultry to Glen Devon - 11.74 miles (overall 20.57miles)
Matt was tucking into a sandwich and his non alcoholic bear as I set off and that was the last I saw of him though for the rest of the run I kept expecting that he would catch up.
The next section includes the biggest climb up to almost 2,000ft. It was getting warmer now and so I settled into a steady climb. I started my counting to 50 which always helps me to keep focused on my rhythm rather than how far still to go.
I went past a few runners including Derek Chambers who I have met through Facebook. It would be Daniel's longest race to date and he was moving well.
After 10mins or so I was on my own and moving well. My chest was absolutely fine now and didn't bother me for the rest of the run.
As I neared the top one runner went past me. I don't know his name but he used poles and carried quite a big pack. I kept him in range and he helped maintain a decent pace to the top.
The top was a little deceptive as it took longer to arrive but I used my Dragon's Back training to good effect in that I try to avoid expecting the top is what I can see and just keep going until I arrive!
Once I reached the top there was still plenty of climbs as well as descents down to the reservoir. I caught up with the poles and big pack guy as we headed down.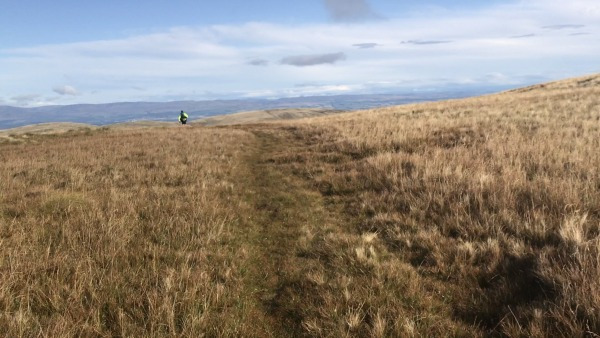 Descending is never the strongest part of my running and sure enough most of the runners I had gone past on the way up now went past me as we made our way down including Daniel.
Once we reached the bottom and ran along the reservoir I was at the back of a group of 5-6 runners. I was still walking all the ascents while most of the others would run some if not all.
I would then catch up on the descent and flat and then lose them again on the ascent! I was happy with my strategy but I did eventually get left behind and looking at the results Derek and the others finished about 25 mins ahead of me so they were obviously stronger runners on the day.
We crossed the third reservoir before heading up into the woods on the way to the 2nd checkpoint at Glen Devon.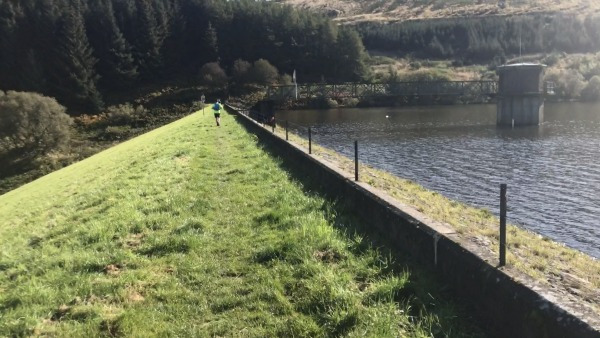 As I climbed up I caught up with the guy in yellow in the above photo. Again I didn't get his name but he is a PE teacher in Edinburgh and worked in Hong Kong for a few years in an International School. It was really interesting chatting to him as we made our way to checkpoint 2.
The marshals were super helpful at the checkpoint and very quickly they had refilled my Tailwind and given me my drop bag. I looked across and was sad to see Mike (from USA) sitting on the ground, shoe off and being treated by a medic. It seems he had badly twisted his ankle and was out of the race which was a real shame.
Leg 2: 11.74miles in 2:55:32 (14:57 pace)
Overall: 20.57miles in 4:49:57 (14:07 pace)
Leg 3: Glen Devon to Middle Rig - 9.02miles (overall 29.59miles)
I stopped for 3:14 and then set off on my own. I could see a line of runners ahead including Derek and soon enough I caught up with some of them but lost them again on the descent!
It was a good path for a while though still very wet in places so you had to watch out and find the driest routes. I wasn't too bothered in the end as my drymax socks were working well and my feet were okay.
I was looking forward to reaching the car park where we had started our recce run two weeks ago as it meant I was half way and also I knew the route from there on. I was very impressed with the route marking so far. All the main junctions were clearly marked and there were lots of marker flags in between to let you know you were on the right path.
I lost sight of the runners ahead and even though I don't like to look behind I couldn't hear anyone so I was basically on my own for the rest of the race.
I would say the next hour or two was a bit of a battle. I knew my gold and silver goals had gone but I felt that my sub 12hr goal would be possible but I thought I'd need to arrive at the half way car park in 6hrs.
I arrived at 6hrs 14mins which gave me 5hrs 46mins to run the second 25miles. It took Neal & I 5hrs 15mins on our recce run starting fresh so I wasn't sure if that was realistic but I decided to keep going and see how close I could get!
Psychologically passing half way and being on familiar ground really helped and from then on I felt stronger and more optimistic for the rest of the run. I continued to drink my Tailwind and eat the odd energy bar and sweets and felt I kept up my energy levels.
I was still walking the ascents as strongly as I could and running everything else. I was really enjoying my day and happy with life!
On the way to the next checkpoint at Middle Rig there were some really good paths and there was some very muddy and wet sections! Talking to others later some found the course brutal but having done the Dragon's Back in May my perspective was different and while yes it was wet and muddy in places I didn't find it too bad.
As I got closer to the checkpoint I was slowly catching a runner I had seen a few times. He was wearing a black & white top with a Triathlon logo on. I didn't quite catch him but we were in the checkpoint together.
One of the checkpoint marshals was taking photos of the runners we arrived so thanks to Caroline Ness for this photo …
Alexa Jury was one of the marshals at CP3. I have marshalled with Alexa at the Highland Fling so it was great to see her. Alexa said Neal had tried to hide my drop bag which sounded typical Neal! She said he was complaining about his sore heals which is also typical Neal!
I stopped for a few minutes to get my battery recharger out for my watch and eat my favourite Greek style youghat.  PE teacher guy came in just after me and left before me and I didn't see him again.
Leg 3: 9.02 miles in 2:17:28 (15:14 pace)
Overall: 29.59miles in 7:10:39 (14:31 pace)
Leg 4: Middle Rig to Kilgraston School - 10.20miles (overall 39.79miles)
I set off down the road and I could see Triathlon guy not too far ahead so I wondered whether I would catch him. The route does a large u shape and you end up looking down towards CP3
On our recce run we made a bit of a mess on the next section so it was good to know where I was going with confidence. I caught the Triathlon guy who said he was feeling a bit sick. I hope he was okay and finished strongly.
I was moving well now and having the confidence of knowing the route made this section easier. The only bit I was unsure about was crossing a fence where it was very very muddy. I went to the right and over the gate but looking back I think the recommended route was on the other side.
There is a short section on the road before heading up again into the trees. I was doing a lot of counting to keep a steady pace on the climbs and running fairly well on the descents.
I was thinking about my overall time and reckoned that sub 12hrs was still possible which kept my motivation high. I think it would have been easy to relax and just finish without that goal.
For each of the roughly 10mile legs I had divided them into 5mile mini-legs as I find these distances easier to handle if I break them down to manageable chunks. My mini-split for this leg was Heatheryleys Farm.
From there I knew I had another 5miles or so to the final checkpoint and then 10miles to the finish. I had 3hrs 30mins to cover the final 15miles to finish under 12hrs. That worked out as 14min miles. I felt that was doable as long as I didn't hang about!
I remembered from the recce that once on the path past the windfarm there was some ascent but lots of descent on good path to Bridge of Earn. I also remembered there were lots of cows on the path but thankfully they were all happily hunching on the grass away from the path.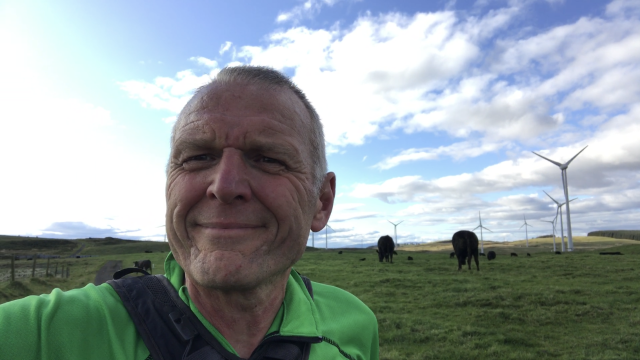 There is a left hand turn where I took the above photo. I thought I would need to be there before 9hrs so I could get to CP4 by 9hrs 30mins which would give me 2hrs 30mins to cover the final 10miles.
I was there almost bank on 9hrs but according to my watch I still had 3miles to go to the CP but I decided however long I was over 9:30 I would add that on to 12hrs and aim for that. I decided I needed some mini-goals to keep me motivated to push hard to the end!
Within that final 3 miles to the CP there is a very wet and muddy bit to go through. I climbed the metal stile and then tried to jump over the stream but ended up landing knee deep in the water!
I made it out and across the fields and paths before finally reaching the road that leads to the final CP. I could see the marshals and then heard Katrina shouting my name. It was a real bonus to see Katrina who had come out with Caroline to cheer Neal and I past.
Katrina helped refill my Tailwind and with cheerful encouragement sent me on my way. I had reached the CP in 9:39:04 so I said to Katrina I was aiming for 12:10 to finish. I thought that was realistic whereas I felt sub 12hrs might be a bit beyond me.
Leg 4: 10.20miles in 2:24:35 (14:10 pace)
Overall: 39.79miles in 9:39:04 (14:33 pace)
 Leg 5: Kilgraston School to Perth - 10.31miles (overall 50.10miles)
Caroline's car was parked round the corner so Katrina walked with me for a couple of hundred yards. It was good to hear she had had a good day with Caroline & Harrison. They were now heading to the finish to see us complete the race.
Katrina also said that Neal was about 20mins ahead which really surprised me. I assumed he would be well over an hour ahead. I knew I wouldn't catch him but it was good to know he they wouldn't have to wait around too long after he finished!
As I ran through Bridge of Earn I mentally went through the rest of the route. I broke it down into quite a few mini-sections and was quietly confident I felt strong enough to run as much as possible. Maybe sub 12hrs was on but I wouldn't think too far ahead.
Over the past few years I have decided that I like to finish strongly and to do that I've realised I need to set off very comfortably. I felt I had done that in this race and I had got through my sticky patch in the middle and was now able to finish well.
Once I was through the village and over the bridge I set my self the challenge of running for 50 breaths then walk for 20 until I turned left and headed up the road to the forest and the final climb up Moncreiffe Hill.
I took one of my walking breaks to check the Football scores. Everton weren't playing until 5.30pm but it distracted me for a few minutes to keep the other scores!
Once I reached the forest path I knew I had a longish climb, followed by some ups and downs before the final climb to the highest point.
Half way along the long gradual climb I decided to check the tracker app to see just where Neal was. He seemed to be heading down so I reckoned about 30mins ahead. I also saw that one runner wasn't too far ahead of me and another wasn't too far behind!
I was really pleased that I was still able to run well over the last hour and the further I went the more confident I was that I could make it under 12hrs. My last mini-split was 4 miles from the finish so I didn't look at my watch untilI reached that point.
I got there with about 45mins to go. The route was pretty well all downhill and flat so I thought 11min miles would be possible. It was a good smooth all the way down to the car park and I was able to run all the way down.
Just as I reached one of the gates a runner caught me. I congratulated him and I said we should make it under 12hrs. He replied, 'I know, that's what I'm aiming for!' He was moving very well so I was confident he would make it.
As I came to the car park I saw my friend Richie Cunningham. Richie had run the 30 mile race finishing 5th. He had driven out to cheer me on. It was such a boost to see him. I explained I couldn't stop as I had a chance of sub 12hrs. He wished all the best as I pushed on down the road. Thanks for coming out Richie and congratulations on your race.
You may think in reading this report that I was a little obsessed with my time and you may well be right but I wasn't thinking about it the whole time! I was really enjoying the route and challenging myself to run the best I could on the day.
As I ran down the road to Perth Richie drove by with another encouragement to finish strong. Once again I was glad I had done the recce with Neal as I knew what was coming. I ran all the way down and along the road through the industrial estate. I gave myself a few short walking breaks as I wanted to be able to run the final section in the park.
Soon enough the turn left into South Inch park arrived and I was on the very last home straight. I crossed the road and then ran all the way to the finish. I ran past a runner who had already finished and was on her way out of the park.
Katrina and Neal were waiting for me on the path and it was good to high them on the way to the finish.
I felt I was sprinting but in reality it was probably 10min mile pace! I was pleased though that I had ran the final 10.31miles in 2:14:00 at an average pace of 13:00.
I finished 44th out of 59 finishers in 11:54:34 so I was comfortably inside my sub 12hr bronze goal.  I was very happy with my run. It was good to see Neal and find out he finished 36th in 11:20:03.
Leg 5: 10.31miles in 2:14:00 (13:00 pace)
Overall: 50.10miles in 11:54:34 (14:16 pace)
Finally a big thank to Ben and all those involved in organising the event and marshalling the course. I would definitely recommend it.