2019 was definitely a year of two 'halves'. The first half of the year to the end of May was dominated by training for and running the Dragon's Back Race through Wales.
The second half of the year was disrupted by an ongoing discomfort in my chest. I was able to keep running but it did take some of the enjoyment away. Thankfully things seem to be so much better now and I feel I have finished the year fit and healthy and looking forward to the challenges of 2020.
This review will be mainly about the six ultras I completed this year plus a summary of some other highlights.
# 1 Saturday 16th March – Hardmoors 55
After the 2018 race that I ran with Katrina battling the Beast from the East I hoped that this year would be kinder weather wise. How wrong I was! This year we had 40 mile an hour wind and rain in our faces for the majority of the race.
It was really hard going but it was one of those runs that I was pleased that I was able to complete even though it was the slowest of the 6 Hardmoors 55 races that I have done so far.
It did give me an indication of where my fitness was and how I was feeling. I turned 60 a few days later so this was my last race in my 50's!!
#2 Saturday 4th – Monday 6th May – Great Lakeland 3 Day Event
I entered this event fairly late but I was so glad that I did. It is organised by the same company, Ourea, as the Dragon's Back race and lots of the same people were running or involved in the organising and marshalling. Katrina joined the event team for the weekend and really enjoyed her involvement too.
I had wanted to do a final big weekend two weeks before the Dragon's Back as a final training weekend and to try out my kit and plans so this weekend was perfect.
I opted for the Expert Class (there are also Café and Wainwright options). My aim for the three days was to run within myself and finish each day feeling I could do more which I would have to do on the Dragon's Back course.
I set out with a plan to stay on an even keel each day with no lows or highs. I was able to achieve that which gave me great confidence going into the main event.
The Great Lakeland 3 Day event is superb for many reasons but two stand out to me. Firstly I really enjoyed the relaxed atmosphere of the event. You could push as hard as you like or take it steady. Each day you can choose your start time so it doesn't seem there is the same sense of competition.
Secondly you can choose your own route between the checkpoints which made for a lot of variety and decision making. I had decided to plan my own route and trust my decisions. I think I got some right and some wrong but it was all good preparation.
I enjoyed the event so much that I have signed up for 2020. Each year they move the location of the overnight camps so it is not the same route each year.
#3 Monday 20th to Friday 25th May – Dragon's Back Race
This was my main target for 2019. In fact it had been my target for the last 3 or 4 years. The event has been held every 2 years (though from 2021 it will be every year in September).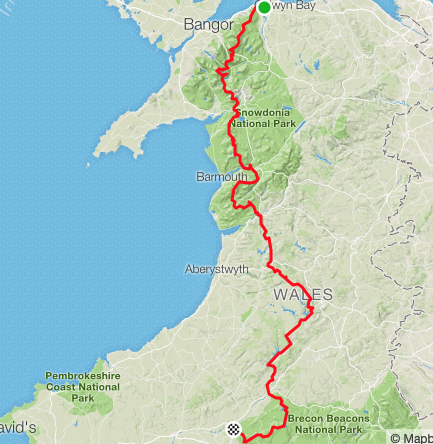 When I worked out that 2019 would be the year I turned 60 I really wanted to do an event that would really challenge me and it did!
The whole experience of the Dragon's Back race was everything that I hoped it would be and far more. It was a very special week and I was so pleased to be one of the 251 who completed all five days out of the 402 who started.
I really enjoy the challenge of the multi-day events as there is so much more to plan and prepare for. Running day after day for 5 days is hard on the body and how you use your time in the camp is vital to whether you are able to get going the next day.
I feel I prepared well having reccied the whole course over 5 weekends with my good friend Andy Cole, trained hard on the mountains in Scotland with another good friend Cammie Kennedy and tried to get my body and mind ready for the challenge of the week.
The week went as well as I could have hoped for and I was very emotional at the end having achieved my goal of completing this epic race. I could talk about this race for ever and if you want to listen to an interview I did for the whwrace podcasts that I host then here is the link.
#4 Saturday 3rd August - Devil o' the Highlands
As I mentioned early since the Dragon's Back Race I had been having some discomfort in my chest. I had been to see the doctor who thankfully ruled out heart problems but it did mean I was struggling to run as hard as I wanted.
I decided to be really sensible in this race and start really easily and see how it went. The first couple of hours I did feel my chest but then it eased off and I was able to run strongly to the end.
It was a very hot day which also affected how hard runners could push. I was pleased to finish the race and even though it was a lot slower than previous times I was happy to get to the end and enjoy it!
#5 Saturday 28th September – Ochil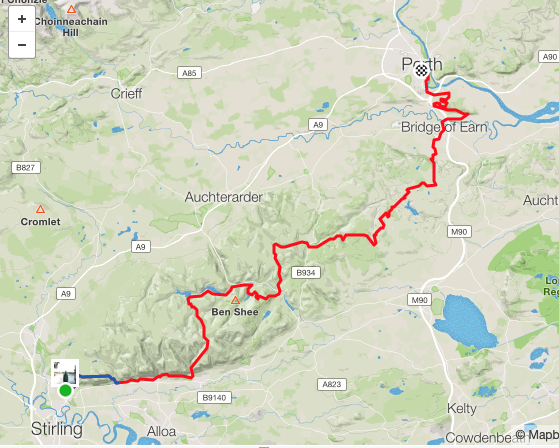 In the 8 weeks since the Devil of the Highlands Race I had been able to have a solid block of training and while I could still feel some discomfort it was a lot better. I reccied the final 25 miles of the course two weeks before the race with good friends Neal Gibson and Richie Cunningham which helped me in my preparation.
Neal had done the race before so I it was good to spend the weekend with him and start the race together. Again I set off sensibly as I could feel my chest. Once again it eased off after an hour or so and I really enjoyed the route and the event.
I was very happy to finish under 12hrs and I felt I had run as well as I could on the day. It is a great route and a well organised race so I would recommend it. I gather for 2020 they are running it the opposite way Perth to Stirling.
#6 Saturday 21st December – Tour de Helvellyn
I had planned to run the Jedburgh 3 Peaks four weeks after the Ochil ultra but the soreness in my chest was feeling worse so I took the wise decision to not start Jedburgh, go back to the doctor and take time to sort out what was wrong.
It was the best decision as it is so much better now. The doctor put me on anti-inflammatory tablets for a week as he felt it was the muscles around my rib cage. After that week things have steadily improved.
For a couple of months, I just ran 3 times a week for around 5 miles each run. I did one longer run of 19 miles two weeks before Helvellyn.
I went into the race feeling I wasn't in my best shape but good enough to get round and enjoy it which is what I did.
The weather was fairly kind to us and even though it was very boggy underfoot I really enjoyed my day out and was happy with my run. It was a good way to finish the year ultra wise.
Other Races
Over the year I ran 12 parkruns with a best time of 21:02 in May. I also ran a couple of our Kilbarchan Christmas races in December. Both the 4.2 mile Christmas Handicap and the 10.55 mile Donald Crawford Hogmanay Handicap were slower than previous years I was happy that I was able to run them as best I could with no discomfort in my chest.
Volunteering  
Over the year I volunteered at the Highland Fling in April and at the West Highland Way Race in June. If I'm not running these races I love to be involved. I continue to be on the whw race committee looking after the race website and hosting the race podcasts. I'm up to 158 episodes since I started in 2012.
I also volunteered for the Glencoe Skyline Races in September. I really enjoyed being involved with this excellent weekend.
Summary
I would say 2019 has been a good year running wise with completing the Dragon's Back as the stand out highlight.
It has also been a bit frustrating with my chest issues but hopefully that it behind me now so I can look forward to more challenges in 2020. I have entered four races for 202 already with plans for a couple more so I'll be posting them soon if anyone is interested!!
Thanks for reading and I would like to wish you all a Happy New Year.