Saturday 16th March 2019
Introduction
This was my 46th ultra since I joined this crazy sport in 2007 and the 6th time I have run the Hardmoors 55. It will definitely be in my top 5 for tough challenging conditions! In fact 3 of the top 5 have been at the Hardmoors 55 including last year's run when Katrina and I were stopped at Kildale (after 42 miles) due to the 'Beast from the East'.
The forecast for Saturday was for heavy rain and very strong winds and they didn't get it wrong! The fact that it was a headwind made it even tougher but these are the sort of challenges that I, in a strange way, enjoy.
Katrina was hoping to run again this year but her knee has been sore only the past few months so she made the sensible decision to withdraw. Katrina offered her services to Jon & Shirley Steele who organise all the Hardmoors races.
We left after lunch and had a straight forward journey down to Guisborough in our new camper van. We were actually quite excited to sleep in it for the first time and it was superb!
We arrived about 5.30pm at the Sea Scout Hut, parked up and went for some food where we met other runners. The weather was a main topic of conversation. At 7.15pm we went back to the Hut to register.
As I was getting my tracker attached to my bag James Thurlow asked me whether I wouldn't mind carrying an extra tracker as he wanted to trial a smaller more compact one. James said he didn't someone who he knew would finish! So I took that as a compliment.
Initially Katrina thought she might be needed to help but they had plenty of people so we went back to the pub with Andy Cole and had some pudding!
In previous years Jon & Shirley had organised a bus from the finish to the start which meant a very early start but this year the buses were organised to take runners from the finish to the start.
We were up before 6am as Katrina was going to help with the registration so I had time to get some breakfast and relax before the start at 8am
As predicted it was raining and continued to rain for the first 6-7 hours! I felt wearing the right gear was going to be key today. I prefer to run with as little as I can but be comfortable so here is what I wore for this race.
Shoes – Altra Lone Peak – they are so comfy but I did sacrifice grip especially as this pair are coming to the end of their life so there wasn't much grip which became an issue over the final 10 miles as the track was very muddy!
Socks – Drymax – they were superb and I had no issues at all with my feet even though they were wet for the whole race. No blisters which is encouraging with the Dragon's Back coming up.
Shorts – Skins and long shorts. The vast majority of runners were wearing long tights and waterproofs but my legs don't tend to get too cold and I just prefer shorts. It worked fine and I didn't get too cold.
Top – I wore a Helly Hansen base layer and my favourite green long sleeved top
Jackets – I wore two jackets. A lightweight Berghaus top and my thicker OMM Kamleika Jacket. This worked well for me and I never felt too cold.
Buff – I wore two buffs. One around my neck which was a thicker one with material and a normal one as a bandana covering my ears.
Gloves – I wore two pairs. My new Decathlon gloves which are fingerless with a mat that goes over the fingers and a pair of Waterproof Overmits. This worked really well and my hands stayed dry and warm for most of the time. My hands did get wet when I took off the mits to get food etc but I never felt too cold.
Rucksack – I used my Inov-8 rucksack and Nathan Waist pack. In the rucksack in dry bags I had all the compulsory kit and food.
I had splits for a sub 11hr finish and I hoped that if everything went well then I might be able to get nearer 10hrs 30mins.  The big question was just how much the wind and rain would be a hindrance and how much time it would add on. The answer was a lot, for me at least, but I suspect for everyone!!
I reckon there were 440 who started the race which I assume is the most they have had for a Hardmoors 55 race. The start was delayed for 15mins with all the cut-off times adjusted accordingly.
I saw Katrina before the start. She had had a busy registration and was going to accompany Jenny for the day helping set up the checkpoints at Kildale, Osmotherley and the finish at Helmsley. Hopefully I might see her at Kildale.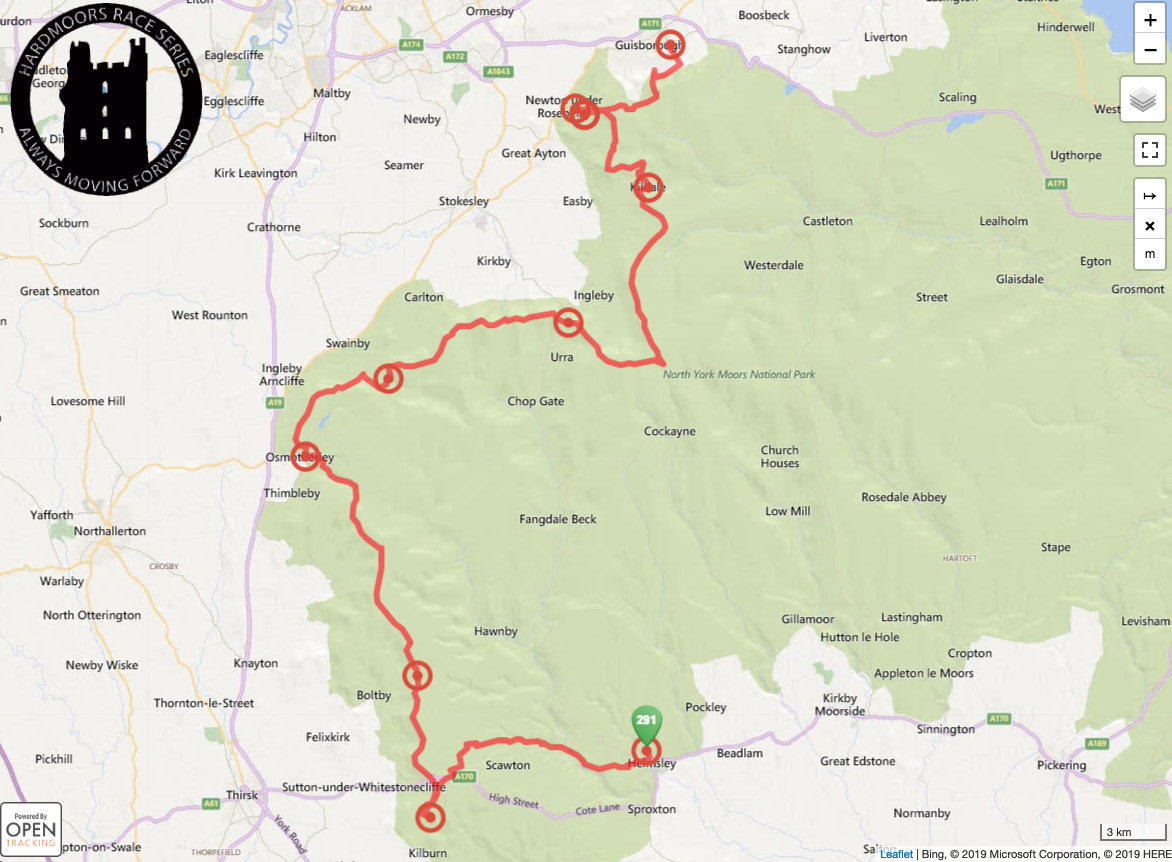 Leg 1: Guisborough to Roseberry Topping – 4.81 miles
I set off half way down the field as we made our way up the hill. Once we reached the stile there was a little wait to get through and on to the path towards Highcliff Nab. I was chatting to a guy who had watched some of my videos.
I was really encouraged by the amount of runners I saw throughout the day who said that they have watched my various videos. I had hoped to do a video diary for this race but decided straight away that it was going to be too wet and windy so my iPhone stayed in my bag for the whole day. So sorry no video diary of this race!!
After a mile or so there is a steep climb. It is often muddy but today it was as bad as I've seen it. It was my first indication that I was going to struggle in the mud. I had to try and find some grip to the side of the path but I didn't seem to lost too many places.
As we climbed up I caught up with Martin & Lydia Dietrich. We have stayed with them in the past and have run a number of Hardmoors races together. We chatted for a while before Martin said he was waiting for Lydia as they were running together. Martin said Lydia's knee was sore and I see from the results that she had to drop out. Martin continued on and finished in 14hrs exactly.
As soon as we got out of the woods, into the open moorland and climbing towards Roseberry Topping the full force of the wind hit us and we all realised we were in for a tough day!
I didn't feel too cold so hoped that if it didn't get much worse this would be fine. I was wondering when I would see the leading runners coming back the other way. This year the route changed to take us over Roseberry Topping twice.
The cheerful marshals showed us the way through the gate and I headed down before the first climb up Roseberry Topping. Just as I started the climb the leading runners came past and for the next 30mins there was a steady flow of runners coming the other way. On the climb I ate my fruit bread with jam and peanut butter.
On the way up it seemed to work okay with everyone keeping to the left to give room for runners coming down. It was very, very windy and wet at the top and I was very impressed with the marshals who were directing runners and cheering us on.
81 miles in 1:11:36 (overall place 146th out of 440 starters)
Leg 2: Roseberry Topping to Kildale – 5.39 miles (overall 10.10 miles)
There was a long line of runners making their way down to the road as another line were making their way up but it all seemed to work okay as there was room to overtake or let runners pass the other way.
I tried to greet each runner as they headed back up. It didn't seem to take too long (9:23) to reach the checkpoint and then head back up to the top. I was feeling strong on the climb and passed a few people. All the Munros and ascent I have been doing seems to be paying off!
I saw Andy Cole making his way down with his hood up and battling the elements. Andy has a great attitude towards these events and knows that as long as he looks after himself and keeps moving he will get there which he did in this race in 15hr 42mins
It was good to reach the top again and then head down the other side. I took a line slightly to the right which was easier in that it was grass and meant I didn't have to pass runners making their way up.
I saw the sweepers as I made the final climb to the gate. The field was spreading out a bit now so I settled into a steady run towards the car park and climb to Cook's Monument.
I caught up with a few runners over the next mile or so. Eventually I caught up with my friend Malcolm Green. We have run together a few times at this event and also the West Highland Way. We are both a similar age and both come from Liverpool. In fact we went to Secondary Schools that were opposite each other.
We made our way up Cooks Monument chatting about what we have been up to over the past couple of years. These races are great for catching up with friends!
As we made our way of Cooks Monument I tripped and cut my knee. It was a bit sore for the next few minutes but eased off and didn't cause any problems. It did remind me though how easy it is to trip and potentially halt your race. Thinking about the Dragon's Back it is one of the things that does concern me but I can't really do much about it besides trying to be as careful as possible.
I could see Malcolm ahead but was happy to be moving okay. I caught up with a couple of runners as we made our way to Kildale. The excellent photographer's from SportSunday were taking photos. I always like to buy a copy of my photo as they brave all weathers to take some great photos. This one shows just how wet I was!!
I arrived at Kildale in 2:22 which was only 13mins slower than my sub 11hr plan so I was quite happy with that. I saw Jon on the way in. He said Katrina was inside but it seems I just missed her as they had to leave to open up Osmotherley.
The team at the checkpoint was so efficient and super helpful. In 4mins I had my drop bag, water bottle refilled, food eaten and out the door.  It was good to see Matt Whiting briefly. Matt and I had run together for a while in last year's Northern Traverse in very different conditions – blue skies and no wind.
39 miles in 1:11:12 (leg split 91th fastest)
Overall 10.10 miles in 2:22:48 (overall place 116th)
Leg 3: Kildale to Clay Bank – 9.24 miles (overall 19.34 miles)
I left the checkpoint on my own and started the climb up to the open moorland towards Bloworth Crossing. I thought back to 2016 when I did the Hardmoors 160. When I reached this point after 118 miles I was ready to quit but my amazing support team of Katrina, Andy & Sarah were having none of it and keep me going all the way to Helmsley.
I caught one or two runners on the way up as I was feeling strong on the climbs. As soon as we gained some height though the wind and rain picked up again and it was a real battle over this next section but I was moving well, comfortable enough in my gear and happy with how things were going.
Once we were past the car park I was caught by three runners. One of them was Mark Dalton who is very well known in the Hardmoors family. I have run with Mark a lot and so it was great to spent the next hour or so together. We were both moving well and as we chatted we caught up with a few more runners.
Mark was ahead for the first mile or so and then he stopped for something and I was ahead. Just before Bloworth Crossing I caught up with Malcolm again. I didn't see him again until Osmotherley.
This felt one of my best sections of the whole race. I was running strongly and catching runners on the way. I really like it when you get into a good rhythm and it feels easy. Believe me it always feel like this but when it does I love it!
I was doing a lot of counting. Run for 50 breaths and repeat for as many times as I could. If I needed a walking break I would count to 50 and be off again.
Looking at the results I was 65th fastest for this leg and moved up to 84th overall. I also noted that I was only 8mins behind my sub 11hr plan which surprised and encouraged me!
I only stopped long enough to refill my water bottle with Tailwind and I was off again ready for the 3 sisters.
24 miles in 1:48:04 (leg split 65nd fastest)
Overall 19.24 miles in 4:15:09 (overall 84th)
Leg 4: Clay Bank to Scugdale 6.35 miles (overall 25.69 miles)
It must have stopped raining at some point as I remember it was dry crossing the road and starting the climb. Once again I felt strong on the climb and caught up with a couple of runners on the way up.
I enjoy this section over the three sisters as it reminds me of Jon & Shirley's wedding. I officiated at their wedding on the Saturday at Lord's Café and then they organised a wedding run on the Sunday out and back to Clay Bank in fancy dress.
I often find I get caught on the downhill but I'm a little stronger on the uphill and it was the same in this race. Overall I don't think I lost any places.
There was a little crowd at Lord's Café which was encouraging as I ran past. I caught another runner on the climb out of Lord's Café and then tried to run as much as I could on the top and then descent to Scugdale.
As I descended it was nice to get out of the wind and have a little break from the battering! I was still feeling very positive about the race and happy with how I was moving.  I knew that Malcolm and Mark were still behind me so that was also a positive encouragement. It wasn't that I was racing them but it did give me a sense that things were going okay.
I stopped briefly to refill my water and chat to the marshals. One of the guys had entered my 'Guess My Time' competition and was interested to see how things were going.
My split time was the 55th best in the field and was my best split of the whole race. My overall position of 64th was the highest I reached in the race.
35 miles in 1:40:49 (leg split 55th)
Overall 25.69 miles in 5:55:58 (overall 64th)
Leg 5: Scugdale to Osmotherley 4.92 miles (overall 30.61 miles)
I was feeling okay leaving the checkpoint but looking at the splits I did start to slip back in the field and a few runners did go past me. I had lost time to my sub 11hr plan and realised that I wasn't going to be able to make that time up so it was all about the finish.
I think that is one of negatives of having such clear goals as I have. Once I realise it's not possible to reach them some of my motivation goes to push on. I figure that whether I'm 30 mins or 60 mins over my bronze goal doesn't really matter so I find it hard to keep pushing!
I tried to stay as positive as I could and I was still running but not as fast as others who were now catching me!! One of the runners who caught me as we reached the TV tower was Richard Darroch from Aberdeen.
Just as he caught me there was a fork in the path and I couldn't remember whether to go right or left. I chose left but within a few minutes I realised it was wrong so back tracked. Richard had followed me on the assumption that thought having done the race a few times before I would know the way!
We didn't add too much time on but it is annoying. Richard explained that he had been in the loo before the race and when he came out everyone had left! By the time he ran up the hill he was at the back of the field and had to wait for ages to get over the first stile. His first mile took 22mins and he spent the rest of the race trying to catch up where he should be!
We ran together into the Osmotherley checkpoint. It was good to get a respite from the wind so I decided to sit down to have some food and a cup of tea. Stephen Brown had run from Helmsley and was waiting for Nicole, his wife, and then he was going to run back with her.
Stephen is also doing the Dragon's Back so we had a quick chat about shoes for the race and how things are going. We have arranged to be Tent Buddies so we will have plenty of chance to chat more during the race week.
I had some rice pudding and my youghat drink and showed my head torch as part of the spot kit check.
92 miles in 1:07:57 (split place 85th fastest)
Overall 30.61 miles in 7:03:55 (overall 68th)
Leg 6: Osmotherley to Sneck Yale 8.06 miles (overall 38.67 miles)
While I was in the checkpoint I saw Malcolm arrive but I think he said his family were meeting him at Osmotherley Square corner so he was in and out. Then Mark arrived so I had a feeling I would be seeing them again!
I spent just over 11 mins in the checkpoint and when I came out I did feel a bit chilly. But it didn't take long to warm up as there is a good sized hill to climb up. I could see a couple of guys not too far ahead but I never caught them.
I like to break each down into at least a couple of mini-splits and half way for this leg to Sneck Yale was a sign post after 4 miles. I worked as hard as I could heading up the hill. I would count 3 lots of 50 steps (right foot!) then look up to see how far to go. Repeat until I reached the top.
I was trying hard to stay in the present as once I start thinking about the finish it is harder as it was about 20 miles to go! If I can get to my next mini-split it feels more achievable. A girl in a white rain jacket went past me moving very well. I had seen her earlier way ahead so I assumed she had stopped at the car park at Square Corner for a while.
I reached the signpost in just over an hour and knew I had another 4 miles to the checkpoint but this half would be mostly on the flat and downhill. I ran as much as I could and was happy with my progress.
It was good to reach the next checkpoint at Sneck Yale and know that I had about 5 miles to White Horse and then another 9 miles to the finish at Helmsley. I didn't stop as I was keen to keep moving.
06 miles in 1:54:08 (split place 95th fastest)
Overall 38.67 miles in 9:09:39 (overall 75th)
Leg 7: Sneck Yale to White Horse – 4.99 miles (overall 43.66 miles)
This section was right in the full force of the wind again. I had hoped that the worse was behind us but the wind was now back at its strongest. Plus it started raining again! So hood up, head down and get past this open section as quick as I could and into the trees where hopefully there was some shelter.
I had caught a guy who was doing his first ultra so we ran together but it was hard to chat due to the wind and rain.
A few more runners caught and went past me including Mark who looked very strong. He went on to finish in 12:00:19 which was 49mins ahead of me. He gained that over the final 12 miles.
It was good to eventually get into the relative shelter of the trees and follow the path to the car park and then over the road and back on the path to White Horse. This is an out and back section so it was good to see a few runners heading back as I was heading out.
It was still light enough to manage without a head torch but I knew I would need it for the final 9 miles. It was good to arrive at the final checkpoint knowing that there was just the final 9 miles to go.
99 miles in 1:14:31 (split leg 98th fastest)
Overall 43.66 miles in 10:24:10 (overall 75th)
Leg 8: White Horse to Helmsley – 9.10 miles (overall 52.76 miles)
As I climbed the steps out of the checkpoint I thought back to a conversation with Andy who had said this is an easy finish as it is a net downhill! What neither of us had taken into consideration was how muddy the track was.
As soon as we hit some wet grass or mud I felt I was going backwards. The Altra Lone Peak shoes are probably not the most grippy  but the pair I wore are nearing the end of their life and the grip is almost nonexistent!
I slipped and fell at least 5 times over the next hour or so. A steady trickle of runners went past me and they seemed to handle the mud and wet grass a lot better than me.
I had decided to switch my watch from overall time to leg time as I didn't want to see how far behind I was! It was all about getting to the finish as best I could.
It was pitch dark by now so once again I was doing a lot of counting and trying to stay as positive as I could. It was good to tick off the various landmarks. Cold Kirby arrived before I was expecting it so I knew I had 3 miles to the bridge on the road and then the final 3 miles to the finish. 6 miles to go.
But that included a tricky descent on muddy ground which is hard enough on a dry day and today was anything but dry. I couple of runners went skipping past but they explained they were out for a run to cheer on their friends.
I took another couple of slides right into the mud but I didn't care too much what I looked at by now. It was all about keeping going and getting to the end.
I have done this final section in 1:48 in the past but it took me 2:25 this time which made me 133rd fastest for the leg – by far my worse section after the first one. I have enjoyed finishing strongly in recent ultras so this one wasn't quite going to plan.
But on the positive side I was still running and it was all good time on feet in preparation for the Dragon's Back!
A few more runners caught and went past me. The only runner I caught was a guy who was obviously injured and going down some steps very gingerly. I asked him how he was and said he had less then 1.5 miles to go. I'm sure he finished but I'm sure than 1.5 miles felt a lot further.
It was great to see the lights of Helmsley and make my way up the final hill to the Rugby club. A number of runners who had finished and their supporters cheered me on as I walked the final hill.
I arrived at the finish at 9.05pm for a total time of 12:49:20. It was great to see Katrina who was giving out the t-shirts. For some reason she wasn't too keen on a kiss. Katrina took a few photos and I headed off for a shower and some well-deserved food.
9.10 miles in 2:25:10 (split leg 113rd fastest)
Overall 52.76 miles in 12:49:20 (overall 89th)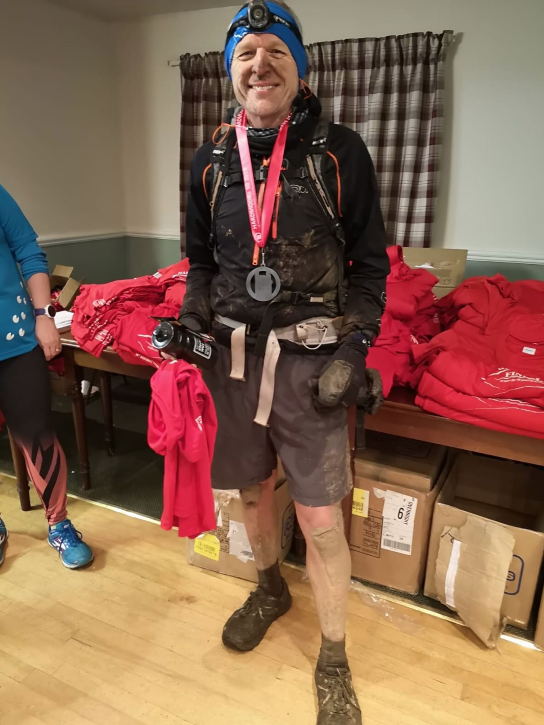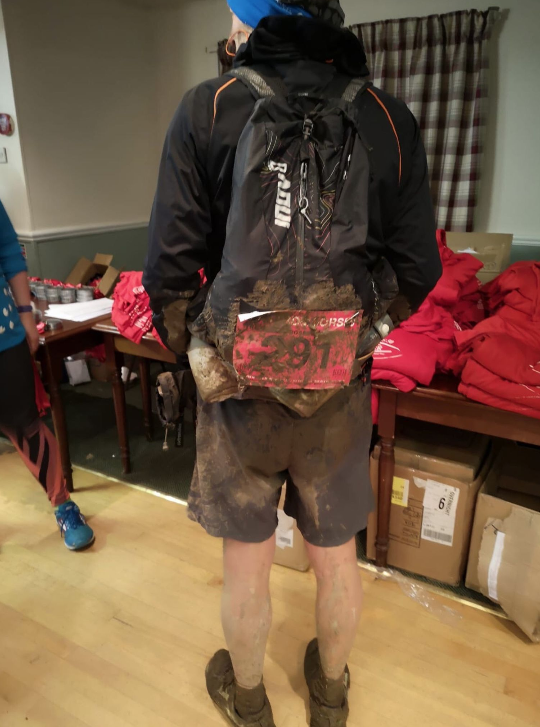 Congratulations to everyone who ran. It was certainly a tough day. Thanks too to Jon & Shirley for all your hard work in putting on such a great race and to your army of volunteers who helped all the runners with encouragement and any practical help that was needed.
I have now reached 864 Hardmoors miles so I will keep coming back until I reach my 1,000 miles to join the club and get my own number.