Saturday 4th May to Monday 6th May 2019
I heard about this event a couple of months ago as it is organised by Ourea Events who also are in charge of the Dragon's Back (DB). It was suggested that it would be a good final training weekend before the Dragon's Back. I was a little concerned that it might be a little too close but I had planned to do a big back to back anyway and I love the Lakes so it didn't take me long to put my name down.
I asked Katrina did she fancy spending the Bank Holiday weekend in the Lakes. Oh and by the way there is a three day I would like to do. They are also looking for volunteers for the Event team so we could see each other at the overnight camps!
The Great Lakeland 3 Day Event has been going for over 20 years and is very popular and I can see why. There are three classes
Café – between 19-24km a day with about 1000m of climb
Wainwright – between 25-37km with around 2000m of climb
Expert – between 31-47km with over 2500m of climb
I decided to go for the Expert class but making sure that I stayed steady each day and was able to finish feeling good and able to do more.
Katrina needed to be at the event centre at Pooley Bridge by 1pm so we left home just before 11am and had a good journey down. While Katrina manned the shop I registered, had some food and watched the film night.
Our friends Graeme, Katie, Jenny and Kev were doing the Wainwright class so it was great to see them at the beginning and end of each day.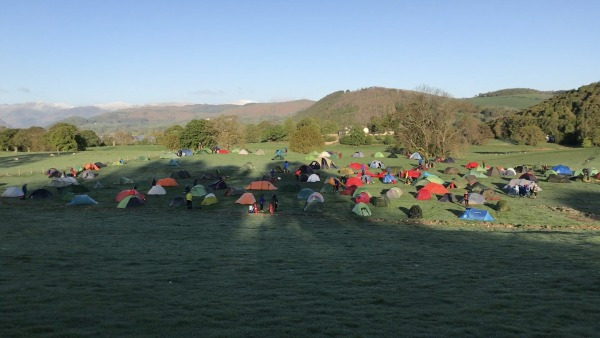 I enjoyed looking over the map and working out my route for each day. There are loads of controls but you have to visit the ones on your course in order but there are lots of route choices and it was fun to see the way different people went.
You can start anytime between 7-9am. I was keen to get away early so after having some breakfast, handing in my 60l drop bag for the overnight camp which we discovered was at Paterdale I was off at 7.08.
Day 1 – Saturday 4th May
Start to Check Point (CP) 1 (#201)
I found it really strange to set off on my own. I have run 46 ultras but all of them had a mass start on a course I had either reccied or studied on a map. This one was very different but ideal for my plan to prepare for the DB.
The route to the first CP was on the Lakeland 100 course so that made it an easy start and helped me to get going without having to worry about getting lost straight away!
After a few minutes Conrad went past me. I didn't know his name then but each day he caught me and we ran together for a few minutes on Day 3. The Wainwright course also went to the same CP1 so you don't quite know whether anyone is on the same course as you!
I went past a couple of guys who were obviously on the Wainwright course and by the way they were dressed they were not planning to run at all.
I dipped into the first CP (#201). I decided to do a video diary of the event and thought it would be helpful to do one at each CP.
59 miles in 23:27
Position 46th out of 49 (positions calculated once everyone on the Expert course has been through)
Ascent – 531ft
Descent – 30ft
CP1 to CP2 (#215)
The next CP was at Loadpot Hill. It looked fairly straight forward navigation wise as there was a good path marked but Conrad ignored the path and went straight up and two guys who had ran past me on the way to CP2 went a lot further right before heading up.  This was repeated throughout the 3 days which made it really fun and forced me to make my own choices and stick with them.
I caught up with a Wainwrighter and as we chatted I explained I was doing the DB in a couple of weeks. She said that she is on the event team and would look out for me. This was repeated a number of times over the 3 days.
I was keen to practice working out distances to landmarks which I thought would help me in the DB. Both this even and the DB use the Harvey 1:40,000 so 1k was 25cm. I like to work in miles so I then converted to imperial.
The weather was amazing with clear skies and sunshine to start. It did get very windy and cold on the tops but compared to the recent Hardmoors 55 when we had driving wind and rain in our faces all day this was heaven.
As I was climbing up to the CP trig I was caught by Tim L. He mentioned he is doing the DB as well so for the next few minutes we chatted about our training and preparation. Tim also turned 60 this year so we have lots in common. Once we reached the CP Tim was away and I never saw him again. He is obviously a class runner.
Leg: 3.22 miles in 51:01
Overall: 4.81 miles in 1:14:28
Position 39th out of 49
Ascent – 1142ft
Descent – 0ft
CP2 – CP3 (#216)
The Wainwright runners now took a different route heading to Kidsty Pike while the Expert course had a long leg to #216 which was the other side of Haweswater.
I lost sight of Tim in the distance and was on my own. I used my map and compass to plot a route around Whether Hill and head down to Haweswater.
I also looked at my OS maps app on my iPhone regularly just to check where I was and make sure I was heading in the right direction. The ground was quite soft to run on but I was feeling good and loving being on my own in the Lakes.
After a few minutes I joined the Lakeland 100 route as it made its way to Low Cop. I decided to follow the L100 route down to Haweswater. I could see 3 runners ahead who were staying higher and then drop down to Burnbanks later.
I soon reached Haweswater and was now on the coast to coast route (Northern Traverse) that I did last year. As I made my way along the lake I ate my fruit bread. A speedy runner went past me so it was good to know that my route choice was the same as one of the top guys!
I made my way through Burnbanks and then headed up to the next CP. When I almost there a runner Tony caught me. We chatted about Football. He is a very keen Manchester City supporter and was at the recent Man City v Spurs Champions league game so it was fun to hear about the atmosphere of that amazing game.
Leg: 6.95 miles in 1:37:01
Overall: 11.76 miles in 2:51:29
Position 42nd out of 49
Ascent – 846ft
Descent – 1693ft
CP3 to CP4 (#217)
There was no obvious route to the next CP at Branstree so I followed the wall for a bit and then basically took a compass bearing and headed to Selside Pike. Once I climbed over a smaller hill I could see a few runners on a lower path so they had taken a different route to me.
I caught up with two girls Anwen and Elaine who were running together. When I said I was preparing for the DB Anwen said she was too! So for the next 20mins or so we chatted about our big race coming up. They were running very well and moved away before the CP and I didn't see them again!
Just before the top Corri caught me. She too is doing DB. This event was worth coming to just to meet lots of other people who are either running the DB or on the event team!
It was very windy on the top so I didn't hang around but I did my video clip!
Leg: 3.60 miles in 1:04:07
Overall: 15.36 miles in 3:55:36
Position 43rd out of 49
Ascent – 1161ft
Descent – 256ft
CP4 to CP5 (#219)
This was the longest leg of the day at over 8 miles but it was a fairly obvious route though I'm sure some took a more direct line. I had my Berghaus lightweight waterproof jacket on as it was very windy and cold on the tops.
I descended off Branstree following a wall and then headed up Harter Fell and contoured around towards Thornwaite Crag.
One of the things I wanted to practice was my nutrition especially experimenting with eating cold sausage and beans at midday. So I stopped for 5 mins to eat it and it was lovely and went down well so that was a big success. As I ate a couple of runners went past and I tell they weren't quite sure whether I was in the event or not!
From there I made my way to Caudale Moor which was one of the CP for the Wainwrighters.
One the way I caught up with Caroline and we basically stayed together for the rest of the day. Caroline completed the DB in 2015 so I spent the next couple of hours asking her lots of questions about the race! I hope she didn't mind.
We dropped down to the road and Kirkstone Inn. We had both ran out of water so we went into the Inn to see if we could get some water. The place was full of Wainwrighters enjoying some food and drink! There was a queue so we came back out and found a water tap round the back to refill our bottles.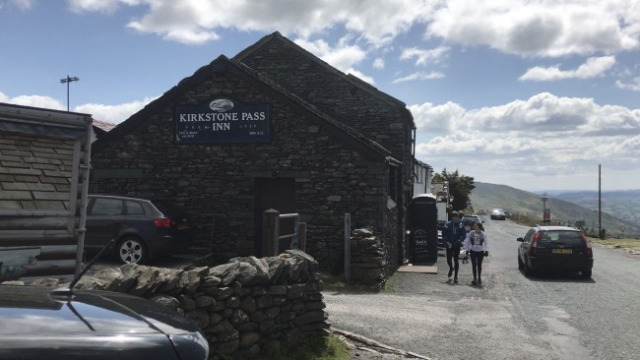 Once over the road we had a steep climb up Red Screes.
I was so pleased that my legs were feeling strong and I was ascending well. All the training on the Munros has definitely payed off.
Leg: 8.19 miles in 3:08:14
Overall: 23.54 miles in 7:03:50
Position 42nd out of 49
Ascent – 3022ft
Descent – 2746ft
CP5 to CP6 (#221)
The route seemed obvious over Hart Crag and Fairfield before heading to our final CP of the day on Sunday Crag. I ran with Caroline and it was great to share the last few hours together. The time certainly passes quicker.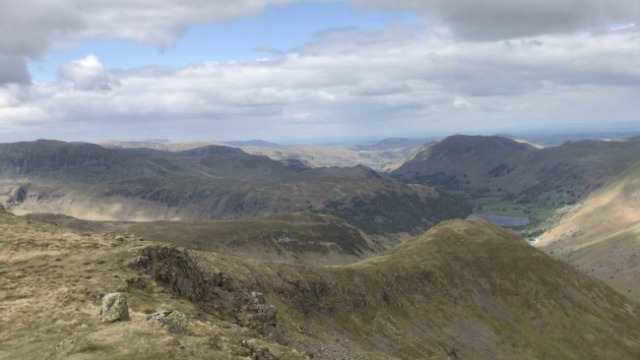 Once again I was really pleased with how my legs felt on the ascents and descents. It was quite tricky off Fairfield so all good practice for DB. As we headed to the final CP we wondered whether we were at the back of the field of the Expert runners but a couple went past us and they reckoned there was still a few behind us.
Leg: 5.45 miles in 2:08:10
Overall: 28.99 miles in 9:12:00
Position 42nd out of 49
Ascent – 2018ft
Descent – 1988ft
CP6 to Paterdale Overnight camp
It was a good path all the way down to Paterdale. We got a good view of the camp and we could see the Marquee, tents, drop bags laid out and people moving about.
I was really happy that my legs felt great and I was finishing the day knowing that I could easily do more which is just as well as the DB days will be longer and harder!
Leg: 2.35 miles in 48:26
Overall: 31.34 miles in 10:00:26
Position 40th out of 49
Ascent – 69ft
Descent – 1969ft
Overnight in the camp
We arrived at the camp just after 5pm and over the following 4 hours or so before heading to bed I did the following:
Enjoyed my complimentary hot drink and cake chatting to Oliver who is also doing DB
Got changed
Pitched my tent (In the end I slept in Katrina's tent and we used my smaller one for our gear)
Enjoyed a lovely meal of lasagne and chips with Katrina
Chatted to Graeme, Katie, Jenny and others about our day and planned route for Day 2
Took part in the quiz – I didn't win one of the Silva dry bags!
I didn't sleep too well but rested enough as felt good getting up at 6am to get ready for Day 2.
Day 2 – Sunday 5th May

Start to Check Point (CP) 1 (#223)
I was up and ready for an early start so after saying good bye to Katrina I set off just after 7am. The first CP of day 2 for the Expert course was Netherpost Pike. There were at least three options to get there! I decided to go over Striding Edge and then a short out and back to the CP.
Jenny suggested this as she said if you have the option you have to go over Striding Edge and Jenny is not the sort of person you disagree with!!! Plus I thought it would be good practice for Crib Goch.
I'm so glad I decided to go that way as I had the whole ascent to myself. It was truly magical climbing up in the early morning sunshine. I was trying to remember when was the last time I did it. It may well have been the first weekend I met Katrina in 1984.
Once I reached the top I headed out to the CP. I saw Tim running from the CP. He had ascended straight up and said it was fun scramble. I had the map in my pocket as I thought I knew the way to Dollywaggon Pike. I ran past a stone shelter on my way.
Then after a couple of minutes it didn't feel right that I was going so far. I checked my map and realised the CP was at Nethermost Pike and not Dollywaggon Pike! Doh. I looked back and saw a couple of runners who had come up the direct route go to the stone shelter, dib in and set off.
It wasn't too far but annoying to make such a silly mistake! So I ran back dibbed I and set off for CP2 making sure I kept my map at all times.
Leg: 4.09 miles in 1:48:26
Position 33rd (out of 35)
Ascent – 2598ft
Descent – 325ft
CP1 to CP2 (#229)
The route to the next point is along a route that I know well as it is the Lakes in a Day route and the Bob Graham round (though the opposite direction).
I was moving well, the sun was out and it wasn't too windy so I happily made my way along over Helvellyn, White Side and Raise and then took the path right to Sheffield Pike where CP2 was located.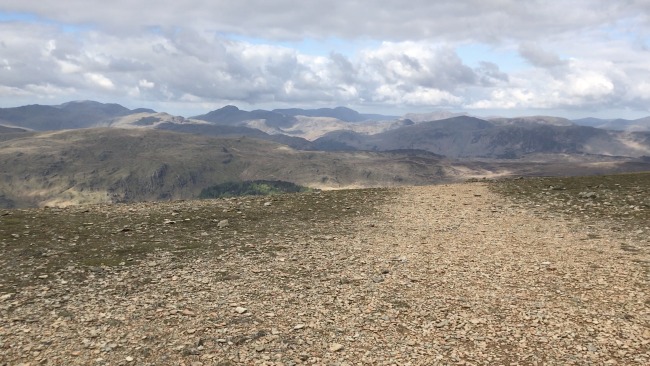 Chris T caught me at the turn and we ran down together chatting along the way. At the bottom of the path I stopped to take off my jacket as I was feeling warm and then followed Chris up to the top.
Leg: 4.79 miles in 1:25:46
Overall: 8.88 miles in 3:14:12
Position 34th (out of 35)
Ascent – 1142ft
Descent – 1850ft
CP2 to CP3 (#232)
As I made way off the hill there were a number of runners who had started later were now heading up including Tony, Corri and Caroline who I had ran with on day 2.
Caroline asked me which way I was going to CP3 and this was the one that had the most options. I said I was going back up to the ridge and over Great Dodd and then back down to the CP. Caroline said she was going to contour round on a good path but I wasn't sure what it was like at the end of the path.
The majority of runners followed Caroline while Chris (ahead) and I went over Stybarrow Dodd. The Wainwrighters were coming down as it was part of their route heading to Hart Side so it was good to greet them as we passed.
It wasn't too bad a climb and then a nice run down and the up Great Dodd before heading down to the CP. As I neared the short climb up I saw Geoff and Michelle and then Tony coming down. They are quick runners so I assumed Caroline and Corri would be still on their way.
Once at the CP I couldn't see any coming so I think my route choice was as good as any. In chatting to runners later they did say how wet and boggy it was making their way over the ground once they left the good path.
Leg: 4.92 miles in 1:27:24
Overall: 13.80 miles in 4:41:36
Position 30th (out of 31)
Ascent – 1230ft
Descent – 1663ft
CP3 to CP4 (#231)
The next CP was Clough Head and initially my plan was to head down to the coach road for a bit before heading up to the top but when I saw Geoff and Michelle they were heading back up and planned to just take a direct line down to the stream and then straight up to the top.
I decided to go that way as whichever way you go up Clough Head it is a steep climb on grass. I left the path after half mile or so and made my way down to the river. I could see a ruined sheep fold so headed for that. Once I got there I decided to stop for my sausage and beans and refill my water.
The food was great and after 6 mins I was off again for the climb up the steep hillside. I was doing lots of counting to 50 and after three sets I had a pause, look around and repeat. Eventually the top arrived and I made my way to the trig point and dibbed in.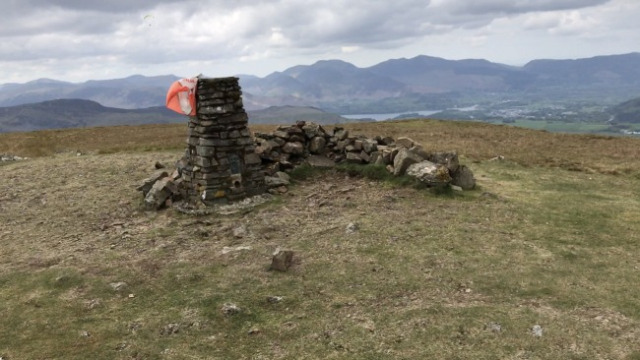 Leg: 2.27 miles in 1:05:29
Overall: 16.07 miles in 5:47:05
Position 29th (out of 33)
Ascent – 1142ft
Descent – 541ft
CP4 to CP5 (#225)
The route now took us back along the top over Great Dodd, Stybarrow Dodd, Raise, White Side to Helvellyn along the Lakes in a Day and Bob Graham route. As I came off Clough Head I saw Corri who had traversed around and was now going to go up and down to the top from the south side. I thought that was an interesting route to go.
I really enjoyed the run across the tops. I was walking steady on the ascents and running as much as I could on the descents. It was so encouraging to feel so strong well into day 2.
The CP was at the far end of Swirral Edge so we didn't need to go up to the top of Helvellyn again. It was very, very busy but everyone was happy to let me shoot past. I was really impressed with a family with two boys, the youngest who looked around 5. What a great adventure for them.
It didn't take too long to reach the CP, dib in, take a video and set off down the hill.
Leg: 6.30 miles in 2:08:09
Overall: 22.37 miles in 7:55:14
Position 28th (out of 32)
Ascent – 1142ft
Descent – 541ft
CP5 to CP6 (#228)
The final CP of the Expert course was at Glenridding Dodd down a good winding path to the valley before the final climb up to the CP. It was quite steep on a grassy path down to the main stony path. Again I was really pleased that my legs felt good.
When I reached a bridge which was a CP on the café course. There were a group of 8 or so that obviously had a great day out. I passed another 3 who were doing the café course on the way down. I love the way the event caters for all abilities.
The final climb up to the CP was longer than I thought it would be. It is also the final CP for the Wainwrights so as I made my way up some of them were coming down. It is a nice feature of the race that in the space of 20mins I saw a number from the café and Wainwright classes.
The view from the CP was well worth the effort of the climb.
Leg: 3.29 miles in 1:07:56
Overall: 25.66 miles in 9:03:10
Position 28th (out of 32)
Ascent – 650ft
Descent – 2037ft
CP6 to overnight camp at Paterdale
As I descended off the hill I passed a few more Wainwrithers and then at the point that they were coming up I saw Graeme, Katie, Jenny & Kev. Perfect timing! I got my phone out and took a video of them but sadly when I checked it later it didn't record!! They had also had a great day but they looked as though they were ready to get back to camp for a cake!
The route back over a small hill was fairly straight forward and I was soon running down the final hill to the camp site.
Leg: 2.12 miles in 35:43
Overall: 27.78 miles in 9:38:53
Position 28th (out of 35)
Ascent – 305ft
Descent – 1093ft
Overnight camp for 2nd night
Once again a similar pattern of food, chat and rest getting ready for Day 3.
Day 3 – Monday 6th May
Start to Check Point (CP) 1 (#209)
I was up at 5.30am as I wanted to be away by 7am again but this time I needed to take down two tents and pack my drop bag as well as have some breakfast. I was able to get it all done and as I walked over to the start I was very encouraged to sense my legs were feeling great and I was ready for day 3.
Both the Wainwright and Expert courses were similar for the first 3 checkpoints so unlike Sunday there were plenty of GL3D runners around. The route went down the hill into Paterdale, over the river and alongside the Lake towards the cairn on Silver Hill. We had been told the CP was slightly different to the map location but we were told it was clear.
There were a group of Wainwrighters ahead but there first CP was half a mile before ours so once past it they were making their way up to Place Fell (CP2).
I caught up with another runner who said that his legs were sore and he seemed to struggling to get going up the hill. In comparison I felt good and happy with life!
There were a few runners coming down from the checkpoint including Geoff and Michelle who I had seen each day so far. I found CP1, took my video and was off to CP2 which was up the hill.
50 miles in 37:08
Position 28th (out of 31)
Ascent – 463ft
Descent – 226ft
CP1 to CP2 (#211)
As I made my way off the top Geoff, who I had run with a little on Sunday was making his way up. I could see the Wainwrighters making their way up the hill from their CP1. There was a path which I assumed they were on but other runners were taking a more direct ascent.
I decided to make my way over the rougher ground, find the path and follow it to the top. I could see that Geoff was taking a more direct line and I wondered who would reach it first!
Once I was on the path I passed a number of the Wainwrighters who were making their way up. One couple Jim & Elaine said that they are on the event team for the DB and would look out for me. They are part of the team that look after the runners at the half way support point each day so it will be great to see them each day.
On the final climb up I could see Geoff ahead so his more direct route seemed to be quicker but I prefer a more zigzag approach as I feel it takes less out of you.
Leg: 0.80 miles in 37:08
Overall: 3.30 miles in 1:14:32
Position 27th (out of 31)
Ascent – 910ft
Descent – 100ft
CP2 to CP3 (#213)
Both groups were going to the CP at Brock Crags so I could see a few runners ahead including two girls with bright orange rucksacks so they became by target! It was a good decent and then a climb up to Angletarn. I was thinking about the last time I was here during the Northern Traverse. It was in the middle of the night in the wind and rain so this felt so much better and easier!
As I started the climb Conrad caught up with me. I was wondering when he would pass. In the last two days he went past after a quick chat but this time we made our way up the hill together. It was great to chat and get to know him a little.
We went past a few more Wainwrighters including the girls with orange rucksacks. When we reached Angletarn we decided to go left and then head up Brock Crag. As we were climbing up we could see other runners taking a more direct line passing Angletarn to their left.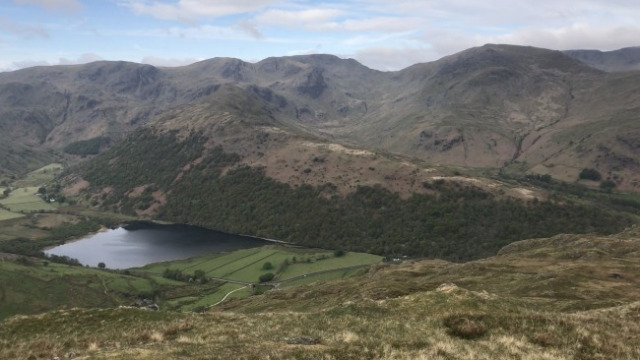 Conrad pushed on but I caught up with Geoff who had taken the more direct route so I reckon our choice was better!!
Leg: 3.30 miles in 49:30
Overall: 6.64 miles in 2:04:02
Position 27th (out of 31)
Ascent – 1108ft
Descent – 979ft
CP3 to CP4 (#215)
At this point the Wainwrighters took a different route to their next checkpoint so we were on our own heading to Kidsty Pike. I could see Conrad ahead. Geoff and I ran together as we made our way back to the coast to coast route. We made one silly mistake when we followed one path which went slightly higher so we had to drop back down.
Geoff stopped to refill his water while I push on up the grassy path to the top of Kidsty Pike. Once again I thought back to the Northern Traverse and how I was feeling with over 150 miles still to go!
I love the view down to Haweswater so took another short video but heading off to CP5. As I left Geoff arrived and I said to him the dibber is as low to the ground as it could be!
Leg: 2.47 miles in 49:40
Overall: 9.11 miles in 2:53:42
Position 27th (out of 31)
Ascent – 974ft
Descent – 256ft
CP4 to CP5 (#205)
The route was now basically a long downhill run towards Howtown. After the initial downhill run from Kidsty Pike we climb up Raise before the long descent. I was so encouraged that my legs felt really good and I was able to run all the way down.
Over the next 20mins 3 or 4 faster runners went past me. I had a quick chat with each one which is another lovely feature of ultra-running. There were a few decisions to make but it was fairly straightforward. I did start to go down the wrong side of a gully but soon realised I needed to swap over.
The next CP was at Steel Knotts. The two faster runners ahead of me went up a shorter hill while the path went round. I carried on the path as I thought the CP was on the next hill. They re-joined me and said they thought  the hill they just went up was the CP. So it was fun to see that the faster runners also make mistakes sometimes as well!
Once they were back on the right path they were away. I climbed up to the CP and once again enjoyed the new view it gave me. I think this is one of the things I love about the Lakes. Everything is squashed together so every time you reach a summit there is a new view to enjoy especially when the weather is so good.
Leg: 3.86 miles in 56:45
Overall: 12.98 miles in 3:50:27
Position 27th (out of 31)
Ascent – 374ft
Descent – 1519ft
CP5 to CP6 (#207)
The next CP wasn't too far away on the top of Hallin Fell. This CP was also part of the Wainwright course so the two groups would be coming back together. I had ran out of water but I couldn't find any but hoped I'd be okay until I found some!
The descent off Steel Knotts was very steep so I took my time. I didn't want to twist an ankle so close to DB. There is a church at the bottom of the hill so I made my way to that landmark. There were a few families with young children who were getting ready for a walk.
As I made my way up the hill Conrad and others were on their way down. It was a steady climb up and I caught up with some of the Wainwrighters. I was joined by an Expert course runner who came from my left. He explained that he had taken a different line from the last CP. We chatted for a bit before he pushed on up the hill.
Leg: 1.35 miles in 29:54
Overall: 14.32 miles in 4:20:21
Position 27th (out of 31)
Ascent – 522ft
Descent – 673ft
CP6 to CP7 (#202)
We could see the next CP at Loadpot Hill from here and it looked as though it was going to be a steep climb. To get to the bottom of the hill at Howtown initially I planned to go back down the same way I came up and run down the road but a couple of guys set off straight down the hill so I decided to take a risk and follow them!
I'm not sure it was the best decision I made over the weekend as it was quite steep and loose scree but I got down and made my way around Howtown. As I reached the start of the steep climb up Bonscale Pike I caught up with Geoff who was behind me so he must have taken a better route!
There were lots of GL3D folk from both courses making their way up the very steep grassy hill. We were all spread out over the hill as initially there was no definite path. I could see a path heading right and up which went to the ridge and then along the ridge to the CP.
I decided to go for that option whereas Geoff took the direct line up. Interestingly we reached the top at the same time so no real advantage either way.
Leg: 1.96 miles in 51:55
Overall: 16.28 miles in 5:12:16
Position 27th (out of 31)
Ascent – 1250ft
Descent – 807ft
CP7 to Finish at Pooley Bridge
Nothing was said but Geoff and I ran together to the finish. We took the higher path over Arthur's Pike and then the direct path down to Pooley Bridge. The time passed quickly as we chatted about the event and our plans for the rest of the year. We could see a cloud of rain ahead but thankfully we finished before it arrived.
It was so good to finish the 3 day event feeling really strong with no issues. Over the 3 days I didn't have any low moments and I definitely feel hill fit and ready for the Dragon's Back.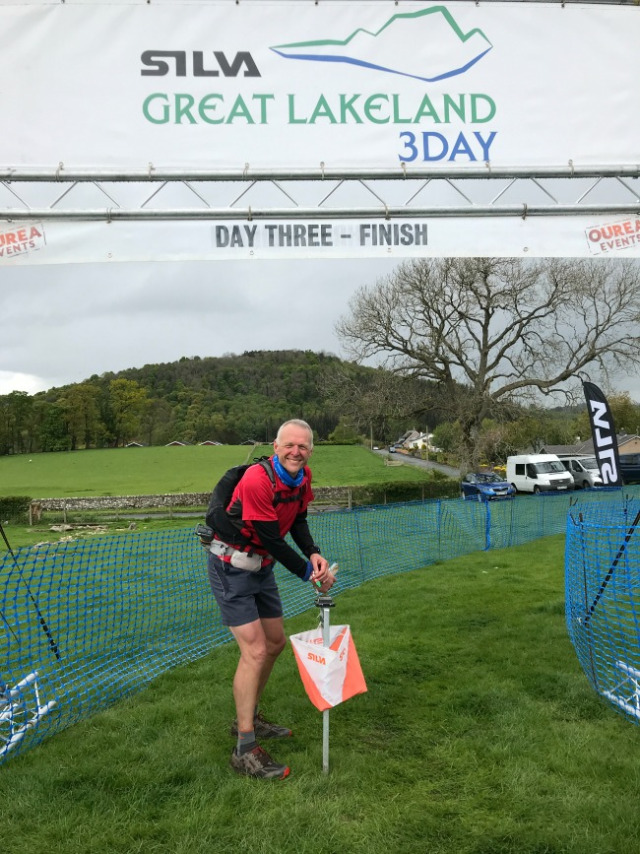 Leg: 3.86 miles in 48:26
Overall: 20.15 miles in 6:00:42
Position 27th (out of 31)
Ascent – 285ft
Descent – 1486ft
Final thoughts
I set out with a number of aims for the event and I'm pleased to write that I was able to accomplish them all.
Pacing – I managed to achieve my goal of running around 20min miles for the whole event
Gear – I'm happy with all the gear I wore and used for the event
Navigation – It was so good to have to practice and be responsible for my own entire decisions route wise. I feel I got most things right and those I didn't I learnt from!
Food – The cold sausage and beans for a lunch stop were a big success so they will on the menu for DB
Camp Craft – It was good to experience sleeping in a tent and preparing for the next day. My waterproof socks and sandals were perfect.
New friends – a bonus aim which I didn't think about was meeting lots of people who are either running the DB or will be on the event team. It means now that I have a number of people that I'm really looking forward to seeing again in a couple of weeks.
Finally I want to sat a massive thank you to Shane and his team of volunteers (including Katrina!) who worked so hard for us over the whole weekend and in some cases the weeks before and days after.
I will definitely be back!