This week I felt I had a mixed week but I was able to run 5 times for a total of 45.93 miles. My running felt sluggish but I was happy that I got it done!

Monday 10th February - Club Session
8.07 miles in 1:15:43
Session - 10 x hill reps
We travelled back from Inverness earlier than we planned due to the weather so I decided to go along to the Club session. The weather obviously put a lot of people off as there were only 5 of us!
I like the hill reps but right from the start I was really struggling. I think it was a combination of driving 4 hrs and I've not been feeling too good over the past few days.
Anyway what ever it was I really struggling. After 5 reps I said to Donald don't wait for me. I'll keep going at my own pace. Two of the guys stopped before the end.
I completed the 10 reps but it wasn't pretty! Last time we did these my average pace was 7:47. At least it gives me something to aim for next time!!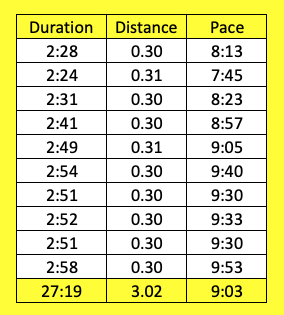 Wednesday 12th February - Lunchtime Off Road Run around Pollok Park
The rain eased off in time for my lunchtime run but underfoot it was very wet and muddy. I had to walk a few bits as it was so slippy. Well that was my excuse anyway.
I did have one classic slip and fell hands down onto the mud.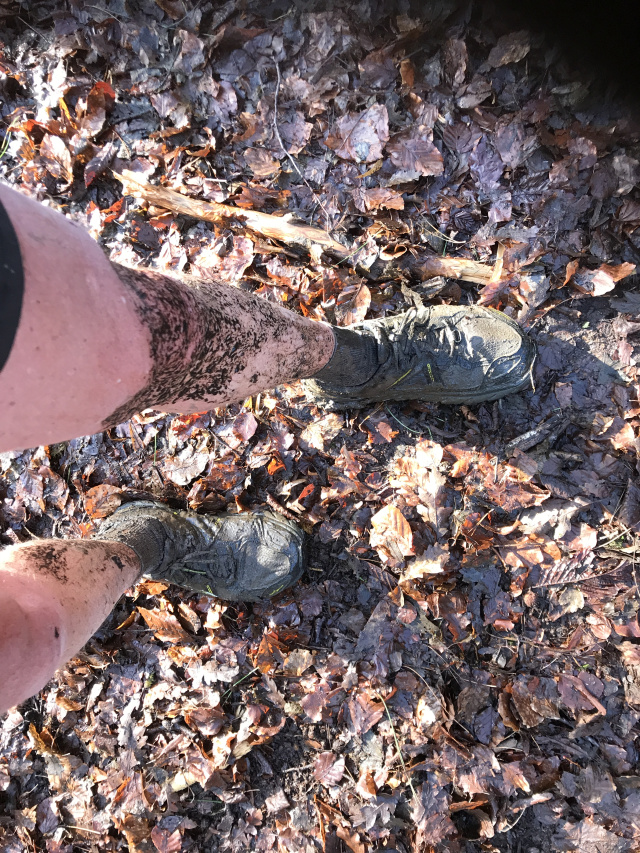 I was hoping that this week would be a step up in my training but I feel I'm struggling again to get much pace in my running.
Thursday 13th February - Tempo Run to Work
7.41 miles in 1:09:42
Session - 1 mile easy, 2 miles @ tempo pace, 1 mile easy, 2 miles @ tempo pace, 1 mile easy
I decided to run to work and do my Tempo effort. Once again I was struggling to get much pace and it was pretty average effort if I'm honest but I was going as fast as I felt I could.
For what it is worth here is my stats compared to last week which wasn't that brilliant either!
Again at least I got it done! It was very wet on the way in so I was grateful for the shower at work before I started my day!
Saturday 15th February - Long Run on the Kilpatricks
With storm Dennis on its way my friend Cammie and I decided to start early at 7.15am so we might get most of the way round before the worse of the storm came in and that's how it worked out.
We've not had a run together for a few months so we had lots to talk about which always makes the run pass a lot quicker.
I must admit I was a bit apprehensive setting off that I would be struggling but I actually felt a lot better than I thought. We weren't going particularly fast which helped but it was good to feel strong all the way round.
It was very wet and boggy underfoot which slowed us down a bit as well. The last time I ran this route I met Marco and when I looked at his route I decided to change my loop with some of his route.  It meant that we missed some of the worse of the ground and didn't have to climb over a big fence by the radio mast!
Here was our route and profile …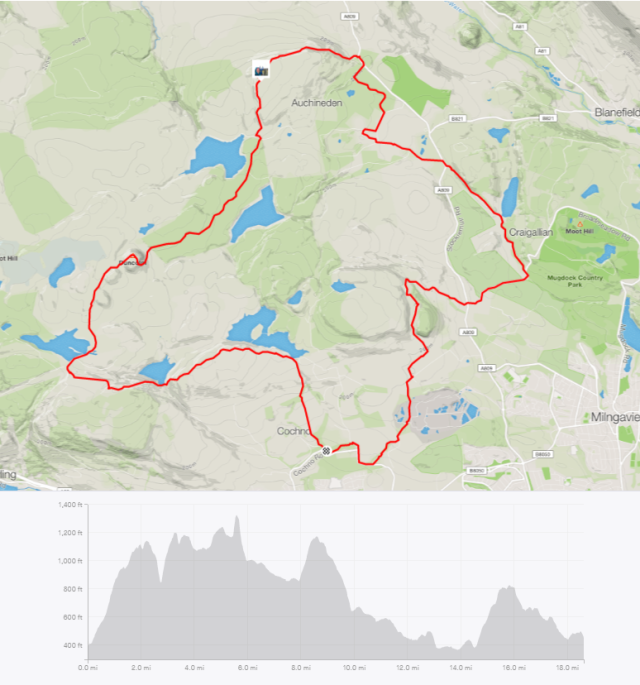 We met a few other runners out doing their long runs including a group who recognised me from the whwrace podcasts I do and my blog so that was nice!
The last hour or so was very wet and windy so we were glad to get to our cars and drive home. The shower 20mins later was very welcome!
Sunday 16th February - Easy Run 
It was very windy but dry when I set out at 8am for an easy recovery run before heading to church. The wind was behind me for the first 3 miles but right in my face for the last 2 miles which made it a lot harder run that I'd planned!
2020 miles in 2020
I'm still ahead of the red line!