This week was my biggest week of the year so far with 56.28 miles over 4 runs. I planned to run 5 times but circumstances work against me on Thursday so I only managed 4 runs.
Monday 17th February – Club Fartlek Session
7.31 miles in 1:06:08
Session – 10min (2min recovery), 10 x 1min (30sec recovery), 10min
This is another good session where we note how far we reached in the first 10min run and then after the 10 x 1min runs we try and run the same distance for the second 10min run.
I worked as hard as I could and I was happy with my effort over the session.
Wednesday 19th February – Run to work
I left at 7.30am and to be honest this was hard work! I started off with a jacket and had to take it off after 3 miles or so I was feeling too warm! It was novel to have a run without getting wet.
Saturday 22nd February – Long Run on the John Muir Way
I wanted to do my longer run for February somewhere fairly near home so I could get home in time to give Katrina a lift to her colleagues leaving do and also I was keen to run on a new route.
So I decided to run part of the John Muir Way. The section from Balloch to Strathblane was just over 18 miles so an out and back would be perfect.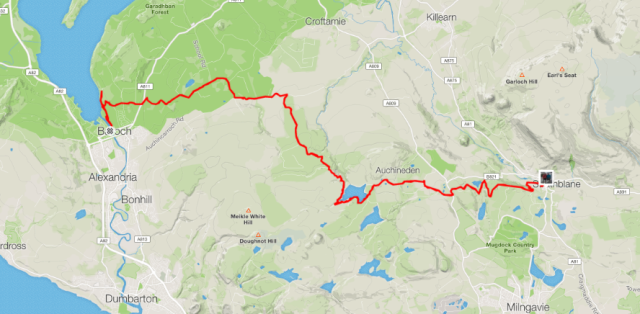 I was keen to have some company so posted on Facebook what I was doing. I was really pleased when our good friend Neal Gibson responded to say he would join me. I really enjoy running with Neal as we have known each other for a long time and we have shared many races and runs together.
Neal and I drove to Balloch together arriving about 8.15am. The weather forecast was for rain and wind but we are used to that.
John Muir Way well signed posted all the way
We set off in dry weather and over the next 8 hrs we had a bit of everything. On the highest points both ways it was very windy and we were battered by hail stones but we also had parts of no wind or rain and even a few minutes of sunshine.
We really enjoyed running on a new route. It is quite a varied section with some road, some compacted trail and some wet underfoot sections.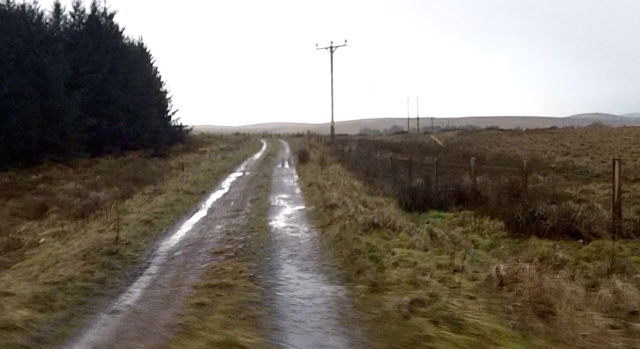 We decided to run all the way to Strathblane as it felt a good place to turn round and also we had been told there was a Co-Op so we could buy some coke and an energy bar to fuel us on the way back.
On the way back we met a few runners including Lynne Allen. It's always good to see friends out on the trail and realise you are not the only nutters venturing out in this weather!!
The out and back was fine as the views are very different on the way back. The toughest bit of the whole run was running past the Burncrooks Resvervoir as the hail and wind was right in our faces.
I was grateful I'd brought my golf mits and waterproof overmits as my hands were getting really cold with my lighter gloves. Neal was grateful too as he borrowed the overmits as his gloves were soaked through and not much use.
We both really enjoyed the run and I was very grateful for Neal's company. The 8hrs certainly passed a lot quicker than if I'd been on my own! So thanks for coming Neal!
Sunday 23rd February – Run with Katrina
Katrina wanted to do a 10 mile run as her last longer one before the Inverness Half Marathon in two weeks so she joined me for a 5 mile loop and then she pushed on and did another 5 miles or so.
My legs felt quite heavy from yesterday but it was good to get another run in. We started in dry and almost warm conditions but half way round the sky got very dark and we had more hail stones but thankfully they didn't last too long.
2020 miles in 2020
Good to see a bit of daylight between the red line (plan) and the blue line (actual).