Saturday 3rd August 2019
The first half of 2019 was all about the Dragon's Back in May. Once that was done and dusted then I decided to enter three races in Scotland so I wasn't travelling quite so far. I must admit I also was keen to see if I could finish in a podium place in the MV60 category that I recently moved into!!
The Dragon's Back was 10 weeks ago and I feel I'm still not fully recovered. I ran 3 times a week for the first 6 weeks and then added another run or two after that but they have all been slow and steady. The thing that did concern me though was I have had a painful chest on a number of the runs. It was so sore that often I would have to walk for a bit until it eased off.
With the race coming up I went to see my doctor who checked me over and said my heart and lungs were all good. He recommended I continue to run but be sensible and if it is sore then don't push through it. If it continues then I'm to go back and he will investigate further.
I didn't tell him I was planning to run 42 miles on Saturday but I had decided myself to start really easy and see how I felt and if it was at all sore I would stop. It did mean that my chances of a MV60 podium place were a lot less but there will be other races to go for it!
I drove up to Tyndrum in our van on Friday night. It was good to be able to register on Friday night rather than very early on Saturday morning. I had a really good chat with Mark and Geraldine Hamilton. They were around the ultra races when I first got involved in 2007 so it was fun to chat about the old days!!
It was also good to have a chat with Graeme & Rhona McKinnon who were on the volunteer team for the race. Rhona had been on a Yoga retreat in Thailand so it was really interesting to hear about her trip.
I slept well in the van. Up at 4.30am for some porridge and tea and headed to the start at 5.15am. Even at that time it was clear it was going to be a warm day. It was great to chat to a few friends who were either running or marshalling. There were 411 runners so the Green Welly car park was a busy place.
Tyndrum to Bridge of Orchy (6.83 miles)
I deliberately started further back in the field as I wanted to start very easy. At the stroke of 6am John gave a countdown and we were off. It took me a couple of minutes to reach the start arch but looking at the results we all had our individual chip time so that was good.
I walked the majority of the first hill with the odd slow run to see how I felt. I could feel a slight pain in my chest so I eased off a bit more but then after the first 10mins or so I never had any issues with my chest at all so hopefully, whatever it was, it is behind me now but I will be keeping an eye on it.
Once over the railway bridge I could see a long line of runners ahead of me. I ran walked until we reached the stile. There was a slight wait to go over and then a single line all the way to the tunnel under the railway. I was quite happy to move at this easy pace.
We all had a wait a bit longer to go under the tunnel and then over the stile but once we were on the wider track there was plenty of room to run at the pace you wanted. I slowly made my way past a few runners on the run down to the bridge.
I like to have my mini-splits and over the years of running on the West Highland Way I have them all worked out for the whole route. I was working on a sub 9hr plan but I wasn't going to be too bothered if I didn't make it. My first mini-split was the bridge and I had 32mins for the 3.26 miles. I looked at my watch and it had taken 41:58 so I had kept to my easy start!
I caught up with Lois and we ran together for a bit chatting about the Dragon's Back. Lois was on the support team for the event and gave me lots of encouragement so it was good to chat about the race again. I don't need much prompting as I love to chat about the race!
As I was climbing up the hill to the railway bridge Devon Scott caught me and we ran together. Devon said that she had run with Katrina last year and enjoyed her company. Devon thanked me for the whwrace podcasts and explained that she is now working her way back through them all! I have done 154 episodes over the past 5 years and she is now on episode 30!
Devon and I ended up running all the way to Glencoe together chatting the whole time. It certainly helped the time pass quicker.
I was feeling pretty good by now and happy with the pace. We were slowly catching and going past runners as we made our way to the first checkpoint at Bridge of Orchy. We both found it hot by now and I was sweating far more than I would at that pace.
I realised that I would need to keep drinking regularly to stay hydrated. I also ate one of my peanut butter and jam fruit bread pieces but with the hot weather I felt my main calorie intake would be through drinking.
As we approached Bridge of Orchy checkpoint there were a few volunteers including Graeme & Rhona helping the runners to cross the road safely. I had a wait a short while before it was safe to run across. All the volunteers throughout the day were superb and John Duncan has a great team who help make the race a pleasure to run in.
Good friends Thomas & Silke were on the bridge as I passed so I stopped for a quick chat. They were heading to Kinlochleven to be part of the team there so I would see them again.
Graeme Hewitson was taking photos so thanks to him for these photos ….
Overall: 6.83 miles in 1:16:08 (302nd place)
Bridge of Orchy to Glencoe (10.47 miles)
I didn't stop at the checkpoint as I had enough drink for the next section. I was using Tailwind for the whole race. Just after the checkpoint Kirsten Cowling was checking that every runner had a mobile phone and space blanket.
I caught up with Devon and we ran together all the way to Glencoe together. Just after Jelly Baby Hill Muriel Downie was there taking photos so thanks for this one.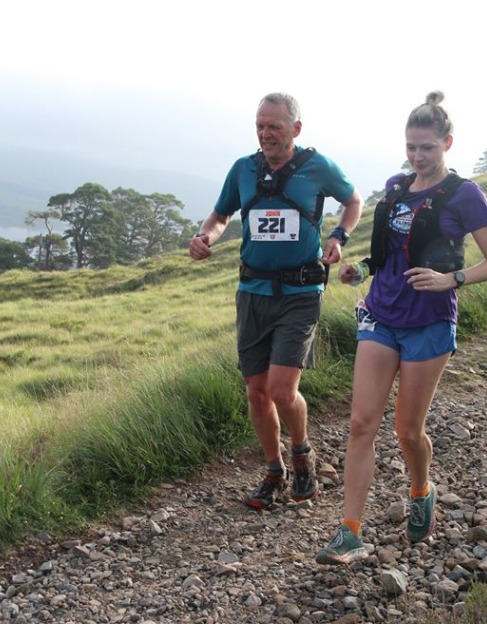 I did ask how her husband Tim was doing. Tim is one of my 'rivals' in the MV60 category. Muriel said he was going well but didn't give much away!! I assumed both Tim and Donald Sandeman were ahead but you never quite know.
Devon & I were passing runners quite regularly over the leg to Glencoe and I can't remember too many going past us. I see from the splits that I worked out that we passed almost 50 runners between Bridge of Orchy and Glencoe.
One of things I like about running with someone that you haven't met before is the opportunity to share all my favourite running stories knowing I haven't told them before so I'm afraid Devon got to hear most of them!
I also enjoy the fact that you end up chatting about all sorts of things so I learnt all about Devon's job as a researcher for cancel drugs. I hardly looked at my watch as we chatted and made our way to Glencoe.
I had already tripped a few times but managed to stop myself from actually falling but on the Rannoch Mor I tripped and fell. It wasn't too bad a fall and I wasn't hurt. Devon was great offering wet wipes to clean me up! Thanks. It did show me though that I'm not quite back to running smoothly. I was obviously not lifting my feet high enough.
On my mini-splits for this leg I had 45mins, 50mins and 45mins (2hrs 20mins) for my 3 sections and I ran them in 35:35, 48:43 and 43:35 so I was 12 mins faster than my sub 9hr plan but I didn't actually look at these until after the race so didn't know it at the time!
Rhona was taking photos just before the checkpoint. I did say to Devon that running with her would be good for my street cred!
I didn't stop too long in the checkpoint. In the 2mins I drank my youghat drink, refilled my Tailwind, drank some Coke and was off again.
Leg: 10.47 miles in 2:09:51 (225th fastest)
Overall: 17.30 miles in 3:25:59 (256th place)
 Glencoe to Kinlochleven (10.33 miles)
Neil MacNicol who finished 2nd in last weekend's Lakeland 100 was there and took this great photo as I left the checkpoint. I'm not sure where Devon was. I assumed she was still in the checkpoint as her boyfriend was meeting her.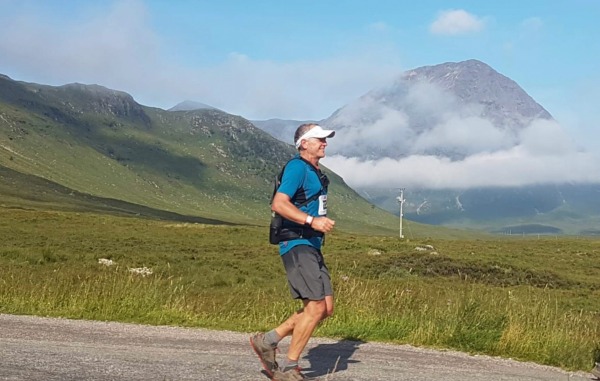 It was really hot now so I put on my visor so I could shield the sun from my eyes a bit and try stay a bit cooler. I was keen to try and not overheat so for the next couple of miles down to Kingshouse and along the road to the gate I used my run for 100 breathes walk for 20 breathes technique which I think helps to regulate the effort.
I could see more runners ahead as we climbed up the hill on the way to Altnfaedh. I slowly caught up with a quite a few of them and felt I was moving okay. Just after I'd gone past a couple of runners I tripped again and fell really heavily on my left hip.
I got up with a bit of difficulty and checked I was okay.  The runners behind were great and made sure I was alright. I encouraged them to push on as I was going to walk for a bit until my hip eased off. It took a few minutes of walking before I felt okay enough to start running again. I was a bit shaken by it and I was determined to try and avoid falling again!
Despite the fall I arrived at Altnfaedh in 50:49 against my 50min plan. Again I've only checked this after the race. I wasn't really looking at my splits as it was all about trying to manage my effort in the heat.
I got my head down and made my way up the Devil's Staircase. I felt I was moving quite slowly but I was still catching and overtaking others. According to my splits I went past another 53 runners on the section to Kinlochleven.
There were a couple of times on the climb when there was just a slight breath of air and it felt so good but sadly didn't last too long. I was hoping it might be cooler on the top …. It wasn't!
I was looking forward to seeing Fiona Rennie and Pauline Walker at the top. They normally base themselves there and cheer on all the runners as they pass. Graeme Hewitson was there as well and took these photos. …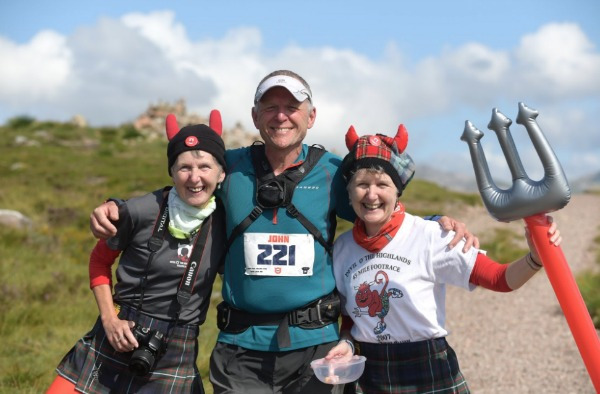 I set off down the hill and was looking forward to using the streams we would pass to cool down a bit. At each and every stream from now on until the end I put my visor in the stream and tried to get as much water on my head as possible. I find if I can keep my head a bit cooler then it helps to regulate how hot I feel.
On one of my water cooling stops Lorna MacLean went past running well. I see from the results she finished 22 mins ahead of me so obviously paced it well!
On my next water cooling stop Devon caught up with again so we ran into Kinlochleven together. It was fun to catch up again and continue our varied conversations! We were both finding the heat hard going as were the vast majority of the field.
I thought back to my first ultra of the year, Hardmoors 55, when I spend the whole race running into a 40mph wind and driving rain. That was tough and this was at the other end of the scale but just as tough!
I stopped half a mile before the checkpoint to have a wee. As I approached the checkpoint I did have a look at my splits and saw that my watch said 5:50 against my sub 9hr plan of 5:36 so from then on I thought sub 10 was going to be the goal. But the priority was to finish as best as I could!
Thomas & Silke were working hard at the checkpoint and Thomas handed me my drop bag. Thomas finished 2nd in 2011 in a superb time of 5:35:59. Sadly he has been plagues by injuries over the last number of years. It must be hard to watch others run a race he loves but can't at the moment do. I did feel for him.
Our friend Yvonne Prager helped me with my drop bag. I drank the youghat and then asked Yvonne to refill it with coke which along with my Tailwind would be my main fuel for the next section to Lundavra. Thanks for your help Yvonne.
Leg: 10.33 miles in 2:26:58 (157th fastest)
Overall: 27.63 miles in 5:52:57 (203rd place)
Kinlochleven to Lundavra (7.74 miles)
Again I didn't spend too long in the checkpoint. I set off down the road with a couple of ladies. One of them said we have a mutual friend in Renita Boyle so we chatted about how we both knew her. They were moving well and pushed on up the hill.
There were 3 guys just ahead of me who disappeared into the woods once the climb started. Another couple of guys went past me too. I was struggling on the climb. I could feel my hip where I fell but I found the heat hard to deal with on the climb. I decided to just keep moving and do the best I could on the climb and see how I felt when I got into the Lairig Mor.
Eventually the top arrived and I was able to start running again. I ran as much as I could and walked when I had to on the climbs. I could see lots of runners ahead and over the next hour or so I caught and passed a good number of them. I wasn't particularly aiming to catch them but I must have been moving stronger at that time.
I see from the results that I passed 42 runners between Kinlochleven and Lundavra. I would imagine some of them where at the checkpoint. Looking at the results I must have overtaken Tim Downie at the Kinlochleven checkpoint as he arrived before me but I arrived at Lundavra before him but never saw him on the route.
I was pleased with how well I was covering the ground. It is always more encouraging to go past people rather than be passed and I think this helps keep your pace up.
I paused at every stream to cool down and soak my visor. It would help for a few minutes but it didn't take long before I was hot again!
There were quite a few walkers on this section who must have been finishing off their West Highland Way walk. Some of them had very big rucksacks!
I arrived at Lundavra checkpoint in just under 8hrs just behind two ladies who I had seen way in the distance on the Lairig Mor. I refilled my water and coke, poured some water over my head and was off for the final leg to Fort William.
Thanks to Ross Beveridge for the photo …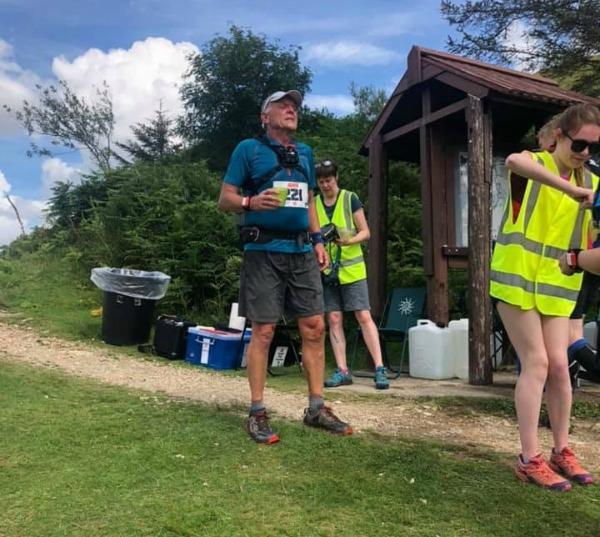 Leg: 7.74 miles in 2:05:14 (107th fastest)
Overall: 35.37 miles in 7:58:11 (161st place)
Lundavra to Fort William (7.13 miles)
I set off knowing I had just over 7 miles to go. I was feeling okay and so decided to continue my pattern of running as much as I could and walking the uphills.
There were a couple of brief puffs of wind which were welcome but mostly it was like running in an oven!! I was taking 3 sips of my Tailwind and 1 of coke very 5-10mins and soaking my visor in any bit of water I could find which wasn't as much as on the Lairig Mor.
I was ready to finish but wanted to get there as best as I could and as strongly as I could. I wondered where Donald and Tim were. I assumed that both were still ahead of me. The other MV60 runner who I thought would be on the podium was Bill Maxwell but I had seen him walking from Kingshouse back to Glencoe so assume he had an injury. But to be fair I didn't feel I deserved a podium place as I hadn't run particularly well on the day.
Last year when Katrina ran this race I ran out from the finish and ran the last 5 miles with her. I passed the place where I joined her and wondered where I might see her as she planned to come out. It didn't take long to find out as I heard her and then saw her at the top of the fireroad.
It was great to see her and we ran together to the end. The extra checkpoint manned by Morven and her friends was so welcome. I had some watermelon and took some ginger bear to fuel me for the final few miles.
Katrina said that she had seen Donald and reckoned he was about an hour ahead so I was pleased for him. She hadn't seen Tim though so I assumed he was behind. It seems he had a tough time over the Lairig Mor in the heat.
I ran fairly strongly down the hill but once I reached the level ground I reverted to my run for 100 walk for 20 pattern. Katrina was moving well so I tried to hang on to her!
At the Braveheart car park Kris Delacour was there encouraging runners and making sure they didn't miss the turn off. The two previous times I have run the Devils it has finished at the roundabout so it was good to see what the new route felt like. I had ran it a few times with Katrina over the last two years so I knew what to expect.
I could hear cheering which I thought was the finish but was actually a Football game in Fort William. You get a great view from the top but by then I was more interested in seeing the finish! With less than half a mile to go you get a glimpse of the finish which means you can give as much as you have left. I asked Katrina could she run ahead so she could get a video of the finish.
I high-fived as many children and adults as I could on the way to the finish line. As it was such a glorious day there were loads of runners and supporters enjoying the sun and cheering home the runners. It made for a superb atmosphere.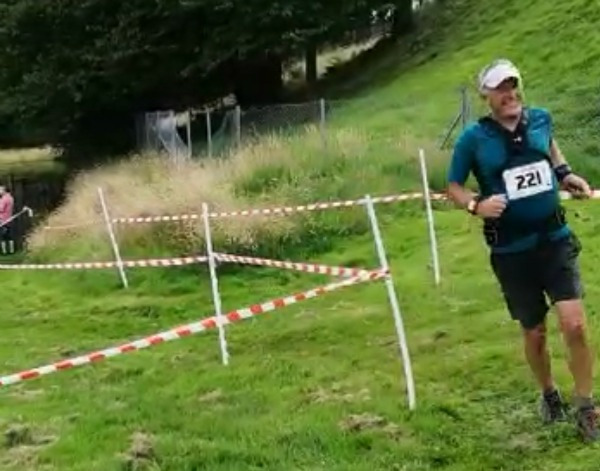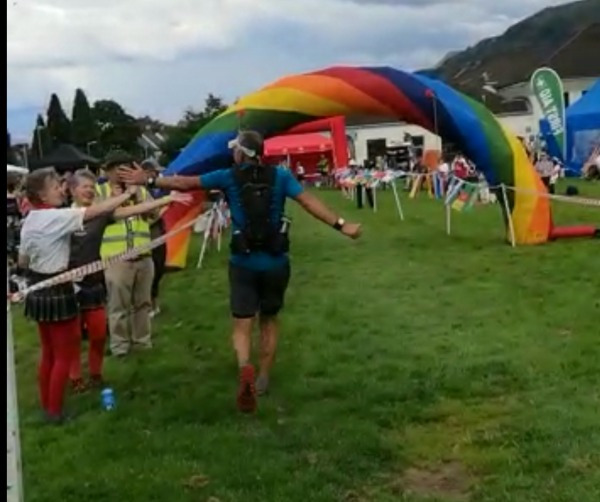 I finished 152nd in 9:38:17. I finished 3rd in the MV60 category behind Robin Livingstone (8:29:05) and Donald Sandeman (8:36:42). I missed out on the podium as Graham Arthur (71) finished in 8:56:56 claiming 3rd MV60 and 1st MV70. So congratulations to them all.
Kirsten gave me a hug at the finish and after being presented with my medal I had the best cup of ice water ever!!
Leg: 7.13 miles in 1:40:06 (114th fastest)
Overall: 42.50 miles in 9:38:17 (152nd place)
After a welcome shower I headed over to the massage tent where our good friend Lesley McKerral gave me a superb massage. It was great to catch up as she worked her magic on my legs. I felt generally okay but my hip was staring to hurt from the fall.  After a while we walked over to McDonald's for an ice cream and sprite before heading home.
I really enjoyed the race and felt I did the best I could given my on-going recovery from the Dragon's Back and just how hot it was. Did I mention the heat??
Big thanks to John Duncan and every member of his excellent team. I will be back next year to help again.