Monday 20th May to Friday 24th May 2019
Introduction
On Saturday 19th May I said goodbye to Katrina, jumped in our VW campervan and set off for Conwy via a night in Wrexham staying with my sister Sue and husband Dave. As I drove down I thought this is what I've been looking forward to and working towards for two years.
The Berghaus Dragon's Back race is held every two years and I have been aware of the race for the last few editions in 2012, 2015 and especially 2017.
When I realised that in 2019 I would 60 then this became the race I wanted to do to celebrate this milestone in my life. I was born in Liverpool and we spent many a holiday in Wales so I know the area well. Plus, I just love the journey that the race takes the runners on down the spine of Wales over most of the significant mountains.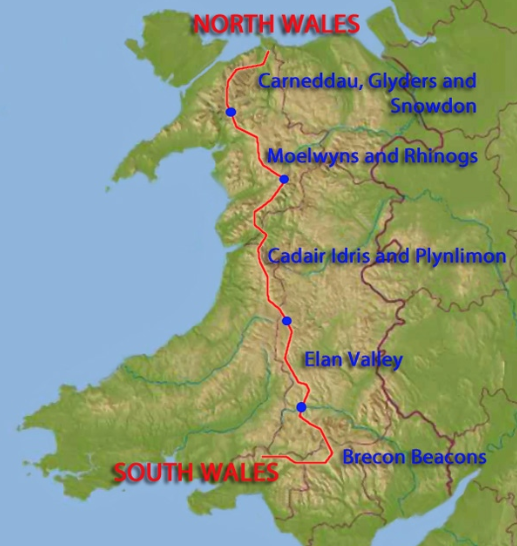 I knew that this challenge would be at the limit of my ability so I had to get most things right and prepare thoroughly for this race. I wanted to recce the whole course and train specifically for it.
I entered as soon as it opened on 1st May 2018 and from then on set about preparing myself physically and mentally for the challenge.
Here is a summary of some of the things I did in 2018 in preparation. I knew my main training wouldn't start until January 2019 but there was a lot I could do to get ready before the main block of training.
July – Recce of Day 1 over two days with Andy Cole. Andy is a great friend who started the 2015 and 2017 Dragon's Back races. Sadly, he was timed out both times but loves the route and offered to join me. Andy suggested we tried to cover as much as we could in 2018 as the weather from January to March would make it difficult to cover the higher ground in 2019. We had an amazing day weather wise and I got my first taste of what a challenge this was going to be. I took lots of video clips and put them together so I could watch them again and again so I was familiar with the route.
July – Katrina and I had a walking holiday around Tour du Mont Blanc. We covered the 105 miles in 6 days so long days out with lots and lots of ascent.
August – Recce of Day 2 over two days with Andy. This time in very poor weather visibility wise. It certainly made me realise why most people think Day 2 is the toughest.
August – Ring of Fire Race. I wanted to do this 3-day event around the coast line of Anglesey as I hadn't done a multi-day event before and I didn't want the Dragon's Back to be my first!
October – Recce of Day 3 over two days with Andy. I really loved the variety of this day and felt it would suit my strengths.
By the end of 2018 I had covered 3 of the 5 days and had a very clear idea of how big a challenge this was going to be. Starting 2019 I had clear goals for my training including
Losing a stone in weight. I was 12st 8lbs at the start of the year and I wanted to be 11st 8lbs by the race.
Aim for 4-5 quality runs a week.
Mixture of speed, hills, easy runs, long runs, back to back runs and especially lots of mountain runs.
Aim to ascend at least 5,000ft a week and hopefully nearer 10,000ft for many weeks.
The other significant thing I did was work on my feet. I knew from previous Dragon's Back races that blisters were a major reason that runners dropped out or had a significantly tougher time. Over the years I have had my share of blisters and they aren't much fun especially starting a new day with sore feet.
I had an appointment with a podiatrist to fit the insoles I wear to help with my bunion in November. The girl took one look at my feet and said how disgusting they were and given how much running I do I really needed to look after them better! She suggested putting E45 cream on them every day to soften them up as this will prevent blisters.
I always assumed that it is better to have gnarly rougher skin but no it seems soft is the way to go. So every day for the past 6 months I have put E45 cream on my feet and I have been amazed at the difference. All through my training for the Dragon's Back in all sorts of wet, winter conditions I didn't have a single blister.
On my blog I did a weekly summary of my training but here are some of the key aspects of my 19-week plan.
I ran 817.90 miles averaging 4.1 runs a week
Total ascent 136,711ft average 7,195ft per week
Good variety of different types of runs
February - Recce of Day 5 over two days on my own
March – Hardmoors 55 Race in very wet and windy conditions
Recce of Day 4 over two days with Andy and Mark
Reduced my weight to 11st 7lbs by race day
The final piece of my training was to do the Great Lakeland 3 Day event two weeks before the Dragon's Back. I really enjoyed the weekend and it gave me such a confidence boost that I was ready both mentally and physically.
I spent the 3 days running as comfortably as possible aiming to finish each day with plenty left. I didn't have a low patch over the 3 days and that gave me an idea for the Dragon's Back. Joe Faulkner, who has completed all 4 Dragon's Back and was on the start line for 2019, said to me that I would have lots of low points in the big race and I came away with a determination to either prove him wrong or keep the low points to the absolute minimum!
One of the other great things about the 3 Day event was that it is run by Shane Ohly and his team so I got to know lot of people who would either be running or on the event team.
Sunday 19th May 2019
I arrived at the Head Quarters of the race in Conwy at 12.10pm. I parked my van next to Dan Milton's. I had met Dan last October when he joined Andy and I for the recce of Day 3. Sadly, he twisted his ankle early on and had to abort but stayed with us in the youth hostel. Dan was timed out in 2017 and was back determined to claim his baby dragon trophy.
There was a short queue but it didn't take long to work through the various desks with kit check, ID check, tracker, number, photo etc. It was great to chat to various folk in the queue and straight away I could see what an international field this was.
Fiona from Fiona Outdoors chatted to me about my plans for the race and included it in her daily pre-race brief!
Once I had dropped off my main overnight bag and smaller support point bag I joined Stephen Brown and his family for the afternoon. Wife Nicole with children Paddy and Rosa had brought Stephen over from Sheffield. I had run with Stephen last year when he joined me for one of my recce runs on the Northern Traverse.
Both Stephen and Nicole have run the West Highland Way Race and once I knew that Stephen had entered I asked him whether he wanted to share a tent. It turned out to be really beneficial to both of us and made camp life so much better.
Stephen had booked a hotel in Llandudno for Sunday night so we headed there for him to book in, have some lunch and wander along the prom before driving back to Conwy in time for the race briefing at 5pm. Nicole and children set off back Sheffield.
The race briefing was inspiring and very thorough about what we were to expect and what we had to do. The highlight for me was a talk by Martin Stone who won the original race in 1992 with partner Helen Diamantides. I have met Martin a few times as his company provide the timing chips for many races.
Once the briefing was over it was time for a pre-race buffet which was a foretaste of all the lovely food on offer all week. Stephen headed back to his hotel and I settled down in my van to try to get some sleep.
Monday 20th May 2019
I was up at 5.15am to make some breakfast before walking to the start with Dan. We had to be in the castle grounds for 6.30am at the latest. There were lots of people about but once in the castle runners were directed to the lower area while supporters were watching from the walls.
I wanted to keep as calm as possible and not get too emotional or caught up in things so I deliberately stood right at the back.
I took a couple of short videos. I had decided that I wasn't going to video diary of the race as I didn't think I had time to waste!
The male voice choir were amazing. This was followed by Marcus Scotney, winner in 2017, giving a final encouraging speech and it was 7am and we were off.
Day 1 Start to CP9 Llyn Ogwen
One of the fun things about the start of this race is that it starts inside the castle and then goes round the walls but your time doesn't start until you leave the walls and head up the road. I thought it would be 5mins or so but it took 25mins.
I didn't want to get pulled along so early so I decided to start right at the back so I could run my own race at my own pace. I didn't run a single step on the walls as I didn't see the point as my time hadn't started! I wasn't going to waste any energy.
Dan was doing the same so we walked along together and started within seconds. One of Andy Cole's excellent suggestions was not to run any uphill for the first four days so while others ran up the hill I walked and thought about how great it was to have finally started a race I have been thinking about for over two years.
I was determined to enjoy it and see whether I had the ability both physically and mentally to complete it. I felt I had prepared well giving myself the best possible chance of success. I had worked out splits for my goal gold of sub 72hrs. Today I was aiming for 13hrs 25mins which would get me in well over two hours ahead of the cut off.
I wasn't too bothered by the cut-offs as I felt if I was moving as well as I hoped I would be then I would be well ahead. If things started going wrong however it would be a different matter!
I had a short wait at the kissing gate before heading up Conwy Mountain and the first of 18 Checkpoints we had to pass on Day 1. In this race you have to dib into each one but you are free to choice your own route between them. There are certain sections, normally lower down, that are mandatory routes.
The highlight of the first few hours was running with Joe Faulkner. Joe caught me after the first CP and we ran together off and on until we reached Pen-yr-Ole Wen 4 hours later. I was asking him loads of questions and really enjoying the chat.
I couple of times he stopped to do something and I wondered whether he had had enough of my questions and was making an excuse to get rid of me! So on the third time he caught me I waited for him to initiate the chat which he did so that was good!
Joe is such an experienced and interesting guy that the miles and time passed quickly. I did sense though that his heart was not really into this race. He had been persuaded to run as the only 'ever present.' I wasn't too surprised to hear he had been timed out on Day 2. You need to really want this to complete it whether it is your 1st time, like me, or your 5th like Joe.
The weather was a bit cloudy to start but not too cold so I happy in my short sleeved top. As we made our way over the rolling hills the clouds lifted and we started to get the spectacular views I was looking forward to.
I had downloaded each days gps file into my Suunto. The latest ones had all the checkpoints as way-markers which makes them a lot bigger. That meant that I could only fit in 4 days. I decided I probably didn't need Day 1 but as a back-up I could upload an an early version of Day 1 which didn't have the way-markers.
As it was cloudy I thought I would open it up for back up. Once I selected Day 1 it said that I was 50 miles from the start! I had uploaded Day 1 of the Ring of Fire by mistake!! So much for my meticulous preparation!!!
As I started near the back I was slowly catching other runners. As I climbed up Drum I caught up Lourdes Gutierrez-Kellam. She immediately thanked me for my recce videos and vlogs. Lourdes is from the USA so not able to recce the course so she found my videos helpful. Over the next 5 days many runners particularly from overseas thanked me for them so I'm so glad they found them helpful.
When I asked Lourdes how it was going so far she explained that she felt the course was going to be too much for her and that she figured she would have a one day race and a four day holiday! I also ran with Dan a lot during the morning and it was great to see him starting strongly and in good spirits.
Throughout the morning I was checking my times against my splits and happy to see that I was pretty well bang on target. But more importantly I was keeping my 'even keel' strategy. I was determined to avoid any 'highs' and 'lows'.
Often when I'm feeling good the temptation is to push a little too hard for too long but inevitably it is followed by a low whether that is an hour or two later or the next day. I wanted to avoid that so my mantra/thought process was to run at an even keel. Nice and steady all day, every day, without any dramas.
I wanted to enjoy the race and to make sure that at the end of each day I was ready for the next one which was another thing Andy Cole drummed into me!
Once we started descending to the Day 1 Support Point at Llyn Ogwen Joe was away. He is so strong on the descents whereas it is definitely my weakest area. I have come to accept that I'm not going to get much better so I just try to get down as quick as possible without doing any damage.
I did roll over on my ankle at one point which made me wince a bit but thankfully it was okay. Dan caught up with me again and we ran/walked into the checkpoint together.
My planned split for the support point was 5:43 and as I glanced at my watch it said 5:47 so I was very happy with my first morning. A good solid start and feeling comfortable.
I stopped for 8 mins. In that time, I ate my sausage and beans, refilled my water bottle, got out watch recharger and resupplied my bag for the afternoon.
The event team were all so helpful which was the pattern for the whole event.
Day 1 CP9 Llyn Ogwen to Overnight camp at Nant Gwynant
I set off on the climb up Tryfan knowing that the next section to Pen-y-Pass Youth Hostel was going to be tough. The climb up Tryfan is hard enough but then it followed by another tough climb over a scree slope to Glyder Fach and on to Glyder Fawr.
I was keen to keep my 'even keel' strategy going so set off walking very steady. I think all the many feet of ascent I have done this year in preparation for the race was paying off as I slowly but surely caught up with runners ahead. I didn't stop, keeping an easy rhythm going.
I do a lot of counting on the ascents. I would count two lots of 50 and then glance up and keep repeating until the top. One of things I worked on during my recce runs was not looking or wishing for the top to come but to keep plodding away until it did.
The final 1,000 ft or so the route gets very rocky and basically it is hands and feet climbing. I was still moving past people including Joe who had stopped for a rest. He said he was struggling with his breathing. I was surprised to see him again.
The top came, another CP passed and onto the descent. I think Dave Douglas came past around here. I followed Dave's training videos in the build-up to the race and it was really good to meet him and we saw each a fair bit over the five days. I could often hear him well before I saw him!
On the ascent to Glyder Fach I tried to keep a steady pace going but it is hard when you keep slipping back. After a while runners took various lines. I followed Dan for a bit and then cut over to the right and went up a gully following a line of 4 others.
I reached the top about the same time as Dan so any line seems fine as long as you keep going up! It was good to get those two climbs out of the way. By the time I reached Glyder Fawr I was almost 15mins up on my splits which was an encouragement!
At the first CP in the morning I was 369th out of the 402 who started. Now I was 257th I didn't know that at the time but it is good to look back and see that I was moving well in relation to the field.
On the decent to Pen-y-Pass I didn't take the best line and also I'm just slower than those around me so both Joe and Dan went past and took a few minutes out of me.
I was on my own now so spent some time on my 'be thankful for today' plan. I had decided to think about different people each day and be thankful for them. Today was my parents and sister so I spent time thinking of some of the things we have done together and how they have helped make me who I am. I'm so grateful for them. My Dad died in 2009 but Mum is 89 and doing well.
I also wondered where Stephen was. I had not seen him at the start and hadn't seen him all day so far so assumed he was still ahead. In fact looking at our splits in the tent in the evening I must have passed him on the ascent up Tryfan.
As I arrived at the Youth Hostel Dan was just leaving and Joe was sitting having a cup of tea with Stuart Smith. I stopped for 5 mins to refill my Tailwind and eat an energy bar. Another runner was greeted with a kiss by his partner. I did say that the rules stated that whatever you give to your runner you should make available to all the runners. She laughed but didn't offer me a kiss!!!
I set off to Crib Gogh feeling good and looking forward to the climb up and the challenge of the ridge. I have been over the Crib Gogh ridge a few times and while I can't say I'm super confident and happy to skip over the top as some are able to do I'm not scared of it and quite like the feeling of being on the edge of something dangerous …. as long as I can hold on!
I was walking up well and went past a few runners. I'm obviously using the term runners in the general race sense rather than describing that folk were actually running!
I could see a few runners ahead and as I climbed I slowly caught them so by the time I had dibbed into to CP13 I was in a line. Looking at the splits I was 113th fastest on the climb from Pen-y-Pass which was my best split position of the whole day.
The race had spaced about 6 volunteers along the route to make sure everyone was okay. The weather was great which made it more enjoyable for them I'm sure. I was happy to go at the pace of the group but there was one girl with a welsh flag on her pack who I had passed on the way up who literally skipped across the top overtaking the line I was in! I was very impressed.
It was good to get to the end and down to the gap and not have to use my hands as well as my feet. I made my way up the next climb to Garnedd Ugain and then a short down before heading up to Snowdon following the railway line.
Just before I started the climb I wanted to get out an energy bar from my pack. As I opened it a small plastic bag flew out. I chased after it but just as I was about to pick it up the wind sent it over the edge. We were told not to drop any litter so I did report it to Graham, the Assistant Director, who gave me a 0.1% of a strike! Another runner who overhead the conversation praised me for reporting it!
Up and over Snowdon then the steep drop before the climb up and around Y Lliwedd. There was no CP on the final top of the Snowdon horseshoe but most people I saw went over the top anyway.
As we made our way to the penultimate dibber on Gallt y Wenalt I saw Dan and a few others appear from the left. They had gone over an extra top and added an extra climb so we were back together. We could see the overnight campsite from a long way out. I was really impressed with how neatly it was laid out. Very military.
Dan and I finished the day side by side and it was great to have his company for the final few miles. We were both really satisfied with our day and how well we were feeling with a few miles to go.
We were joined by Megan James who Dan knew. Megan knew the route well to the end of the ridge and the path down to the final dibber at the bridge.
Both Dan and I were keen to take our time on the descent as we were well ahead of our planned split for the day and we wanted to make sure we were ready for tomorrow. Megan pushed on and within minutes was out of sight.
We dibbed in at CP16 and made our way to camp on the Watkin Path. I had planned to be at the final CP in 13:13 and it was now 12:40 so I was 33 mins ahead of my splits. Dan had planned 14hrs for the first day so he was an hour ahead.
Just as we came to the point where we left the main path for a smaller one which leads to the campsite we saw Megan and two guys running up the hill. We asked was there a problem with this route and then said no but we forgot to dib in at the final CP on the bridge!
As they ran past us back up the hill we felt really sorry for them as this race is hard enough without adding an extra mile or so at the end of the day. But it just shows that you need to concentrate right to the end. From what I heard they weren't the only ones to miss it.
Dan and I ran into camp together. My time for Day 1 was 12:54:48 and I finished in 233rd place. Of the 404 that started 360 finished. In the briefing Shane said that 30% wouldn't make it to day 1. The % was lower this year with just 11% not making it.
Those who are timed out can choose to leave the race and head home or stay with the race as a non-competitive and continue on doing a mixture of full or half days.
Overnight Day 1
Someone had advised me to treat the overnight camp as part of the race as what you do in the hours you have will make a significant difference to your race. I had learnt a few lessons from the Great Lakeland 3 day event which I wanted to put into practice.
Once I had my print out of times for the day and my new number for tomorrow I was taken to tent 25 which was my home for the week. A volunteer carried my two bags and congratulated me on the day.
I finished around 8.20pm and over the next few hours I got changed into warm clothes, blew up my air bed and laid out my sleeping bag, inspected my feet (no blisters and looking good), ate plenty of food, checked my Dragon Mail (thanks to those who sent encouraging messages), chatted to a few folk and headed to bed.
Stephen finished the day in 14:43 so it was nearer 9.30pm so he had over less time to do his camp admin as it is called.
We headed to bed around 11pm and chatted about our day and the route ahead. Stephen seemed quite concerned about tomorrow as he knew it was going to be tougher. We both agreed to be up at 4.30am so we could get breakfast at 5am and be away as close to 6am as we could.
Our tent was all quiet by 11.15pm but at 11.30pm our final tent mate arrived. He spent the next hour sorting through his bag and I'm sure he was trying to be as silent as possible he wasn't! He finally got into bed at 12.30am but then 15 mins later was up again going through his bag again!!
I didn't feel I slept very much but at least I was resting! I was awake before the 4.30am alarm. In the next 90 mins I got dressed, packed away my sleeping gear, had breakfast, visited the portaloo, cleaned my teeth, packed up my two bags and got my hill bag ready.
As I did a short video update Stephen was leaving camp for Day 2.
Day 2 Start to CP7 Cwm Bychan
I'm not sure how many left before me but I was away by 6.08am. Each morning the team ask to see a couple of items of the compulsory kit. I think it was map and waterproof trousers on Day 2.
The day starts with a mandatory route along a road for a couple of miles before heading up Cnicht. After 10 mins or so I caught up with Remi Alex. Each runner has their number and name on their pack so it is nice to know the name of the runner you are talking to.
Remi is from the south of France but works for Apple in Cork. We climbed together chatting about lots of things and the first few miles passed quickly. I did relate the story of the 3 runners who missed the final CP yesterday. Remi held up his hand and said I was one of the three!!
When I did the recce of Day 2 I didn't see anything over 1,000ft so it was great to have another great day with clear skies and amazing views. I think we ascended a slightly different route to the one that I did with Andy but everyone was following in a line and it was on my trace which thankfully I had the correct day 2!
On the climb I was pleased to see Lourdes who explained that she made the cut-off on Day 1 but she thought Day 2 would be too much. So her trip was to be 2 day race 3 day holiday. I had a feeling I would see her tomorrow!
I reached the top in 1:35:30 against the plan of 1:40. This was going well! I was once more in my 'even keel' philosophy and really pleased that I was moving at a pace that felt comfortable and was bang on my splits.
There is a steep descent and another climb, followed by an out and back up Moelwyn Bach. I quite like the out and back as on the way up you can see the runners who are ahead and on the way down the runners who are behind. But because everyone starts at different times you never quite know who is ahead or behind time wise!
As I climbed I saw Stephen then Dan heading down so I knew they both were still ahead of me. I wondered whether I would see them again. As I reached the top a massive Hercules Aircraft flew over. It was a very impressive sight.
The route to the next checkpoint at the railway offered a choice. The recommended route which most people followed cut across on a more direct line. But on our recce Andy suggested going straight down to the power station and then following the railway line.
I decided to follow Andy's line and be a bit different. I'm not sure if it was quicker or slower but I enjoyed the freedom of trying something slightly different.
I reached the dibber in 3:54:00 against my plan of 4:35 so I was over 30mins up on the day. I had given myself a generous 15hrs 50mins for Day 2 as I knew it was a tough day. That would still get me in over an hour inside the cut-off.
There was now a long section of over 5 miles that was mandatory, some on road and some on paths. I was moving well. My 'be thankful for today' was my friends so I spent time thinking about all the friends I have made in my 60 years. It took a while and passed the time as I made my way along the route.
Over the next couple of hours there was plenty of ups and downs as we made our way to the midday support point. Navigation was fine as with the weather so good you could see a line of runners dotted ahead. I did continually check my map and Suunto as you can't assume they are going the right way!
I was caught by Adam Firth who is coached by my friend Dave Troman. I've met Adam at various Hardmoors events and he is always encouraging. As he caught he said I was moving well and looking comfortable. I'm not sure if he was just being kind but it did give me a boost so thanks!
It was good to finally see the Support point below and I reached it in 7:23:24 which was over an hour faster than my planned 8:30. More importantly I was still feeling good and keeping to my 'even keel' without any lows. Dan was at the CP as I arrived and left after 5 mins or so.
I ate my sausage and beans and as I went to refill my Tailwind I realised I hadn't packed it in my supply bag. I tried not to panic but I knew this was a serious error as I was relying on Tailwind as my main source of energy. There was nothing I could do but push on and hope the other food I had would be enough. It was my first serious mistake and I hoped it wouldn't prove too costly.
Day 2 CP7 Cwm Bychan to Overnight camp at Dolgellau
As I left CP7 I was joined by Diarmuid O'Shea. He immediately thanked me for my videos. He explained that he works in Hong Kong as an aircraft engineer and wasn't able to recce any of the course. Diarmuid said the videos really helped him prepare for the race so that was good.
We climbed up the Roman steps together chatting and swapping running stories before he pushed on. Meeting Diarmuid each day would become one of my daily highlights!
I was with a group of runners and we couldn't quite decide when to head up. I could see Dan not far ahead still on the main path but mistakenly followed the group but we quickly saw the error of our ways and rejoined the main path for a few more minutes before continuing the climb up.
It seemed a long and tough climb but I was still moving well and slowly catching up with Dan and the group he was in. Dan must have been going well as he was talking the whole way up! I did shout at one point, 'stop talking and climb!'
It took me 1:24:04 to reach the top against my plan of 1:25!! Impressive pacing if I say so myself!! BUT on the descent things quickly started to go wrong. As I have said my weakest area is technical descents and the descent off Rhinog Fawr is as technical as they get.
Dan and his group disappeared in the distance and I vainly tried to follow. On the recce I took a different route with Andy but without really planning I followed the recommended route which went left then down. I'm not sure where I ended up but it wasn't on the recommended route.
I took an age to get down and I could see a line of runners coming down to my right. I made my way over but I lost a lot of time and it took a lot out of me.
This was my first serious battle. As I made my way over to the stile and the climb up Rhinog Fach I tried to convince myself this was not a low but it was! I think a combination of the tough descent and only water I was feeling a distinct lack of energy.
I did okay on the long climb up Rhinog Fach and I actually arrived in 1:50:16 bang on plan but not feeling great. I knew I had to battle on, keep counting my steps and I would get there. I had taken my poles at the support point and I was so glad I had them as they gave me a boost in my effort to keep moving.
The descent off Rhinog Fach was another tough technical one and runners were streaming past me. It was probably only 5-10 but felt like hundreds!
In the recce of this next section I couldn't see a thing and so you don't realise how far there is to go but now the route was in clear view and it was very obvious I had a long way still to go. I could the dots of runners way ahead in the distance.
I was definitely in a low now and was using every trick I knew to stay strong mentally, to keep putting one foot in front of the other. When runners went past me I said well done and tried to appear more positive than I felt!
Eventually Y Llethr came and went and I reached Diffwys. On the way out on the right side of the wall you can see the runners on the other side making their way down. They all looked in great shape and running well …. but maybe they thought the same about me!!
I reached the trig point which was CP10 in 12:13:05 which was actually over an hour faster than my 13:20 plan. So even though I was having a tough time I was still well ahead of my splits. I know that my splits were probably too generous but I was taking any encouragement I could at this stage!
It was long and slow descent to the forest passing a photographer on the way. I tried to smile even if I didn't really feel like smiling! He was struggling with the midges which didn't bode well for camp that night.
Once in the forest I tried to run as much as I could but it still felt a bit of a battle. I did catch a few other runners who looked like they too were finding things hard on the evening of our second day.
The final 6.14 miles from the start of the forest to the campsite took me 1:36:11 but for some unknown reason I had given myself 2:10 so I was well ahead. Oh … I've just remembered … when we did the recce we did the 2017 route which went up a steep hill in the forest before descending to the campsite and I based my splits on that run.
I reached the campsite in 14:29:42in 268th place for the day. So even though I had had a tough second half I was now over 2hrs up for the two days on my sub 72hr plan.
Also my feet felt okay. I had one small blister on my small toe on my right foot but everything else felt okay.

Overnight Day 2
Same routine for the evening but this time there was a proper shower. There was a big queue when I arrived so I decided to eat first. Stephen finished in 14:57:26 and came in the tent as I was about to go and eat having changed. Stephen came with me and then went for a shower about 10.30pm.
I decided to go too and by 10.45pm there wasn't much of a queue. As I waited for a spare cubicle there were runners still coming in just inside the 11pm cut-off. They had done the last 90 mins or so in the dark and now had just over 7hrs to recover, eat, sleep and be ready for 6am tomorrow. I wonder how many of them made it. There were 315 left after Day 2 so another 45 had dropped out.
There was a decent mobile reception so I put an update on Facebook and rang Katrina. It was great to chat to her and she said how much our girls are really into the race and following my tracker really closely. They are also loving the live webcam at the finish. I didn't realise it was there so I made a note to give them a wave tomorrow night!
The shower was amazing and I felt so much better. I put a blister plaster on my little toe and by 11.30pm we were in bed ready for sleep. Andy Cole had sent me a Dragon Mail to say make sure I start as early as possible tomorrow so that I didn't have to worry about the cut-off at Machynlleth.
Day 3 Start to CP8 Machynlleth
Up again at 4.30am and ready to go just after 6am. This time it took a little longer to get through the various checks as more people were wanting to start early as today would be a longer day and lots of people get caught out at the Support Point at Machynlleth. They were also changing our trackers.
As I waited in the queue I was chatting to Luke Elliot who is a friend of Dan's. I suddenly left water all over my shorts and thought my water bottle must have leaked but no Luke had squirted me with pineapple juice from the carton he was attempting to open. He was very apologetic but the girl with us said you'll be chased by flies all day now! Not the best start to Day 3!
I started at 6.25am but was fairly confident that I would be okay. I really enjoyed the recce of this day and felt it would suit my running. Once we are over Cadair Idris then the ground becomes a lot more runnable and the hills more grassy and nowhere near as gnarly.
I caught up with Stephen as we made our way through Dolgellau. For the first time in the race we ran together. We both enjoyed being able to spend some time on the route together. It is all mandatory for the first couple of miles and then once through a farm gate the climb up to CP1 fence corner started.
I remember that Andy and Dan suggested there is a good path to follow but everyone must have got that memo as we all followed the same path up. About half way up Stephen said I was going a little faster than he felt comfortable so I pushed on but by the CP he was right behind me again.
From there to the the top of Cadair there were a couple of major climbs and some downhill and contouring round. It was getting really cold so I stopped to put on my light weight waterproof jacket and gloves and I'm glad I did.
The top of Cadair is very rocky and so is the first part of the descent. As I came off the top I saw Mary-Ann Ochota and her cameraman going up. I said how much my wife and girls are enjoying her daily video updates so she said tell the camera! I was glad to see it made the cut for day 3.
A bit further on I caught up with Lourdes again. 'Are you still in?' 'Yes, I made just about made it last night but today is a longer day and I don't think I can do it. So it will be a 3 day race and a 2 day holiday!' There is a pattern emerging here. I wished her all the best and carried on.
One of the faster runners went flying past me on the descent and I marvelled at the ability to run that fast on tricky rocky terrain after two tough days.
Once we left the main path and followed the fence I was moving so much better and really enjoying the fact that my legs felt as though they had a bit of zip back in them after yesterday afternoon. Over the next hour I caught a few runners and was passed by a few runners.
I reached CP 3 in 3:46:26 against my plan of 4:20. I had a feeling today was going to be a good one! I tried to make sure I didn't push too hard as I was still working on my 'even keel.' No good having a high if it was followed by a low. I didn't enjoy yesterday's battle and was keen to have a no drama day today thank you very much!
There is a mandatory route down and once on it I caught up with a few runners including Ian Blakebrough who at 67 was the oldest competitor to start. He was timed at on Day 1 at Pen-y-Pass but did a half day on Day 2 and was hoping to complete Day 3. It was good to chat to him.
I also saw Ellie and Matt from Summit Fever the film makers. Matt filmed me talking about my 'even keel' philosophy but I don't think it made any cuts!!
I made my way down and through the valley to the campsite where I refilled my Tailwind at the outside tap. There is a short section of road before another climb up and over a hill before a slightly longer road section.
Adam caught me again. He was running with Shawn Mills who is also from Liverpool. Once he discovered I too was a blue like him we were best friends. I don't think that would have been the case if I said I supported Liverpool!
The nest section is a longer gradual climb around a hill before a short very steep climb up to Tarren Hendre. Quite a few runners went past but they were clearly a lot faster and had probably started an hour or so behind me. I was around 250th in the field so it made sense that over the course of the day a good number of runners would be going past.
I kept pace with the runners who I started the climb with and even caught a few. Wednesday in my 'be thankful for' was Katrina so I spent time thinking about all that we have been through together over the last 35 years.
A few runners were cutting the corner but it meant going over rougher ground so I stayed on the path to the corner and headed up the fence line. It wasn't quite as bad as I remembered and soon enough I reached CP 5. I was still over 30 mins up on plan so about 90 mins ahead of cut-off times so nothing to worry about!
I really enjoyed the next few miles. I legs were feeling strong and there was plenty of easy downhill running on good terrain. I was catching people and feeling strong.
Before heading down through the forest to the Support Point at Machynlleth there is an out and back to Tarren y Gesail or more accurately an up and down. In the recce it took Andy and I about 30mins. As I made my way up there was a steady stream of runners heading down.
It is one of the many things I like about this race that you get to see a lot of your fellow runners even if they are a lot faster than you.  I tried to greet runners coming down but after a while I need to concentrate and keep my breathing for the effort!
It was good to reach the top of the climb, turn left and head to the cairn and CP6. I arrived in 7:30:23 for 207th  place overall and 183rd for that leg which showed that I was moving well. On the way down I was keen to spot Dan and Stephen amongst others and I did.
It is a straight forward descent along good paths. Once down to the road and heading to the small town I caught up with Jørgen Grøndal who is from Norway. We walked into Machynlleth together. We discussed what we were planning to buy in the town on the way to the checkpoint.
I wasn't planning to stop too long but was looking forward to buying a bottle of coke to fuel me for the final few hours later in the afternoon and for a treat I was going to buy a White Magnum!
As we passed the petrol station which had a co-op there were lots of runners standing around so I decided to carry on and visit the Co-op on the High Street as I reckoned there would be a queue in this first one.
I caught up with Megan who was having some trouble with her knee but determined to keep going. I bought my Magnum and Coke and made my way to CP8 which is the Support Point and where I lot of runners end up being cut-off. Runners need to leave by 4.30pm. I looked at my watch and noted it was 3.20pm so I had over an hour.
My plan had 9:35 and I clocked out at 9:09:18. For the short leg of 2.20 miles through the town I was 93rd fastest in the field which shows just how much longer other runners spent in the shops!!
I ate my sausage and beans, refilled my Tailwind and was up and out after about 12 mins.
Day 3 CP8 Machynlleth to Overnight camp at Ceredigion
I left the CP in good spirits. I was moving well, keeping to my 'even keel' and knew there weren't any big hills to go. I was also looking forward to following a couple of alternative routes to the recommended route that Andy had showed me on our recce run in October.
On one of the climbs I was caught by Diarmuid and we had our daily chat about how things were going. For one of the few times in the race there weren't many people about.
It was a lovely afternoon, I was moving well and I just loved being part of this amazing race. Life was good! I felt a big part of my success in this race was to stay as positive and happy as possible.
As I came to the forest where I was going to take a different route a couple of guys from Brighton caught me. They followed me past the turn off and someone behind called us back. I explained I was going a different route through the trees. I showed them the route on the map but said if they want to come with me it was fine but it was at their own risk!
They did come with me and it was good to chat to them as we made our way through the forest on a good track and then back up to rejoin the recommended route. I'm not sure if it was faster or not but I enjoyed taking a different route to the rest of the field every now and then!
A couple of miles later there is another opportunity to deviate from the recommended route by crossing the stream and heading over rough ground to a jeep track. Again the guys came with me and I think this one definitely save some time.
We climbed up to the top of Pen Pumlumon and CP10. I had now been running for 13:05:09 and I was 55mins up on my plan for the day. It had been a good day.
The final 4.19 miles is mainly downhill on runnable ground so I ran as much as I could but tried to make sure I didn't push too hard as there was still 2 days to go!
I did reflect on the fact that Shane had said that the majority of people who finish Day 3 go on to finish the race so I arrived at camp feeling very positive and encouraged.
Day 3 had taken me 14:12:03 compared to my plan of 15:15 but more importantly I finished feeling good and knowing that I would be ready for tomorrow.
Overnight Day 3
Camp routine was actually that a routine that I was into and I quickly got changed, sorted my sleeping area, went for some food and then back to the tent to get ready for tomorrow and sleep. Stephen finished in 14:53:07 so he wasn't too far behind.
Day 4 Start to CP6 Elan Village
Ever since my recce run of Day 4 in April I had been looking forward to getting back on the route so I set off at 6.15am with a spring in my step. My legs felt good and the tiny blister I had on my little toe wasn't bothering me at all.
I caught up Stephen who had started the day a few minutes before me at the top of the first hill and we made our way over to the forest together. It was good to give an idea of the day ahead to Stephen so he knew what was coming. He was enjoyed Day 3 as after Cadair Idris there hadn't been any rocky mountains to go over.
We dropped down through the thick forest and onto the path. I caught up with Lourdes and we had our daily chat. She had made the cut-off at Machynlleth by a minute but then made the camp by 10.20pm so she was happy but now it was going to be a 4 day race and a 1 day holiday! I suspected she was going to get her baby dragon!
As we made our way to the windmills I rang Katrina before she headed to work. It was good to chat and let her know how things were going. I didn't have any mobile reception in the last night so I couldn't call her. Katrina repeated how much our girls were following my progress and that they were so proud of what I was doing.
Once on the service road it was long easy downhill run and I adopted my run 100 double paces, walk for 50 strategy. I probably could have run more but this was I was keeping to my 'even keel' and not working too hard. Some quicker runners who started later went past but I did catch up with a few folk.
I ran with Claire (I think?) who is doctor. We chatted about life and family and all sorts and soon enough we had arrived at the first CP of the day 6.98 miles since starting off. I was already 30mins up on plan and feeling strong.
The next section is on a path around the hillside on boggy ground at times and then a drop down to the road. Tim Laney went past me here. I had met Tim on the Great Lakeland 3 Day event. He too was 60 this year but a lot faster runner so I watched him take off into the distance.
As I made my way down the road I could see a line of runners making their way up the hill side to CP2 which is a fence corner. I was climbing well and catching up with a few runners including Corri Black who I had not really seen all week. Again I met Corri in the Lakes a few weekends ago.
As we made our way to CP3 summit post another Hercules aircraft went overhead. This time it was so low you could almost see the whites of the pilot's eyes! He dipped his wings and we all waved and cheered. You don't get that in many races.
Another descent to another road was followed by a couple of miles on the road firstly a climb and then downhill. I adopted my run/walk plan and was moving comfortably even though it was starting to see quite hot.
Leave the road and follow a good path up to the next CP at the top of the hill. As I approached the trig to dib in Matt & Ellie were there taking video and photos and Fiona from Fiona Outdoors was asking questions. I replied to her question of how's it going by gushing how good I felt, how my legs felt strong, no blisters etc. She said is that just bravado? No I feel really good I replied. If only she could have seen me an hour later!
I made my way down to the Path Junction CP5 and the start of the Mandatory route. Paul Nelson went past looking strong. Paul has high aims for his ultras and never seems quite happy with his performance but he was moving quickly as he passed me.
As I made my way down a steep path suddenly my right knee felt really sore. Sometimes after a long run when I'm driving home it can ache a bit but it's never been a problem actually out on a run. It was a problem now as I couldn't put any weight on it.
I stopped to give it a rub but it didn't help much. I could walk okay but as soon as I tried to run I was limping and it was very sore. As I walked along I thought about the rest of the race. I had one and a half days to go and if I couldn't run would I be able to make it by walking alone. I wasn't sure if I could and even if I could it wouldn't be much fun!
Once I got down and on the flat footpath I tried to run again with the same result. This is not looking good I thought. A local pub was selling food just off the route but I was too concerned with how my knee was to consider stopping to eat.
I walked into the Support Point and tried to carry on with my normal routine. As I ate my sausage and beans I thought about the route ahead. There is basically a long climb up to Drygarn Fawr which would hopefully give my knee a chance to sort itself out. Or that is what I hoped.

Day 4 CP6 Elan Village to Overnight camp at Towy Bridge Inn
As I left the CP I could see Matt, Ellie and Fiona and I hoped they wouldn't see me and ask how things are going now! I walked up the hill following a couple who seemed to be doing the event together. My knee was okay going up so at least that was something.
I passed CP7 which signifies the end of the Mandatory route and started climbing up the hill. Soon there were the views of the reservoir that I had been looking forward to. There is then a downhill section so I decided to try and run a little. To my surprise and joy my knee didn't hurt as much. I had taken my poles from my support bag and they seemed to help. For the first time in over an hour things were looking up again.
I went past the turn left which was my mini-split but didn't go too far off extra. I was joined by Wes Thurman. Wes is from the USA and wanted to thank me for my videos of vlogs which he said really helped him in his preparation. We walked for the next 30mins or so together and it was good to have a distraction from whether my knee was completely okay or not.
Once we reached the wider top and the good path which leads to the very top Wes pushed on and I continued at my pace which was a bit slower! I would say I was definitely in my second low of the race. The first one was Tuesday afternoon and this, on Thursday afternoon, was the second I thought if I say there are two sessions a day then out of the 8 so far I have had 6 good sessions without any lows and 2 sessions when I have had to battle.
Thankfully it was a little cooler higher up and I kept plodding on. My 'be thankful for' today was our four girls and our six grandchildren so I spent time thinking about them. The top seemed to take ages to come but eventually it did. There are two massive beehive shaped cairns on the top and I'd forgotten that there is another one further on when you reach the first one.
I had given myself 2:30 to reach the top from CP7 and I made it in 2:23:52 so again despite finding it tough I was still on target. I was still an hour up overall. I decided to reward myself with a 3min rest at the top. A few runners came along and set off down the hill to the forest.
As I made my way down I discovered that my knee was okay when it was a gradual descent but as soon as it got steep it started to hurt so I ran when I could and walked when I couldn't run.
From CP8 at the top of the hill it was about 14 miles to the overnight camp. It was a net downhill with over 8 miles on road. I knew it was going to be a bit of a slog but no-one ever said running the Dragon's Back was going to be easy. This was my time to see whether I was strong enough mentally to keep going.
Runners were going past me especially on the steeper sections when I was moving a lot slower than others. Once I was in the forest Dan went running past me with a big grin on his face. He had joined up with some faster runners and was moving really well. I couldn't help but feel a little jealous but I was happy for him has worked hard for this after not completing in 2017.
Corri also went past me as I stopped to refill my water in the stream. It took me a while to get down to the road but get there I did. I now knew there was about two and a bit miles on the road to Abergweyn. I walked as fast as I could on the uphill and starting running on the downhill.
My knee seemed okay again as it was a gradual descent and once again I was a little more hopeful. I passed Corri as she sorted out her feet on the side of the road but I said I'll see you soon!
I caught a few runners who were only walking which made me feel a little better. Eventually the village appeared and then CP10 on a bridge. Stuart Smith was there and I did feel a bit better by that time. Gary Thomsett was also there. Gary is the one who set the course. I have met him a few times and he is always really encouraging. He walked with me for a bit and asked about my videos. When I explained that I wasn't doing a video diary for this race as I didn't think I had time he thought that was a sensible decision.
I looked at my map and knew I had about 3 miles off road around a hill on some boggy ground and then once I hit the road there was just under 6 miles to go. I can do this!
As I made my way over the off road bit I suddenly heard my name and there was Stephen alongside me. He said he was having a great day and moving really well and that for the first time he was one doing the overtaking. Stephen explained that he had had a couple of sausage sandwiches and 2 cans of coke at the pub at Elan Village and he felt they had done him the world of good!
He stayed with me for a while but then soon pushed on and he finished over 35 mins ahead of me. I was really pleased for him as he had had some tough days as well. Just before he left he asked whether this was the first time I had done 4 tough days on the trot and it was. Whereas for Stephen who has done the Spine 4 times and other longer races he was just warming up and getting stronger.
Stuart was again waiting at the road. It was good to see him but I don't know whether he detected I was hanging on a bit. The next hour and a half wasn't the most pretty but all I can say is I got it done and I did run as much as I could.
I was very happy to see the campsite and finish for the day. My plan for the day had been 14:30 and I finished in 13:32:50 despite my struggles in the afternoon. Looking back I wonder if I had taken 30mins longer in the morning I would have felt better in the afternoon!
Overnight Day 4
Stephen left a note saying he was going to the pub but I was happy to stay in camp. I went for a wash in the river, then over to the marquee for food. I was feeling really sleepy so headed to bed around 10pm so try and get some sleep.
As I lay in bed I added up my times for the 4 days so far and I worked out I could have a 16:30 day tomorrow and still beat my gold sub 72hr goal. So I decided to really enjoy and savour tomorrow and not worry about my times. I wanted to finish strongly which meant I had to start easy. I was determined to have two good 'even keel' days on Day 5.
Day 5 Start to CP3 Usk Reservoir
I woke before our 4.30am alarm and I did think when did 4.30am become the norm for getting up! While I got into my routine of packing up my sleeping gear Stephen continued to sleep. I got the impression that he thought this was done and he expected to have another good day to finish off.
I was still a little apprehensive as to how my knee would be. I could also feel a little soreness underneath my left foot which I get sometimes but I didn't think it was going to be a problem.
As I walked over for breakfast leaving Stephen still in bed I realised that my knee seemed fine and I was walking fine. As I watched others limp and shuffle across the field I was thankful that I felt in good condition. I was determined to enjoy this final day of the journey.
As I left at 6.10am I saw Lourdes about to start. I thought she would be away before me so I did wonder whether I would see her today on the course. There were a good number of other runners setting out early and I joined Wes again and we climbed up through the woods together.
On the recce of Day 5 I made a couple of silly mistakes so I knew the way to go and there were plenty of runners ahead going the right way. On the first chance I had to run downhill my knee was absolutely fine which was a massive relief. I really don't know what went on yesterday but I was just happy that I was going to have a good day without having to worry about it. I decided that I would still be cautious on the steep downhill as I needed want to aggravate it.
I made good progress over the first 90mins. On the way to CP2 I gave Katrina a ring. She said she was really worried for her yesterday as my tracker was stuck at CP9 for ages and then Stephen came in before me. Katrina said she was very relieved when she saw that I had finished. I reassured her that I was fine and my plan was to treat this final day as a one-off ultra which meant I wanted to start easy and finish strong.
As I chatted to Katrina lots of runners streamed past but I was in my 'even keel' mode and was happy. One of the runners who did catch me was Lourdes and we would end up spending a fair amount of time together over the day. She was getting stronger and stronger as the race went out and from thinking that Day 1 would be too much for her she was going to get this done and claim her baby dragon!
After CP2 the route drops down and follows a road for the next 4-5 miles going through Llandovery. I was adopting my run 100 paces walking 50 and making good time.
A number of people stopped in Llandovery for some meaty breakfast but I just kept going and headed up the hill. Lourdes and I joined Ian (oldest runner) who was aiming to complete the whole of Day 5. I chatted a lot to Ian on the climb up the hill.
One of the things that I remember about the climb was seeing Oliver Nokes running back down the hill saying I've left my poles in the café! You really do need to concentrate all of the time in this race!
Lourdes and Ian pushed on while I continued to climb at a steady pace. It really was all about the finish and I wanted to finish well so I didn't want to push too hard too early.
It was all Mandatory route to the Support Point at Usk Reservoir so I followed the line of runners over the hill and down through the forest.
I decided to have a look at my splits when I came to the dam. I was quite surprised and encouraged that the time was 4:50:50 which was 30 mins up on my 5:20 split. So I decided I could ease off a little more and really enjoy the day!
The highlight of my rest at the support point was having my water bottle refilled by Gary T! I felt the sausage and beans looked a bit worse for wear after been in the bag for 5 days so I ate a pork pie and a rice pudding. After 10 mins I was up and away in good spirits.
Day 5 CP3 Usk Reservoir to Finish
As I left the CP I caught up with Lourdes and we continued on the road together. She is full of great stories so the time passed. As we entered the forest we caught up with Ian again and the three of us set off up the hill together.
I decided to get out my poles to give me a bit of a boost/help up the climb to CP 4 at the top of Fan Brycheiniog. Ian and Lourdes were ahead and I was quite content to have some time on my own. My 'be thankful for' today was God so spent time in prayer thanking God for my relationship with Jesus Christ and all He has done for me.
I was almost half way into the day, moving well and savouring the experience. I had a lot to be thankful for. I didn't stop but I didn't push too hard either as I was determined to finish with an 'even keel' day.
Earlier in the morning I was talking to a fellow runner about my 'no low points' philosophy and how out the possible 8 sessions so far to Thursday I only had 2 tough sessions. He turned to me and said I've only had 1. I was impressed and then he said, 'it started on Monday morning and is still going on!!'
Half way up the hill Diarmuid caught me. I had missed seeing him on the route yesterday so it was great chat to him on the final day. I told him that seeing him each day was one of the highlights I looked forward to. I'm not sure if he felt the same about me!!
By the time I reached the top I had overtaken Ian and caught up with Lourdes. She said I'd be faster than her on her next downhill. She obviously hadn't seen me descend!! I reached the top in 6:44:53 so I was now 20 mins ahead of my plan. I suspected I would be slower than my planned 13:10 but today wasn't about chasing a time. It was all about enjoying the final day and finishing strong and things were looking good for that.
I was careful on the descent. My knee seemed absolutely fine but I didn't want to push too hard on the steeper descent and struggle again to run at all.
I love the views as the route goes over Bannau Sir Gael. There is a steep eschantment to the right with a lovely blue lake at the bottom.  It is a straight forward route especially with a line of runners ahead showing the way!
Once at CP 5 the summit of Carreg Yr Ogof there is a choice of whether to follow the recommended route over the top and along the ridge or to drop down and find the path that skirts round the hillside.
All the runners ahead of me where heading up but I had decided to follow the lower route. I couldn't see anyone ahead but I really felt it was the better option. 2017 winner Marcus Scotney went this way so if it was good enough for him then it would be good enough for me!
After a while a lady went running past looking very strong and the Luke Elliott caught me. He is a good friend of Dan's. We walked together as we made our way to the rejoining the recommended route. Some runners took a slice of the corner but I was happy to stay on the path and then take a right angle turn.
As we reached the main path Lourdes was coming down. She had been quite a bit in front so I definitely feel that was a better line. There is still a climb, a descent and another climb to CP 6 on the summit of Moel Gornach. I was now exactly on target for 13:10 but as I had lost 20mins over the last 4 miles I suspected I was going slower than planned but again I reminded myself it's not about time today.
I dropped down to CP7 at the car park. I could see an ice cream van was there where I hoped to buy an ice cream and a bottle of coke.
As I arrived I was told the ice cream van was about to leave so I quickly headed over and bought my lovely ice cream and a bottle of Pepsi. The van left as I ate my ice cream so I just made it in time.
As I left the CP I reflected that there was one main challenge left. On the recce of Day 5 I found the ground between CP8 Carn Pen-y-clogau and CP9 Tair Carn Isaf very tough going over boggy and rocky ground. This time it didn't seem quite so bad. I found a decent path for the majority of the way and ground was nowhere as wet today.
It was a great feeling reaching CP9 and know that basically the majority of the final 6.50 miles was downhill. I was still able to run and knew that I was going to fulfil my aim of being able to finish strongly. I also knew that I wasn't going to run tomorrow so I could push as hard as I liked to the finish.
On the descent down a Ed Norman caught me who was limping. He explained he had sprained his ankle on Day 3 and had been in a lot of pain ever since but he had kept going. Every runner in this race has their own story to tell and their own battles and challenges to overcome.
Once we hit the road I started my run 50 walk 20 plan and I was soon overtaking runners who were only walking all the way. A couple of fancy sports cars went past and I was convinced Frank Lampard was in one of them but I couldn't think why he would be in South Wales with the big championship play-off final coming up very soon!
The route goes through the castle grounds, out the other side, down a road and then off road again for the final time. I caught up with a runner who asked could he tag on as I was moving well. No problem I said but as we chatted I did say that I had visualised finishing this race and I really wanted to be on my own. I was happy for him to finish ahead but if he didn't mind I would like to have the final run on my own.
He fully understood and said he felt the same. If it was Stephen I might have felt differently but this was a runner I had not seen all week. I had half expected Stephen to catch me at some point but when he didn't I wondered whether he was paying the price for such a good day yesterday. He finished in 14:48:12 so I suspect that is what happened.
Once on the road for the final run in I could feel myself welling up a bit. Hold it together I told myself as I needed to finish it off. I ran most of the way down with the odd walking break. In the Northern Traverse last year, the final 5 hrs were really tough and coloured how I felt about the whole race. This felt so much better. I was running strongly with a smile on my face knowing I had kept on an 'even keel' for the whole of Day 5.
I came round the corner and into the school grounds. There was a pre-warning finish dibber which initially I thought was the end so I stopped my watch and then I realised the official finish was further on. I ran in to the applause of the spectators who were there.
I had finished the day in 13:29:02 in 218th place for a combined total of 68:36:20 which was almost three and a half hours inside my gold goal of sub 72hrs.
I paused to say hello to Katrina and our family on the webcam as I knew they would be watching. I was choked up and couldn't get much out.

As soon as I finished I felt my whole body was shutting down. I was really thirsty and keen to get a shower. I bought an ice cream and made my way to our drop bags and the shower. It was lovely being greeted by many on the way and congratulated.
By the time I reached the changing room I was shaking uncontrollably. I sat down, put my head in my hands and promptly burst into tears. I was sobbing. This race has meant so much to me and I honestly didn't know whether I could finish it. I had been keeping my emotions in check all week and now that I had finished it all came flooding out.
A fellow runner came over, put his hand on my back and said, 'Let it all out' which made me laugh. I regained control and explained how I felt. As a fellow dragon slayer he knew exactly how I felt. This race gets right under your skin.
Once I had enjoyed the superb shower and got some warm clothes on I rang Katrina and then headed into the hall for a drink, some food and the prize giving. Family friends Ian, Karen and their daughter Karis who live about an hour away had come over. They missed seeing me finish but it was so good to see them and talk about the race.
The prize giving started and the baby dragons were given out from last to first. As I finished 206th I was fairly near the start especially as lots of runners were still to come in. Runners were called up in groups of 4 and I went up with Megan which was nice since we had run a few times together.
Nicole and Paddy arrived having seen Stephen finish. Stephen looked as though he had had a tough day and he was very happy to have finished. It was great to see Stephen receive his trophy. Everyone who finishes this race is a hero!
Summary
This race was was everything I wanted it to be plus more! I think the extra was the people I met both runners and event team volunteers. It all created an amazing experience which I will always look back on with great pride that I was involved in the 2019 Berghaus Dragon's Back Race.
I would like to thank Shane Ohly and his team of 132 volunteers for looking after us so well. It is an expensive race but at the end of the day you get what you pay for and I definitely felt I got my money's worth.
Thanks too, to all my fellow runners whether you were able to slay the Dragon and make it to the end or for whatever reason had to stop it was great to meet so many of you and share the experience together.
Thanks to Katrina, our girls and all my friends who supported me in the build up to the race and during the week.
Talking to Katrina on the phone a few times during the week made me realise how stressful it can be following a loved one when the tracker is not moving for hours!
We have four daughters and they have been a bit blasé about Dad doing another long run over the last few years but this one really captured their imagination and they loved following the tracker and watching the live webcam each day.
Of my friends three deserve a special mention.
Andy Cole has been a tremendous support from the moment I entered. Andy gave me so much advice and help which was invaluable. But Andy's main contribution was to recce 4 of the 5 Days over the last 9 months with me. We had a lot of fun as we made our way down Wales enjoying the amazing scenery and course even if some of it was it cloud. I was so pleased that Andy won my 'Guess My Time' competition!!
Cammie Kennedy has been my training partner over the last 5 months. Cammie is training to have an attempt at the Bob Graham Round on 7th June so we were both needing to do lots of ascent. Cammie and I have had lots of Saturday's out which have been spectacular. I am part of Cammie's support team for his attempt and I'm looking forward to seeing him achieve!
Stephen Brown was an excellent tent buddy. It was only as the week went on that I really appreciated how well we got on in a confined space. It would be difficult to share with someone I didn't know especially as you get tired. I was so pleased that Stephen also claimed his baby dragon.
Finally if you made it to the end of this report then you too are a true friend and I thank you for your support and encouragement!