I was pleased with how good my legs felt yesterday and so today decided to go for an easy 3mile run. I had to escort some children to a sport club so could incorporate a run as well. So I arrived at the school after an easy 3.5mile run to be told that that the club had finished last week! So I had an easy 3mile run back as well. Felt good so no problem.
I find it really helpful to review my races and note some lessons learnt and after a race like Saturday's there are a lot of lessons to learn!! So here goes …
1. Pacing
I was working on a 10hrs 30mins schedule with the idea that anything under 11hrs would be good. I was on target until we got lost just before Osmotherly. After that and as the weather worsened it was a case of the priority being getting to the finish.
But at least I have some targets if I do the race again!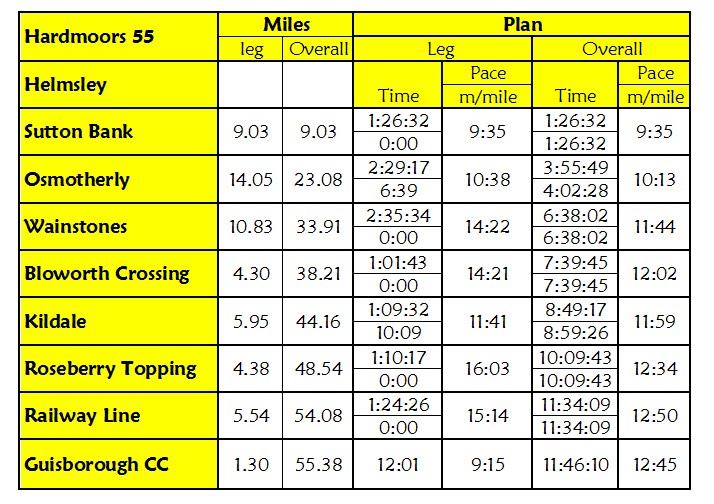 2. Navigation
I am not at all impressed with myself on this area. I'd score myself 5 out of 10. Basically I was far too cocky. I worked on the principle that I'd done this route in the dark in September and hadn't got lost so I'd have no problem in the daylight.
What I conveniently forgot was I was running with someone who knew the way and I did get slightly lost at least twice!
This time I made two major errors by not looking at the map and relying on my memory. I reckon those mistakes cost me at least 18-20mins. I also messed up Sharon's very realistic chance of winning the Ladies race.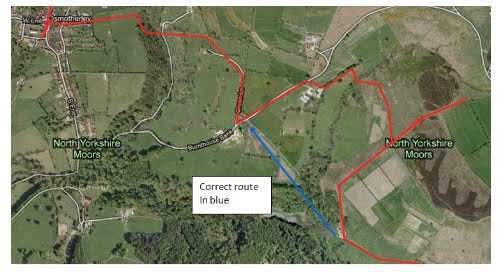 Second mistake - this one I didn't even realise I'd done until I got home (though Sharon knew we'd gone wrong again as we passed two runners twice!!)
So a big lesson learnt there. Always use your map and take a few minutes to check where you are before blindly heading off with a false sense of confidence. Once again sorry Sharon!
3. Clothing
Like most runners I like to wear as little as possible. I started with two tops, shorts and a buff on my head. I ran the whole race in shorts and my legs never really felt cold. I'm glad I had a pair of gloves to wear and a beannie hat as they kept the warmth in.
I put on my jacket at Osmotherly which was vital and I had a warm top to put on at Kildale which helped as the sun went down and the temperature dropped but the last couple of hours even in the dark were the warmest.
I feel that I got away with it on Saturday. I was able to keep warm by running but I hate to think if I'd been more tired or fell more badly and couldn't keep moving. I really need to be willing to carry more warm clothes when the weather is as bad as it was on Saturday.
On the plus side my system of sudocrem, a thin pair of cotton socks and a thicker pair of socks worked a dream. Feet fine with no blisters.
4. Food
I was happy with my food and drink. I didn't drink a massive amount of water but enough to satisfy my thirst. I never stopped for a wee the whole race! I had two 'sustained energy' drinks at Osmotherly (20miles) and Kildale (42miles).
I ate a variety of sweets, energy bars etc all day. The thing that did surprise me was just how hungry I was heading up to Roseberry Topping. I couldn't stop eating and it was as if my body was crying out for food to replace all the effort that had gone in to keeping me warm and alive over the moors.
5. Tapering/Injury
I had an enforced taper before this race due to a fall 4 weeks before the race. So instead of having two hard weeks (of 55-60miles) then a medium week (35miles) and then a couple of easy runs in the week of the race I had two easy weeks (25-30miles) running with a sore chest then 11 days of no running before a 3mile run on the Wednesday before the race.
Did it make any difference? I'm not sure but I wouldn't repeat it. I think missing the two hard weeks was more of a factor than the 11 days of no running. I hadn't been able to build on my fitness and basically had 4 easy weeks.
I finished strongly so must have good overall fitness but I wasn't going as well as I'd hoped in the middle of the race. Sharon left me quite easily after about 30miles and would have beaten me by a good margin if she'd hadn't been forced to stop.
I think we are very similar in our times and pacing and so she is a good indicator for me as to how I'm doing. I'm going to have my work cut out trying to keep her in sight in the Fling!
So regarding tapering I'd be happy to have an easy two weeks before a race but I really need to have some good hard weeks 3-4 weeks out.
My chest is absolutely fine now. It is four weeks to the day that I fell so I must remember that for next time??
6. Downhill running
Saturday's race confirmed to me yet again how rubbish I am at running downhill. I'm getting better on smoother surfaces and I can lean forward and go with the flow rather than breaking but it is the more technical rocky stuff that I lose a lot of time on.
I try and stay with others as they bound past me but my legs just won't respond. Not sure what to do about this other than try and practise it a bit more. The problem is that it is only when my legs are tired after running for 6-7hrs that it shows itself!
On the positive side I tend to catch all the people who have gone past me when the path levels out or goes up hill.
7. Garmin battery
I tried out my new 'on the go' battery and it worked. I put it in my bum bag and it worked fine. I was able to recharge my garmin as I went along so I'm confident I'll only need one garmin for the whole of the whw race without having to buy the 310.
One more thing ….
I must remember that it's not fair on my wife and family to be away for the whole weekend (including my birthday) and then spend Sunday evening on the computer writing my race report! Sorry Katrina.
In my defence they were watching 'Dancing on Ice'
Here are some other comments …
1. Photos/Video Diary
Karen has posted some great photos from the start and the first check point at Sutton Bank. I'm working on my video diary for the race at the moment. I was hoping to take lots of photos of the wonderful views but that didn't quite go to plan! I'm waiting for a few more photos to add to my diary and then I'll post it so watch out for that.
2. Race reports
I love to read how others found the race and there are a few already posted including Brian McIntosh, Tim Downie, Andy Cole, Julien Pansiot and from others who were marshals, Lee Mac and Dave Waterman.
They are all well worth a read and I hope there will be others (hint hint - Richie? Sharon?)
3. Results
Jon Steele asked me whether I would compile all the results from the sheets filled in at the checkpoints. I think he thought he was asking a massive favour but maybe he suspected I just love spreadsheets and can't wait to get going on the results when Jon sends them. So watch out for those coming soon.
Finally I wanted to say a massive thank you to Jon and all the marshalls for making the race so special in very difficult conditions. I think you all did an amazing job.
Tues 24th Mar Run details 1 & 2
Run 1 - 3.55miles in 28mins 25secs (8.01)
Run 2 - 2.44miles in 19mins 24secs (7.58)