I woke really early this morning so decided I might as well get up and up date the Highland Fling pb's after this year's race!!
 
If you download the full spread sheet you can sort by columns and if you've run the race see where you are in the list.  Again I must mention that this is an unofficial list. I just can't help myself doing it.
After this year's race I have moved from 91st on the list to 124th.  So well done to all those who ran faster than 9hrs 44mins 41secs !!!!  Katrina sits proudly at position 632nd.
Maybe this list will cheer me up. Here is a list of those who have ran 6 or 7 Flings ….

Ellen would have been up there with Ian Rae if she hadn't fallen and damaged her shoulder.  We all wish her a speedy recovery and know she'll be back next year.
There are now, by my reckoning, 897 people who have run the Fling at least once.  Here is the breakdown.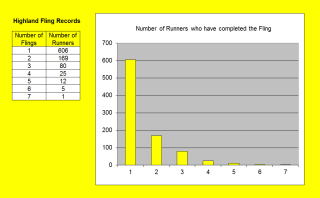 While I was sorting out the list I noticed that a lot of people achieved a pb this year so decided to work out how many.
In the 2012 race 362 people finished. I'm not sure how many started.
Of those 214 ran it for the first time so congratulations to them.
Of the 148 who had run it at least once before 90 achieved personal bests.  That's an impressive number.  So again congratulations to those who walked away with a pb.
I have another spread sheet to share but that will need to wait until tomorrow.
My legs feel really good today and I was tempted to go for a run especially as I'm at 198miles for the month but I promised myself I'm not obsessing about mileage run this year so I'll wait until tomorrow before I run.
 Gary asked whether Katrina might be writing a guest post.  I've asked her nicely so watch this space.