We were picking Hollie up at Edinburgh Airport this morning after her 3 month trip.  So I was out at 8am for an easy run.  I felt good and enjoyed pushing a little harder over the second half. 
It was great seeing Hollie again and catching up with how her trip went. 
Laura, Hollie and Katrina
Just after I posted my lesson learnt from the Glenmore 12 Bill Adams posted the splits.  I've had great fun looking through them.  I was particularly interested to compare my 'slowing down' with others. 
So I looked at the pace for each lap of Stevie Gildea (who won the Men's Race), Sandra McDougall (who finished 3rd overall and 1st Lady), John Duncan and Becki MacKenzie (for no other reason than they are friends!) …
You can see that Stevie's line stays faily flat with only a small increase (ie slowing of pace). Sandra's line is fairly consistent. Mine has a sharp increase at the 12th and 13th laps when I was struggling with sore quads but good to see it came down again for the last 3 laps.
Both John and Becki's had a steeper line showing they slowed sooner but both held it together right until the end. 
It would be interesting to do something similar for the 24hr race.  For now though I'd like to mention Fiona Rennie who won the Ladies Race. Fiona ran 27 laps and all of them were under 60mins.  That's pretty impressive and very consistent. Fiona finished with a total of 109.01 miles.
Along with lots of others I've been following the progress of Team GB in the 24 Hour World Championships in Katowice, Poland. 
In particular cheering on Debs Martin-Consani and Sharon Law.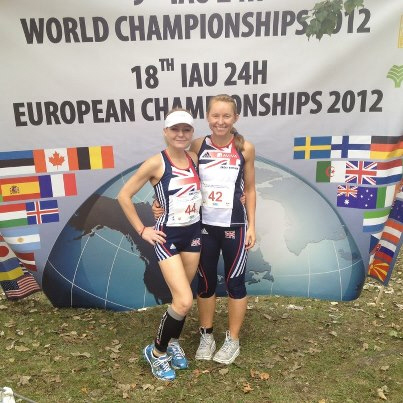 Sharon & Debs (photo from Marco)
The web site gave great updates each hour until the last one when they said they would update once the closing ceremony so I'm waiting to hear the final distances and whether GB Women held on to 2nd place   behind USA.
I do know that Debs broke not 1 but 3 Scottish Records … 100 mile, 200k and 24hr.  So congratulations to Debs.  Sounds as though Sharon had to battle through and finished 3rd counter for the GB team.