A few weeks ago Jonny suggested that we should do a double Ben Lomond as it would be good training for our quads.  This week worked out a good time for me to do it with the Hardmoors 110 just four weeks away.
 Jonny is running the Highland Fling tomorrow so it didn't fit in for him so I decided to do it on my own.  I arrived at Rowardennan at 4.45pm in the sunshine and set off just before 5pm.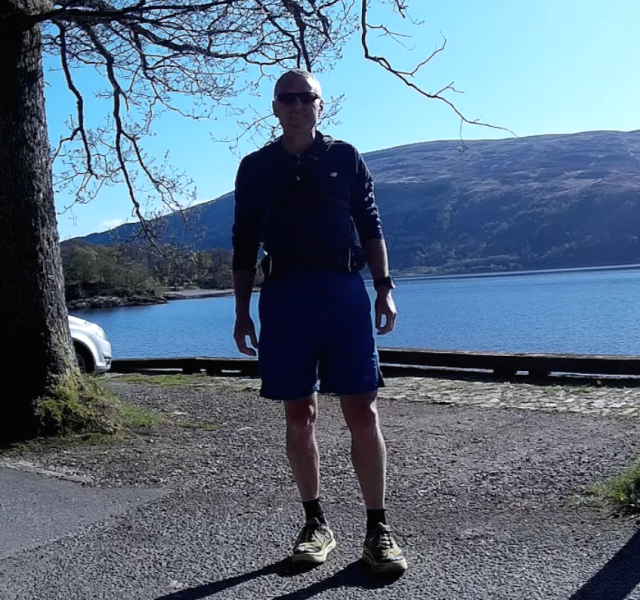 I decided to ascend up the Ptarmigan Ridge and down the Tourist Path and then reverse it for the second trip.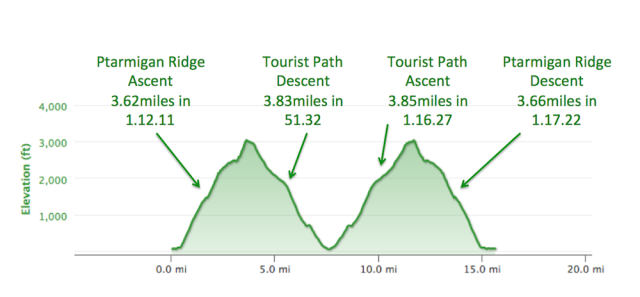 I ran/walked up as quick as I could feeling pretty strong. The weather was perfect with blue sky, sun and no wind at all even at the top.  I didn't stop much for photos but couldn't resist taking one half way up.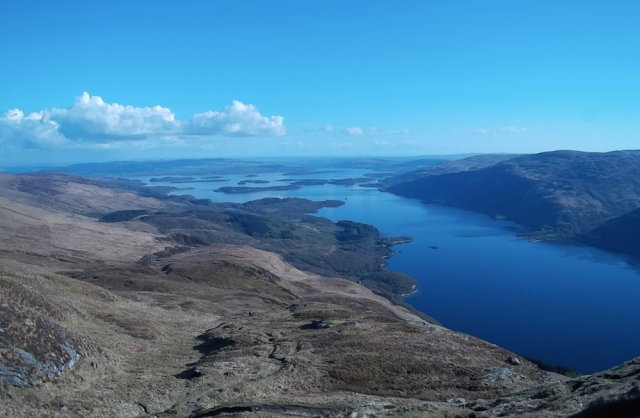 I went past a group of 3 walkers who commented I was showing off as I strided past.  I wondered what they would think if they knew I was going up twice!!  There were a few others making their way down.
 I reached the top in 1.13, paused long enough for a photo and then set off down the hill.
 It is the descents that I do these Ben Lomond runs for.  If I'm to do well in the HM 110 I need to be able to run the descents in the second half of the race and to do that I need to have strong quads.
 So I worked on my technique and ran all the way down in 50mins.  I passed a few more walkers who were leisurely making their way down.  One guy was walking in his socks and carrying his shoes!
 The sun was still shining and it was such a lovely evening.  Back at my car I stopped for 3mins to refill my water and drink some coke, then set off for the second ascent, this time up the Tourist Path.  The first trip had taken me 2hrs 3mins.
 On the way down I had been trying to concentrate on getting down and not on the fact that I was going to be climbing back up the same route again in a few minutes.
 Once I got going and realised my legs were feeling good I pushed as hard as I could.  I passed the descending walkers again and one asked me whether I was going back up again!
 I ran some of the route where it's not as steep and walked hard for the rest of the way.  There was plenty of light so I hoped I'd get down without having to use my head torch.
 I reached the top in 1hr 16mins. It was so lovely and peaceful up there on my own. The views were amazing with the sun slowly setting behind the mountains to the west. I could have stayed a lot longer but needed to get going!
 I've not descended the Ptarmigan Ridge so I was looking forward to seeing how it was.  The first mile or so was really slow as it's so steep and I hoped I'd be able to get running further down. But even further down it was hard to get any rhythm going.
This photo doesn't really do it justice but hopefully you'll get a feel of how stunning it was.
 I know Debs M-C prefers this was round but I have to disagree!  I much prefer to ascend this ridge and run down the Tourist Path.  It was quite good for preparing for the HM110 as there were lots of steps to go down but as far as being able to run it wasn't as good.
 The sun dropped below the mountains and the light started fading but I was able to get all the way down without getting my head torch out.
 It took me 1hr 17mins to descend giving me 4hrs 40mins for the double ascent.  If I was doing it again and no doubt I will I would go the Ptarmigan Ridge up and Tourist Path down both times.
 I finished at 9.40pm and was home by 10.45am. Time for a shower and bed!
Today I went for an easy recovery run.  I wore my Hoka Conquest shoes for the first time and first impressions are good. They felt a little tight on my right foot but I think that is as much to do with last night's runs up Ben Lomond.
Tomorrow Katrina and I are marshalling at Inversnaid for the Highland Fling. So if you are running the race we look forward to welcoming you and sending you on your way for the final 19miles.
I have run the last 7 Flings so it will be strange not running this year but I'm looking forward to seeing the race from a different perspective.