I have run the previous 7 Highland Flings but this year I opted to do the Hardmoors Grand Slam.  I still wanted to be involved in this great race so Katrina & I offered our services to Race Director John Duncan.
I was really pleased when John asked us to help marshall at Inversnaid as I feel it's a real runners checkpoint. Due it's exposed location not many support crews go there so the marshals have a bigger role in encouraging the runners as they make their way along Loch Lomond.
The checkpoint is 34miles into the race which means there are 19miles to go. Plus the toughest part of the route is about to come so any help we can give would be welcomed. I have always really appreciated this checkpoint in the Fling.
Our good friends Jonny and Frances were both running the race and they kindly offered us a bed in their Kip in the Kirk B&B at Drymen on Friday night.  We enjoyed a meal with them and watched them prepare for the race.
I got out of bed at 5am to see them off to the start at Milngavie then jumped back into bed for another hour or so thinking about everyone starting off at 6am.  We were up by 6.30am for breakfast and then we drove to the gate just past Drymen to watch the first runners through.
I really enjoyed watching the runners go past at this stage of the race. They are just over 12miles in so they are settled into a good pace and probably have a good idea how their day is going to go.
I also enjoyed seeing what various runners were wearing and carrying.  When you are in the race you only see the runners around you.
We waited until just before 8am to see Jonny run past. He was looking very strong and 15mins under his 10.45 plan so all was good.  We then drove to Inversnaid arriving just before 9am.
When we arrived some of our fellow marshals had already started laying out the drop bags. With the first runner not expected until 10.30am we had 90mins but needed most of it to get all the bags sorted into numerical order.
We went for rows of 50 with a small gap in-between each double row so we could get to the bag as efficiently as possible.
While we did that I found it fasinating looking at the various bags both from the perspective of type of bag, labels and content.  They ranged from a single bottle with a pack of shot bloc attached to 2 large tubs full of all sorts of food!
I know the Balmaha checkpoint has a fun competition for the best drop bag but my favourite at Inversnaid was this one ….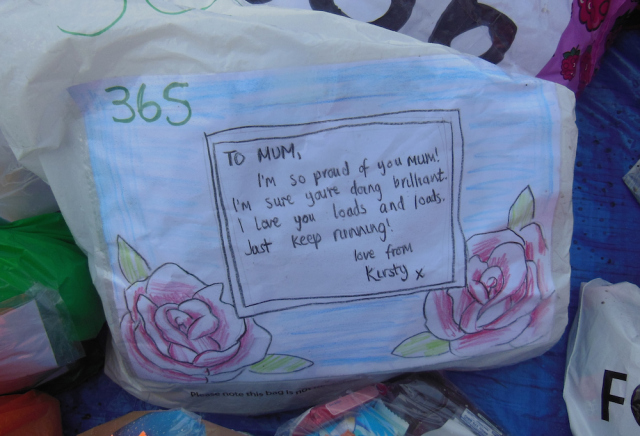 Here is a good example of a drop bag for size, labelling and security ….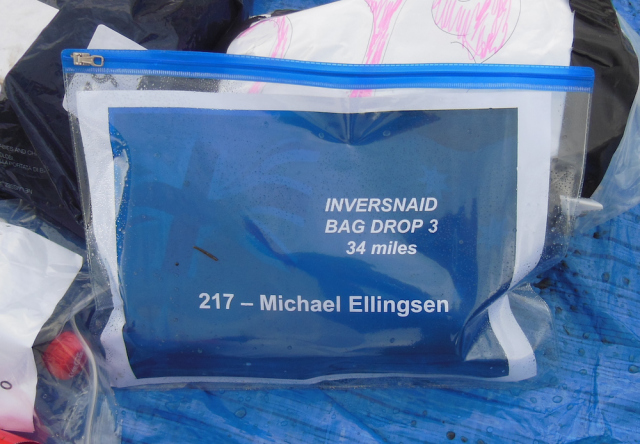 Some left a nice comment for the us marshals ….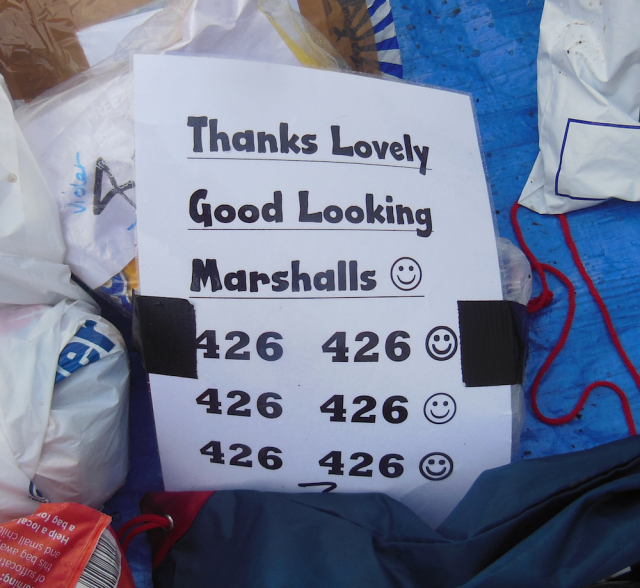 Some bags told us were they worked!! ….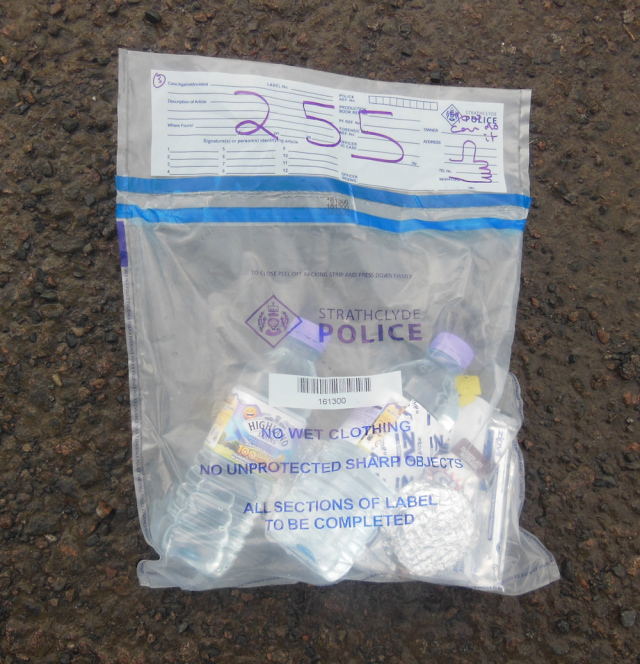 Katrina liked this one …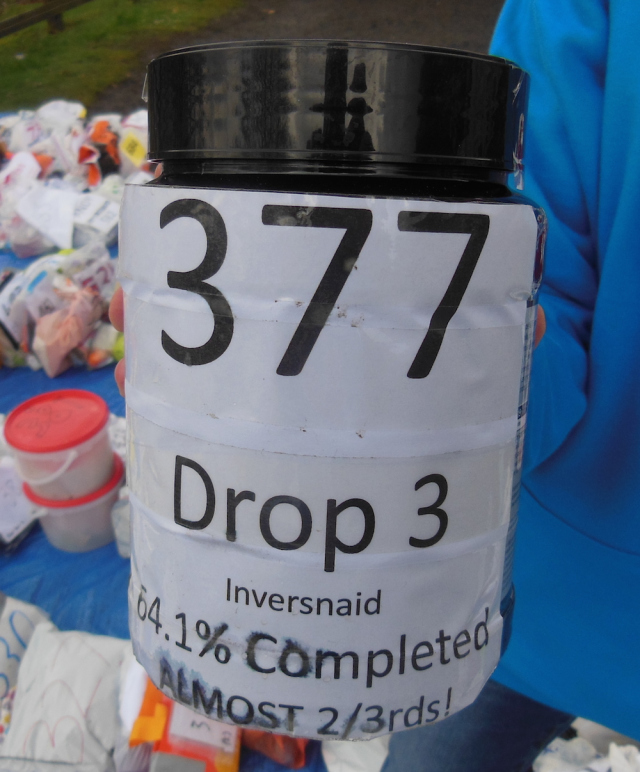 Some left a present for the marshals …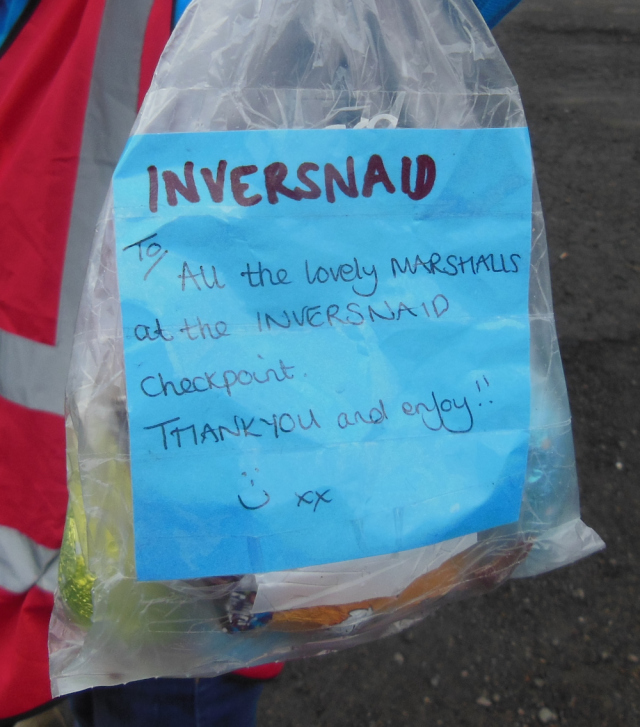 Sadly we found a few people had put all four drops bags in the Inversnaid car so they wouldn't have anything at Balmaha, Rowardennnen or Beinglas but four at Inversnaid!
A few comments about drop bags …
Use a good quality bag or small container
Clearly label you bag with name, number and checkpoint
Only put in food you realistically are going to eat! The amount of food that was in some bags was amazing! We had loads of food left over.  I took enough energy bars to keep me going for the next year or two!!
We carried over one of the wooden tables to use as a base which worked really well as it meant runners had somewhere to put there bag as they sorted it out. There were small seats round the table which were good to sit on but not too comfy!!
I had a quick chat with the Trossachs Mountain Rescue team.  They were all set up to deal with any medical issues. Thanks guys!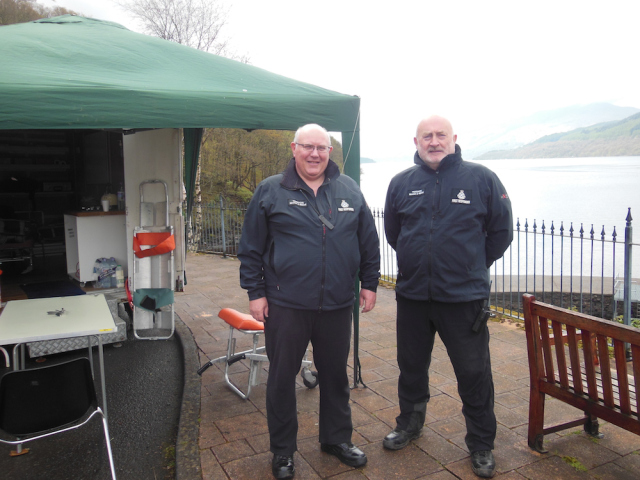 We also had time for a team photo before the runners arrived. The calm before the storm!
The first runner came through at 10.24 looking very strong. Over the next hour or so the runners were fairly spaced out so we had plenty of time to deal with them but from about 11.30am onwards there was a constant stream of runners.
For the next four hours the time flew by as we helped and encouraged the runners as wbest we could.  We had one person shouting out the numbers, 2-3 finding the bags and 2-3 on water refilling and generally helping runners with their bags.
I took a few photos of the leaders but once things got going didn't have time.  Sandra was taking loads of photos so hopefully they will appear on Facebook soon.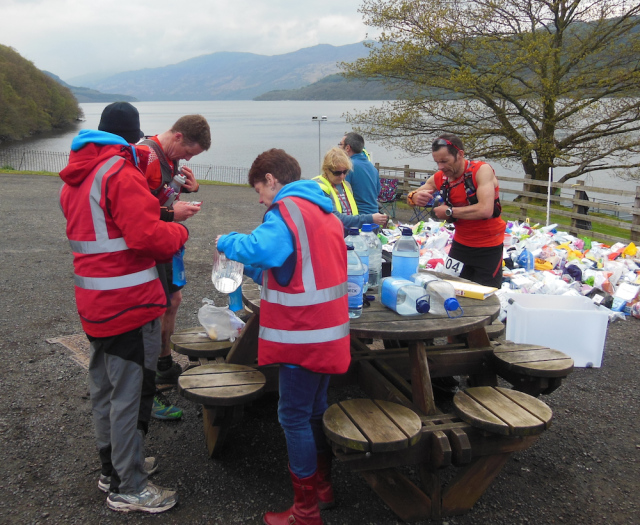 Katrina and I were on refilling water and generally helping runners. I really enjoyed the role as it gave me time to chat with folks as we helped them.  A number of people thanked me for the podcasts I've been doing so that was nice.
It was really interesting to see how runners deal with the checkpoints. Some very efficiently are in and out in a minute or so while others take a fair bit longer!
Generally as the race progresses people spent longer at the checkpoint and took more time deciding what to eat and drink.
I was also in charge of ringing race HQ with any dropouts at Inversnaid.  We had about 10 or so I think.
It was great to see lots of friends running through and hopefully encourage them on their way. Both Jonny and Frances were going really well so that was great to see.
Over the last hour things eased off a bit with bigger gaps between runners. Some of them were going to find the cut-off at Beinglas really hard to make but they set off determined to try.
The sweepers came through with Emma who after a few minutes decided she wasn't going to make Beinglas in time so wisely dropped out.  We were able to give her a lift to Tyndrum.
The journey took us 2 hours …
We arrived at the finish about 5.45pm and over the next few hours watched lots of runners come in and it was great to chat to lots of folk.
Jonny finished in 9hrs 57mins 44secs a superb run and pb over 2hrs 40mins! Not sure of Frances' time but she finished strong and enjoyed the experience!
We headed home at 8.15pm stopping off at Crianlarich for some food.
So what a great day. I really enjoyed being involved in the race in a different capacity and it gave me another insight into why this is an amazing race. John Duncan and his team do an amazing job so well done to everyone involved.