I didn't have any definite plans as to when I was going to start running again. I wanted to see how I felt day by day.  This morning when I woke up and my feet felt so much better. They were back to their normal size and the blisters on my little toes felt a lot more comfortable.
Katrina invited me to join her and Tracey on their regular Thursday run. I thought I'd start with them and see how it went.  As soon as we set off I felt okay so ran all the way with with which was just under 6miles.  I was very happy with that.
On Tuesday I called in to hand over the first part of the prize for my Guess My Time competition. Lauren Stephens was the closest guess with her time of 27hrs 57mins 00secs. Lauren told me her guess was her 5k and 10k times!!  As you can see from the photo she was very pleased with her key ring!!
Lauren's prize of a hand held bottle will be on its way soon.
Today I met Sir Chris Hoy when he was promoting his new range of kids bikes at Bellahouston Park in Glasgow.  I took a group of children from one of the schools where I work. They got to cycle round with Sir Chris and ask him some questions, 'How many medals do you have?' 'Can you fix a puncture?' etc!
I had a quick chat and got a photo with the great man …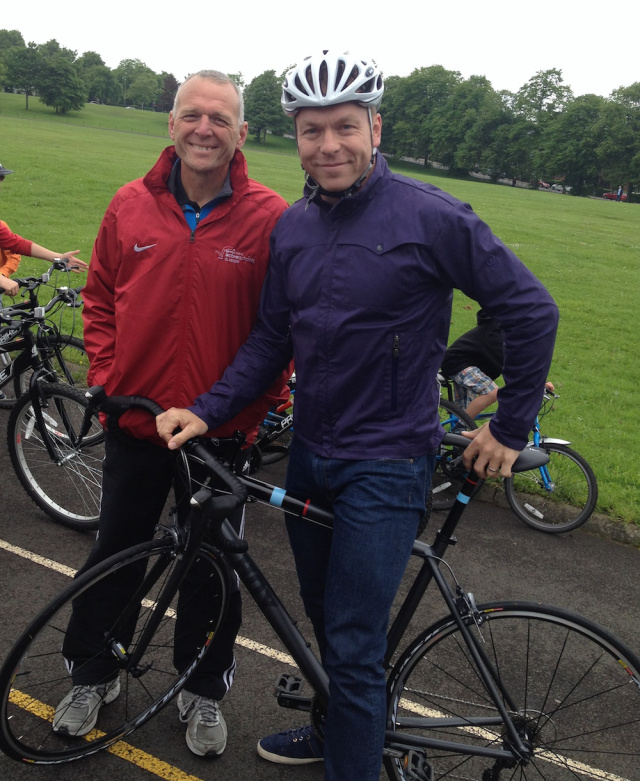 One final photo …. This was me a couple of hours after finishing the Hardmoors 110 mile race on Sunday afternoon. I think it says it all ….