A few weeks ago when I planned out my training programme for the Hardmoors 55 and 160 I wanted to do a 35 mile run on Saturday 20th February. I could have done an out and back on the whw but I was really keen to do something different.
So I posted a request for ideas on Facebook ….
I received quite a few suggestions so thanks for those. The one that sound out was from Carrie and Jamie. They are good friends and do a number of races and train together. Infact I've been trying to organise a podcast interview with them for a while.
They invited me to join their 'birthday run.' Basically they decided a few years ago to run the whole of the Scottish National Trail. It starts in Kirk Yelthom and finishes at Cape Wraith …
The total distance is 536.85 miles!! They started a few years ago and run the number of miles of their birthday. So yesterday was Carrie's 35th birthday run (even though her birthday is August!!). It worked out great for me as the section they had planned to do was from Aberfoyle to Invergeldie so it ticked all my boxes.
Once we organised the run a few other people were keen to join us. Robert, my Kilbarchan teammate, who is the doing the Fling, whw and Devils this year wanted to come. Plus Lorna, Lucy and Colin came along but they were going to do an out and back.
There is some logistics to organise when you want to do an A to B run. Initially we planned to meet at Invergeldie, leave one car there and drive back to the start at Aberfoyle.
But Jamie and Lorna very kindly offered to take a car to Invergeldie on Friday night so we were able to meet at Aberfoyle at 10am. Robert, Lorna and I travelled from Paisley together.
When we arrived it was dry but by the time we got going it had started to rain so no photo at the start.
Here is the route…
Carrie and I had downloaded the route onto our Suunto's so the navigation was fairly straightforward.
I knew I would be the slowest of the group and the first hill confirmed that! I didn't want to slow the group down but I also knew I needed to go at my own pace as there was a long way to go. After 15mins or so the rain stopped and off came my jacket.
I was running with Jamie and I was asking lots of questions about her and partner Andy's Munro challenge a few years ago when they climbed every Munro in a year. A very impressive achievement.
The rest of the group waited for us so I took the opportunity for a group photo.
The first leg was 9.5 miles  to  Callander which took us 1hr 47 mins. It was a good path most of the way with great views all around. I had a chat with most of the group which was great. One of the things I really enjoy about training runs like this is the miles fly by as you are chatting about various things.
As we approached Callander it was raining but not enough to put my jacket back on. We had a short break here as some needed a loo stop.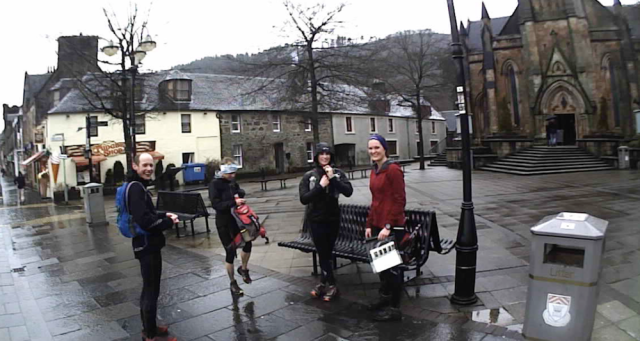 It was quite a steep climb out of Callander which warmed us up. After a couple of miles we reached a stone monument.Lucy, Lorna and Colin decided to turn back here. They had run 11.4 miles so be almost 23 miles by the time they ran back to Aberfoyle.
The next major challenge for Jamie, Carrie, Robert and I was the two river crossings that Carrie had warned us about. The girls had brought poles to help us wade through the river. It all sounded as though it could be quite tricky!
We climbed down the hill through the woods and reached a forestry Road which we followed for a couple of miles. I stopped for a wee and spent the next 20mins catching up. Robert stopped to take a photo of some cranes so we ran together.
The girls who were just ahead had stopped and were high fiving. Robert commented that maybe we were in a race and had lost!
But no the reason for their joy us that two new bridges had been built! So we wouldn't have to wade through the rivers. Success  and thanks to whoever built them!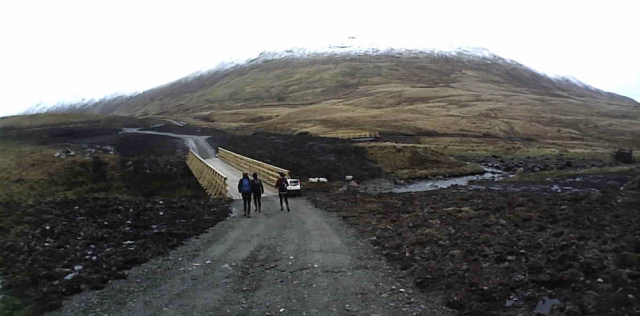 The girls were so grateful they lay down to kiss the bridge!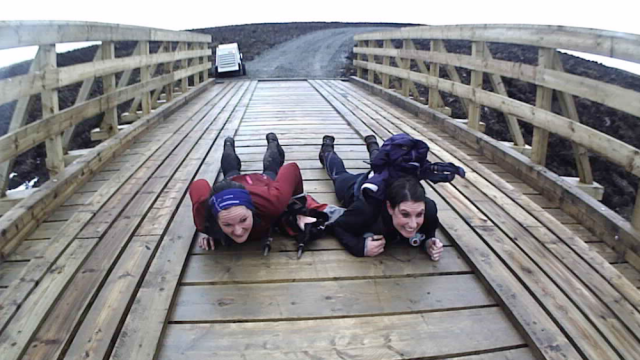 I didn't join them as I doubted I could get up again!!
The path continued along the track for a few more miles.  The other three were going very strong running up the hills but I was walking most of them! I reasoned that I'll be walking a fair bit on the Hardmoors 160 so wanted to prepare for that.
I must admit I went through a bit of a low for 15-20 mins as I felt I was lagging behind the other three and my legs were feeling pretty heavy. Thankfully they waited for me to catch up and then Jamie ran with me. We ran together for the last couple of miles into Comre and I was very grateful for Jamie's company and chat.
Running and chatting with Jamie really helped me and soon I was feeling a lot better and stronger. Thanks Jamie! She was telling me about the first time we met when I'd organised a training run from Drover's Inn. It was the first time Jamie had run off road and was a bit nervous about whether she would be out of her depth. But everyone made her feel so welcome that she's never looked back!
We arrived at Comrie (26.53 miles) after 5hrs 21mins. We had a quick stop to get some food out of our bags and we were soon off again.
We had about 5 miles to the car which would take us to 31 miles. I had decided that was fine for me. I didn't feel I needed to do the extra few miles to make it 35 miles but I suspected the others might well do so!
We did a couple of slight detours to view the Little Cauldron falls and the Devil's Cauldron.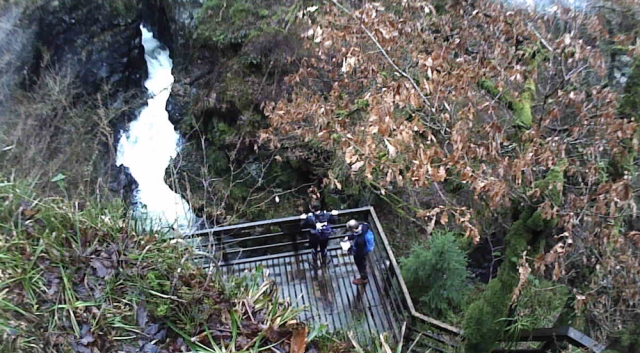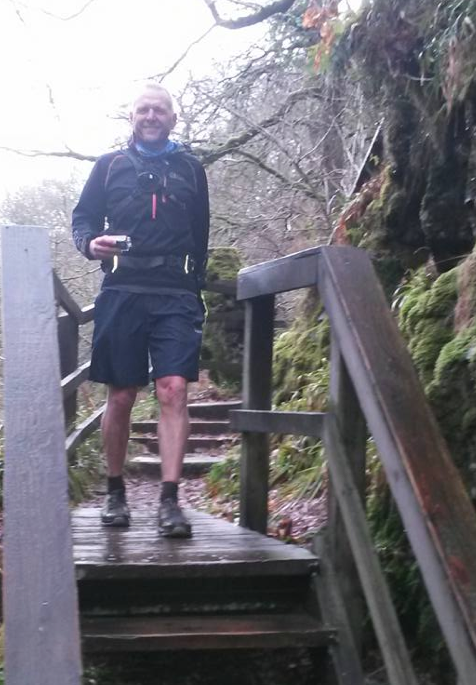 It seemed a good place for a group selfie!
I was happy to see the car after 31.35 miles which had taken us 6hrs 40mins.  We did decide to do an out and back but I encouraged the others to push on and turn when they wanted.  I ran out half a mile then decided to head back to the car!
I finished with 32.42 miles in 6hrs 59mins 38 secs which I was happy with.  Jamie drove us back to Aberfoyle and to add to the girls' star quality they had some snacks in the car to feed us up!
We arrived back at Aberfoyle just before 7pm, said our goodbyes and headed in our different directions. We had had a great day out!
Thanks again to Jamie and Carrie for letting us be part of their 'birthday' run and to Robert for joining us. Plus Lucy, Lorna and Colin.