Last weekend was our long weekend so we decided to have a trip to visit Jo, Jono & Seth in Inverness and then Hollie in Thurso. It worked out well as Hollie was doing her first 10k at Castle of Mey so we decided to enter as well and join her.
We drove up on Thursday evening and stayed with Jo & Jono. I went out for an easy run before breakfast while Katrina entertained Seth. I was feeling okayish but I have to accept that it is going to take longer than I thought to recover from the Hardmoors 160.
We had a lovely walk with Jo & Seth at the Rogie Falls. We tried out a back pack that our friend's kindly loaned us. It was fun having Seth in the pack. He was very happy making lots of funny noises.
We headed up to Thurso in time to meet Hollie leaving school. Hollie had volunteered to organise her school sports day and when she realised we were off on Monday she asked us to stay and help! So we dropped off some equipment I'd brought up for her to use.
Saturday we had a lovely day driving west to Tongue stopping off at Strathy Point Lighthouse on the way and Bettyhill beach on the way back. The weather was stunning and makes you appreciate the beauty of Scotland.
The Castle Of Mey 10k didn't kick off until 2pm so we had a relaxing morning and we drove over to register about 12.15pm. The weather was lovely and it was clear it was going to be a warm race!
I had brought my club vest but decided not to wear it. In my mind I thought if I wear my vest then I'll be in race mode and I was trying my best to see this as an easy race as I know I'm still recovering from the Hardmoors 160.
There were 296 running with a good mixture of club runners and 'fun' runners. I decided to start just ahead of the 50min pacer but that meant there were about 40 or so runners ahead of me.
The course was square shape with the first 5k mainly downhill with the wind behind and the second 5k mainly uphill against the wind so I knew it was going to be hard to run it at an even pace.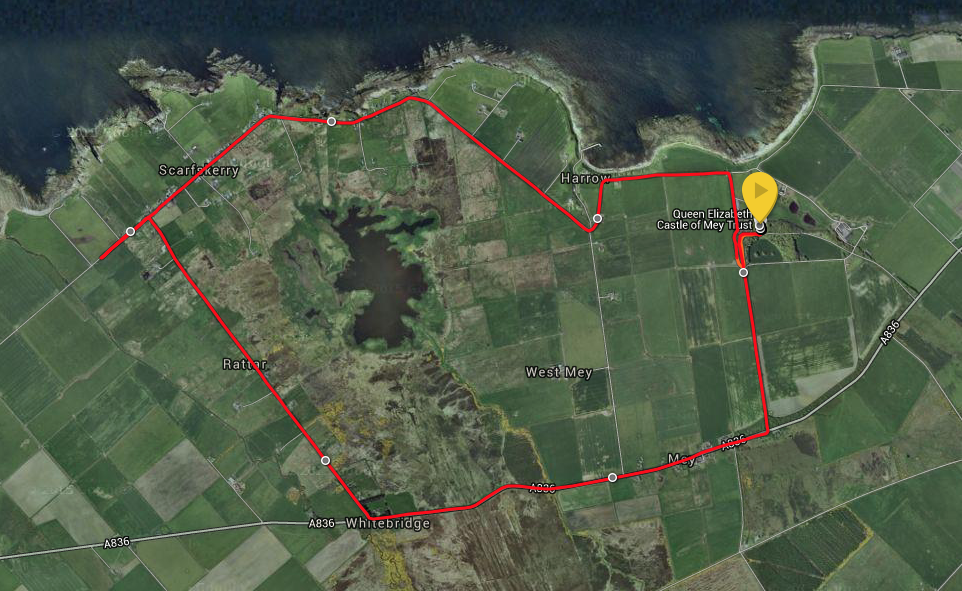 On the warm up before the race I was happy to note that I felt okay and so I was looking forward to the race but I still wanted to be careful and not go off too hard. I wished Hollie and Katrina a good race and we waited for the countdown and start right on the dot of 2pm
Over the first kilometre or so I went past quite a few runners until I found my place. I went through the first km in 4:04 which I knew was a bit quick but it was mainly downhill. After 3km I was on my own with a few runners about 50m ahead.
I settled into a steady pace and tried to keep my breathing under control but I was working as hard as I dared. I went through the first mile in 6:29 and the second mile in 6:35.
Just before the 5k marker there is a short out and back which I assume is to make the distance to 10k. As I was going out the leader was coming back so I decided to count how many runners there were in front of me. I reckon there were 28 or so in front of me.
I felt I had gone off a little too quick and I was going to struggle to keep the pace at the same. I reached the 5k mark in 20:25 which would give me sub 41mins if I could keep it going.
The next 4k were mainly up hill and I was definitely gong slower! But no-one went past me and I caught a couple more runners so I assume everyone was slower over the second half.
The final kilometre was downhill to the Castle so I pushed it as hard as I could and ran 7:04 for the final mile.
There was a photographer taking photos of everybody so here are the three of us finishing:-
We all enjoyed the race and headed back to Thurso for a well earned meal at a Carvary!