AsI drive up to Inverness on Friday afternoon after work I was thinking this is a long way to go to run 30 miles but I'm so glad I did! Ryan & Bekki looked after me so well for the weekend so it wasn't just about the run.
Ryan & I left my car at Inverness and caught the 8.45am bus to Invermoriston which is 40 miles into the Great Glen ultra. If I can't recce the whole of a route I prefer to run the final section.
I figure that there will be other runners around at the start and as I'm fresh I shouldn't make any mistakes with the navigation whereas over the final 30 miles I'll probably be on my own and tired and so more likely to go wrong!
Also I find it really helpful to have a good idea of what the final 30 miles is like. This is particularly true of this course as most of the hills come in the second half of the race as this profile of the whole race shows …. 

Invermoriston to Drumnadrochit (13.58 miles)
After a selfie and video clip we were off at 9.45am. The mist was on the tops and there was a light drizzle but it wasn't too cold so I opted to run in my whw top whereas Ryan kept his jacket on.
Very soon the path goes up hill and we were climbing for the majority of the first hour. There were some runnable sections and eventually we reached the highest point of the race. This year the race is using the high route whereas in the past it has followed the low route.
I was pleased that my legs felt good on the climb and I do feel I'm recovering from the Hardmoors 160. Hopefully by race day on 2nd July I'll feel I can do my best!
From this point the route basically winds its way down to Drumnadrochit. The new high path is lovely to run on. It is a hard compacted trail with a little bit of give and no rocks to trip over!
Ryan & I chatted the whole way and the miles flew by so we reached the checkpoint at Drumnadrochit in 2hrs 50min. We were stopping fairly regularly to take some video clips of the route but I was happy with the pace of our run. Ryan would have gone a fair bit faster on his own but was a great guide pointing out all the potential places to miss the signs.
The route is well marked with blue posts but like any route if you are not paying attention it is easy to miss one!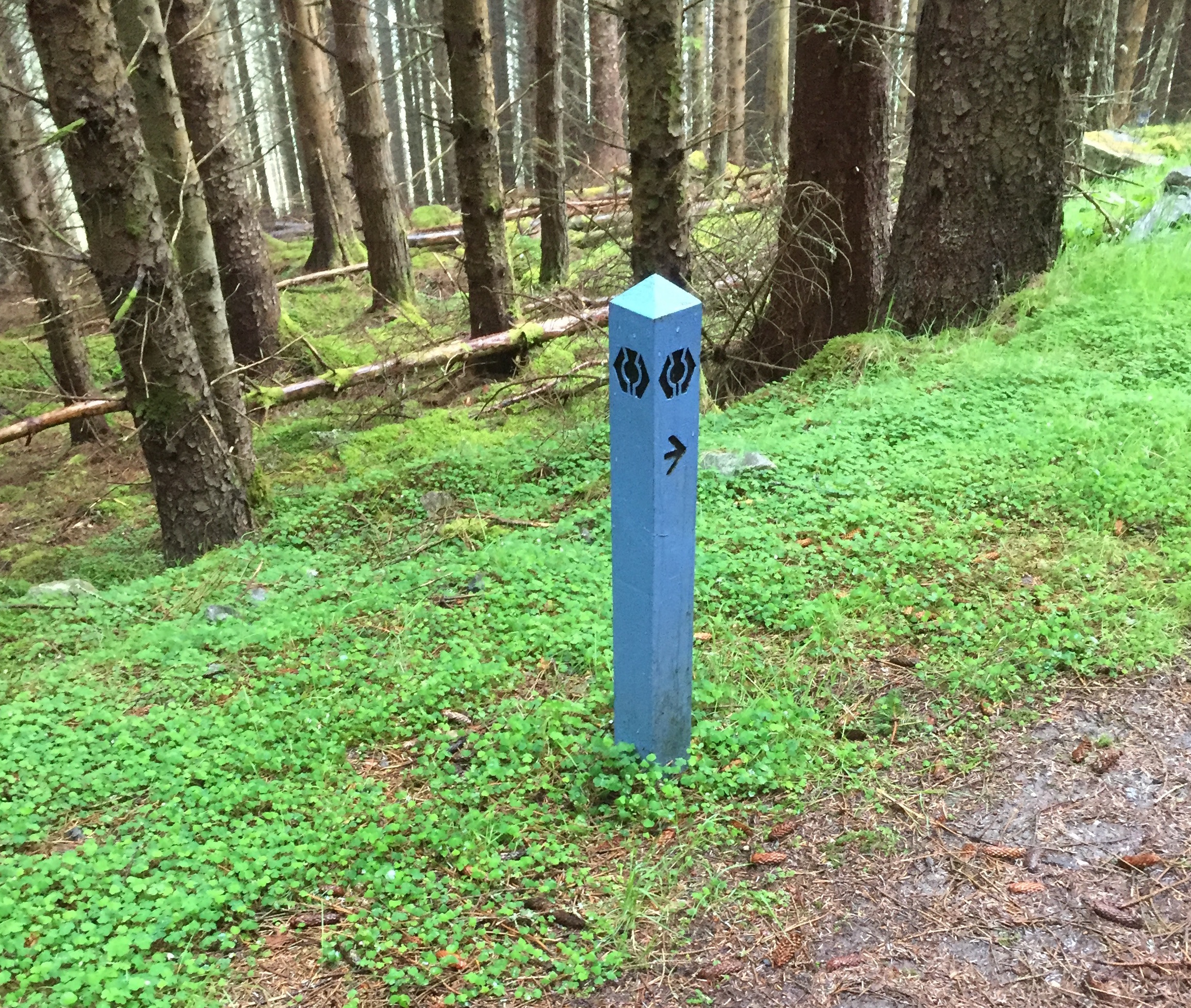 Beck and Orrin were waiting for us at Drumnadrochit so were able to refuel before setting off for the next section. I had eaten my mashed sweet potato a couple of hours after setting off and here I ate half a tin of my favourite Heinz 5 flavours of beans.
Drumnadrochit to Loch Laide (approx 7.5 miles - forgot to take a split!)
The route follows the A82 for a mile and a half and then once it leaves the road climbs up through the woods and eventually into open country. It was great having Ryan explaining the route.
This is Ryan's local route and knows it like the back of his hand so he was a perfect guide. I've no excuse for making any mistakes so no pressure there!
The misty rain was still with us and the views weren't the best but it wasn't too cold and we were really enjoying our run. Ryan was reliving his 3rd place from 2014 and showing me various points were he saw Gerry Craig ahead and were he passed him!
Bekki with Orrin in the buggy came out to meet us and we ran into the next checkpoint together. I'm sure Bekki would have heard us before she saw us!!
Once again I was able to refill my water bottle and have a youghat before the final 10 miles to Inverness. I was using the Herbalife Prolong drink on this run and it worked well.
Loch Laide to Inverness (10 miles)
I like to have my mini-splits so Ryan suggested we split it up into 3 mini-sections: 4 miles which would take us to Blackford, then 3 miles to a gate and then the final 3 miles to the finish.
That worked really well and gave me some mini targets for the final section. There is no way I would be able to run it as fast as Ryan did in 2014 when having overtaken Gerry was closing win on 2nd place. He made up over 10mins on this final leg and got within 30 seconds before the guy saw him and sprinted off!
I was still running okay but I was definitely feeling tired now and was more than happy to reach Inverness and the end of our recce run.
Thanks so much to Ryan and Bekki for a great day out. I'm really looking forward to the race now.