Monday 19th December 2016
I always enjoy taking part in our Christmas Handicap Race. It is held on the Monday before Christmas around a 2.1 mile circuit in Johnstone which we run twice making 4.2 miles. I have run the race a number of times and unusually for me I have missed my start time twice in previous years and nearly did so again this year!!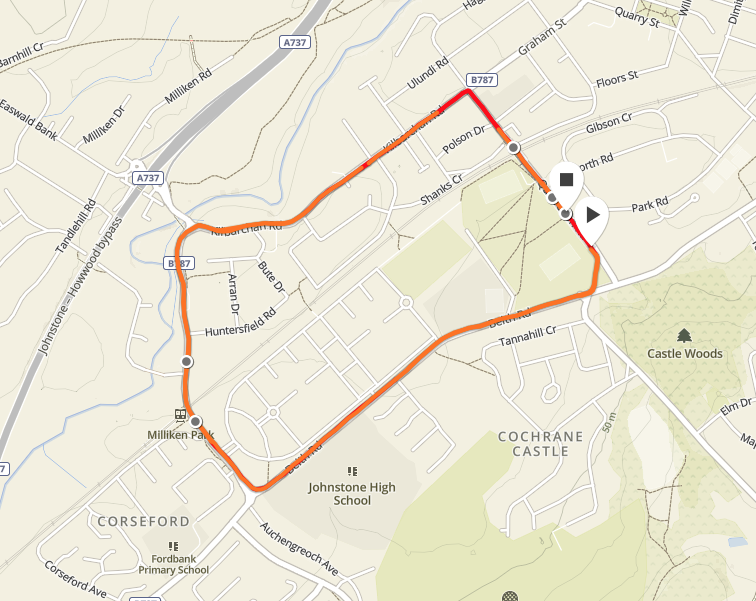 The basic idea of the race is that the slowest runner goes off first and everyone is given a handicap with the hope that everyone finishes together! Obviously it never works out like that as people run faster or slower than expected!
The first runner Catherine went off at 0:00. Katrina was the 6th runner off 9:45. I was the 12th runner of 20 at 14:00. This meant that I started 4:15 behind Katrina. I reckon I'm about 1min per mile faster than Katrina so I had an outside chance of catching her but she loves a race and once she gets going doesn't like to be caught so I wasn't too optimistic!!
Jim, the starter, announced at 7.20pm that he would start the watch in 10mins so I knew I had 24mins before my start time which was enough time to do a warm up lap. When I got back to the start I thought I had enough time to have a quick look at the path on the corner which is quite dark.
I miscalculated the time and as I got to the start I saw Jennifer about to start. She was off 15secs before me so I quickly took off my jacket, stopped my watch and tried to reset it for the race! 3,2,1 go and I was off still fiddling with my watch to get it set up for the race!
It probably took me 30secs or so to get it set up so my timings were going to be out! Anyway I got going and tried to settle into a hard pace without being flat out. I was keen to see if I could run 2 even laps. Last year when I did this race I was 14secs slower on the second lap (1st lap 14:03, 2nd lap 14:17 for 28:20).
Grant was starting 1min after me so I was hoping that I would get round the first lap before he caught me!
I was feeling pretty good on the first lap but I see Jennifer moving away so she was obviously going well. The route is a challenging little route with some descents and some ascents. All relative but when you are pushing hard may incline feels hard!!
Not far before the final right hand turn where John Rodger is directing runners Euan Carrick caught me. He started 1:45 behind me so was moving very well. As I approached the end of the first 4 or 5 runners went past me moving really well! Grant caught me right on the start line so was exactly 1 min faster.
Looking at the results I had run the first lap in 14:03 which was exactly the same as last year! I didn't know that at the time as I start my watch late as I mentioned!
I worked as hard as I could for the 2nd lap. I thought the only one still behind me was Donald so I wondered where he would catch me. He didn't but only because he had run a lot over the past week.
Over the final mile I went past 3 runners meaning I finished in 16th position. The 2nd lap took me 14:11 for an overall time of 28:14 so 6 secs faster than last year!
Katrina finished 11th in 31:38 so she was 3:24 slower than me so I was nowhere near catching her!! Katrina ran 2:06 faster than last year so she is running really well at the moment.
The prize giving is fun as everyone brings a present and the first runner chooses first and all the way down to 20th. I came home with a pack of lovely Christmas cheeses.