I've ran the National Cross Country at Falkirk a few times and even though it's always hard I enjoy taking part and trying my best!
My club mate and friend Steven Hill picked me up and we travelled to Falkirk together. Steven is running really well at the moment and I fully expected him to finish ahead of me in a race for the first time.
Once we arrived and saw the state of the course we knew it was going to be hard work but it's the same for everyone! It was good to chat to Ian Beattie who had been there all day in his capacity as Chair of Scottish Athletics.
I must admit one of my aims for the race was to try and finish ahead of Ian. I think I've done it once in the National Cross Country but last year he was a few minutes ahead.
Steven and I went for a warm up and by the time we got back to our tent to get our spikes on the sun was out and it was very good conditions.  I've not had spikes before but Brian Graham gave me his as he has decided not to do anymore cross country. I was very grateful for them.
The course was slightly different to the last few years as the course had been shortened to 10k from 12k. Also the Senior Females would run the same distance as the men. Three laps of the course.
I gather it was touch and go whether the event could go ahead because of the conditions in the morning. They moved the finish up to avoid the waterlogged field and altered the course slightly to make up the distance.
It was good to chat to various friends before the race. There were over 800 on the start list and 647 finished. I think a few dropped out but there must have been a lot of no shows.
I had decided to try and go off at a comfortable steady pace rather than get caught up with a sprint start! I could see Ian just ahead so I could keep an eye on him.
On the first lap I made my way past a few runners and tried to find a decent line but as most of the course was mud it was difficult. In places the mud was ankle deep and it was difficult to run in a straight line.
Everyone was finding it tough so we all ran as best we could. They were a few places where by going a bit wider I found some grass which was a lot easier to run on. I felt that I could overtake others on the more runnable bits but was caught again on the real sticky muddy bits especially if it was downhill.
About a third of the way round the first loop I caught up with Ian who had been ahead. Initially I was going to tuck in behind him but I felt I was moving slightly quicker so decided to go past him.
As we came round the area where all the club tents were I was just ahead but could hear various spectators shouting his name so I knew he was right there with me. Neil Renton took this photo and you can see Ian (in red) behind me!
You can also see just how muddy it was … and this was one of the better sections!
Not long after this photo there is a short downhill then a sharp turn left. As I turned someone called out my name and as I glanced up to see who it was I slipped and fell into the mud. I quickly got up and found Ian alongside me.
We both struggled up the short muddy hill and made our way round for lap 2. Once again I tried to settle into the best rhythm I could. By now the field was spreading out a bit but I was still over taking some and being overtaken by others.
I'm not sure when this photo was taken by Julie Smith but again it gives an idea of the ground and how hard I was trying! Concentration etched on my face!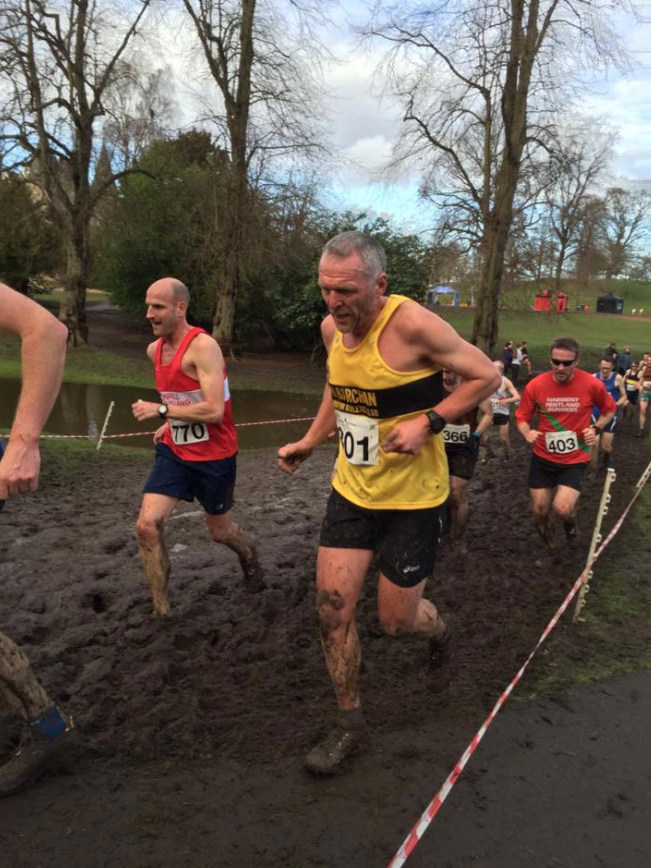 On the second lap I was trying to keep Ian in sight but he was easing away. But I did catch up with Andy Johns who is a very strong ultra runner and good friend. We ran together for the rest of the race basically leap frogging as I seemed to be stronger on the uphill and he was stronger on the downhill.
Andy was also targeting Ian as he said we were on 'operation catch Beattie' but it wasn't to be. It was really good to have someone around me to focus my effort. By trying to keep up with Andy it definitely helped me maintain my pace.
Julie got a good photo of us. This must be an uphill section as I'm ahead! Andy is number 290.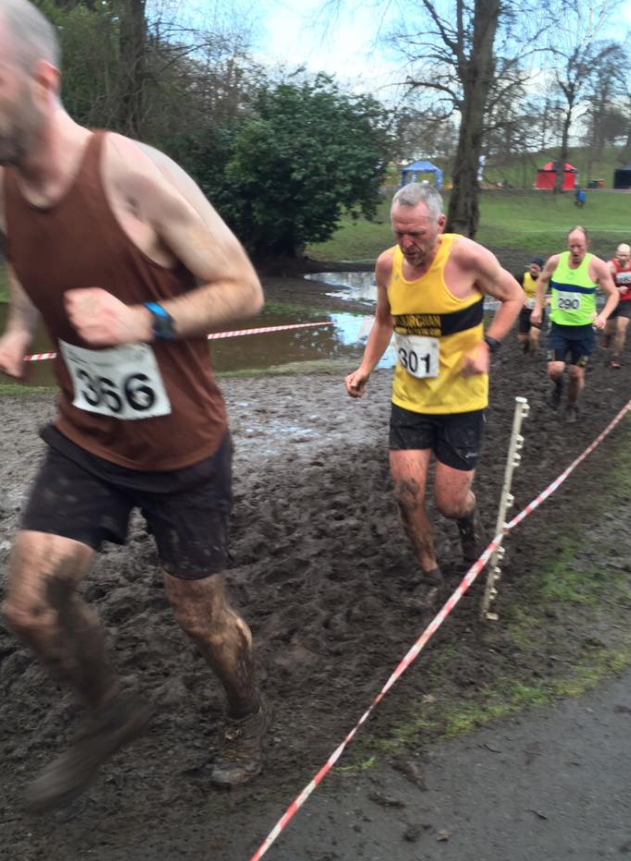 I was hoping that I would be on my third loop before Callum Hawkins was finishing his third. Thankfully I was well past the finish line and so in no danger of being lapped. I did feel a great pride in wearing the same vest as the winner of the race! Congratulations Callum!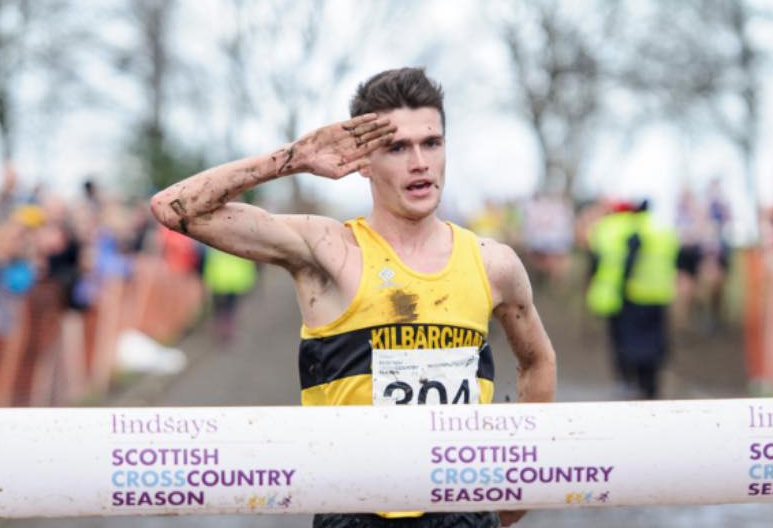 I also like this photo of Callum that Julie too. At this corner there was a big hole covered in water and I'm sure it caught a few people out. It looks as though Callum almost went down.
As I started on my third lap I saw club mate Alan Craig not too far ahead. Normally Alan is a few minutes ahead so I assumed he was having a tough day! Over the next quarter of a mile or so I caught up with him and asked if he was okay. Not quite sure of his answer but he stayed with me for the rest of the race.
At one point Andy and Alan were just ahead and I thought it was funny that out of all the runners in the race two people who I know well were just in front. I managed to get past them again on the uphill only for them to go past on the downhill again. We were definitely helping each other to keep going.
It was good to know on that final lap that this would be the final time for each section and I could push as hard as my legs would let me.
I thought at one stage Andy was away but I pulled him back in. As we approached the tents for the final time I was just before Andy and ahead of Alan. I went past Andy on the longer hill but he caught me again on the short muddy one.
Once we got onto the final path to the finish Andy was just too strong and opened up a gap. I pushed as hard as I could and was happy that Alan didn't catch me!
I finished 412th in 49:05 which I was more than happy with. It was good to congratulate Andy and Alan and I think we all helped each other to finish as well as we could. After a minute or so I looked back and saw Steven coming round from the finish.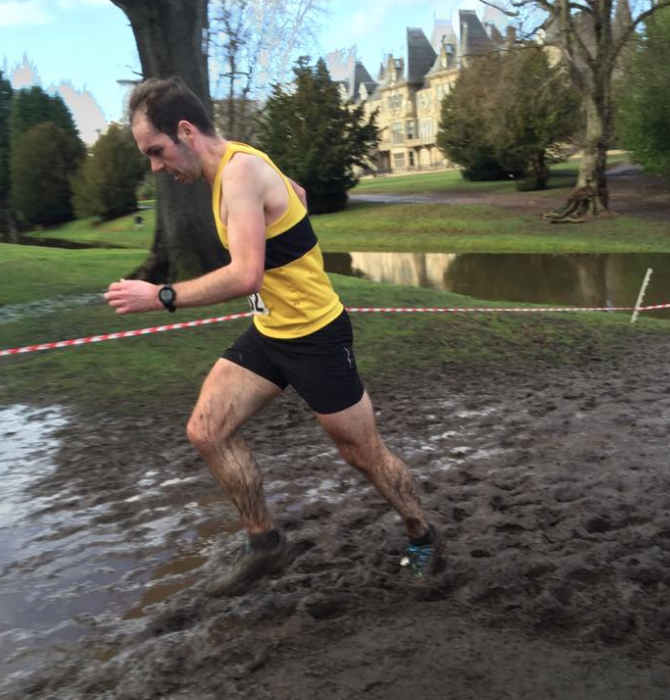 I had assumed he was well ahead but he was in fact behind. Steven explained he had found it really tough and had decided that next week's Cambuslang's 10k was more important so his victory in our personal duel will have to wait!
It is one of the hardest races I do but I love the fact that I can take part in the National Championships of our sport.
My heart rate graph shows I was working hard right to the finish!