My first ultra of the year is just 5 days away as I type this on Monday evening. So that's 5 sleeps or more likely 4 and a half! The race starts at 6am so I plan to get up just before 4am for breakfast (porridge with fruit & honey) before driving to Milngavie picking up Lesley on the way.
Katrina has very kindly offered to take us to the start before heading to Tyndrum to help John Duncan and his team with the finish.
I must admit I really like the early starts as I'm very much a morning person so it's not a problem to be up and out early.
I thought I would write down some of my plans for the race.
Taper
I normally just have a one week taper for the Fling but I decided after my run with Ryan to give myself two weeks. My knee was slightly sore after that run so I thought at extra day of rest would be more beneficial.
The knee is fine now but today when I went for an easy run my right calf was really tight and it is a little sore now. I've had this before and it normally eases off after a couple of days so I'm not too concerned but would prefer it not to be sore!
I have one more easy run planned for Wednesday but I'm going to see how my calf is. If it is still sore I will not bother with that run.
Kit
I'll be wearing my tried and tested kit.
Shoes - Skechers Ultra 2
Socks - Drymax
Under shorts - thigh length skins
Shorts - Reebox long shorts with pockets
Top - favourite green long sleeved (if it is warm I may switch to a short sleeved)
Suunto watch
I'll be carrying my North Face Enduro pack with the following
Emergency blanket (compulsory)
Mobile Phone (compulsory)
Camera as I plan to do a video diary of the day
Water bottle
Light weight windproof top (if it looks like there might be rain I will take my OMM top instead)
Light weight gloves and buff
Food & Drink
I will be aiming to drink 600ml of Tailwind every couple of hours and I will put the following in my drop bags to eat on the way.
Start - 2 slices of fruit bread with peanut butter and jam
Balmaha - mashed sweet potato
Rowardennan - baked beans
Inversnaid - Greek style youghat
Beinglas Farm - Milk Shake
I will also have a selection of energy bars, youghat covered nut & raisins, shot bloks and liquorice to keep me going.
I have my bags ready … just need to fill them up!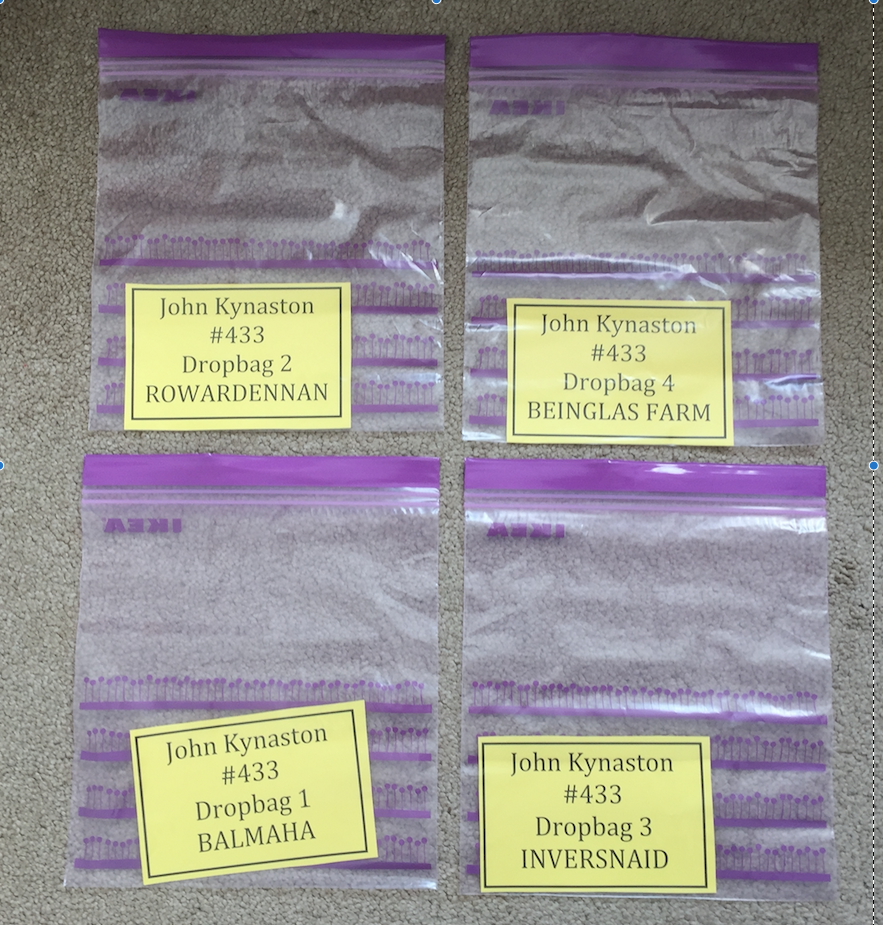 Pacing Plan
I like to have a plan to aim for but the priority for this race is going to be my heart rate. I'm aiming to try and keep my HR around 135 for the whole race. This means early on making sure that I don't run too fast as that would push my HR well above the 135.
From past experience I know this takes a lot of discipline and means I will have to be a little bit antisocial as I will need to slow down if my HR goes too high! But if it works out right I will hopefully see the runners who leave me in the first 10 miles or so later on!!
I'm going to carry my splits for a 10:15 finish and I'm looking forward to seeing whether I will be near them or not.  But as I've said the priority is keeping to my HR of 135 so I'm expecting to be slower to Drymen that the 1:53 I have down. These times are based on previous Flings when I didn't use my HR to pace myself.
For anyone interested here are my planned splits for the 2017 Highland Fling …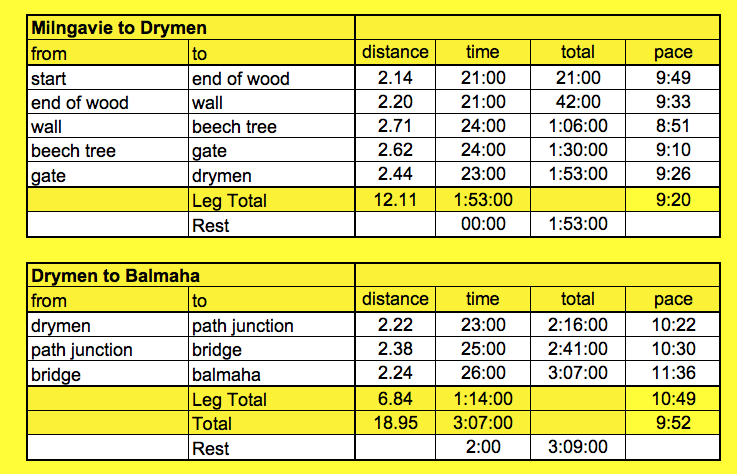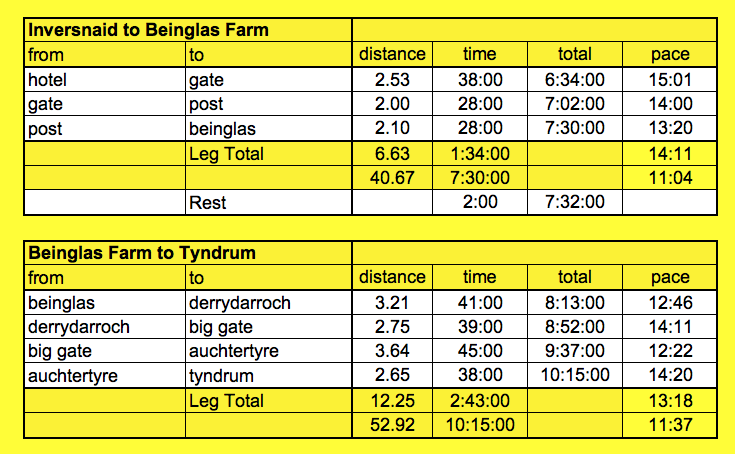 Mentally
I feel ready for the race but I have a few niggling doubts in the back of my mind which is not like me! My training has generally gone well but there have been a few runs when I have felt pretty sluggish so I'm not sure which legs will turn up on the day.
I'm going into the race with a positive frame of mind and aiming to do the best I can and enjoy it as much as possible!
Guess My Time Competition
I have 74 guesses so far. Remember you have until 5pm on Friday 28th April to send in your guess. More details
Finally
Let me wish everyone who is a running a great race whether it is your 8th race like me or your very first Highland Fling or somewhere it between.
Also a massive thank you to John and his team of volunteers who will be giving up their weekend to help us runners be safe on the trail. Thank you so much.
I will try and say thank you as I see you on the run!